Refined, modern, and elegant, this stunning lakefront home is inspired by the natural beauty of Lake Oconee.
This three-story newly constructed townhouse will serve as a second home for a Florida-based client. Despite the challenges of working with an out-of-state client amidst the pandemic supply chain backups, we worked intimately with the homeowners to create a dream vacation home that aligns with their lifestyle and personal aesthetic.
When your home has a view as gorgeous as this, you need a place where you can enjoy it! So, that's what we set out to create with this third-floor outdoor entertainment space. Our goal was to make the space just as conducive to hosting friends and family as it is to relaxing with a cup of coffee, watching the sunrise, and taking in the scenery.
To keep our color palette modern and clean, we started with white walls and railings for our structural elements. Then, we paid homage to Lake Oconee by adding natural materials, like the gray stone tiling and a wood-planked ceiling, which provide a color and texture contrast to the simple white walls. Using natural materials also helps the space feel softer and more welcoming — a result of biophilia, which is dominating 2021 interior design trends.
Throughout the construction process, our aspiration was to meld functionality, beauty, and luxury to create a lake house that can be bustling with activity or a haven of relaxation. Now, for the tour!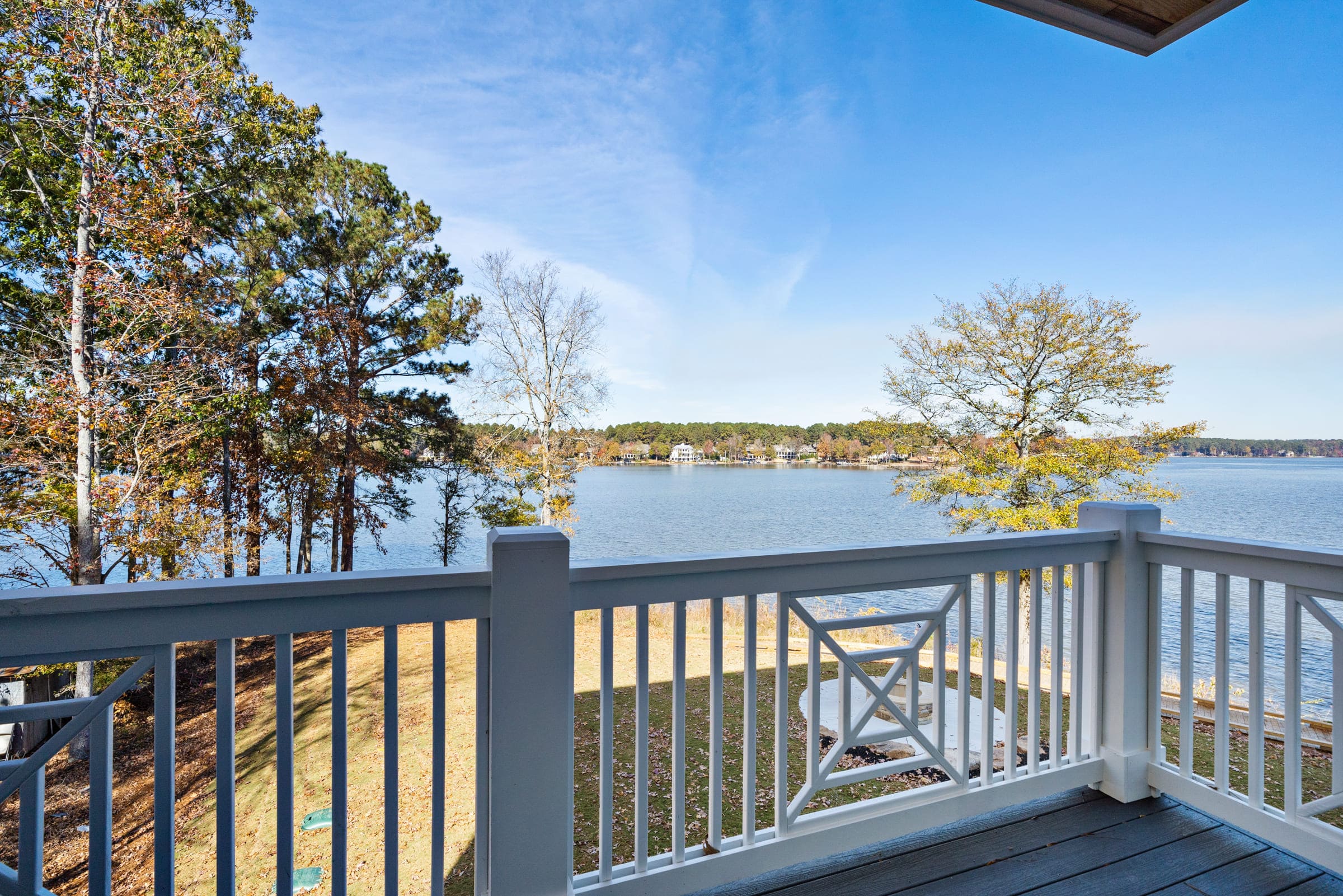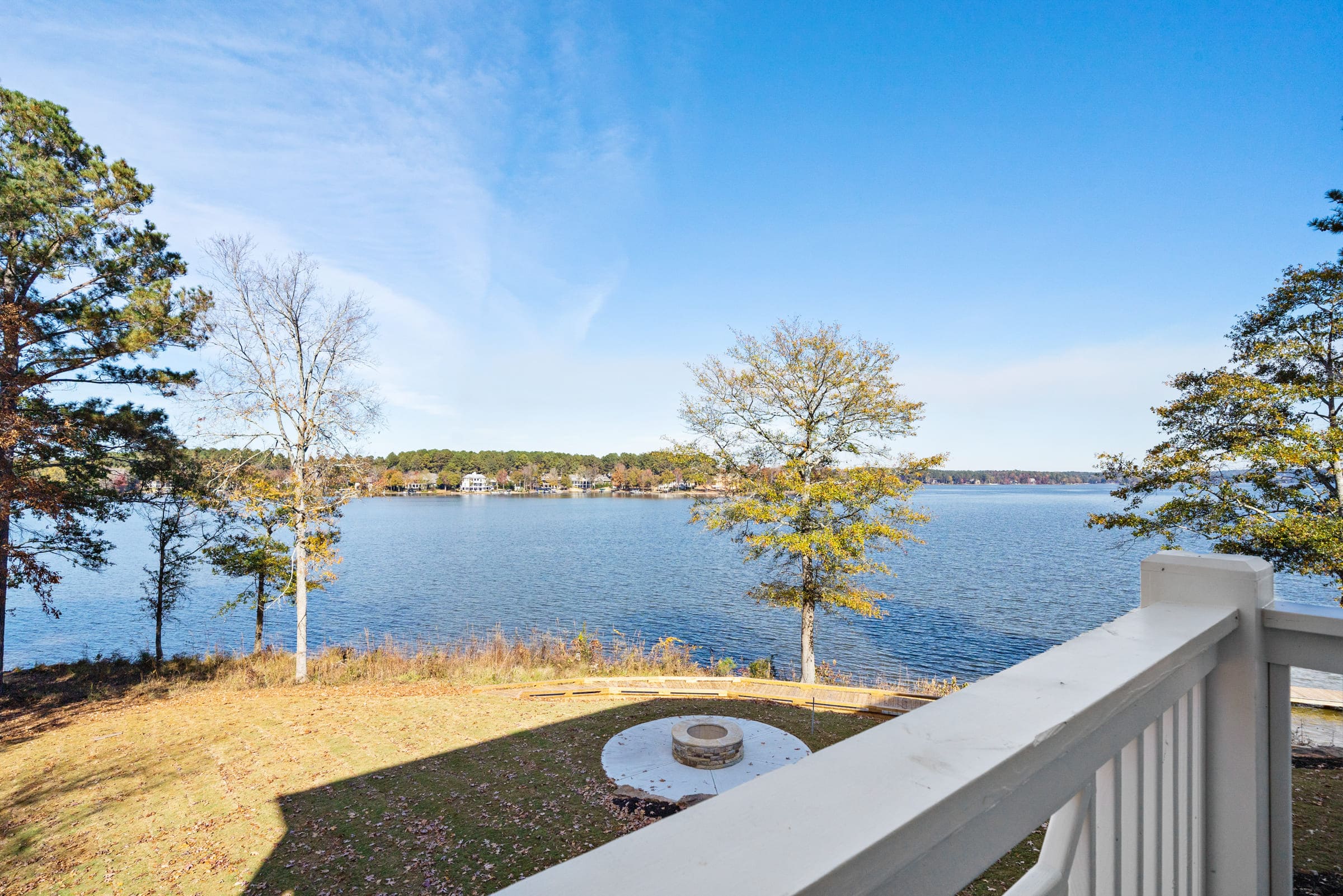 Next, we added dark accents to give more contrast and depth to the design like the ceiling fan and — one of our favorite elements — this outdoor fireplace. The fireplace is the focal point of the terrace, bringing our client the feeling of a beach bonfire, from the comfort of their home. We also installed understated recessed can lighting to ensure the space is usable at any time of night or day.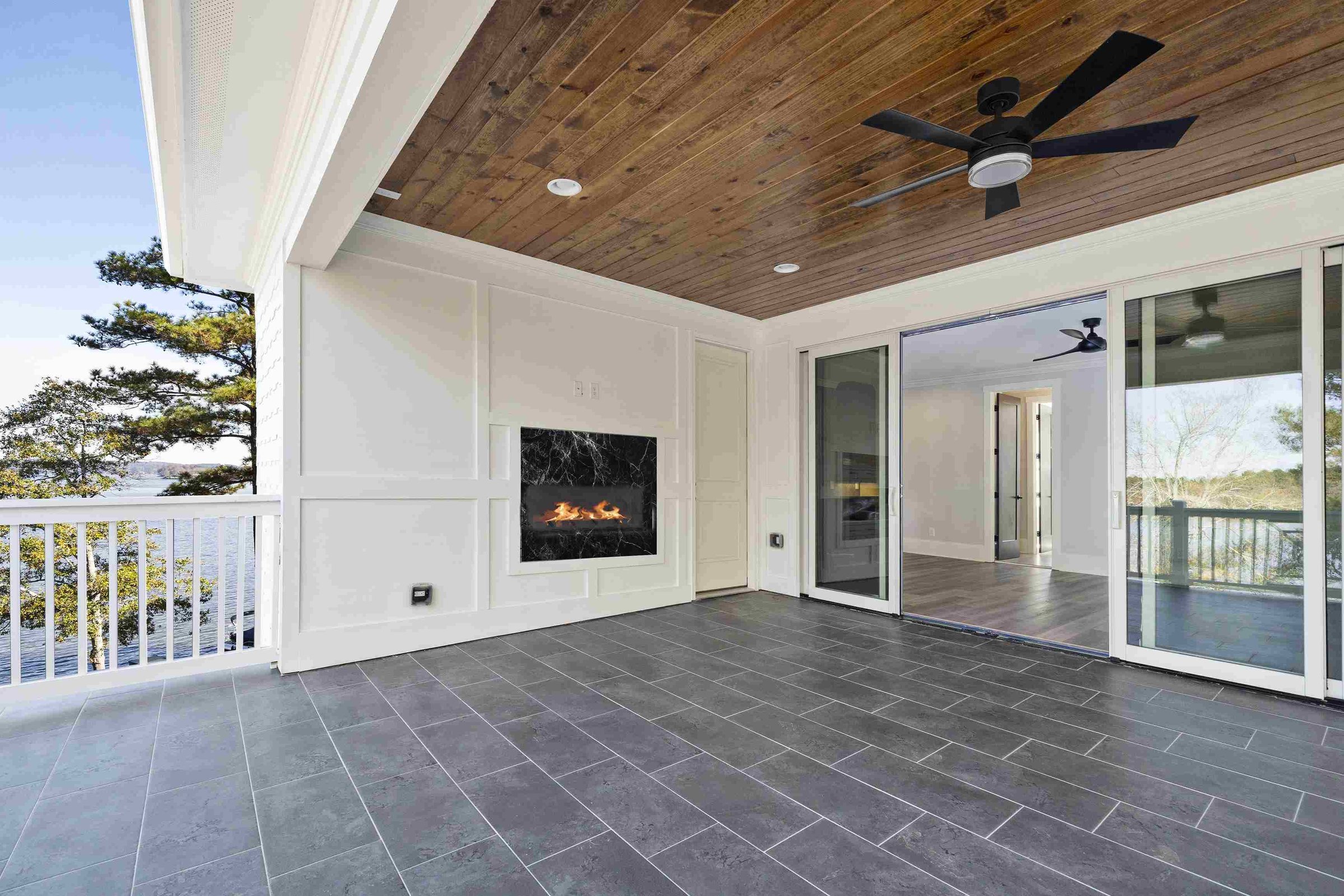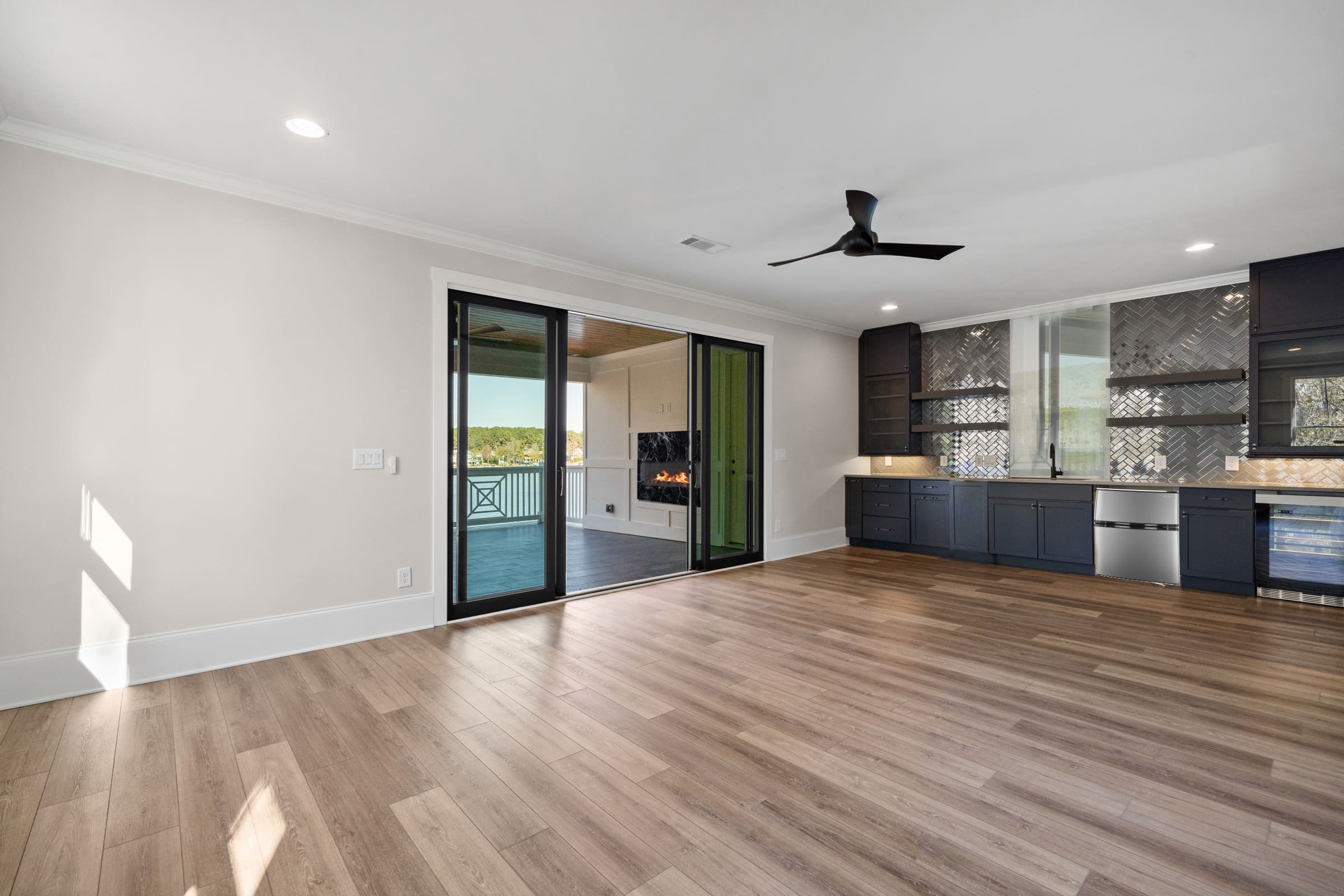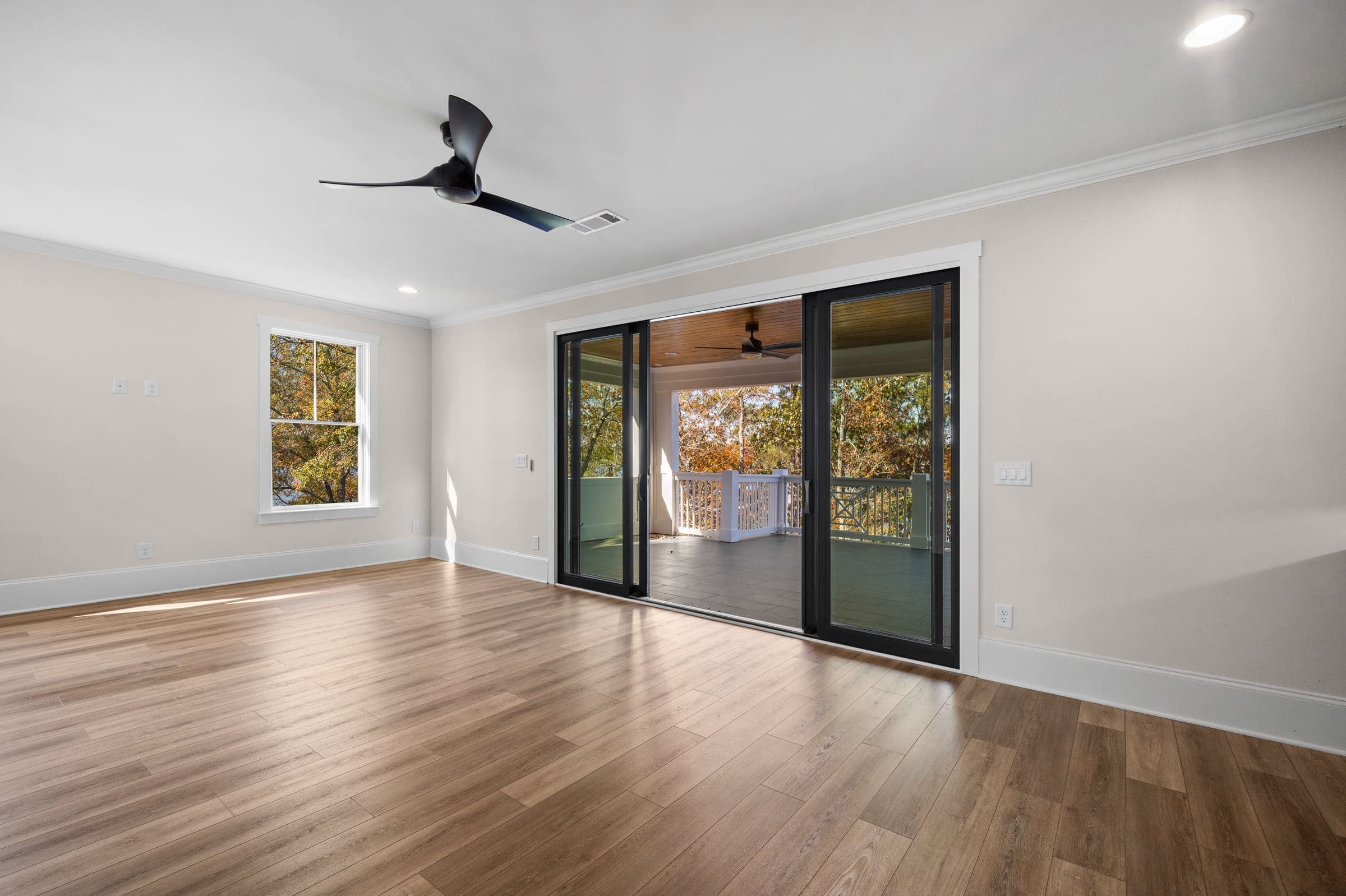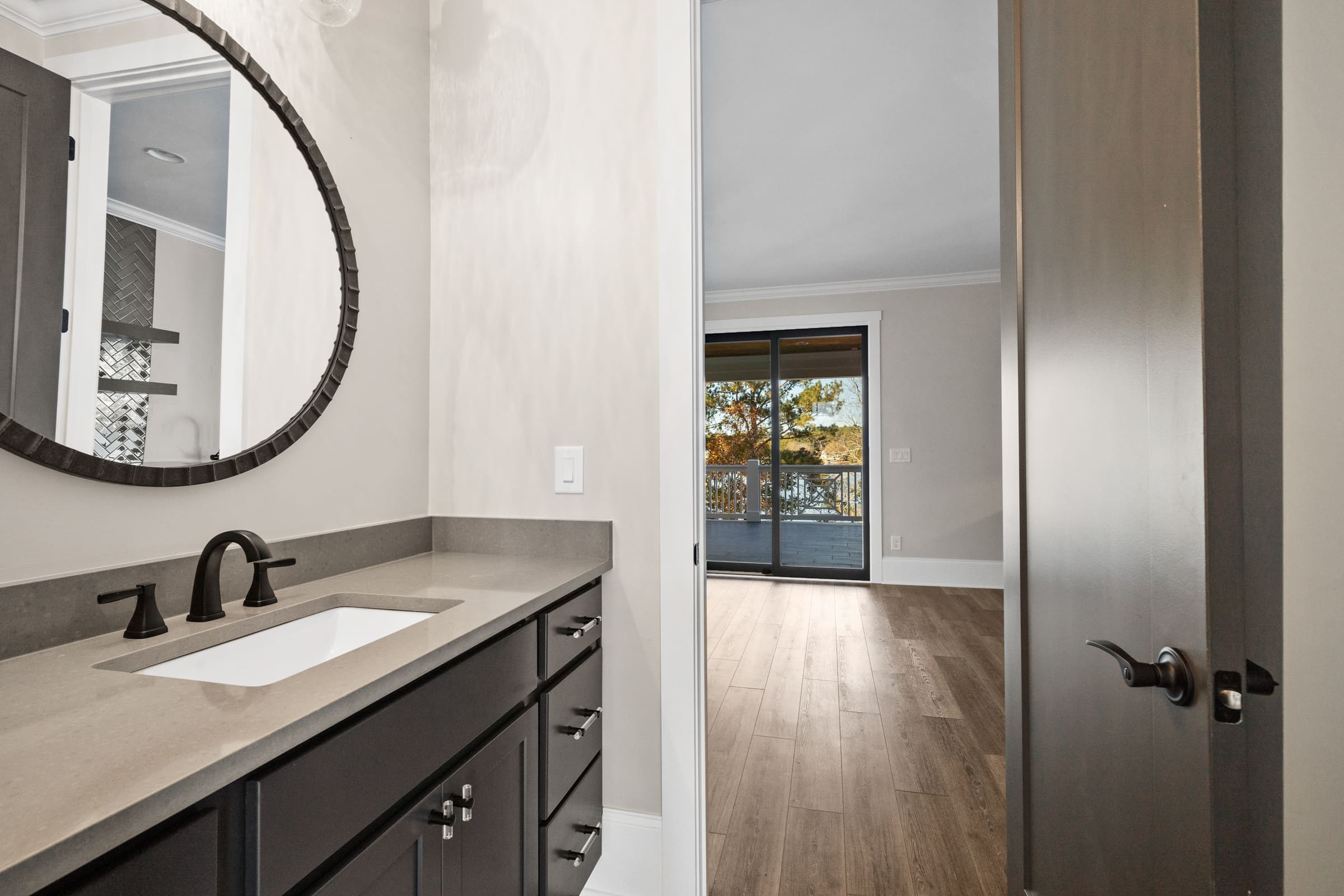 Walk through these sliding glass doors and you'll find yourself in a large multipurpose room consisting of a second kitchen and living area. Dubbed the media room, this room boasts a full wet bar, ice machine, dishwasher, and incredible views, making it the perfect entertaining space.
In an effort to keep the home's look cohesive from room to room, we continued using dark accents for the interior doors, cabinetry, ceiling fan, and sliding door in the multipurpose space. We also used wood tones as a motif throughout the home.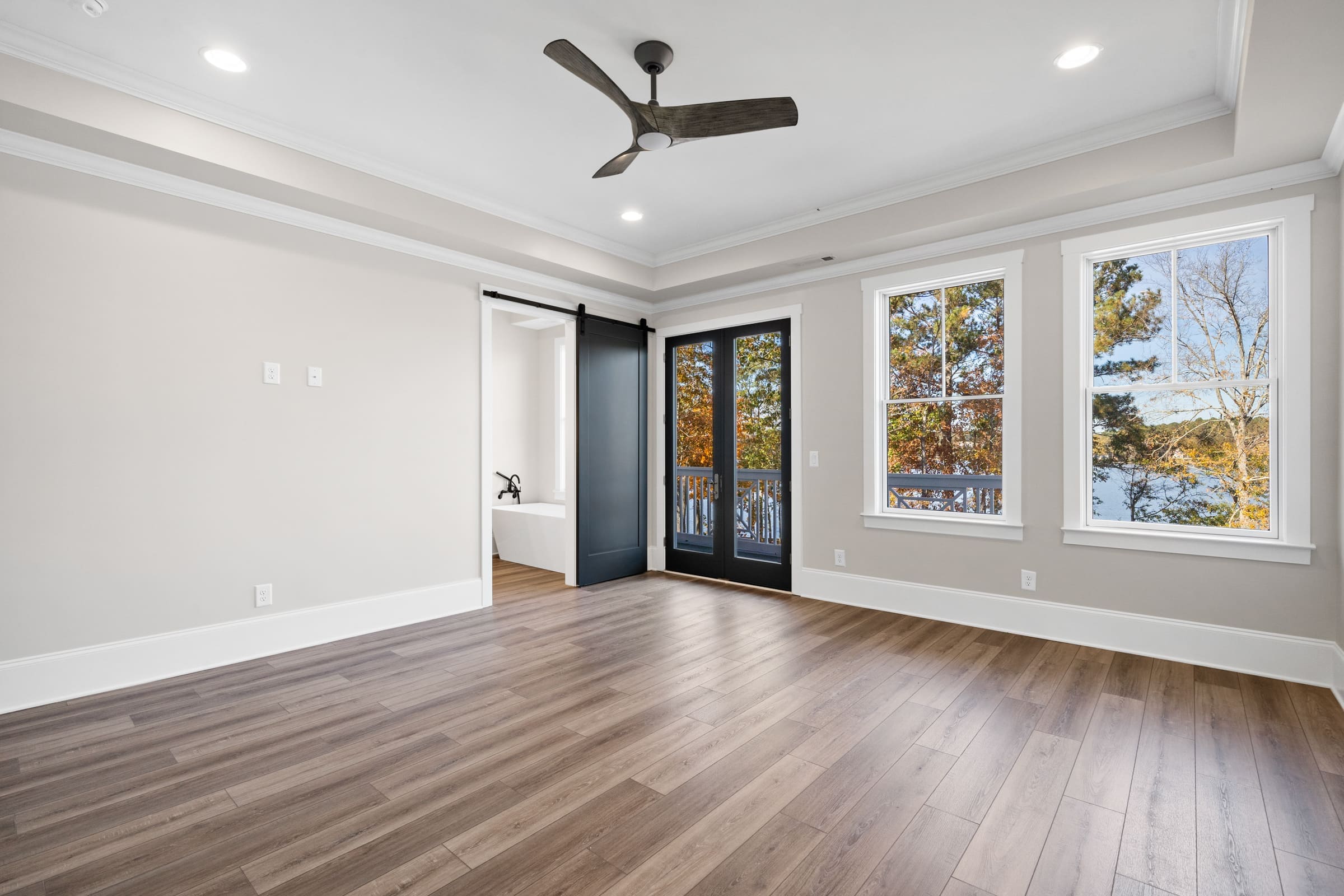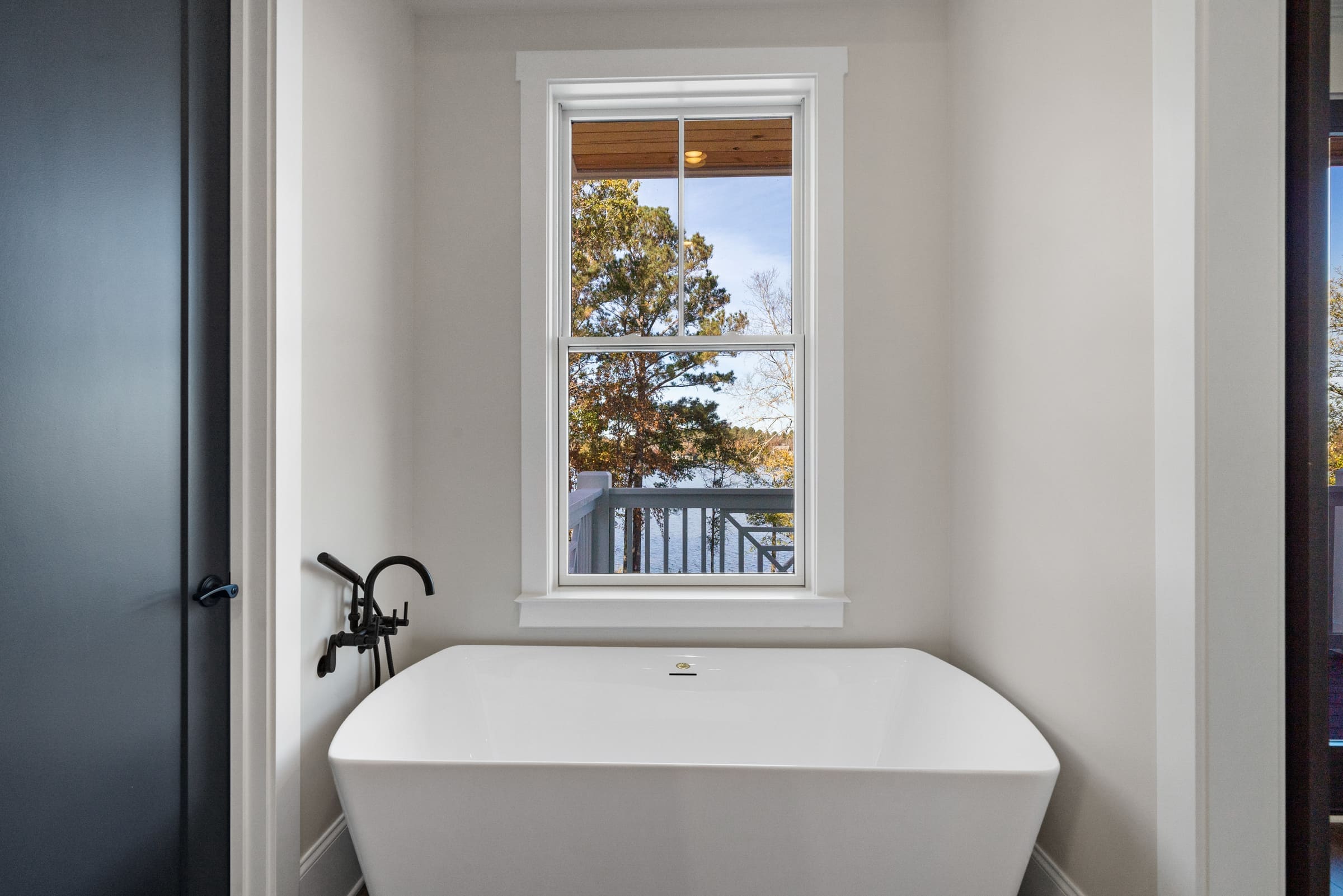 Located on the 2nd floor are the primary bedroom and bathroom. Here, we wanted to create a space that felt airy and light — a place of relaxation where the homeowners can start and end their day.
In the bedroom, we accomplished this by installing a multitude of windows which allows plentiful natural light to pour in, reflecting off the neutral walls to create a brightening effect.
In the bathroom, the mix of neutral walls, white marble, and dark accents creates a sense of sophistication. When you add in the two-person shower, upgraded tiles, and fixtures, as well as the freestanding tub, this bathroom is the epitome of luxury.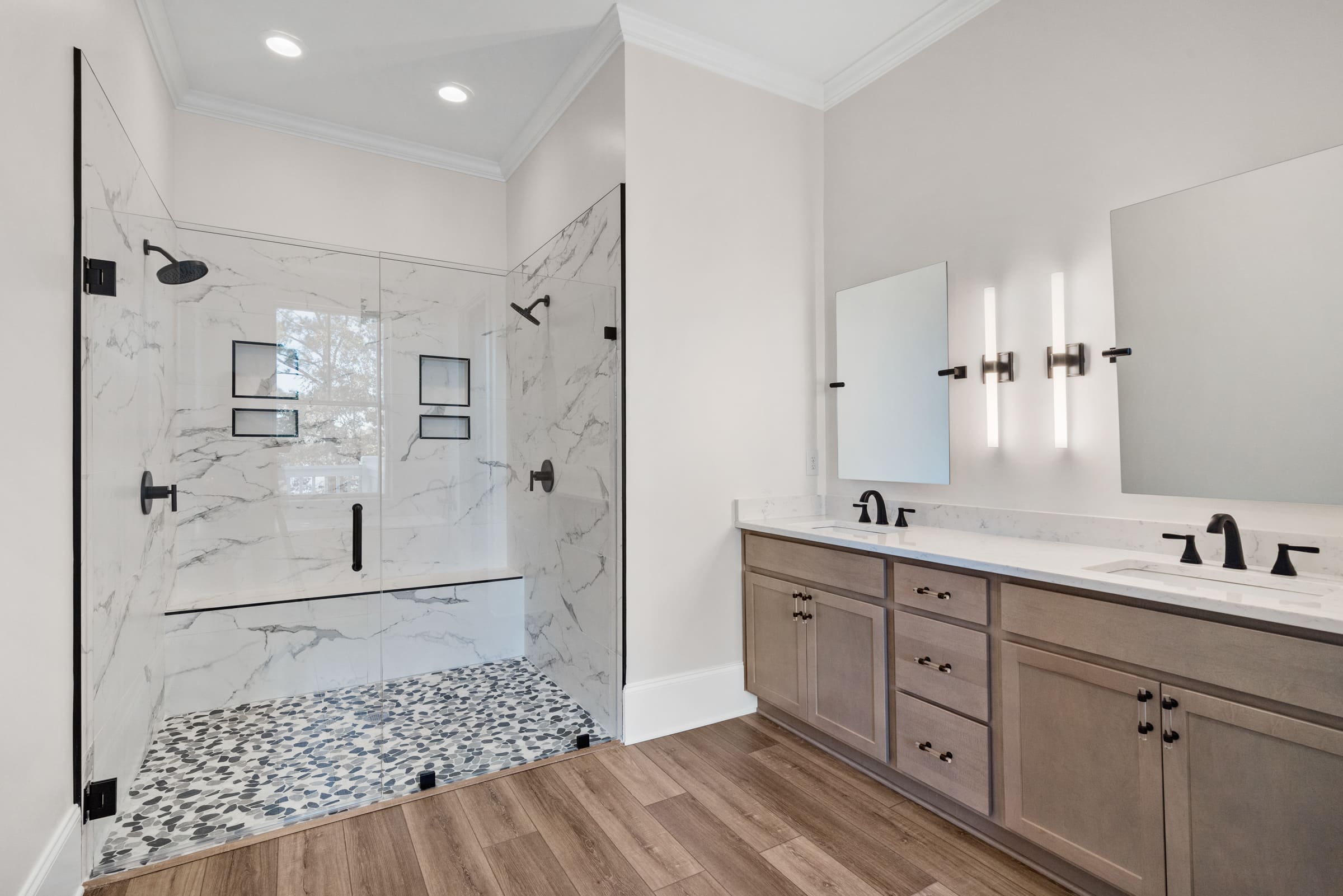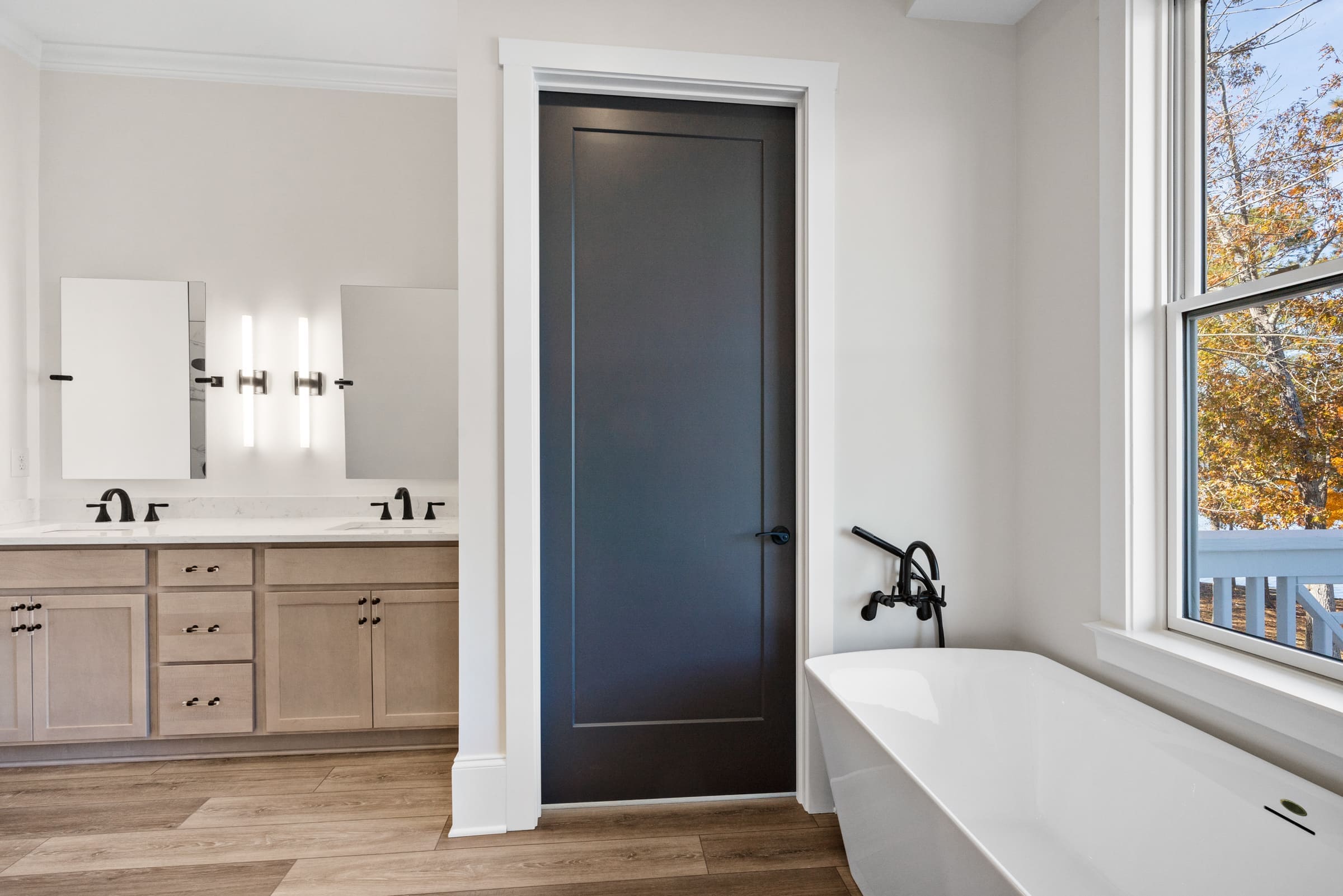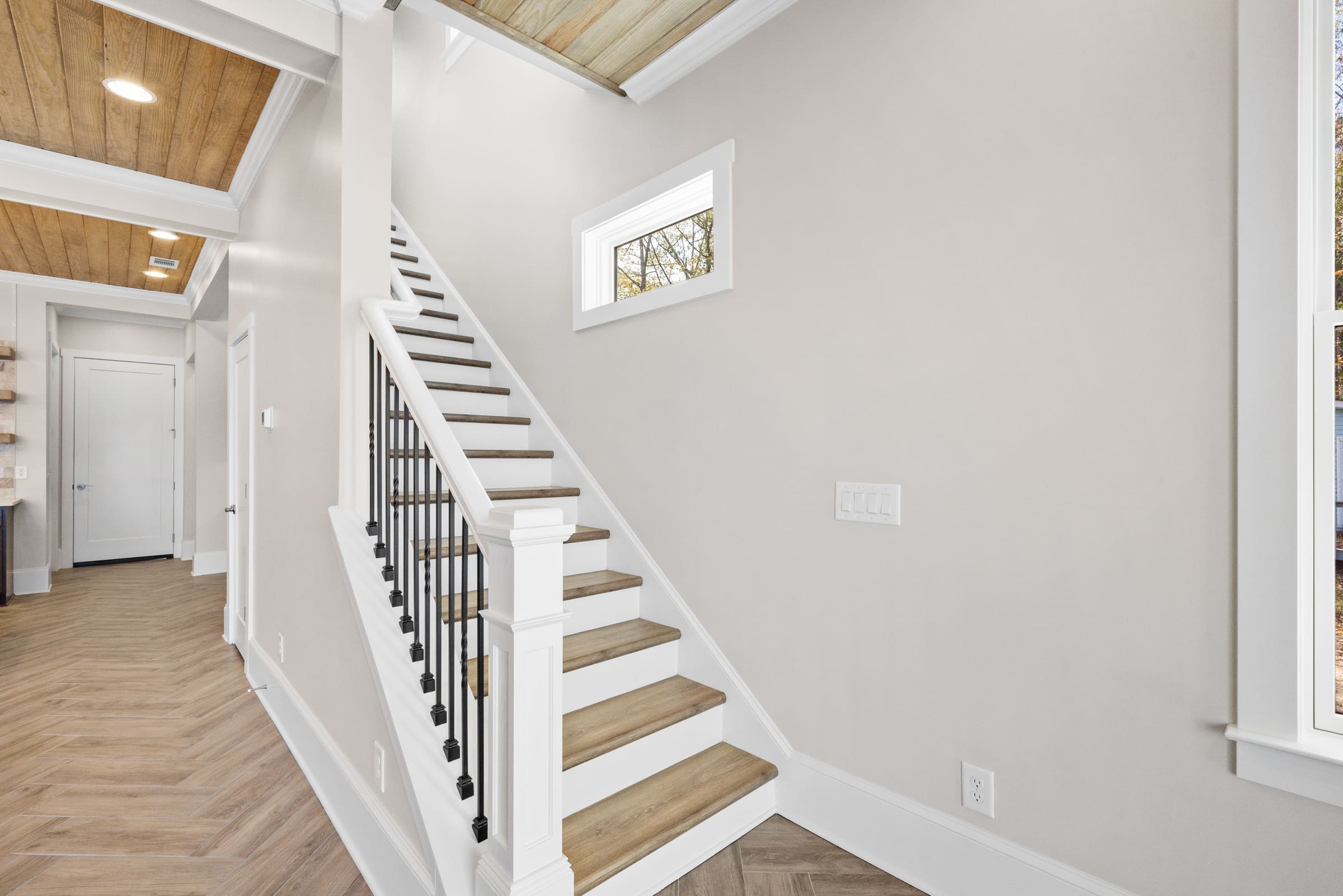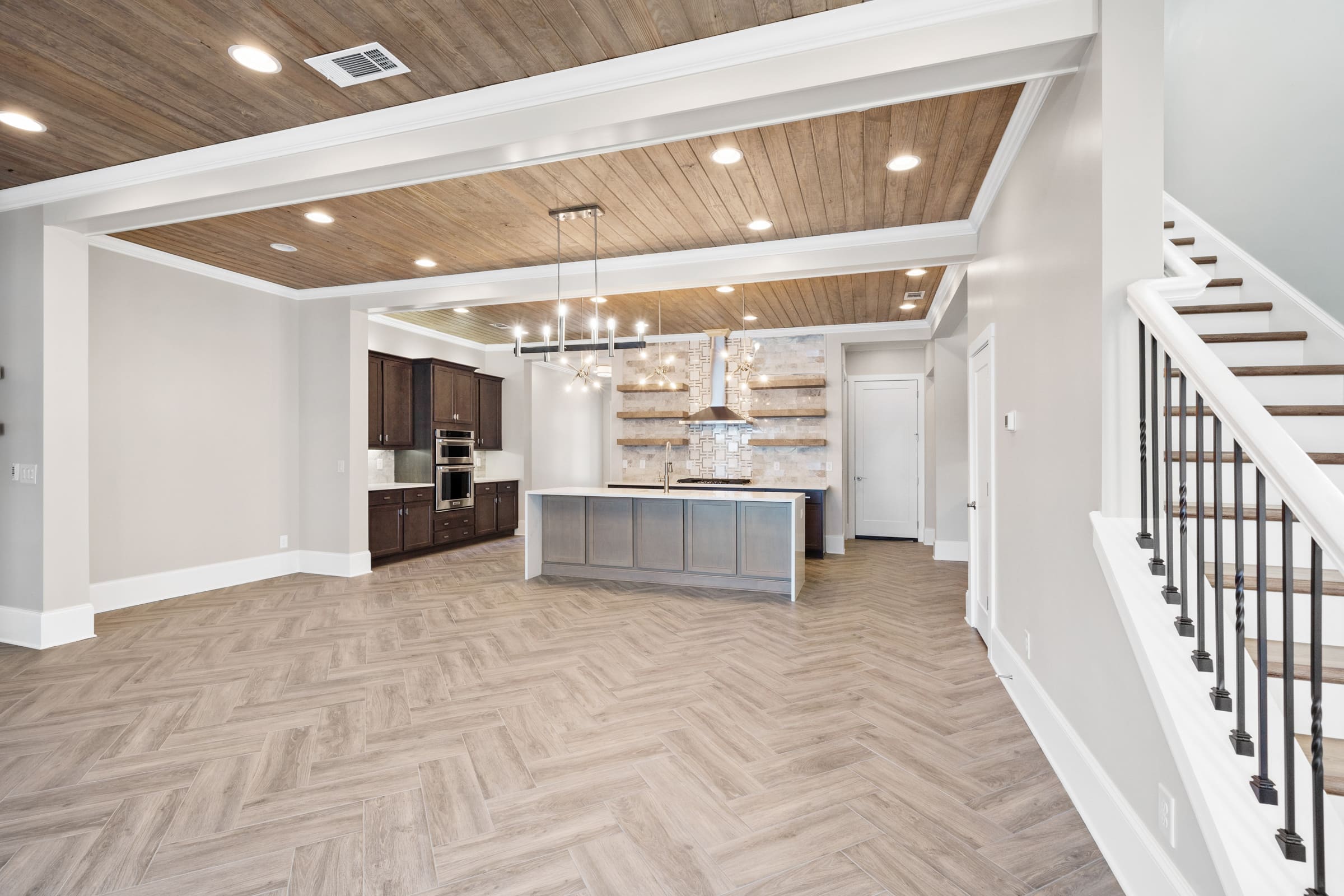 Take the stairs (or take an elevator ride!) downstairs to check out the main floor, which has a few showstopping features of its own. Most notably, intricate herringbone tile stretches across the entire main floor, drawing patterns and lines that generate visual interest.
The main floor has an open layout, which allows the kitchen, living area, and outdoor patio to flow seamlessly together.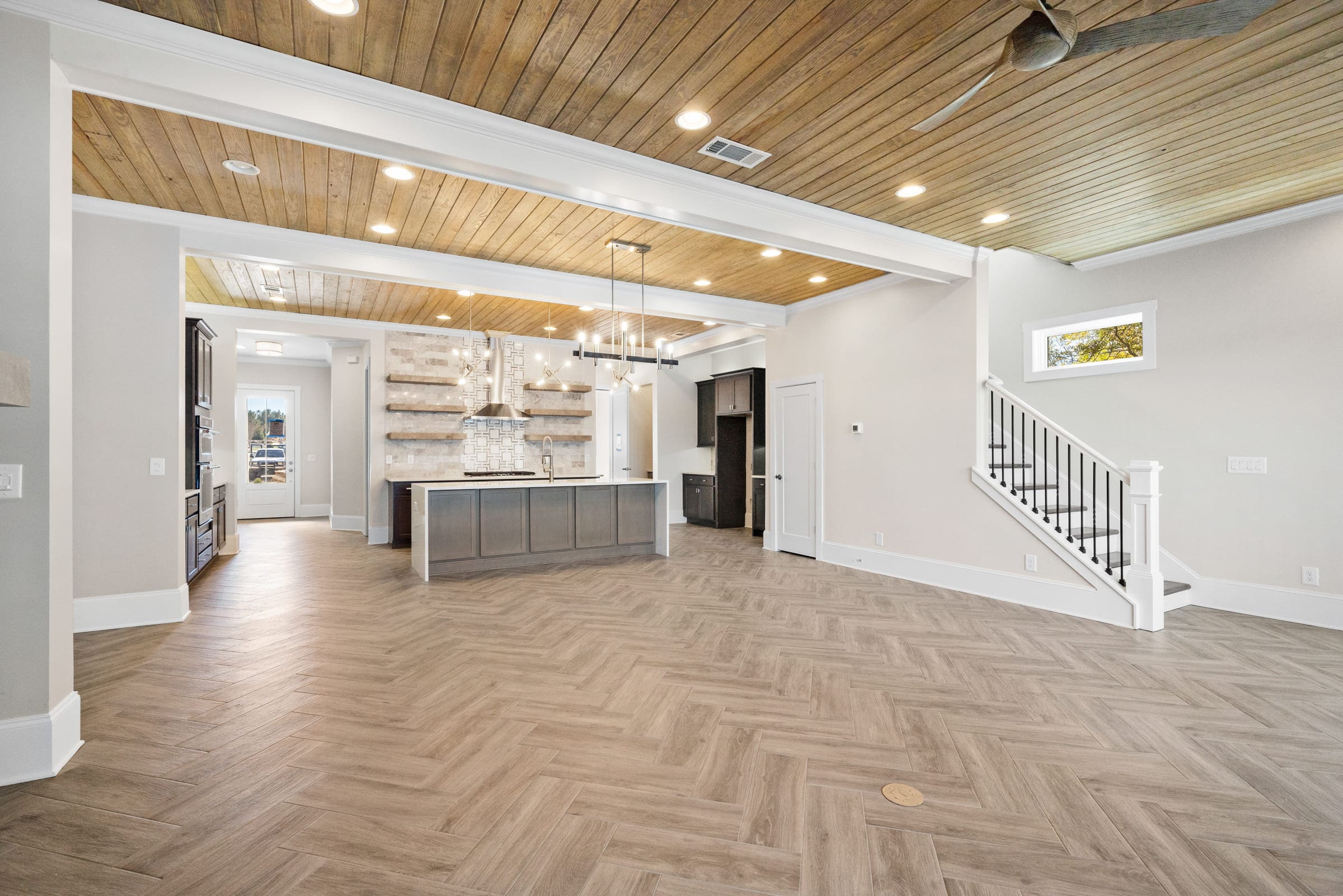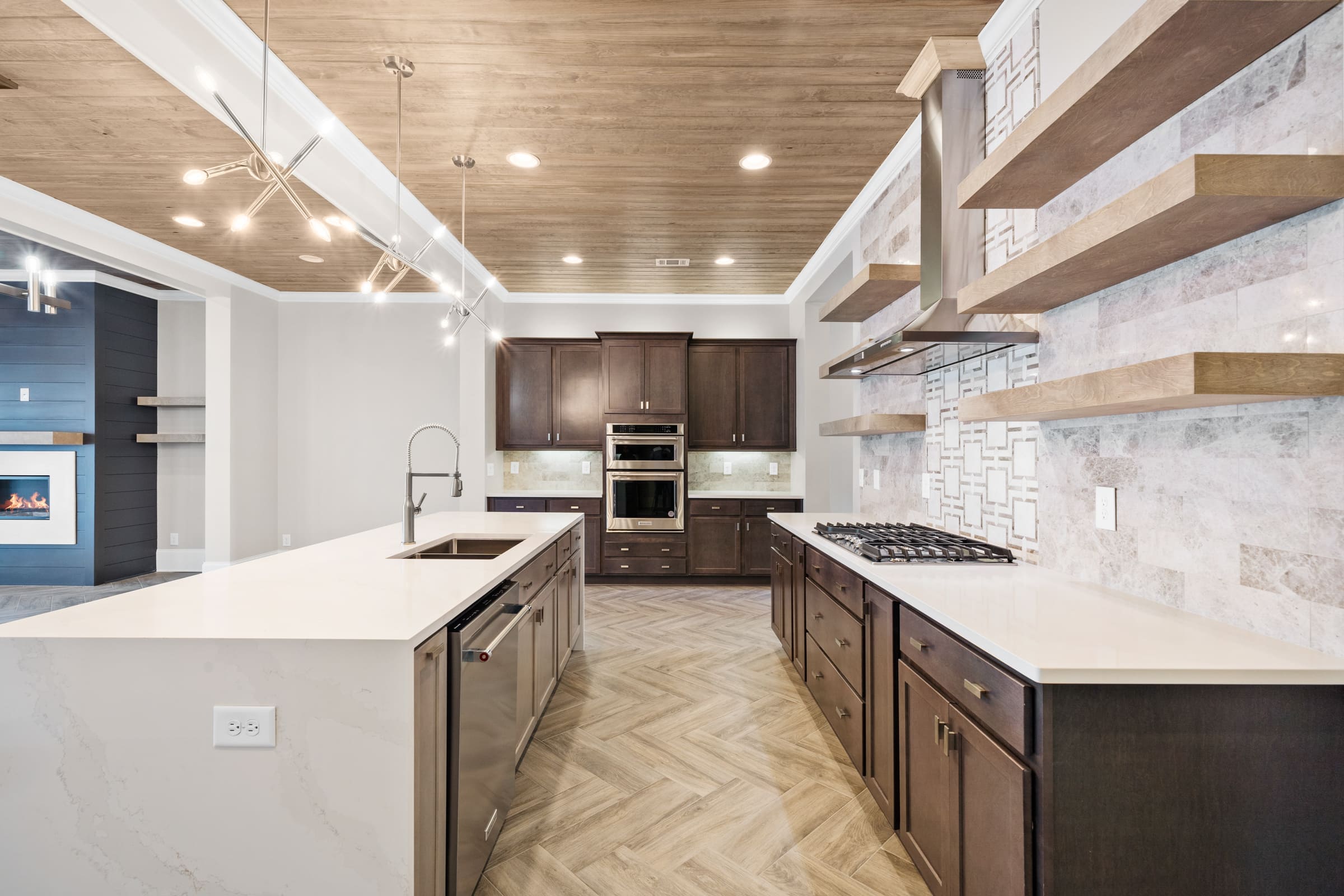 We designed this large modern kitchen to exhibit some of the most popular kitchen interior design trends for 2022. The flooded shelving, for example, is predicted to be one of the hottest looks of the new year. However, we didn't want to sacrifice functionality, so we combined the open shelving with traditional cabinetry to provide plentiful storage.
For lighting, we kept it simple with inlaid can lights but added an extra punch of pizazz with statement lighting above the island.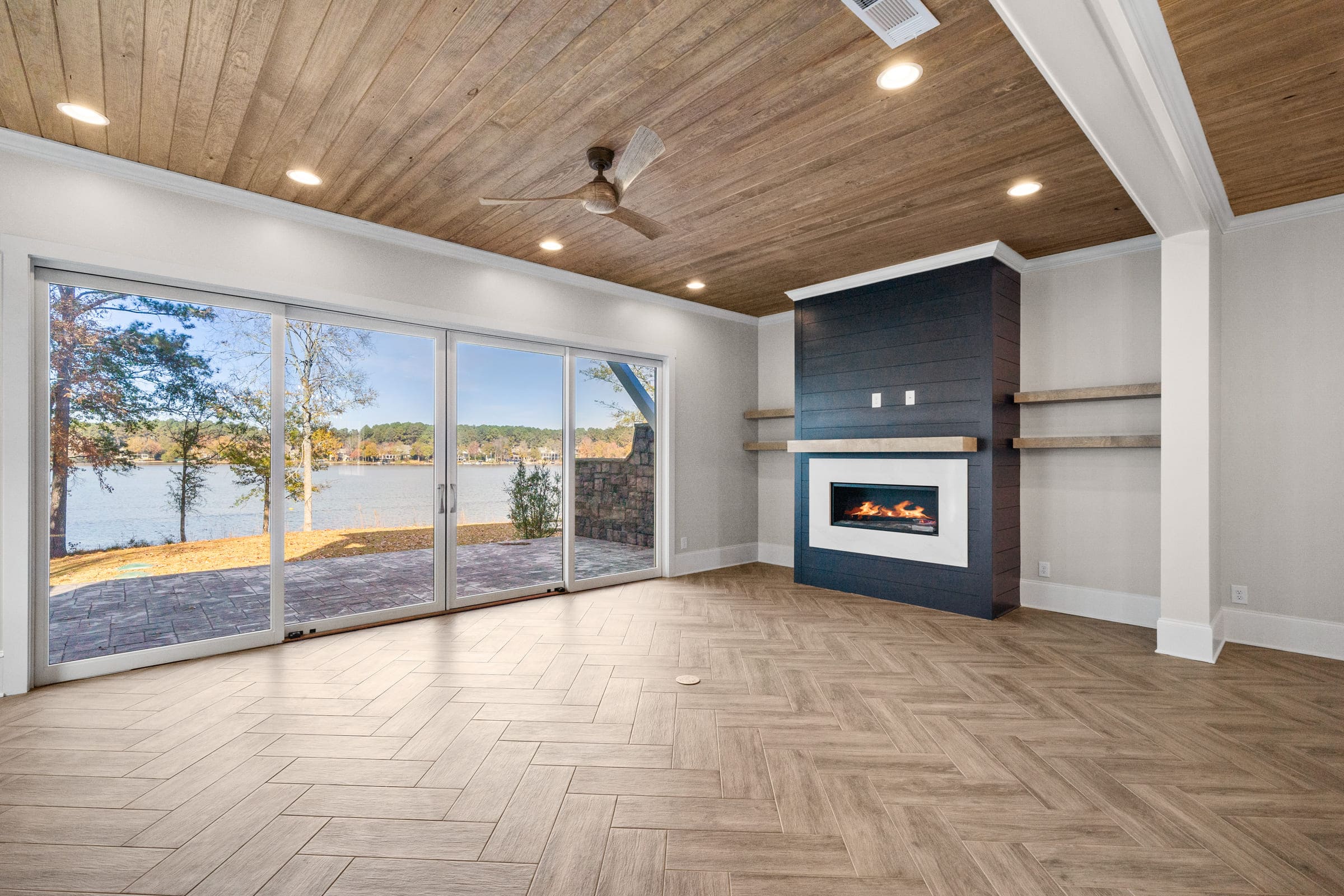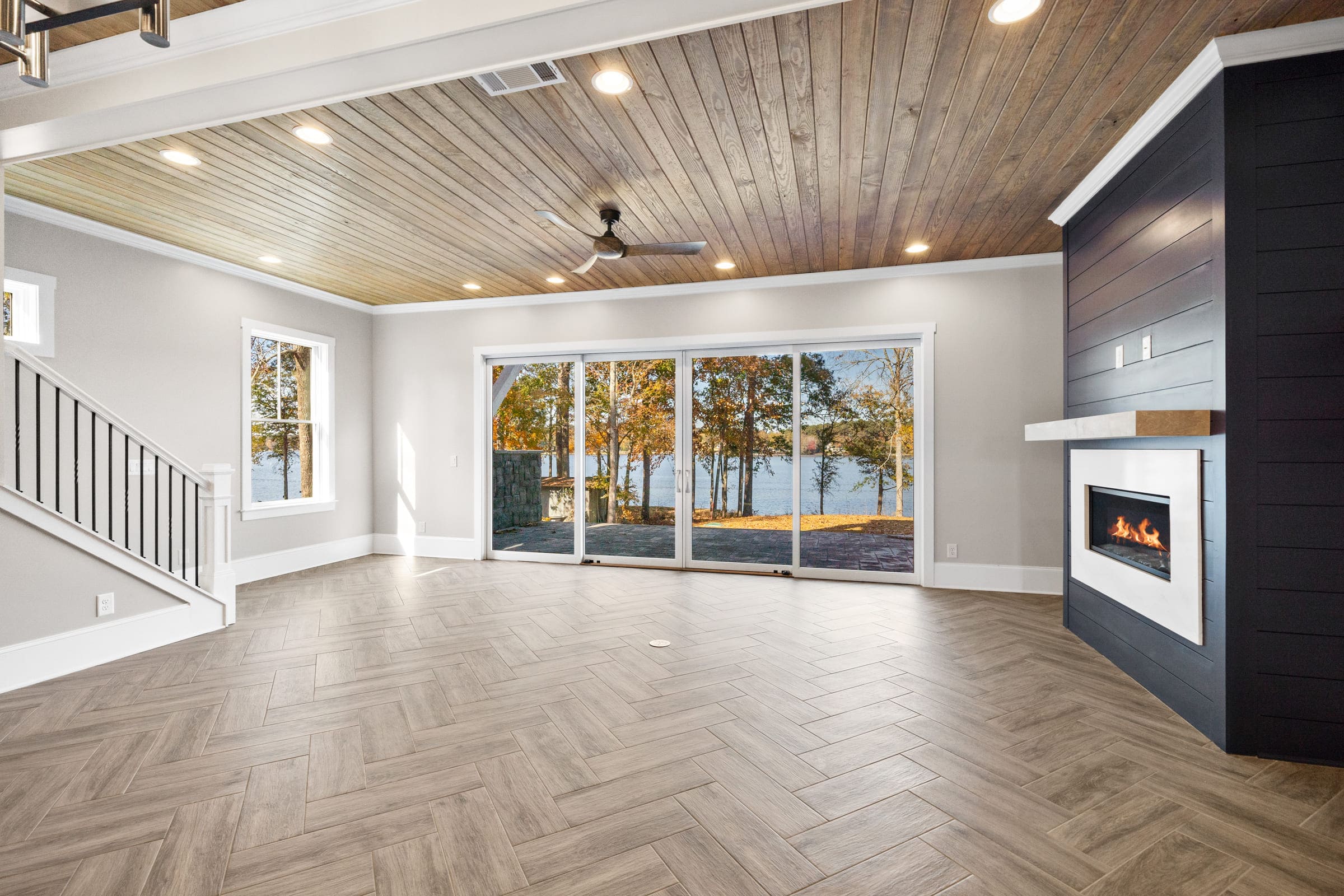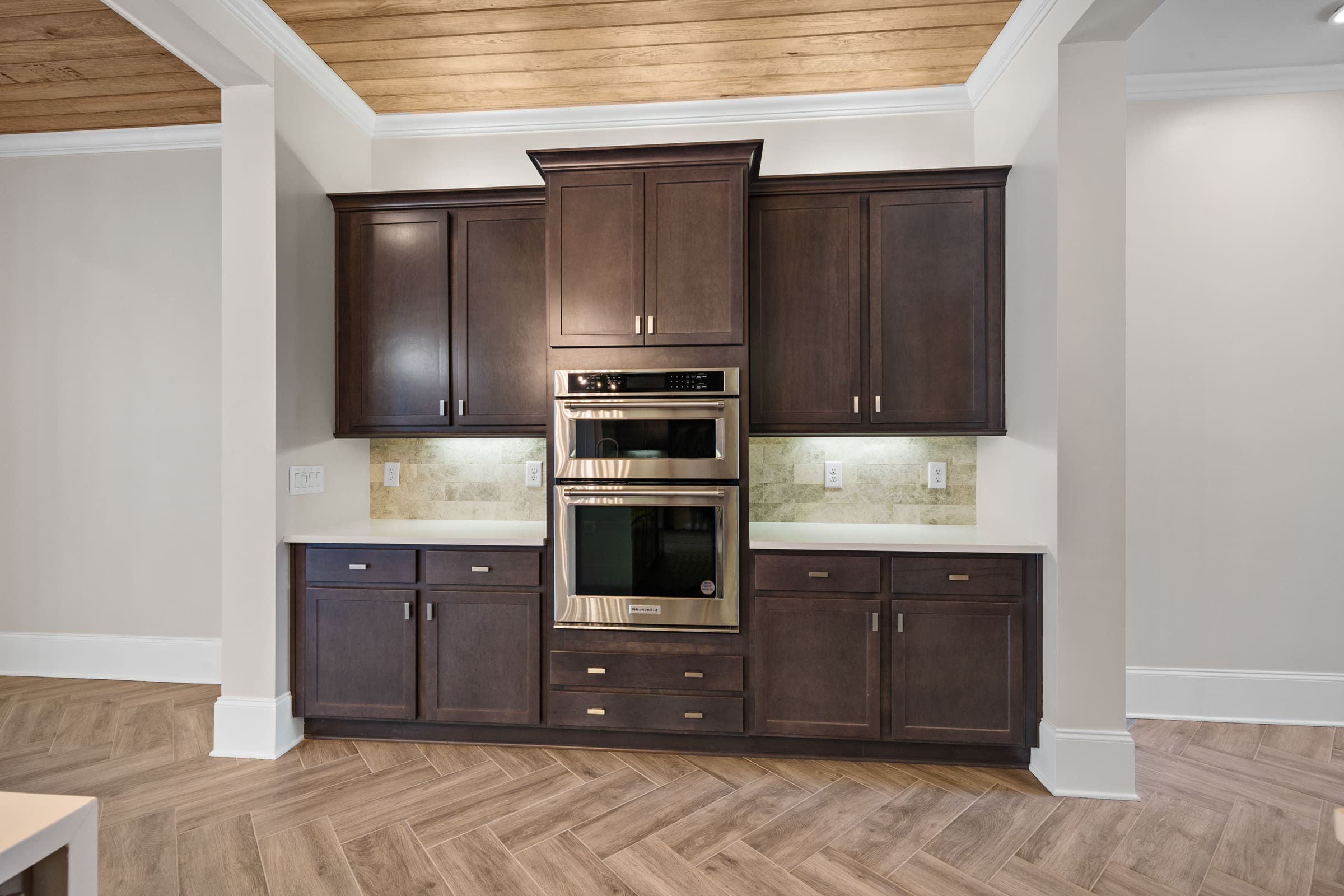 Though it was considered out of style for a while, dark wood cabinetry — like what's seen here — is experiencing a resurgence in popularity, making it a perfect choice for this new construction and leading the 2022 cabinet trends.
Just outside of the kitchen, opens the main floor living area equipped with a stunning fireplace. The dark shiplap of the fireplace adds a new texture to the room and provides an accent wall that stands out against the light color palette.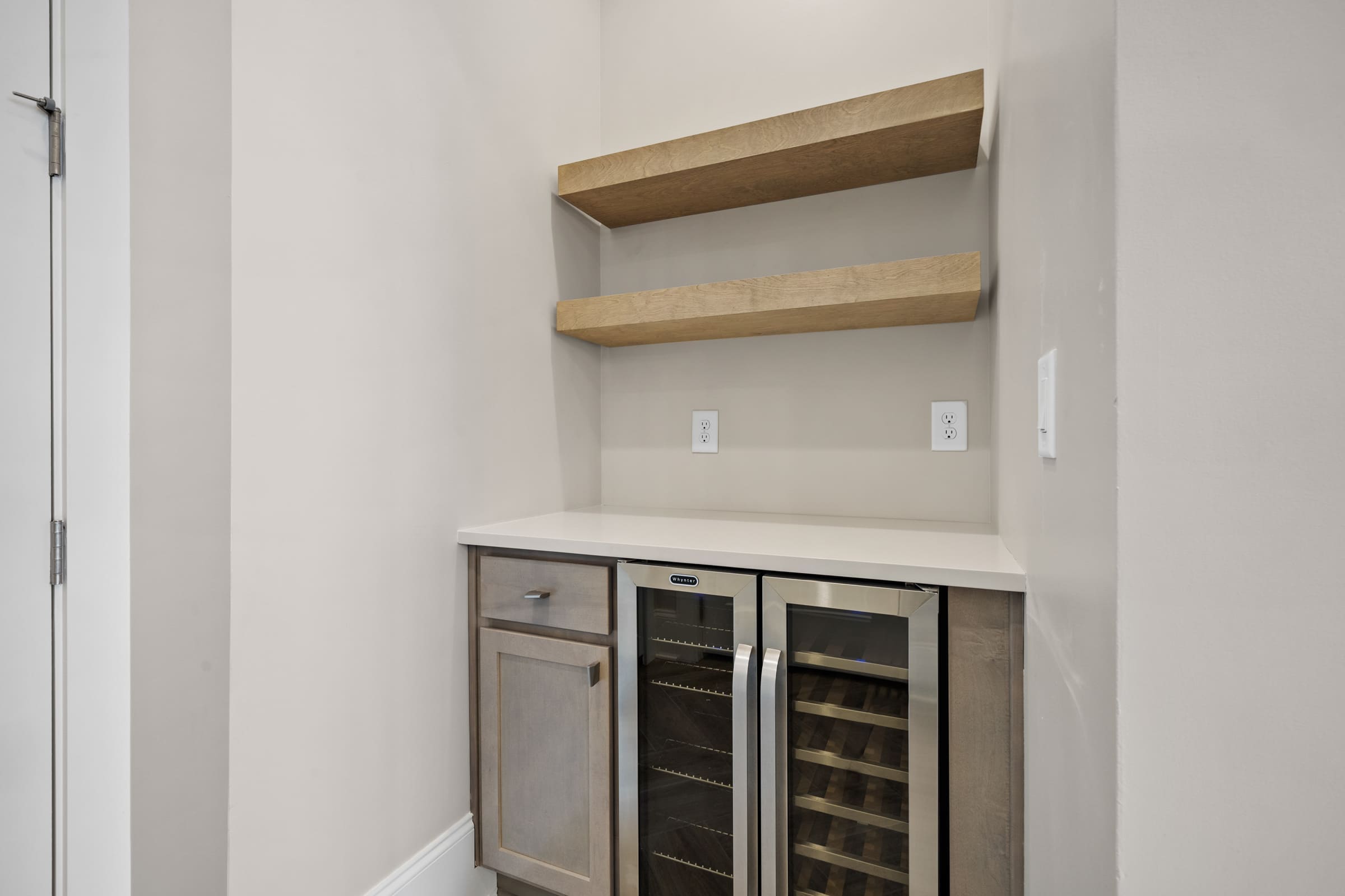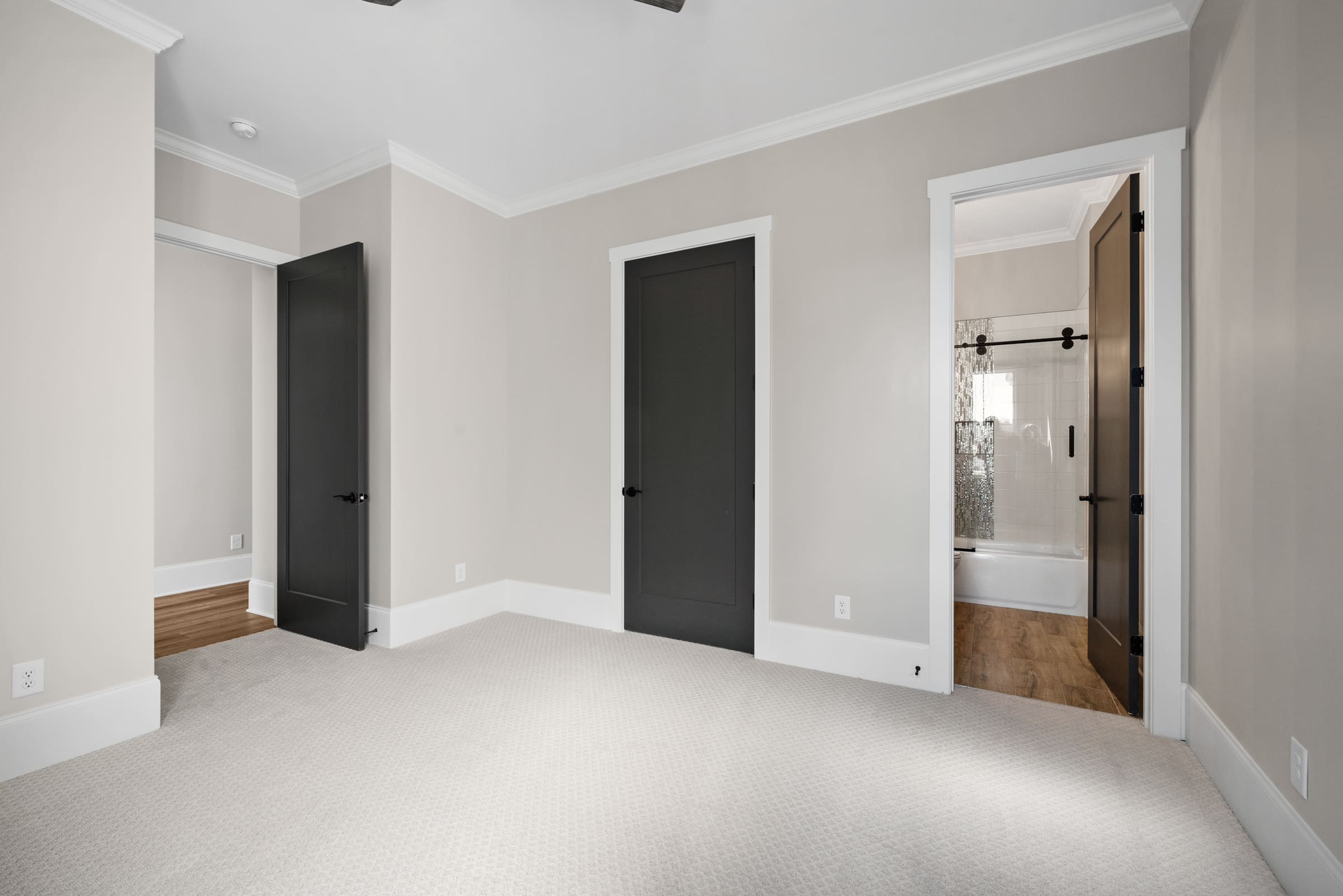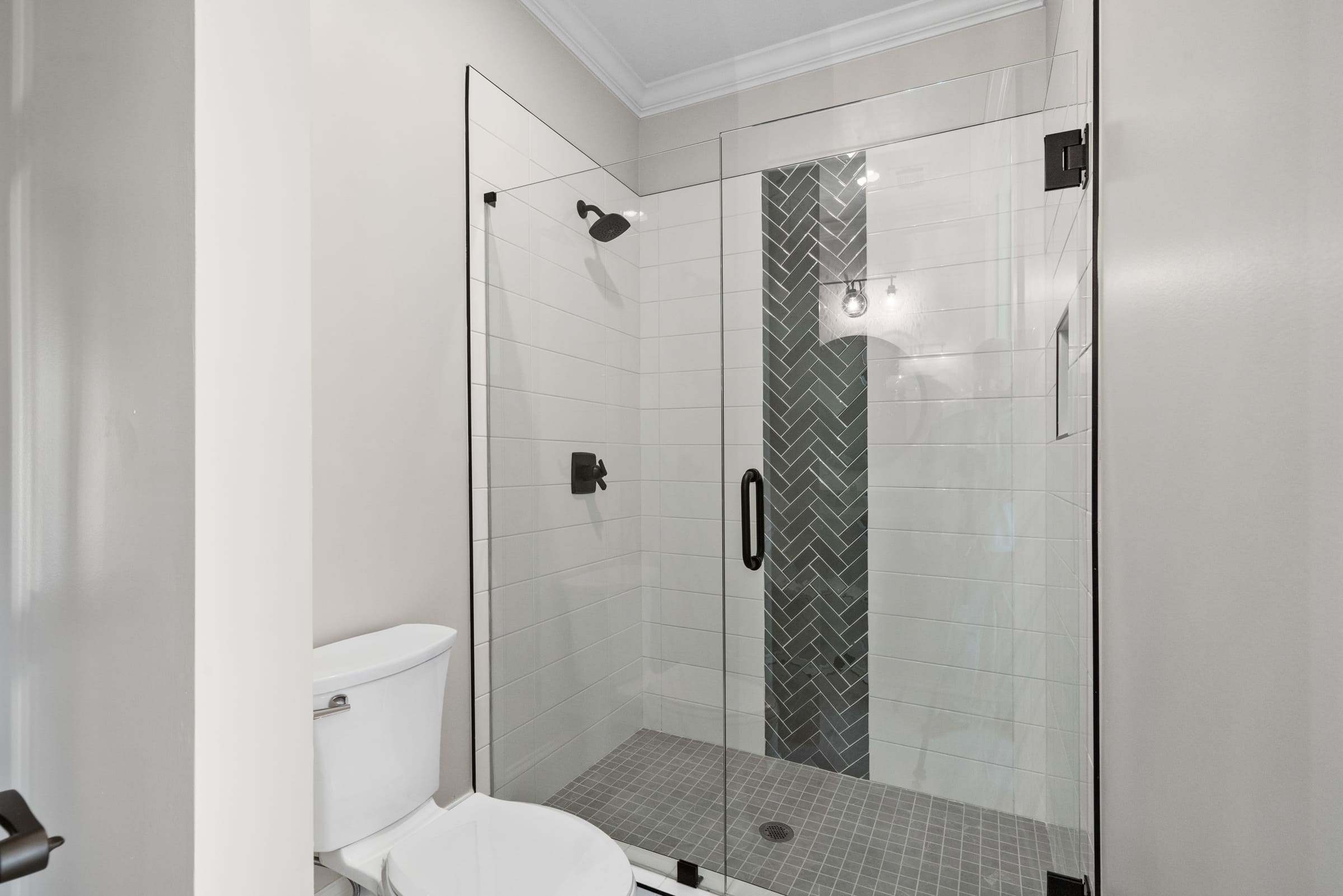 Last but not least, this Lake Oconee home has three guests bedrooms. Each bedroom has its own ensuite bathroom and custom closets — providing a little extra comfort and luxury for any guests who come to stay.
And the cherry on top is this wine niche — a special request from our clients — which is equipped with a mini-fridge and bar shelving.