Imagine standing on the serene front porch with rustic wood columns as the sun goes down and the charming porch lights wink into service. We've built a front porch perfect for a rocking chair and a cold beverage on the side table. This inviting area is just the beginning. Step through these beautiful double iron doors and into this clean and classic Indian Trail forever home. Custom details, built-ins, and luxury touches abound in our latest showpiece, and PAXISgroup is thrilled to give you the grand tour.
There's plenty of room for motorized toys in this three-car attached garage with individual doors. Tucked to the side, the garage is an unassuming space with a clean profile. The luxe wood finish on the garage doors adds to the warm and clean exterior aesthetic. We love the classic white vertical siding, wrought-iron window frames, and natural wood elements echoed in the exterior and inside our country classic showcase.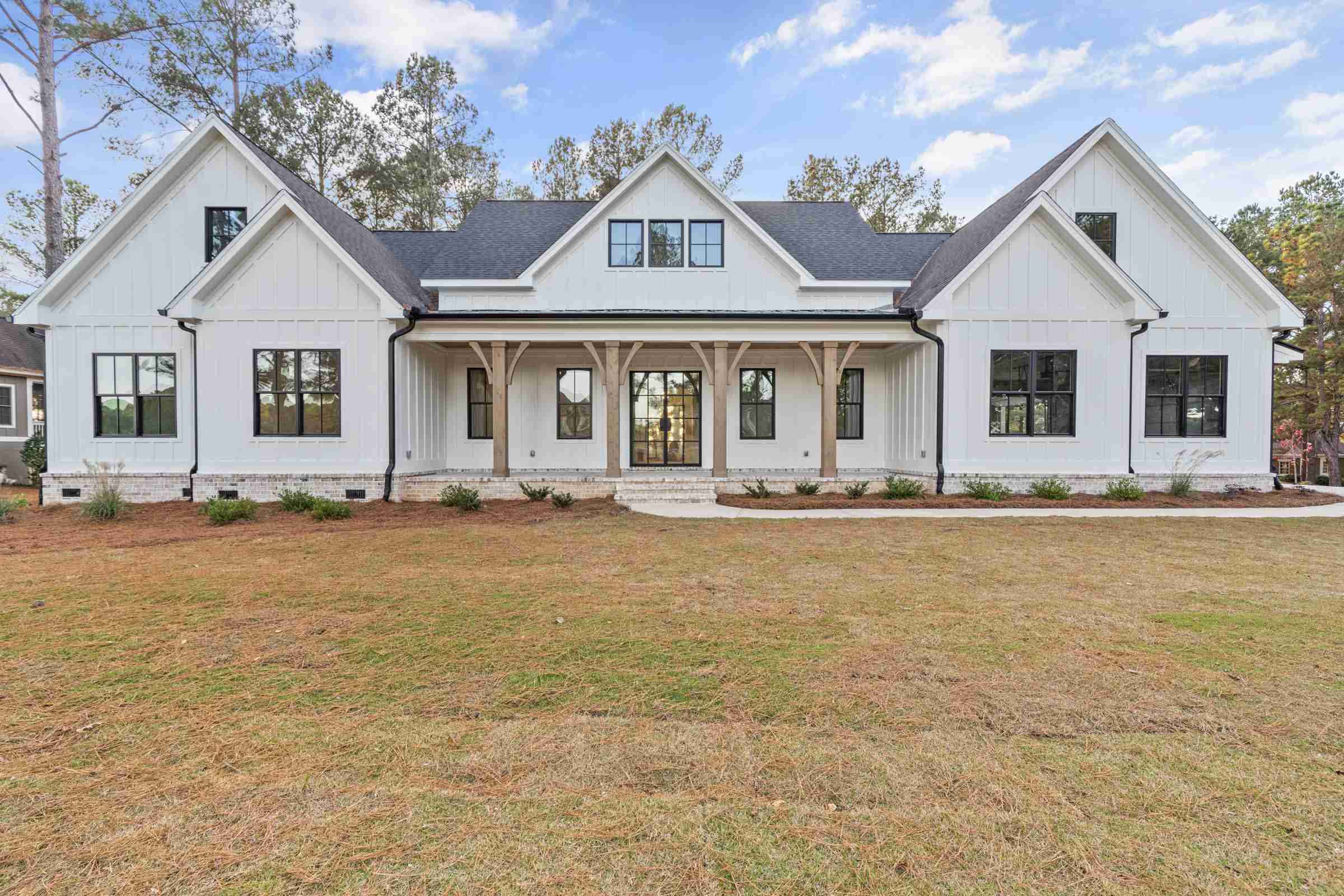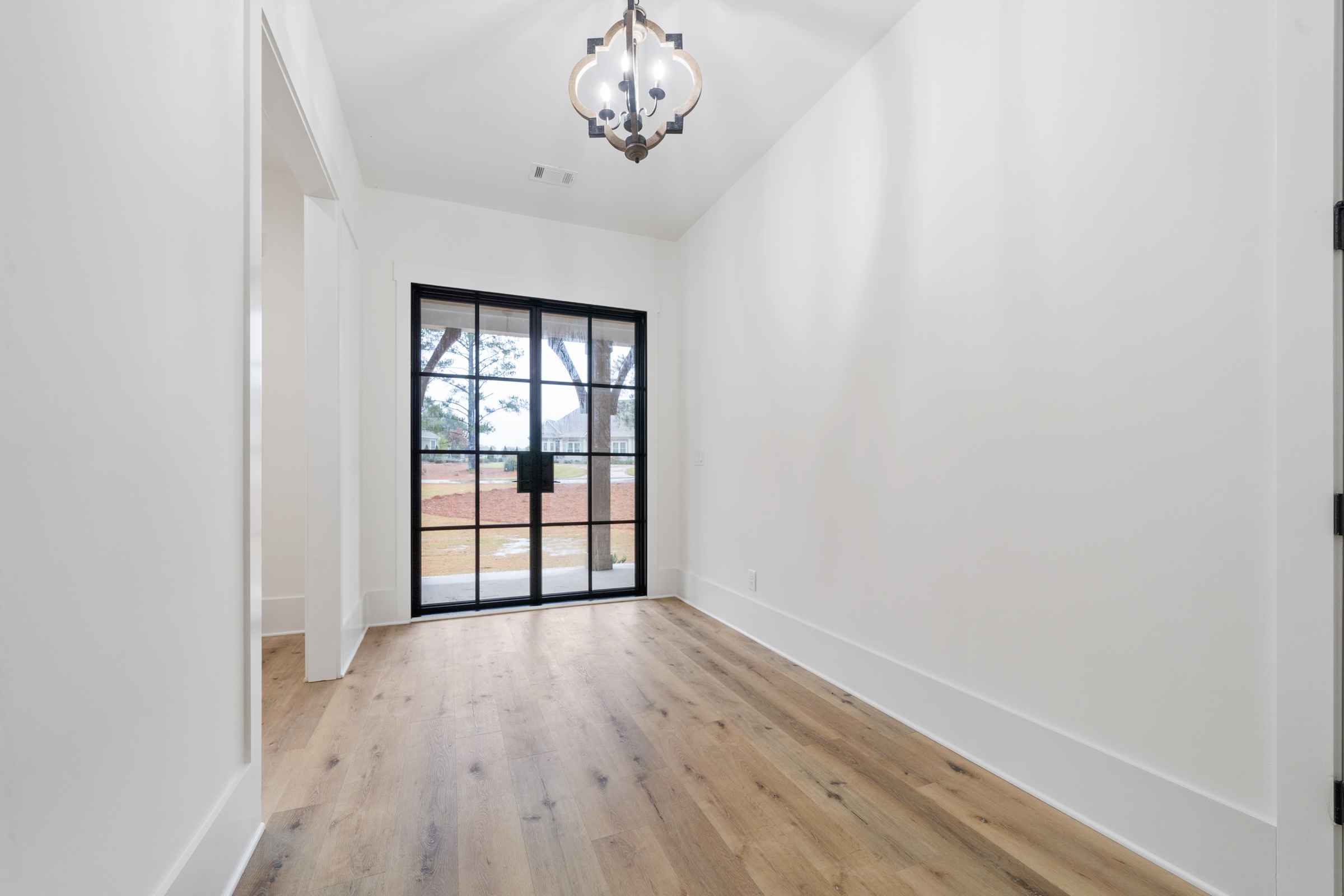 Watch for repeats of classic wrought iron throughout this stunning home, such as in the railing leading to the airy upstairs living space and in the light fixtures and plumbing fixtures. Farmhouse-style elements like exposed brick, sliding barn doors, and generous baseboards and trim provide vintage authenticity.
Ample main-floor living spaces include custom built-ins surrounding the roaring fireplace. This bespoke mantle is ready to display treasured family items and elegant decor. Large exposed beams tie the kitchen and living room together while delineating the kitchen from the living room, one ample open space featuring timeless and sleek hardwood floors. Stone columns throughout the kitchen and first-floor living space provide the perfect custom touch for stunning continuity.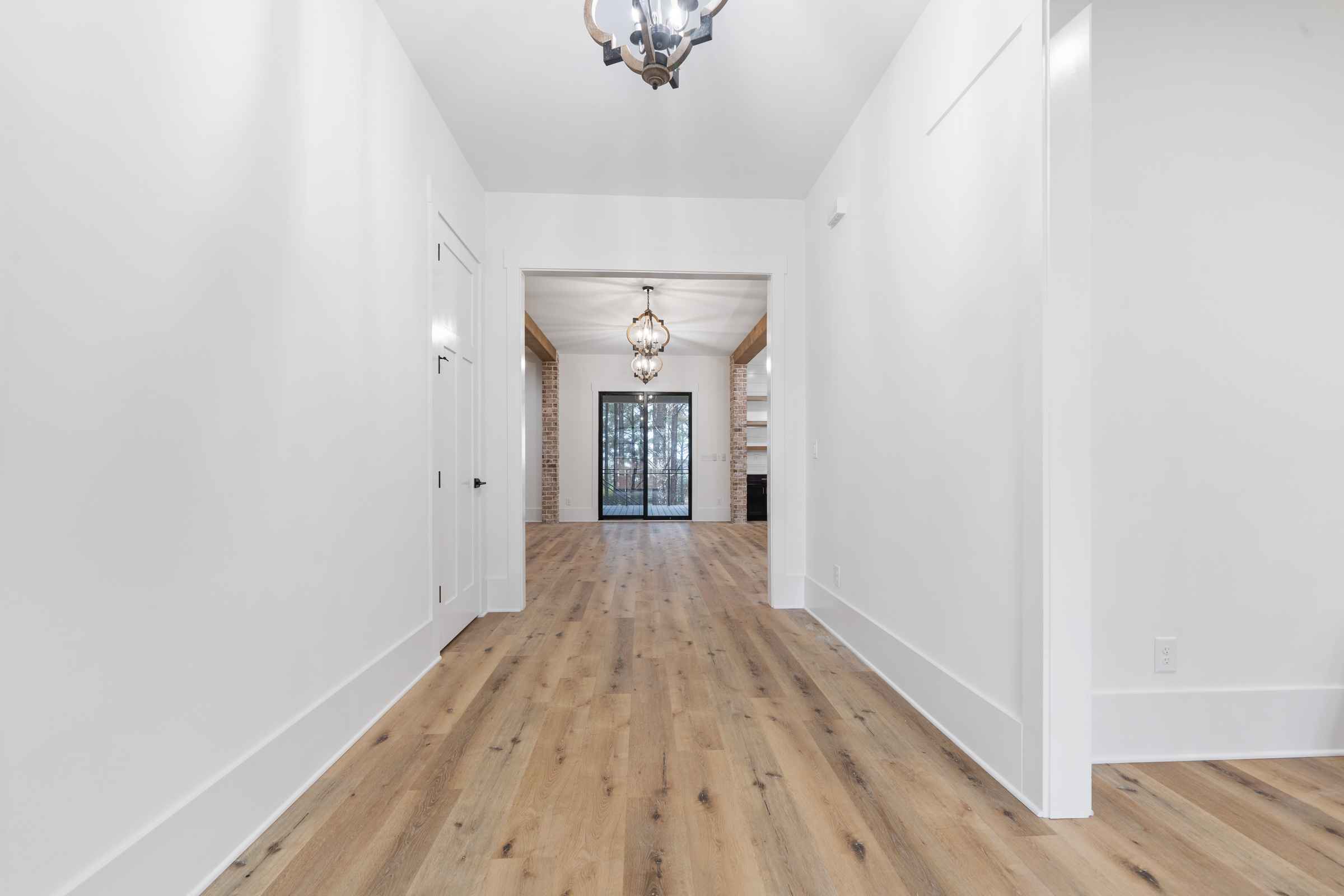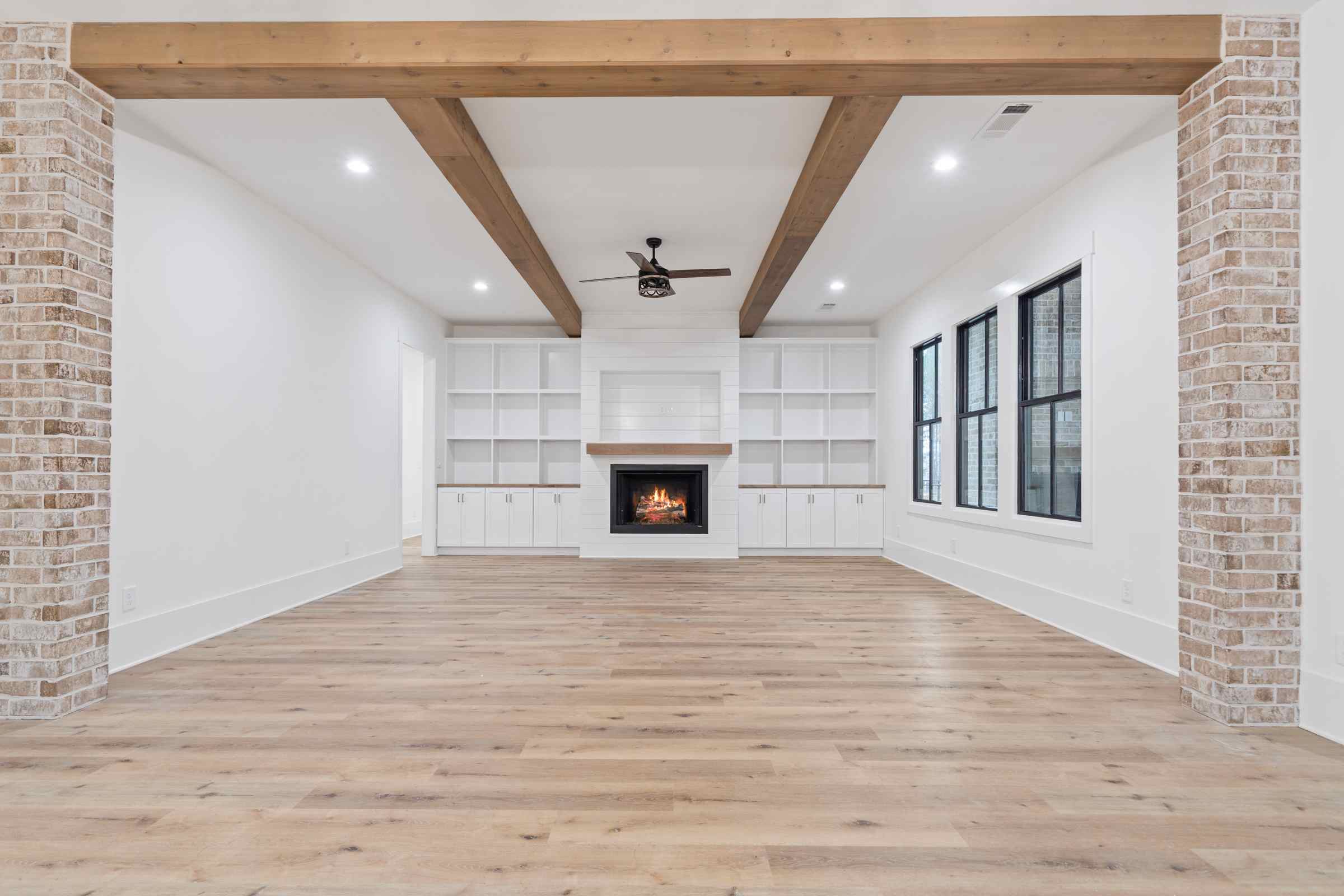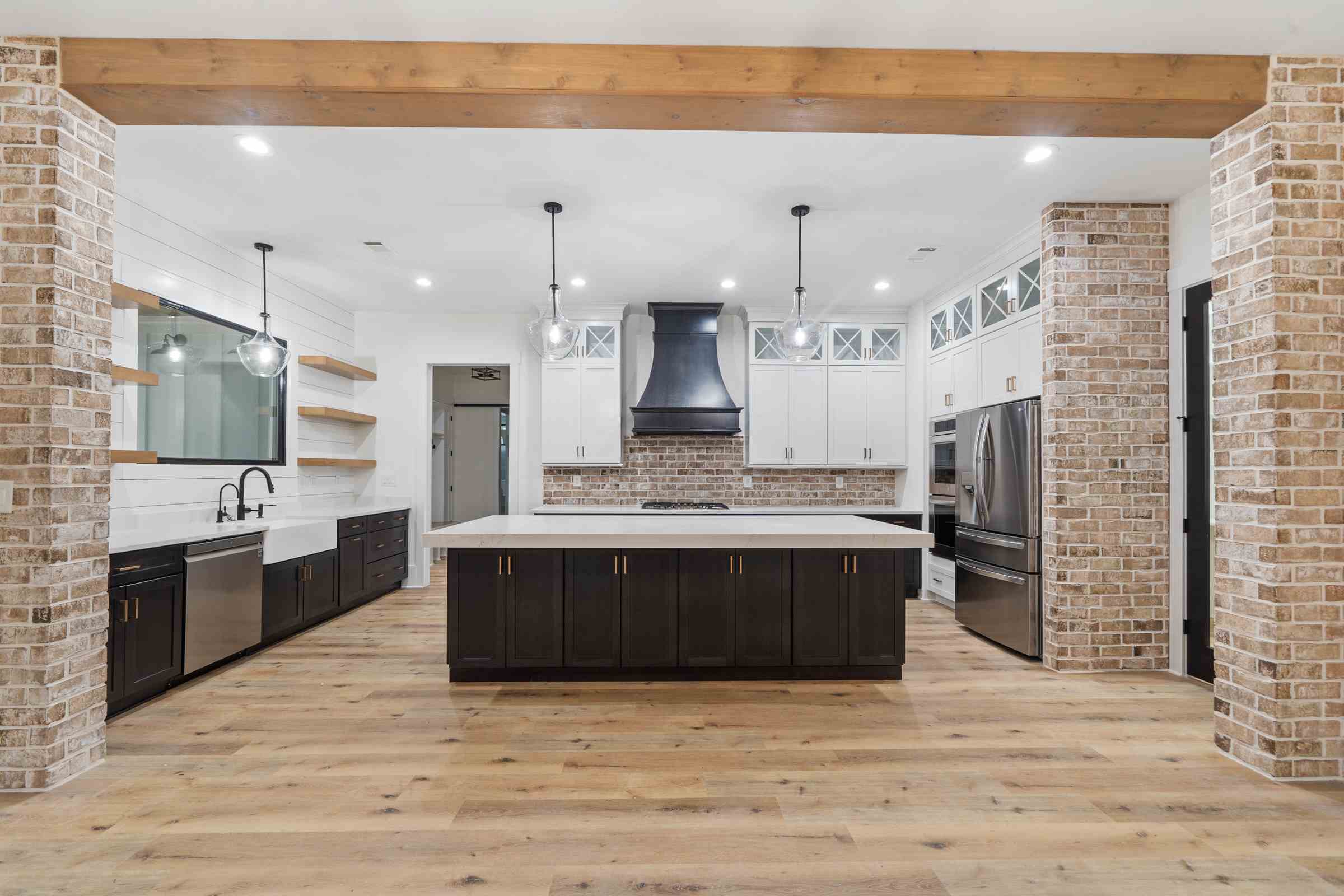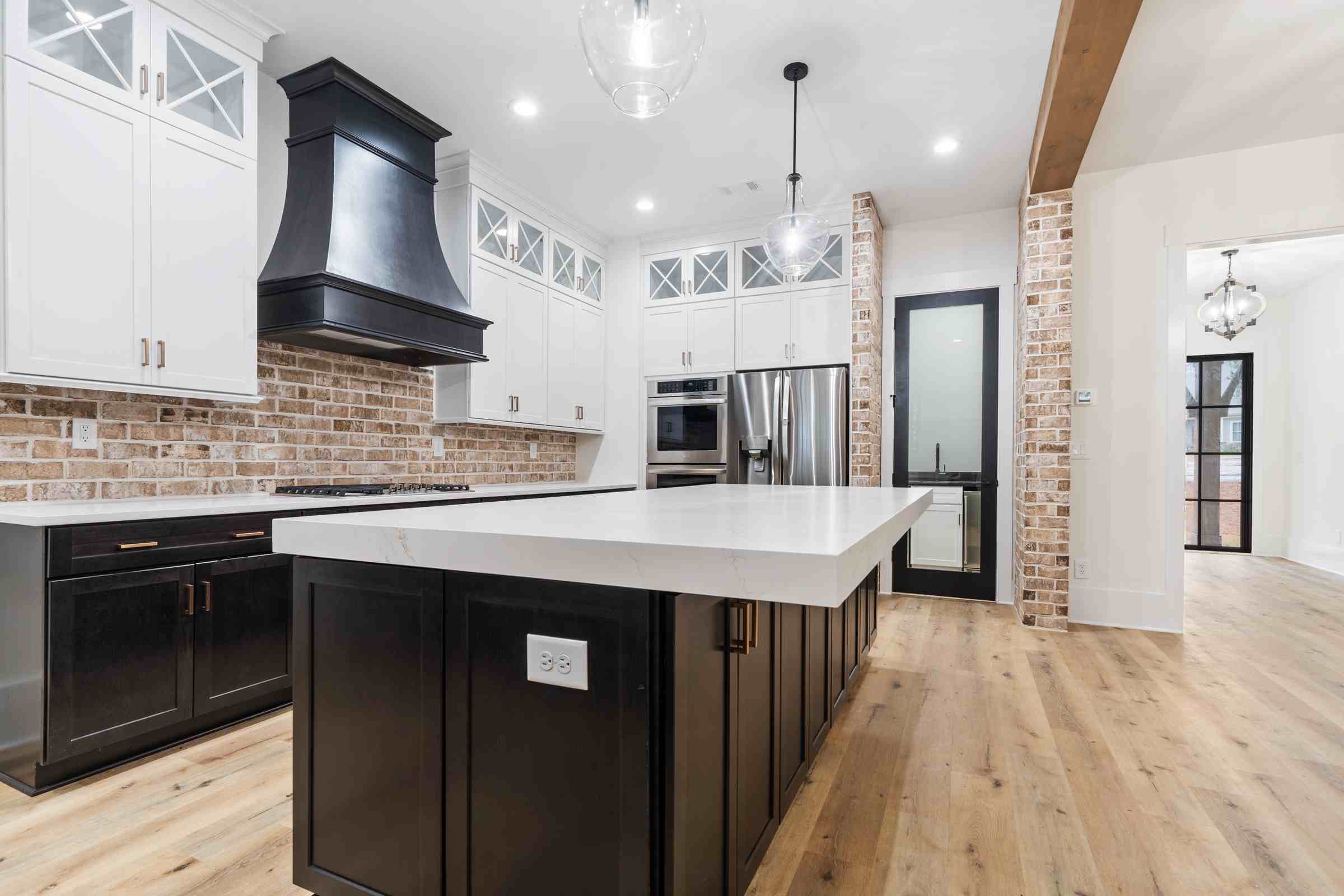 This beautiful farmhouse custom kitchen features timeless elements and thoughtful design. We've lit the ceramic apron-front sink and accessible island workspaces with vintage-inspired pendulum lights. The custom range hood is one of our absolute favorite elements in a build full of highlights and pleasures. The white countertop is a fantastic transition between the two-color kitchen cabinets, with deep, rich lower cabinets and pristine white upper cabinets. The lattice glass panels in the kitchen cabinet's uppermost section offer chic display opportunities and a pitch-perfect tone for this country classic kitchen. The backsplash above the range features authentic exposed brick, whereas the white porcelain backsplash over the kitchen sink gives way to thick, sturdy floating shelves for artful storage and display.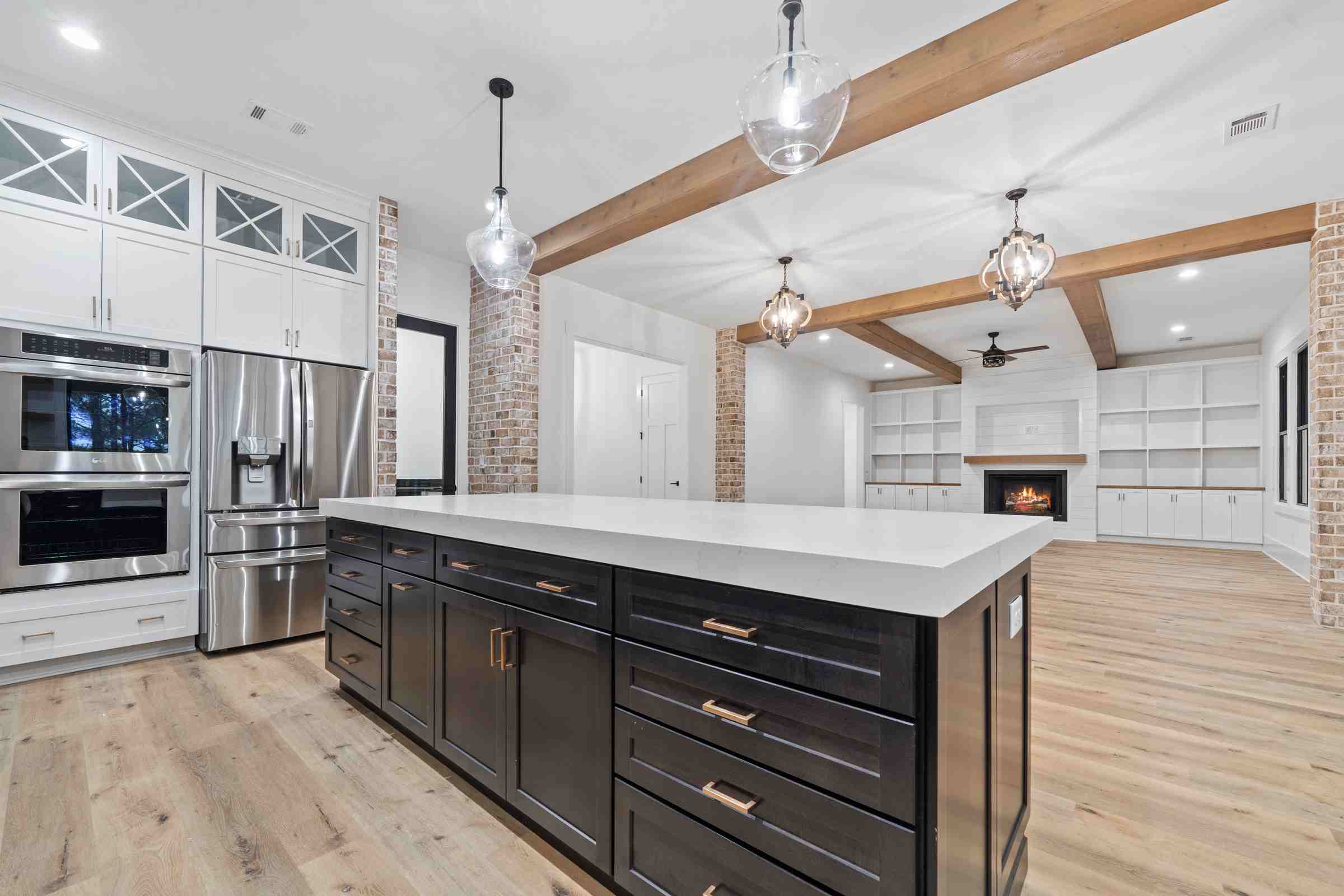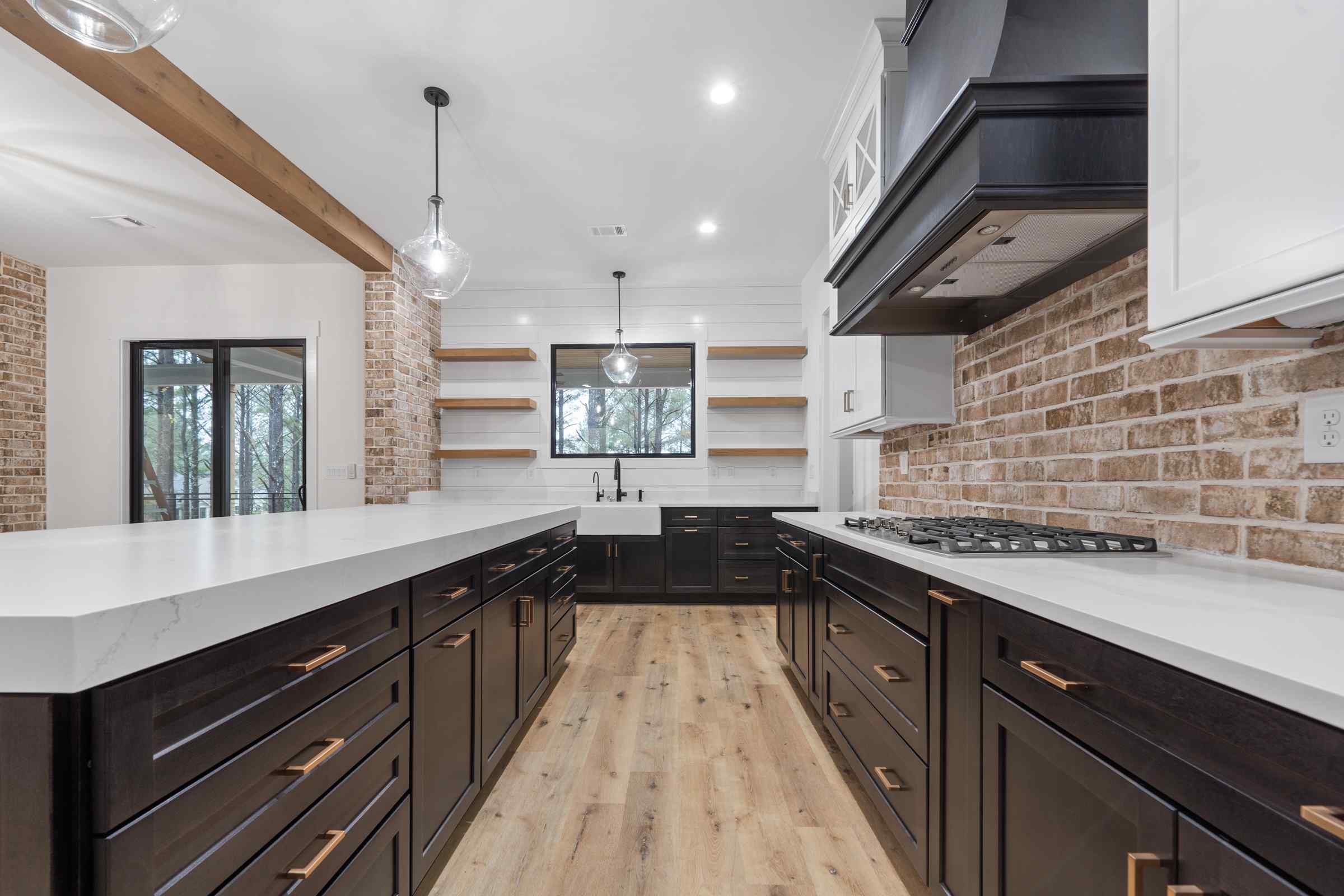 If you're lucky enough to be welcomed in through the side door, you'll enter into a mudroom built to combat the sprawl of everyday life. Custom seating, storage, and plenty of hooks for hanging personal items ensure a place for everything. The adjacent first-floor laundry contains chaos and mess for ultimate convenience during daily routines.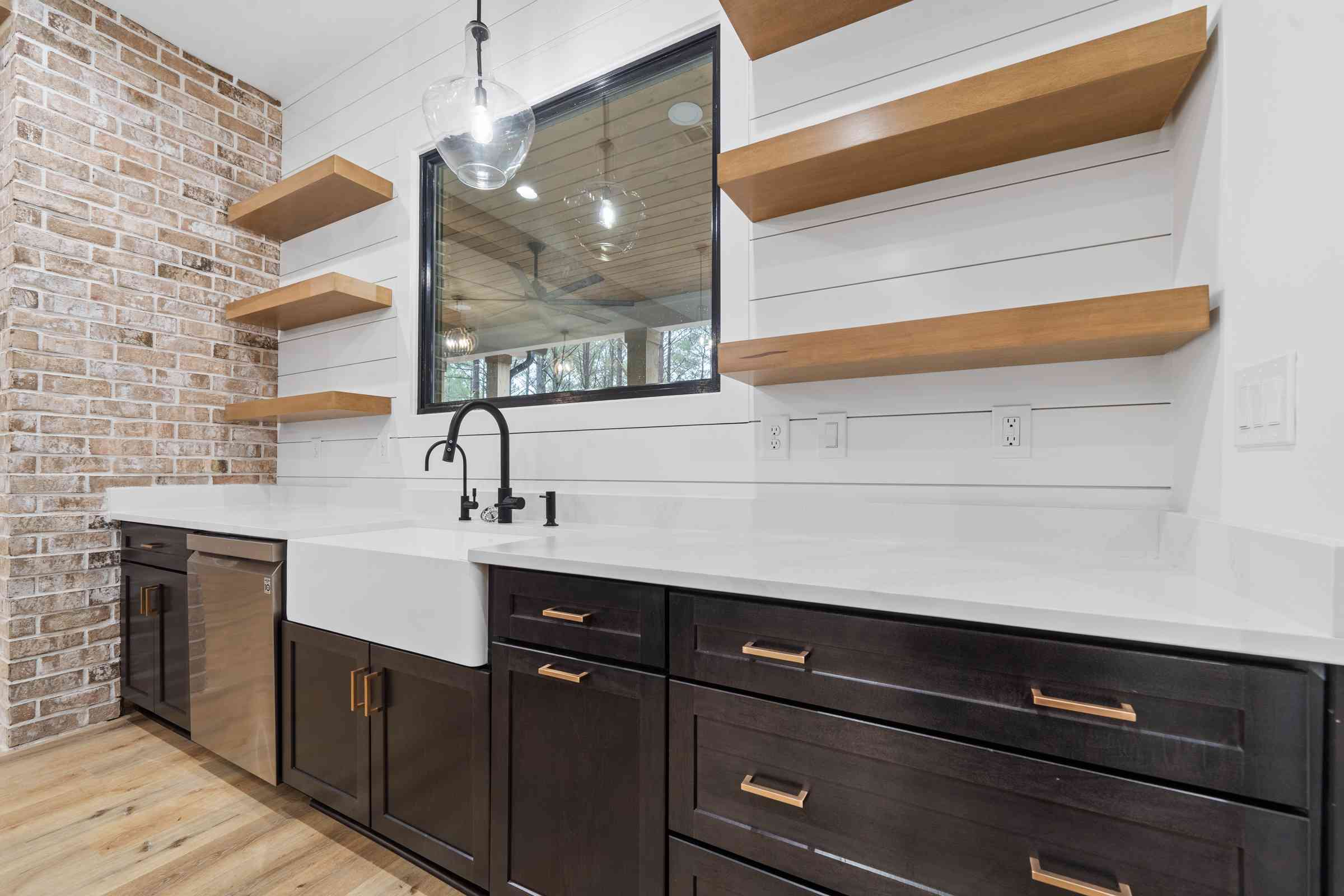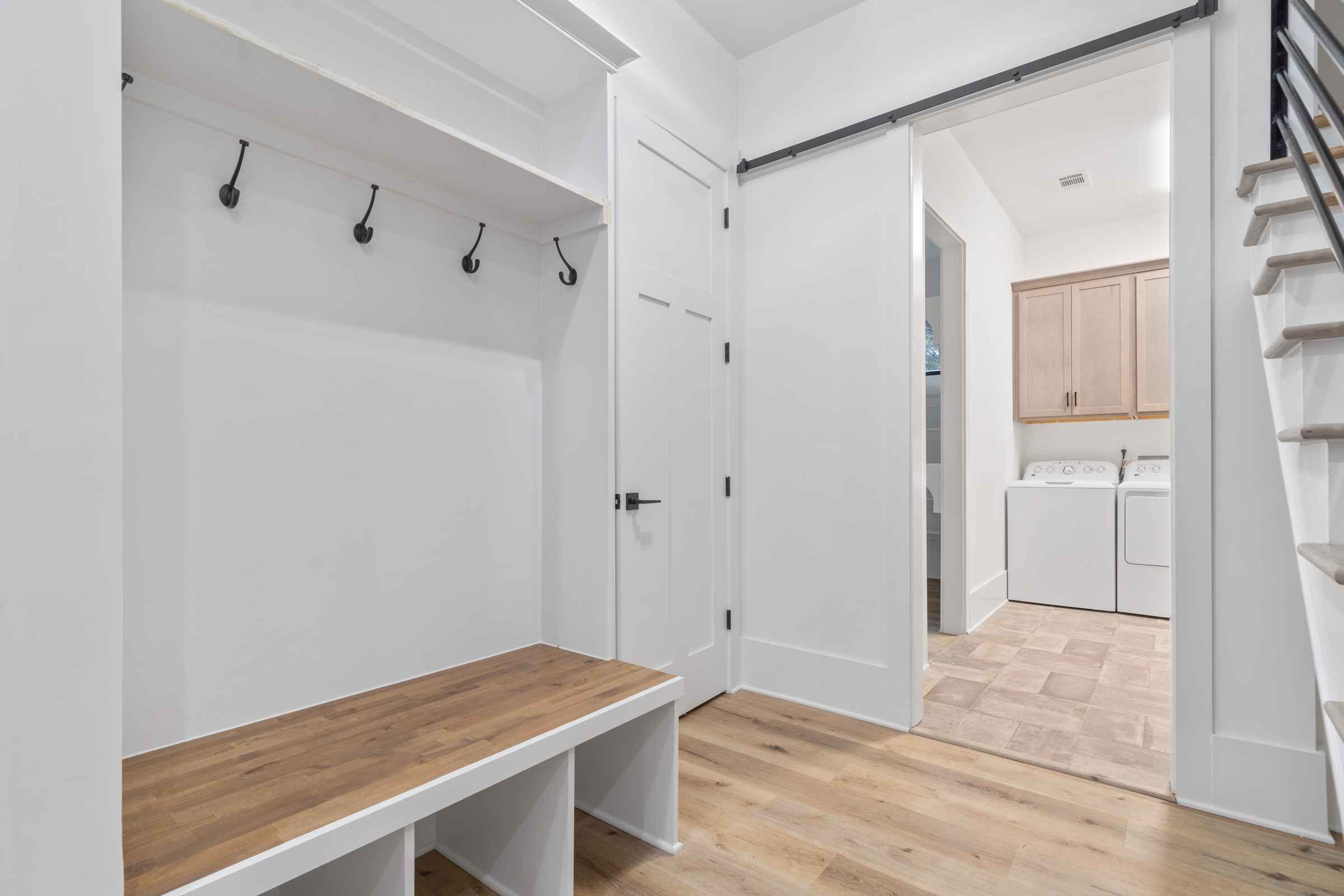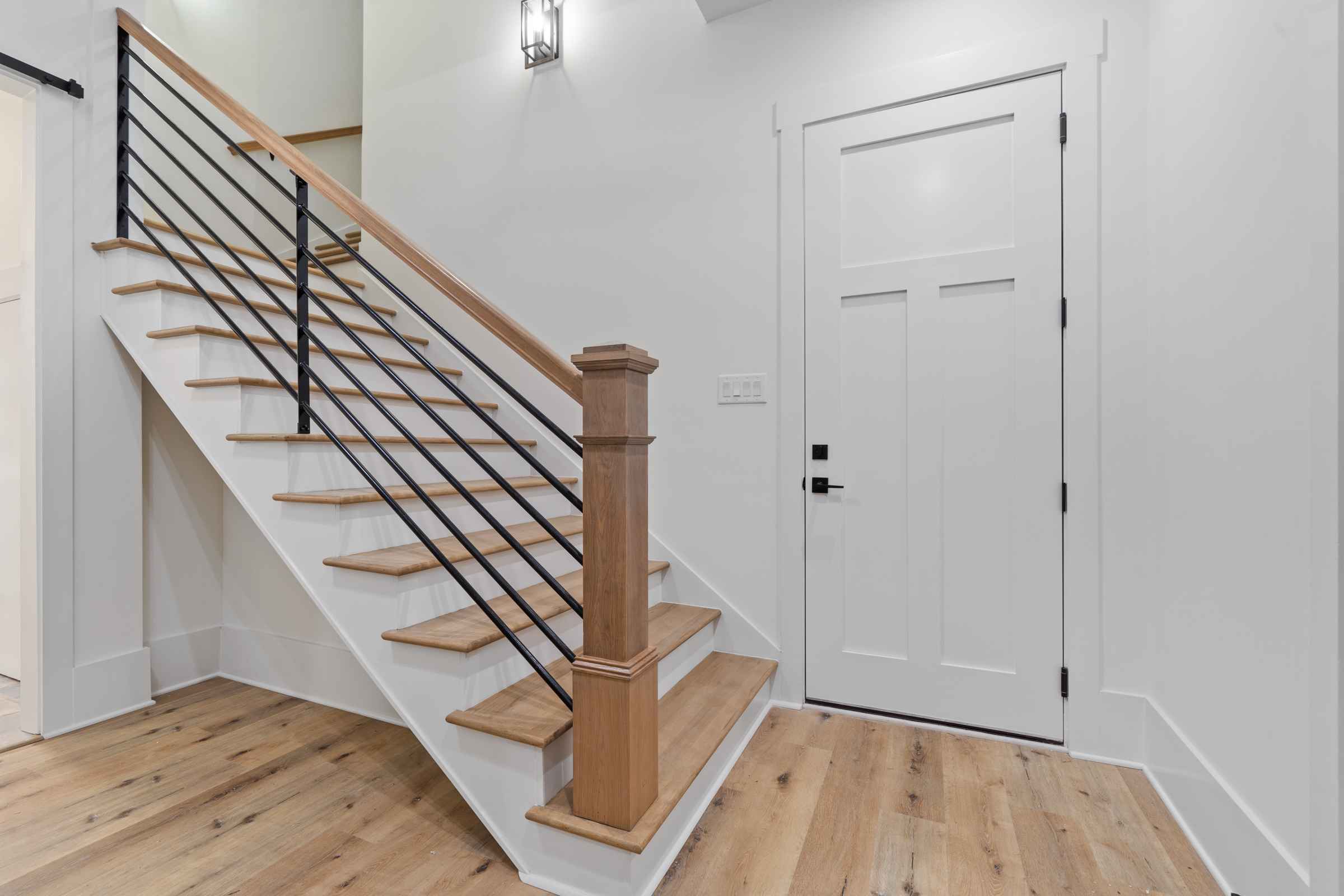 Our walk-in closet game is on point with these beautiful built-ins. Ample custom shelving keeps prized collections on display and easily accessible, and excellent lighting allows the homeowner to be sure they're preparing to look their best. The primary bathroom is built for ultimate accessibility, comfort, and timeless style. We've split the vanities onto either side of the entrance so that no one bumps elbows during morning prep. Each stained wood vanity contains ample drawer storage and thoughtfully illuminated mirrors. This tiled wet room features a barrier-free shower, ample tiled seating, and a deep, luxurious soaker tub, all in one space for versatile bathing. The entire wet room is tiled with light and lovely natural stone and complete with a clerestory window for natural light. You'll also notice a window above eye level in the walk-in closet. There's no need to sacrifice privacy in the name of natural light.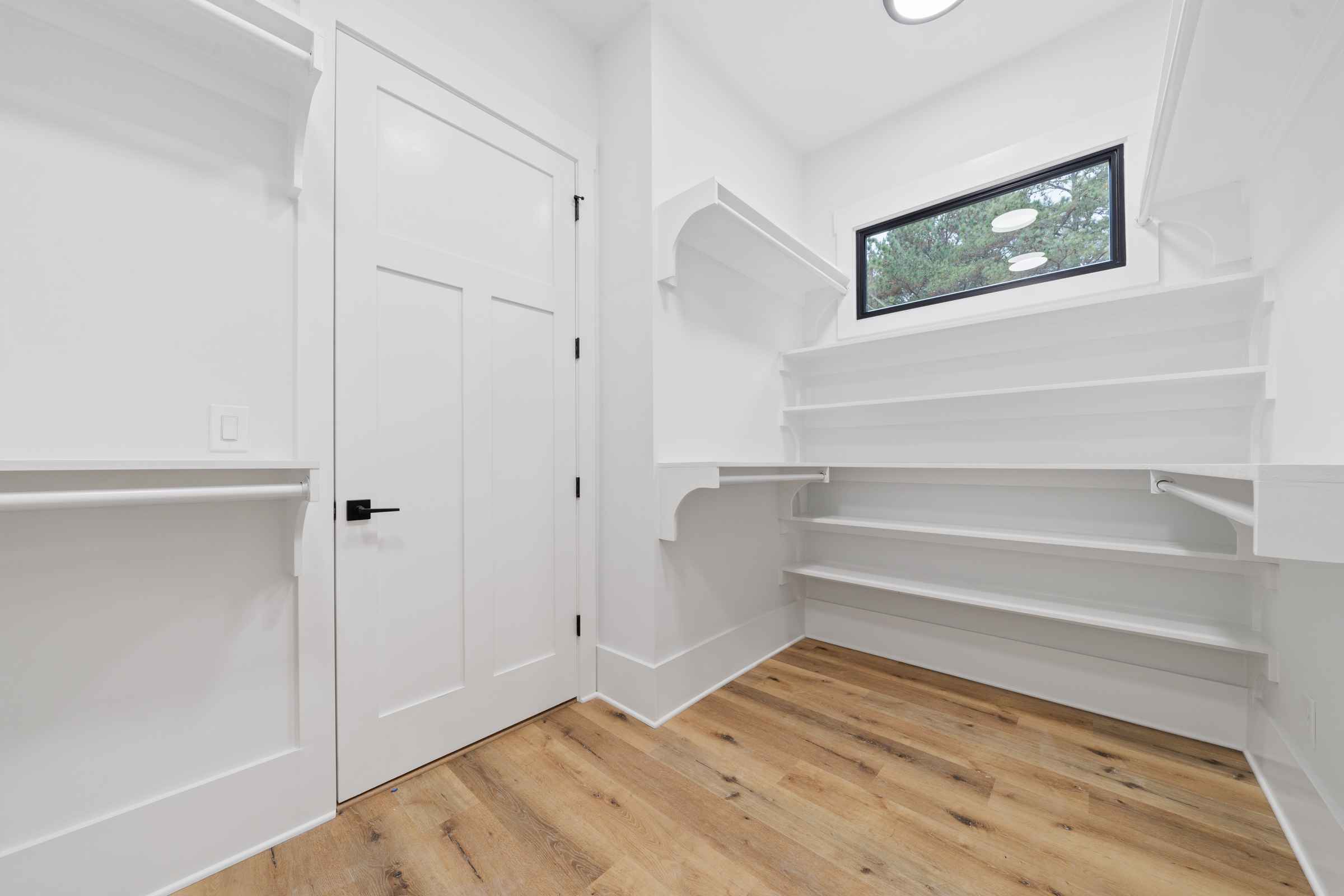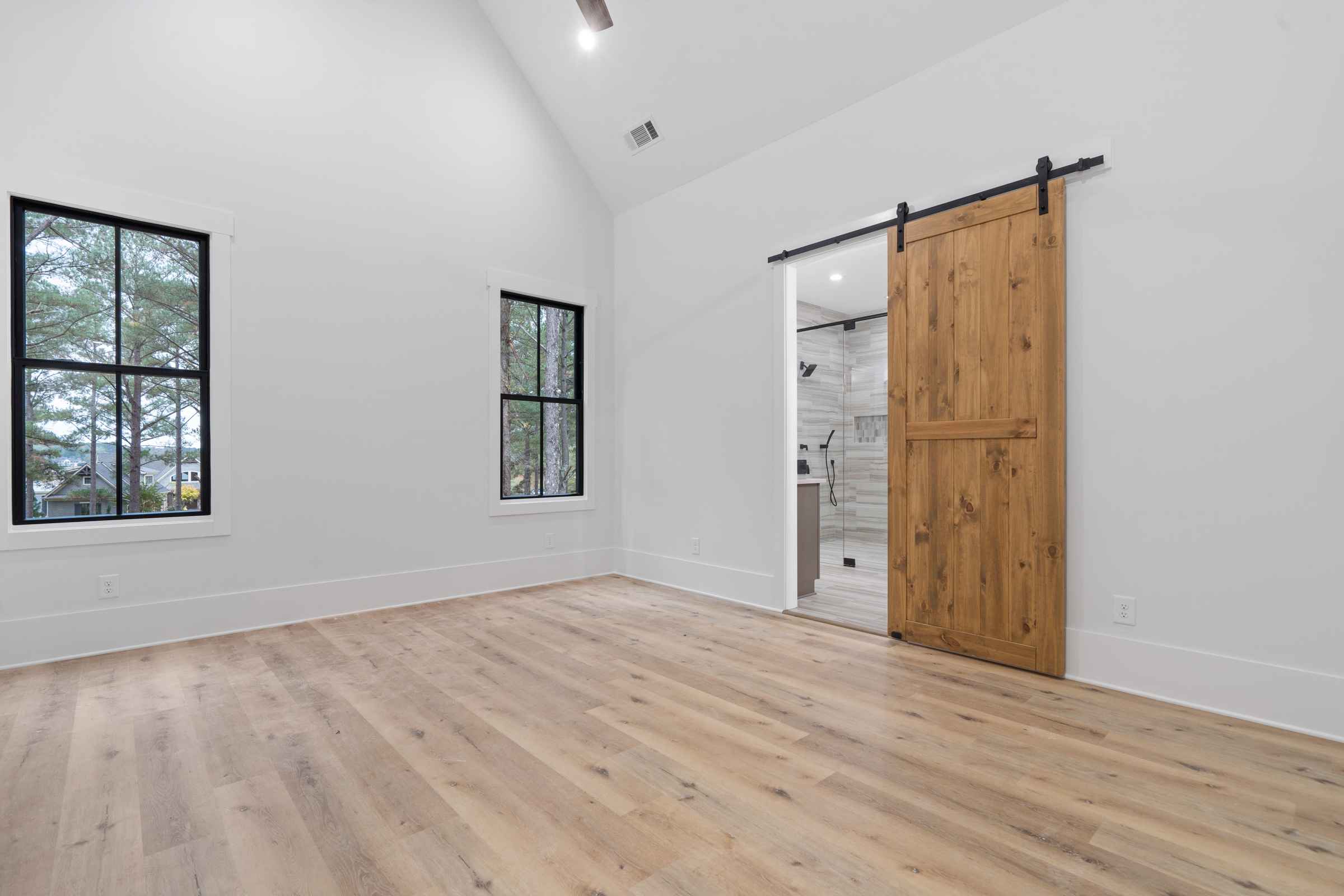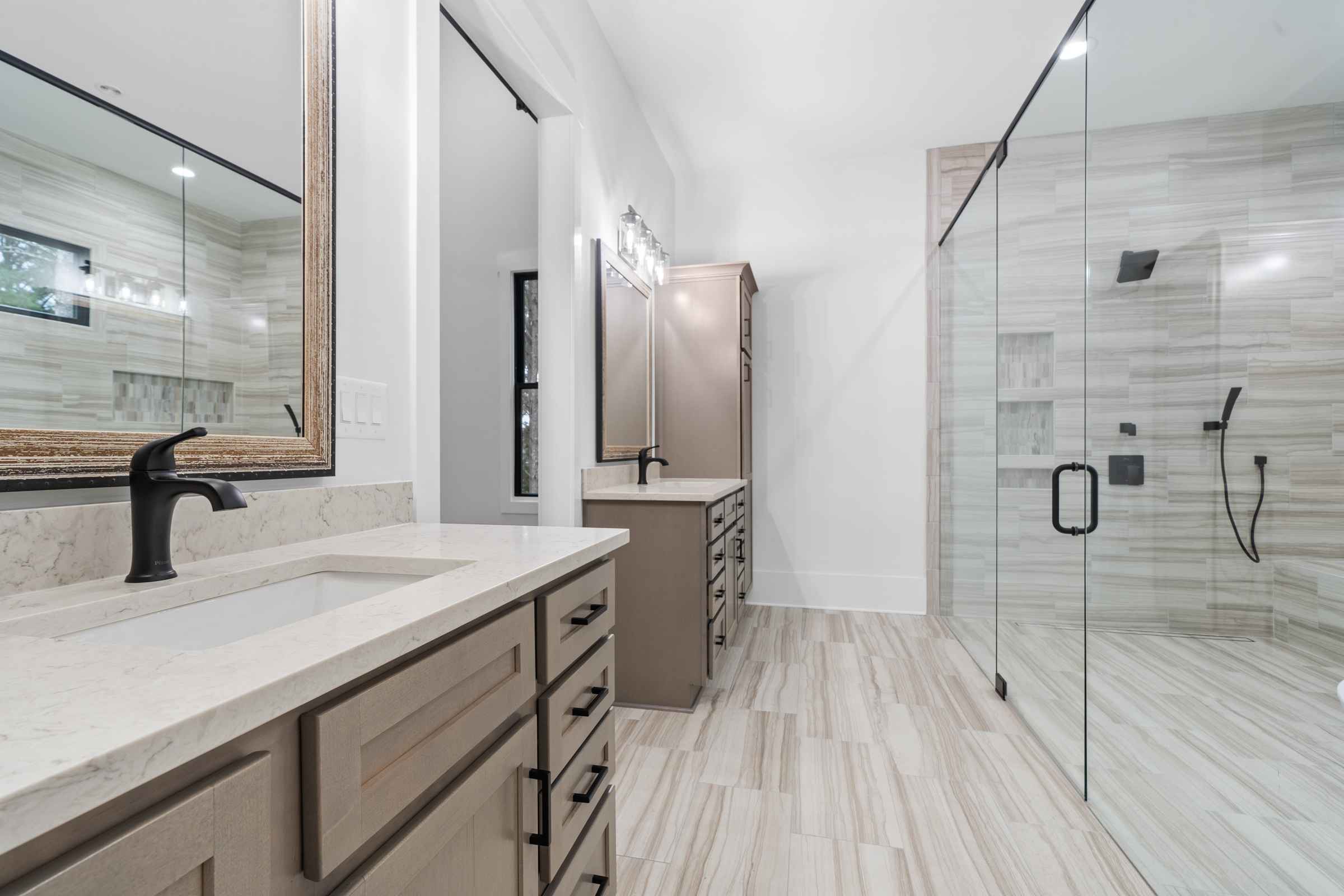 Outdoor living spaces were a priority for the homeowner, and we equipped this outdoor kitchen for effortless entertaining. We've nestled a stainless steel sink, custom stainless steel drawers, and cabinets into classic brick and created a charming outdoor kitchen island with an inset oven. We love the practical sizeable pass-through window to make it easy to use both kitchens while grilling and entertaining. The wood ceiling showcases a stunning fan for ultimate comfort, while the covered entertaining area shelters this space from the everyday elements. This lovely oasis gives way to another covered sitting area with a vaulted ceiling and endless opportunities to set the stage to gather with friends. The firepit out back is the perfect place to congregate to enjoy your company and surroundings.