The owner of this Eatonton, Georgia home first contracted PAXISgroup's services years ago — and they've been hooked ever since. We've worked together on five projects, the most recent of which transformed a simple hunting property into a natural retreat unlike any other.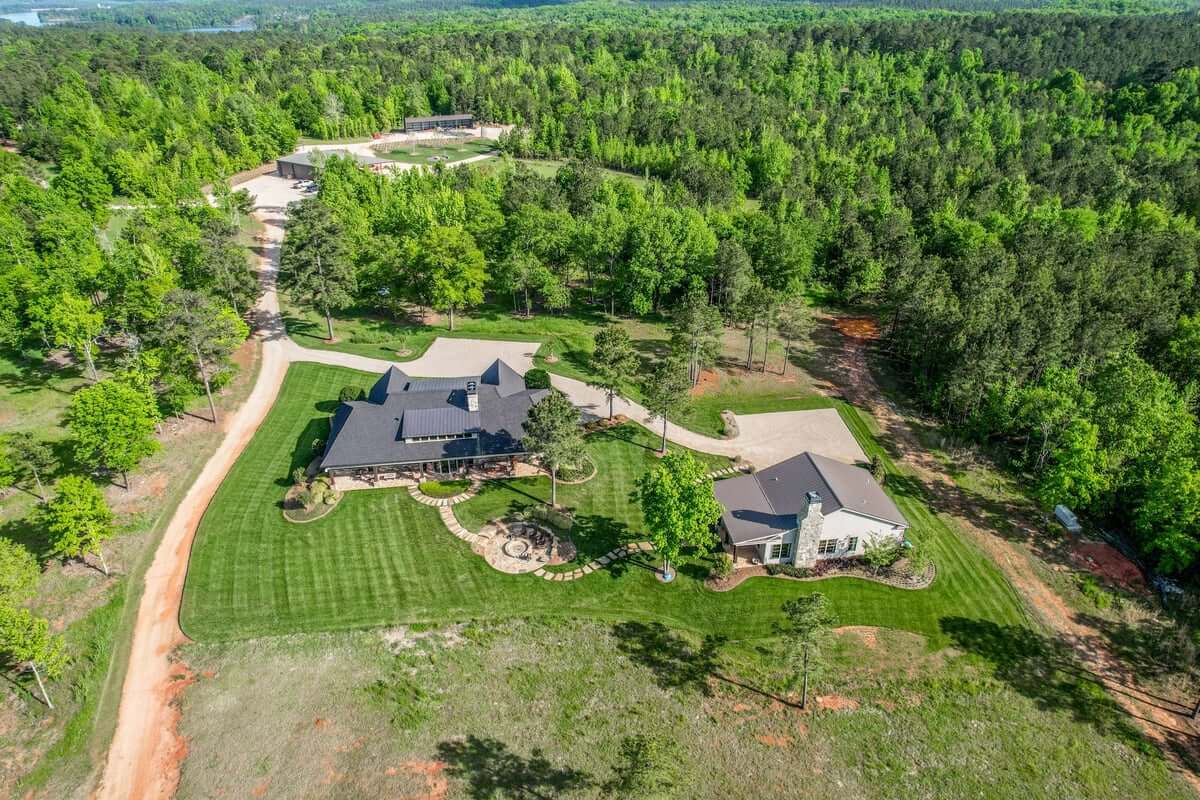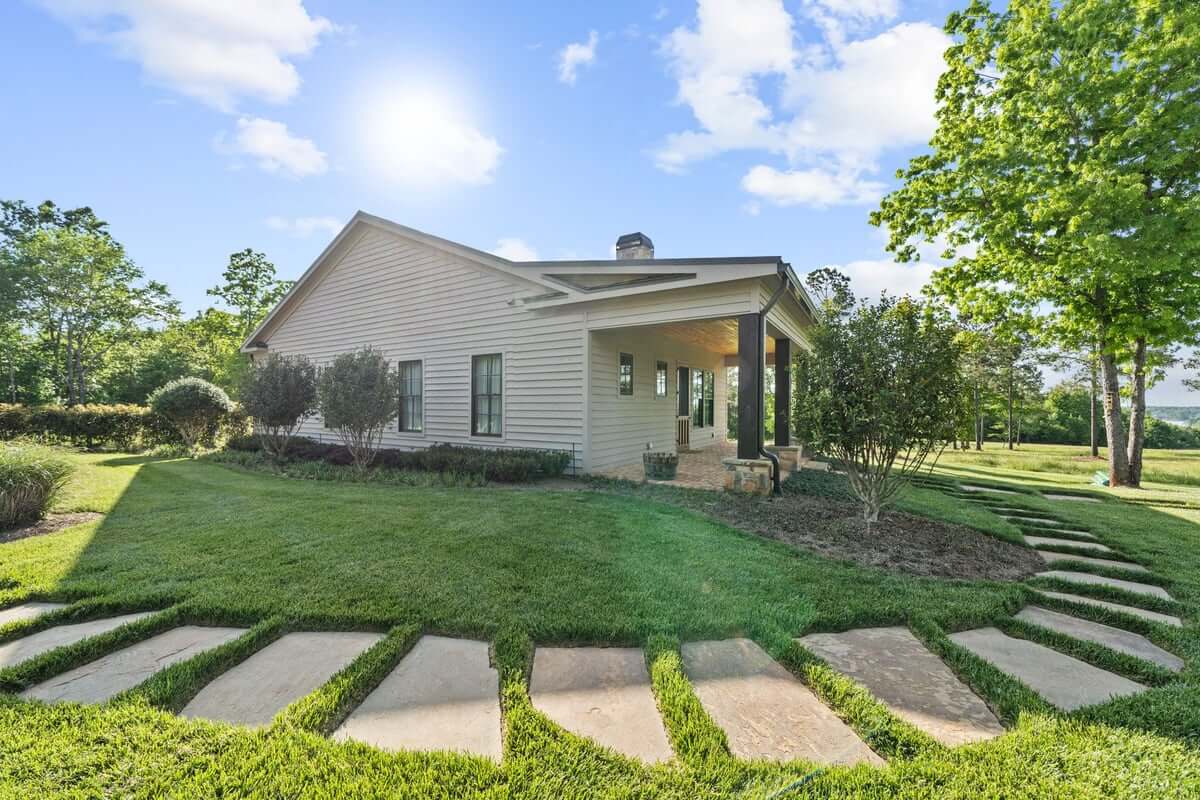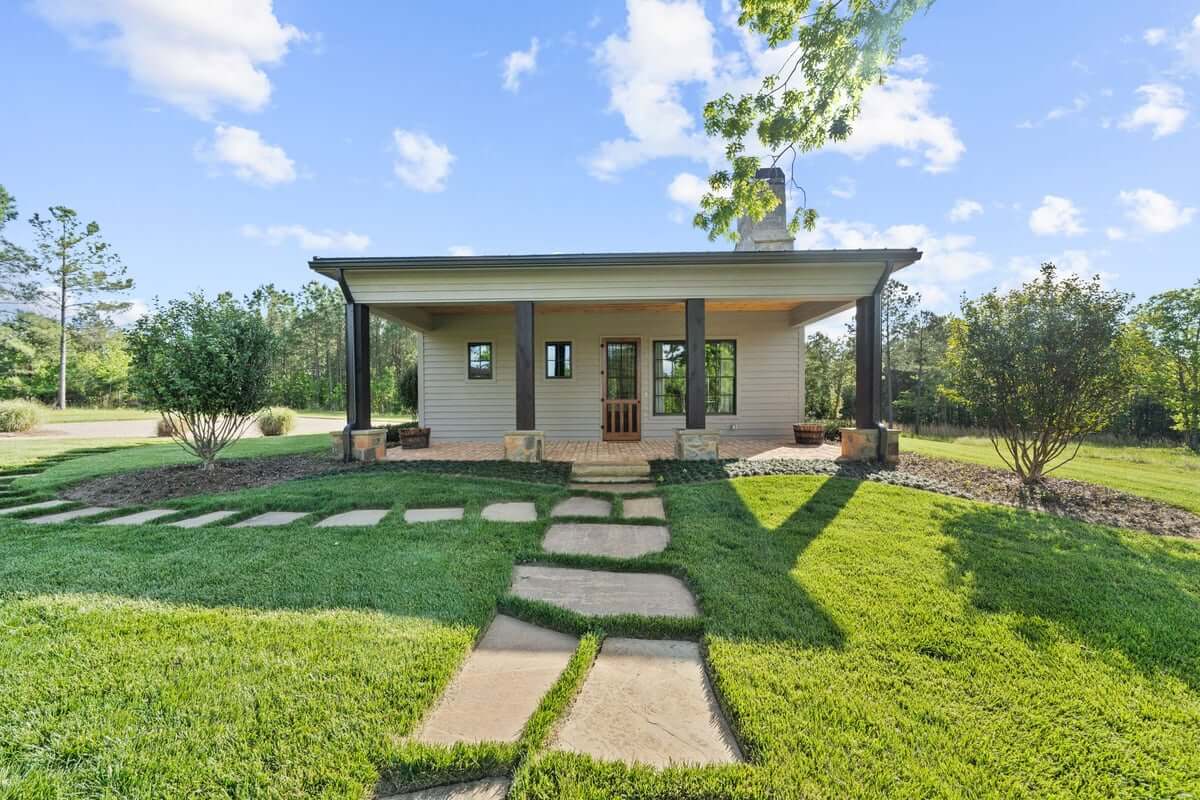 With a busy city lifestyle, our client needed a getaway from the hustle. But not just any escape. A place for offsite corporate meetings, team-building retreats, family get-togethers, wildlife observation, and recreational activities like fishing. So, we got to work!
Surrounded by miles of forest and located on expansive farming and hunting grounds, our main objective (and biggest challenge) was creating a home that complements the landscape. We focused on facilitating indoor-outdoor living through design and construction. We also used durable, natural materials to blend with the environment.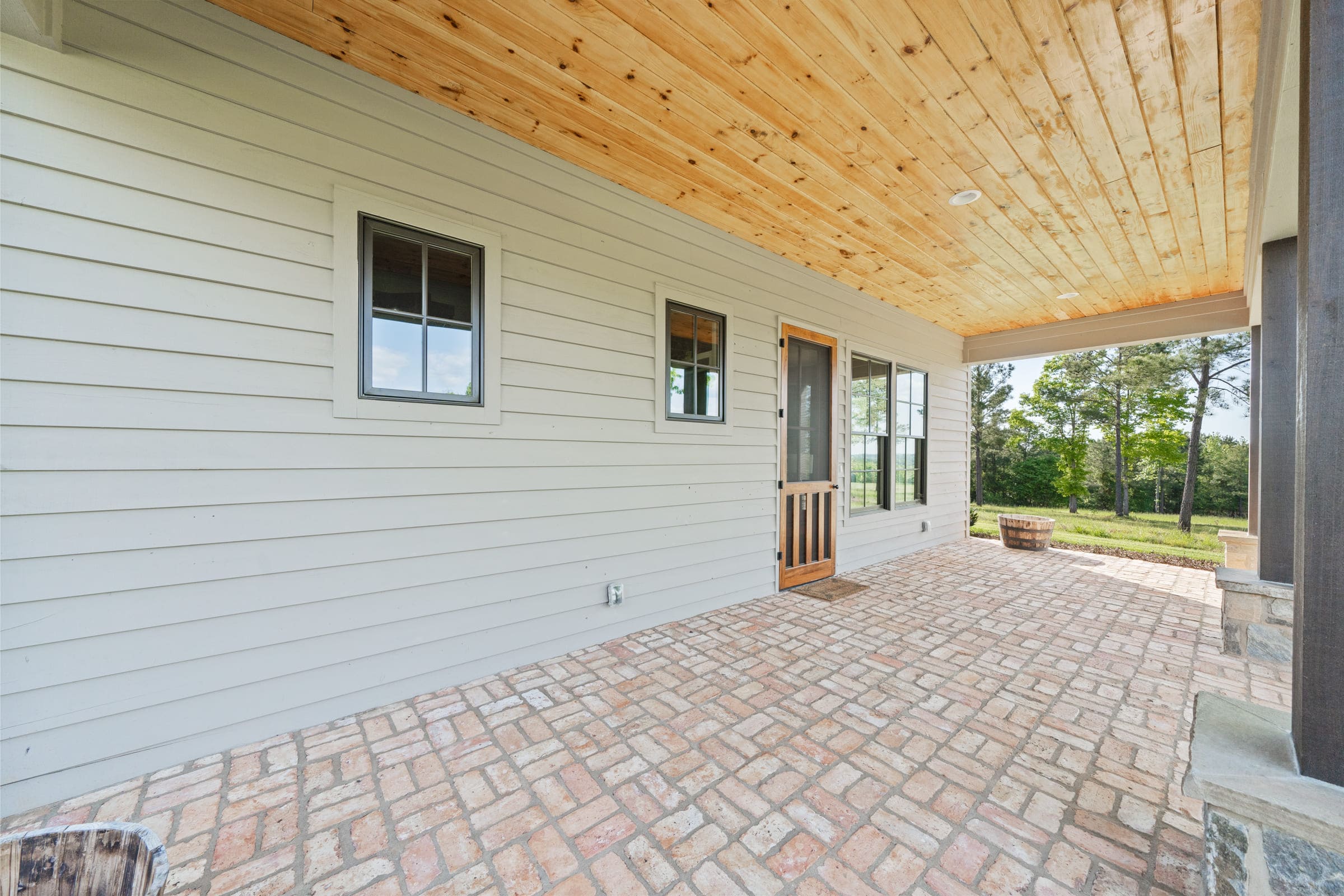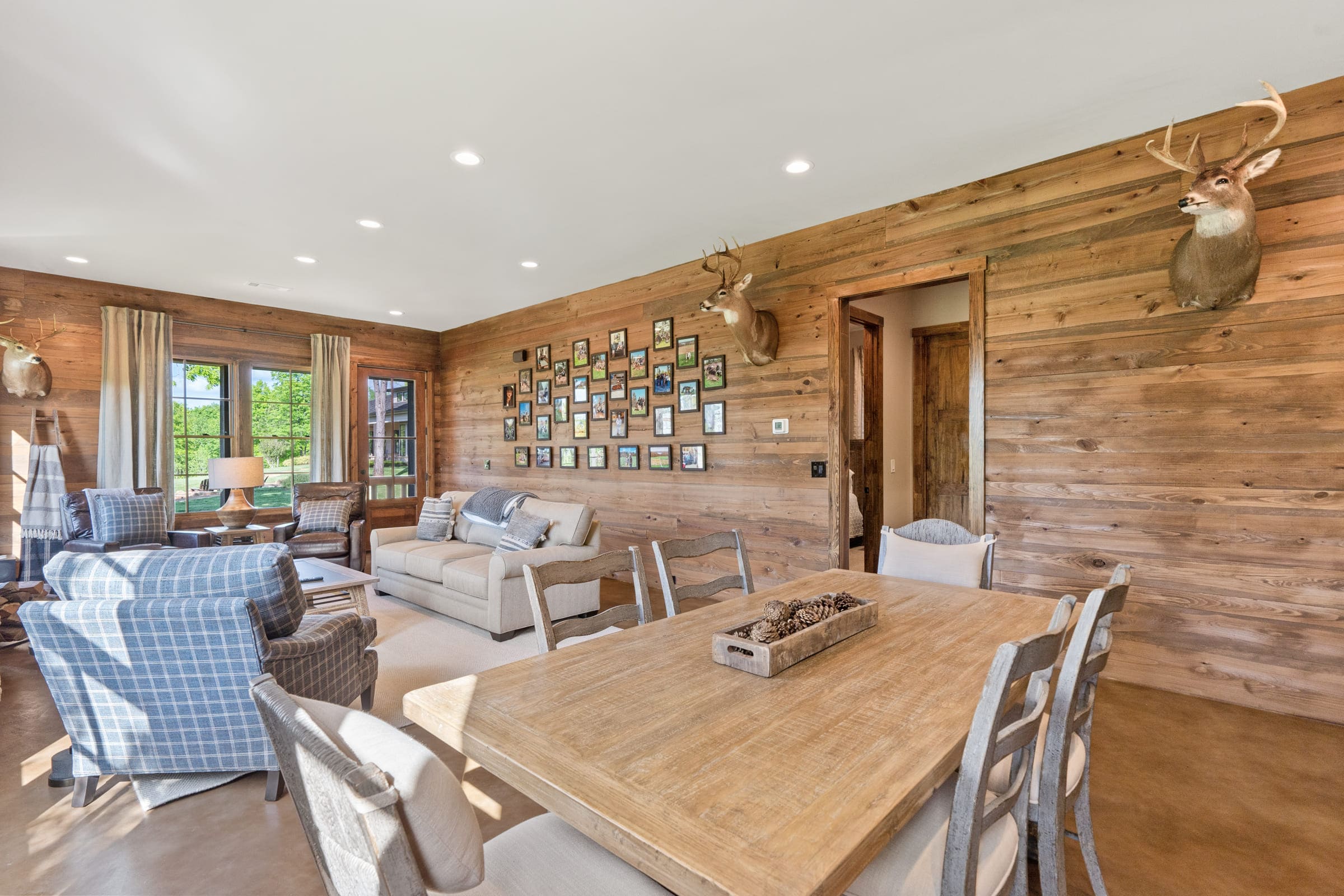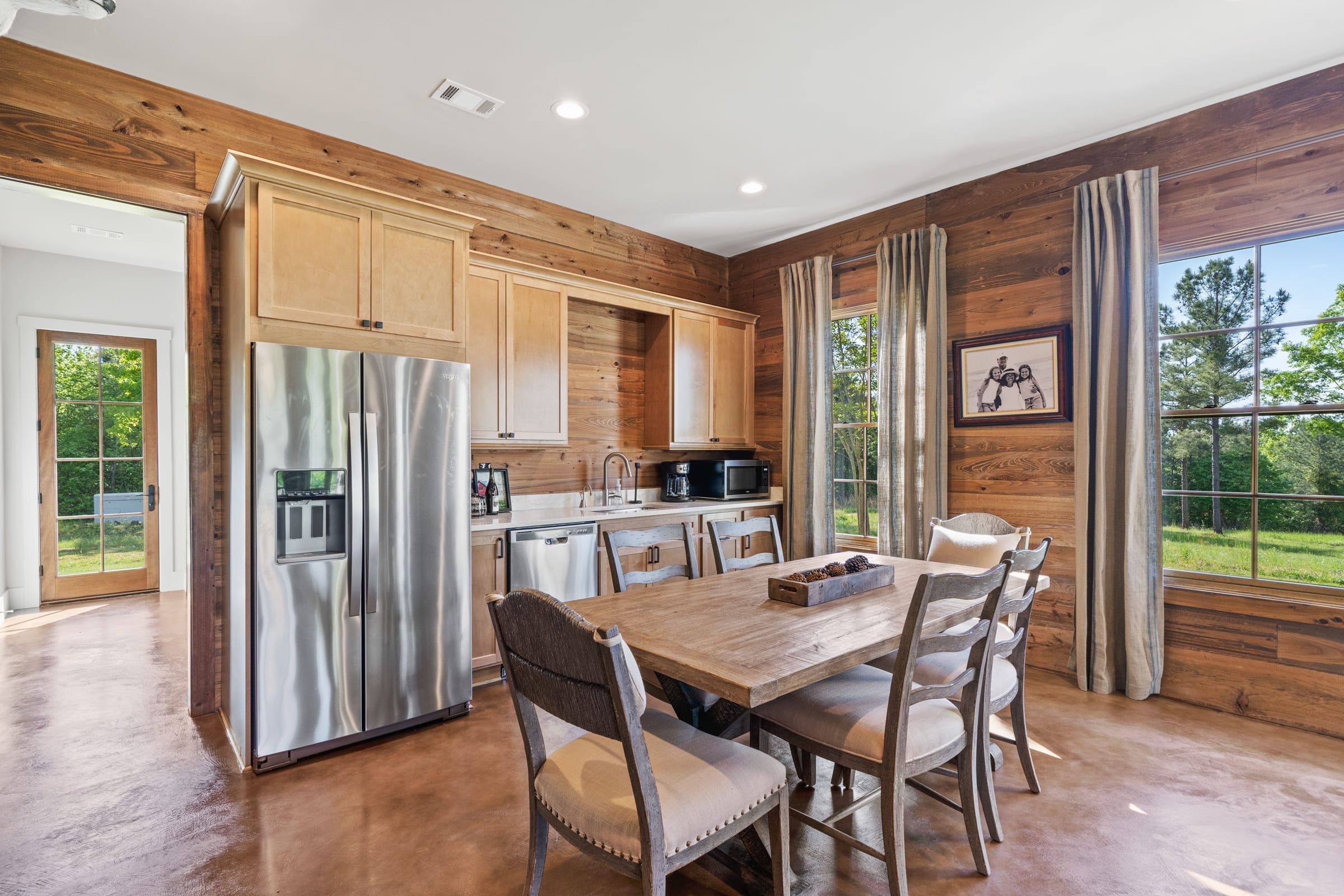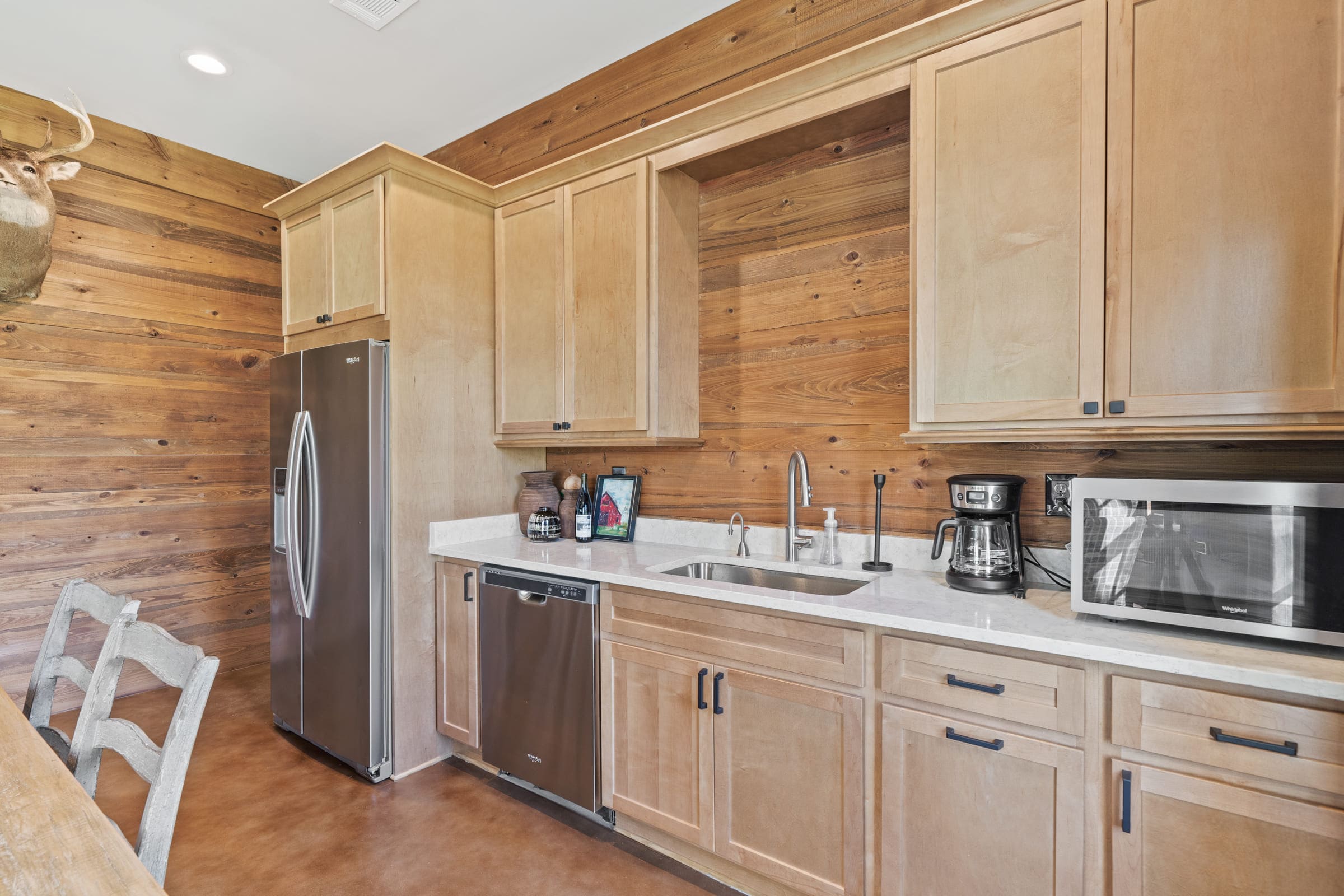 Wood is everywhere in this home. The material choice pays tribute to the forest just outside, deepening the connection between the interior and exterior. It's the most obvious design motif. However, there are plenty of others woven in room-from-room. Keep an eye out for these elements as we go:
Soft and hard textures
White and gray accents
Stone
Natural light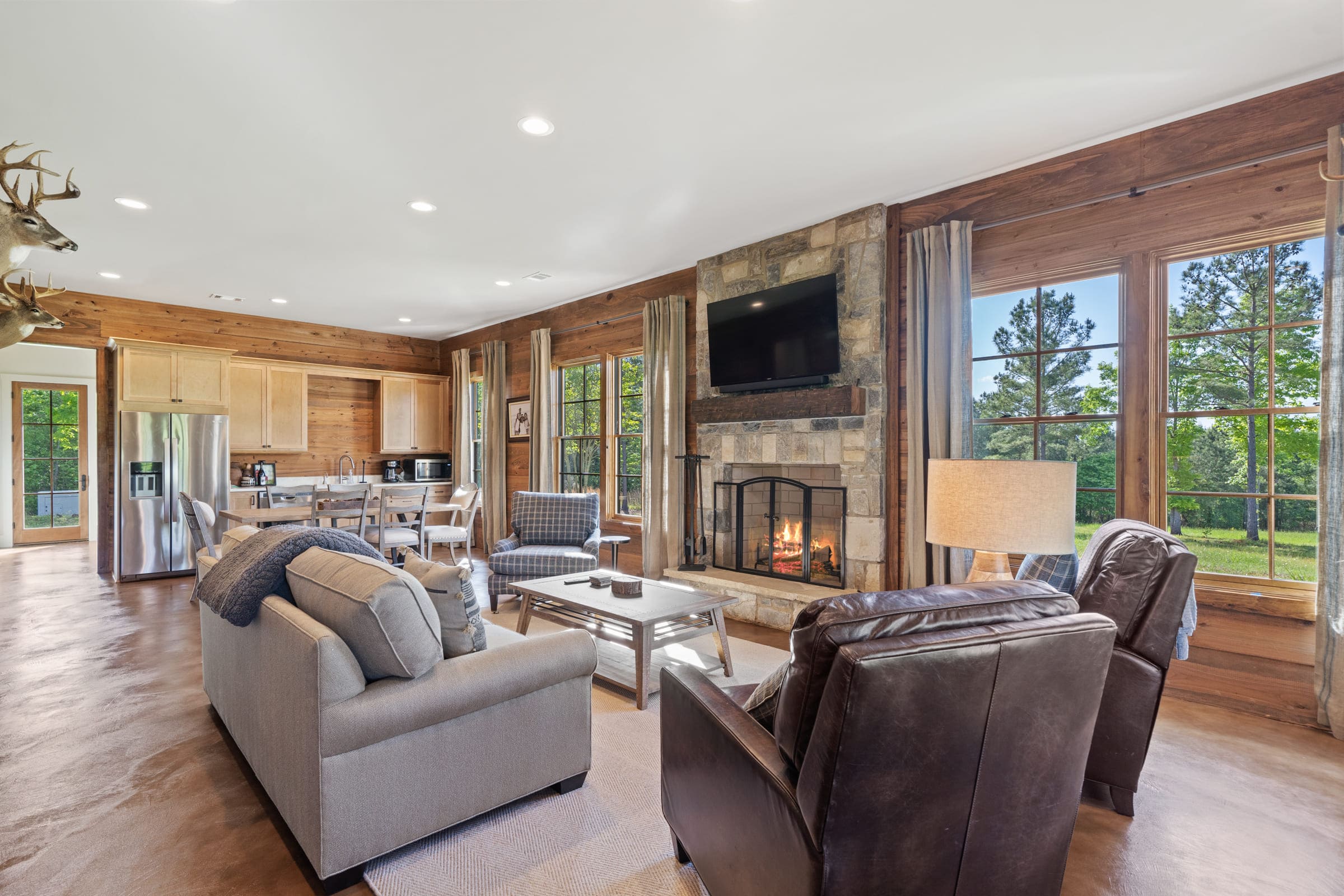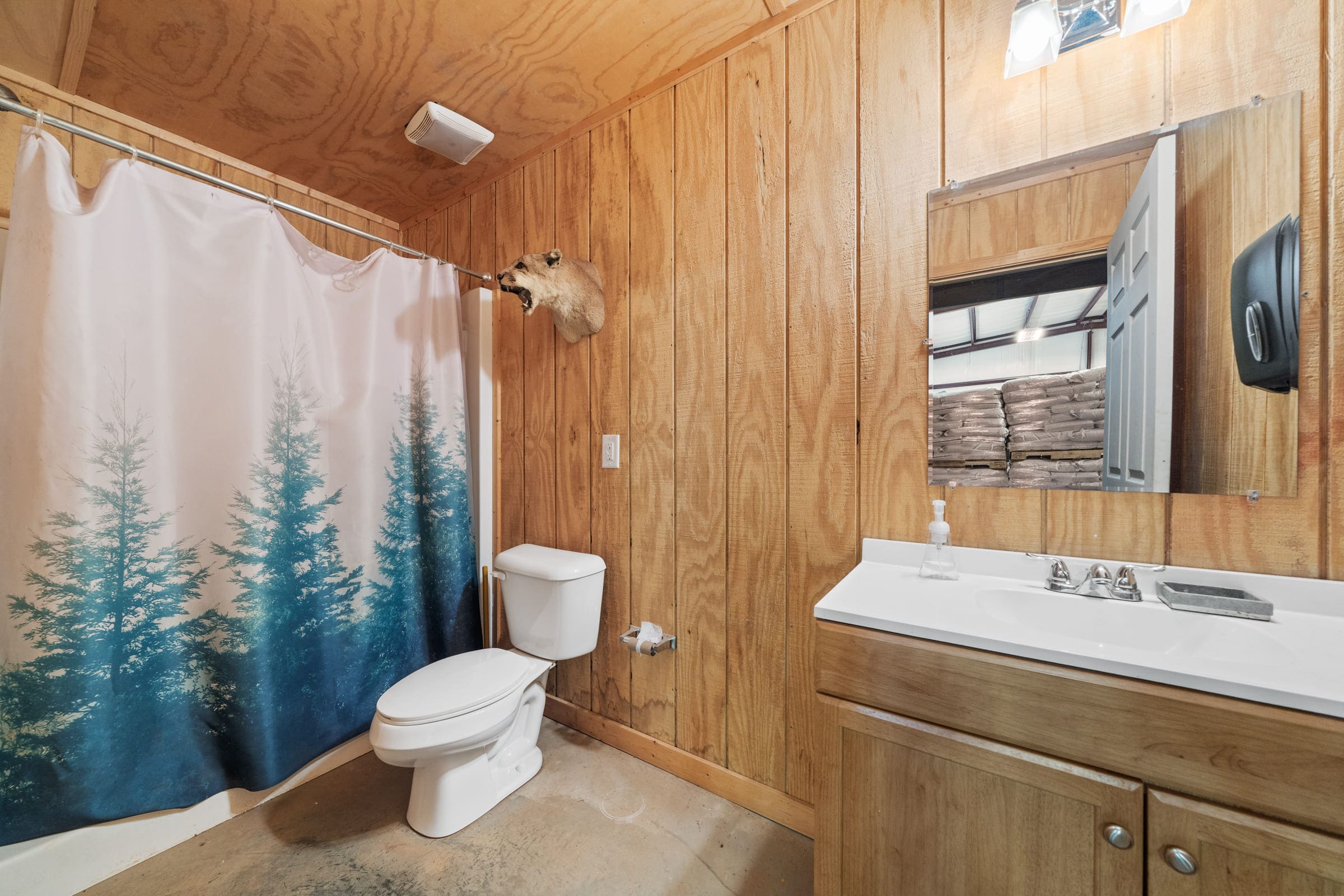 Take the living room, bathroom, and kitchen, for example. Wood paneling creates texture on the walls and provides subtle visual interest. The warm, varying grain of the wood infuses a cozy atmosphere and ensures no element is without a unique draw.
We break up the monotony by using different shades of wood and contrasting textures. White ceilings, walls, counters, and fixtures add brightness to the home; meanwhile, a stone fireplace centered in the living room and a stone tile shower act as focal points. Then plush textures like the couches, shades, and shower curtain give the necessary homey feel.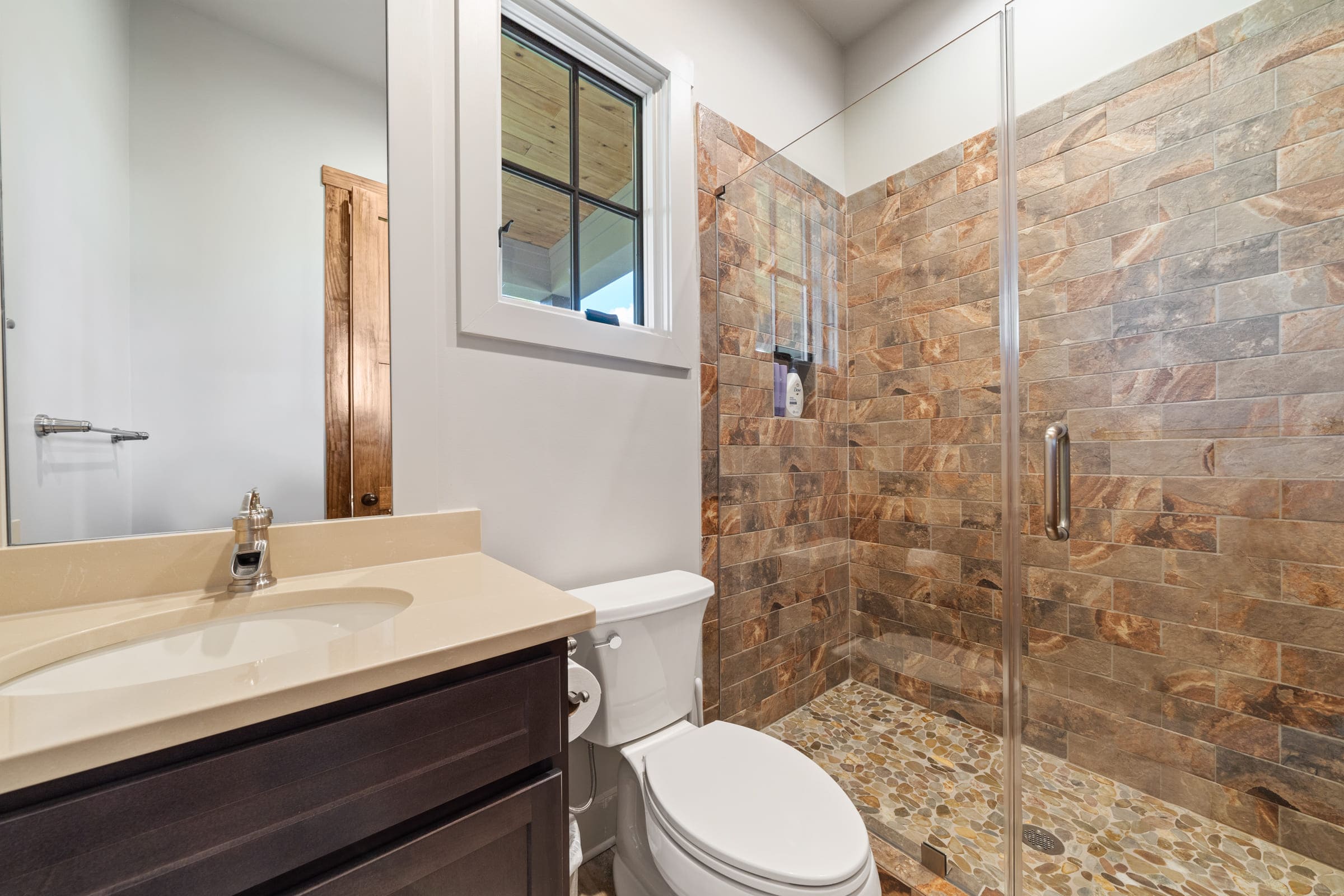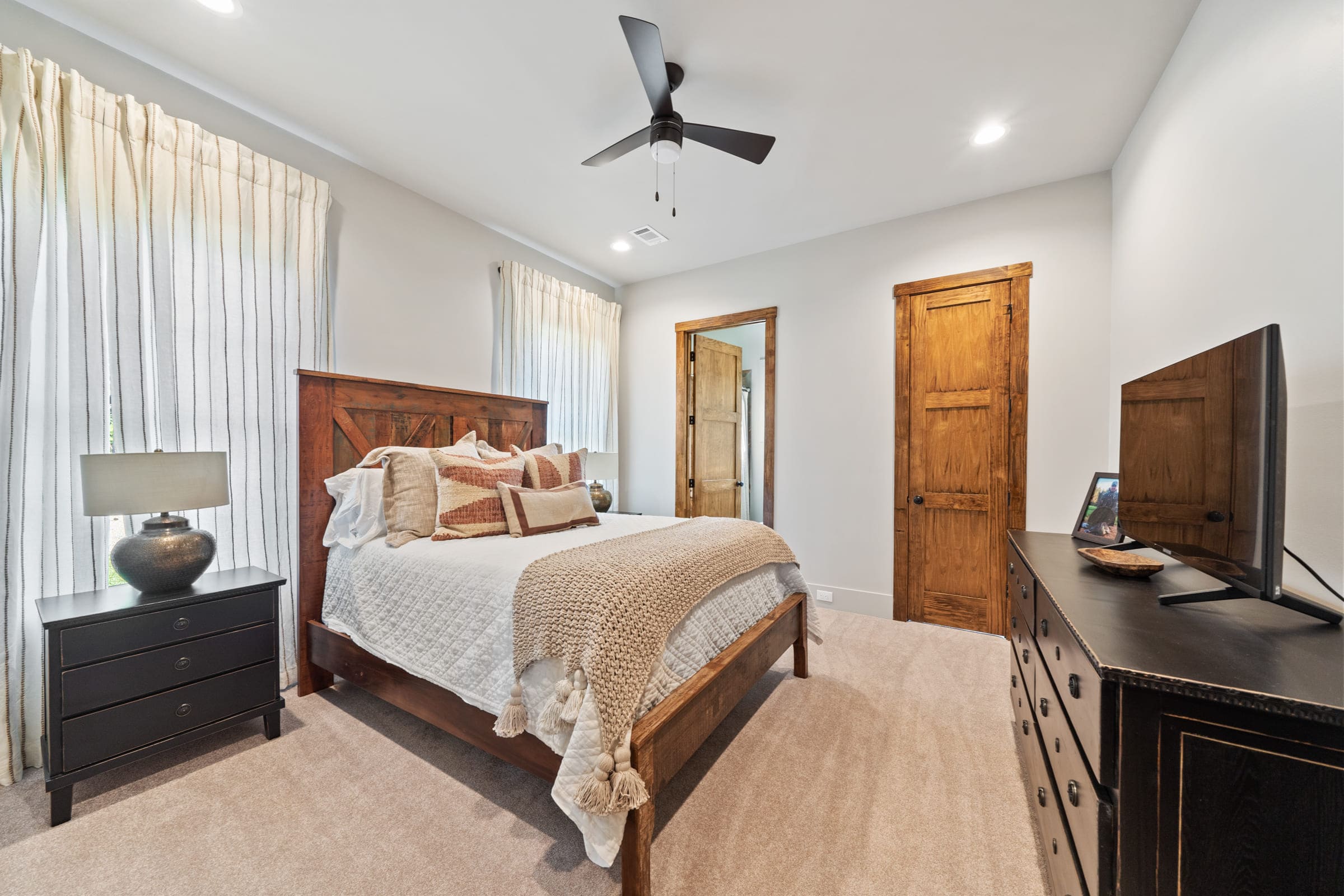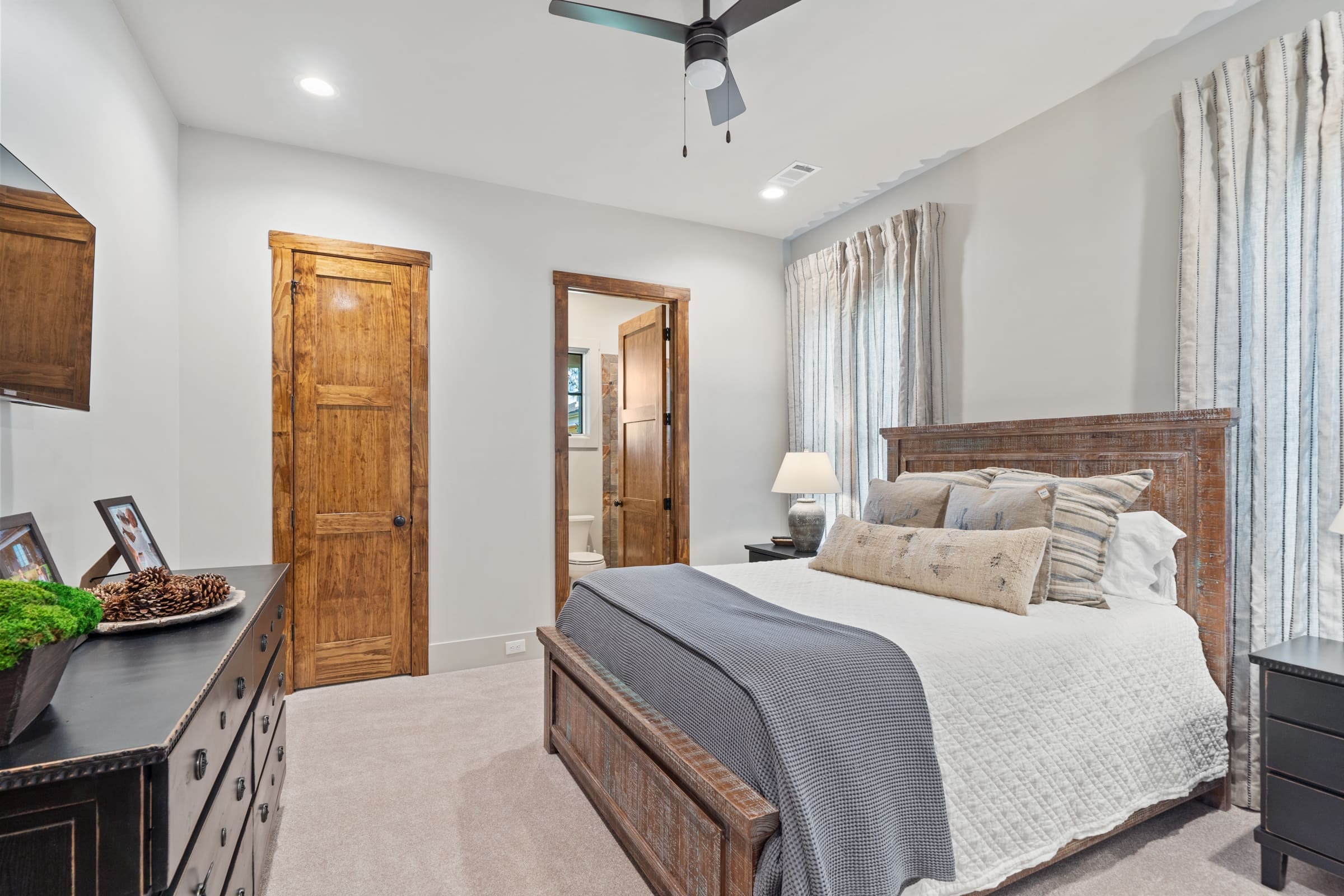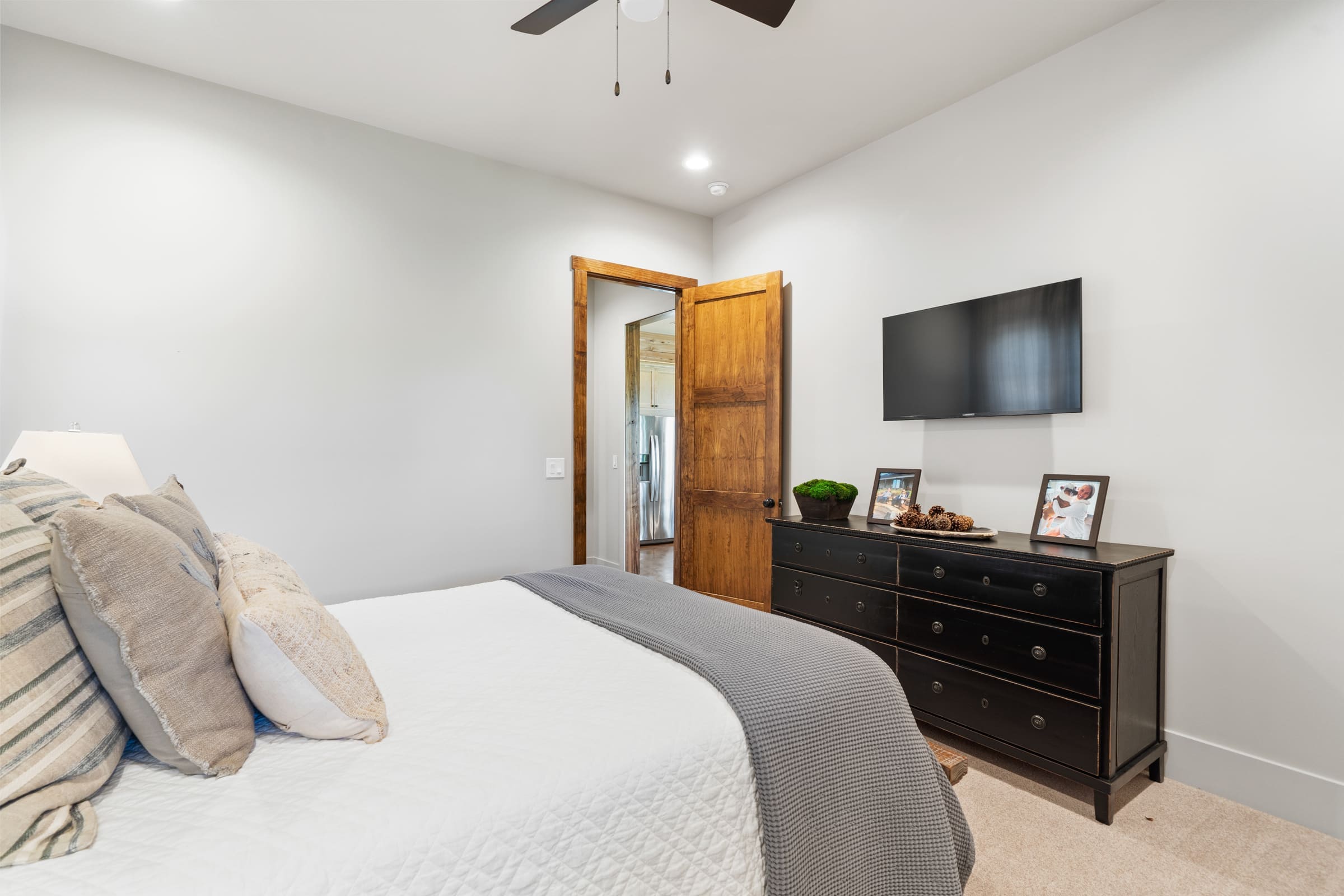 These bedrooms invite a quiet repose. Comfortable beds piled-high with plush pillows allow for de-stressing and catching up on rest. Here, the wood theme is continued with door frames and furniture, adding warmth to a minimalist color palette. Dark accents like the tables and ceiling fans counter the light walls to present a perfectly balanced design.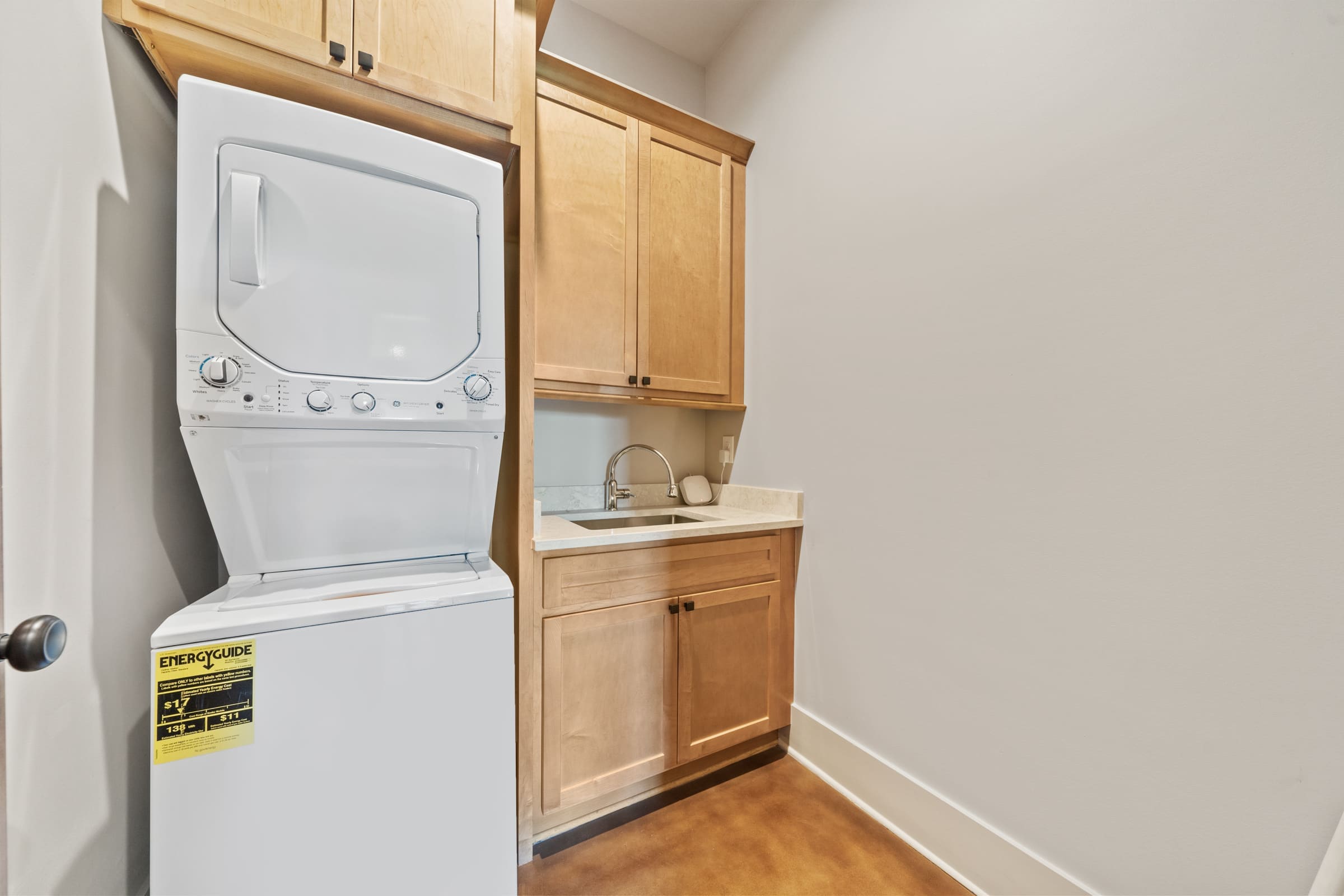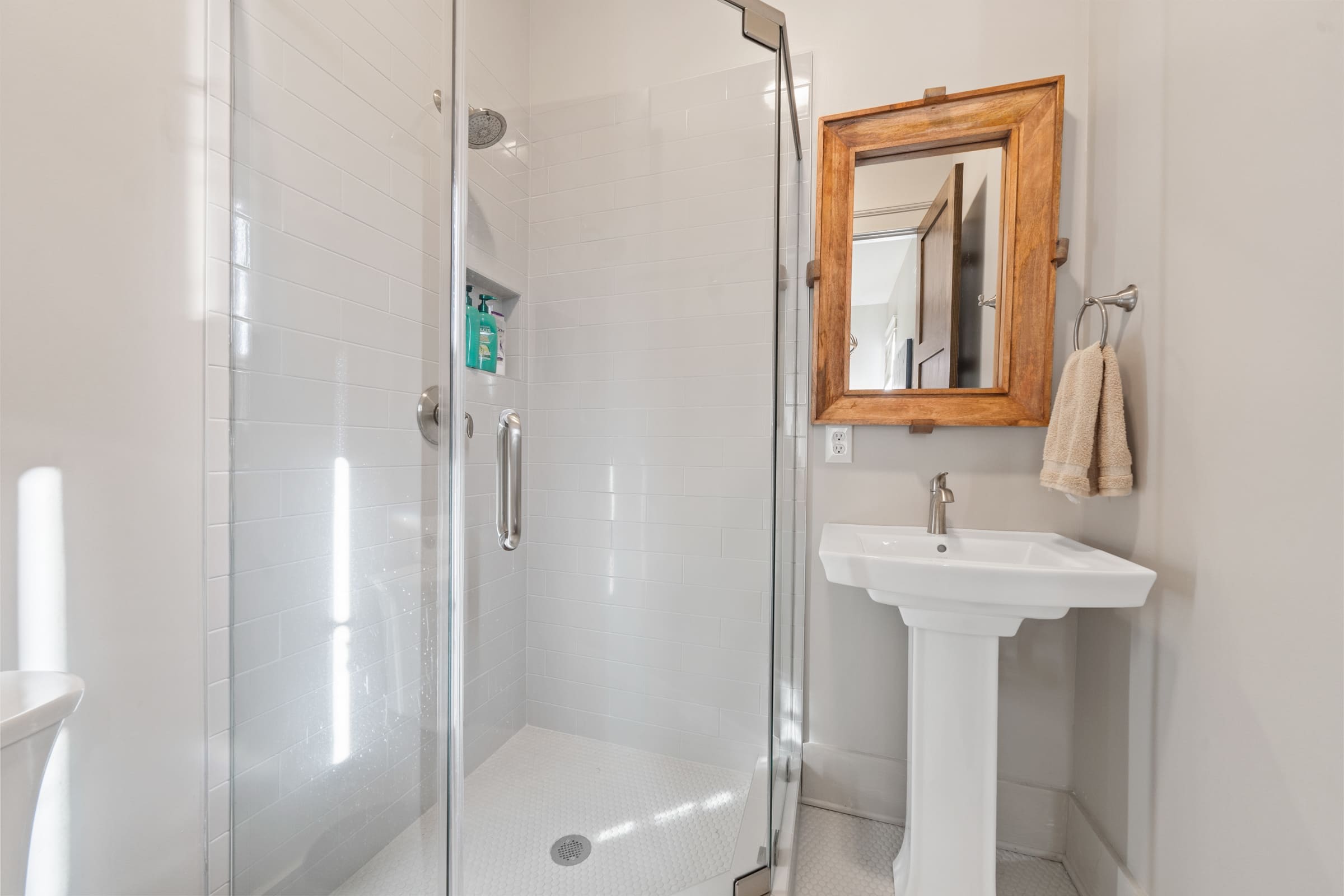 With white tiles and wood galore, the bathroom and laundry room portrays a paired-down version of the aesthetic established in the rest of the house. Keeping things simple in these rooms encourages a focus on functionality over looks in rooms where messes are common.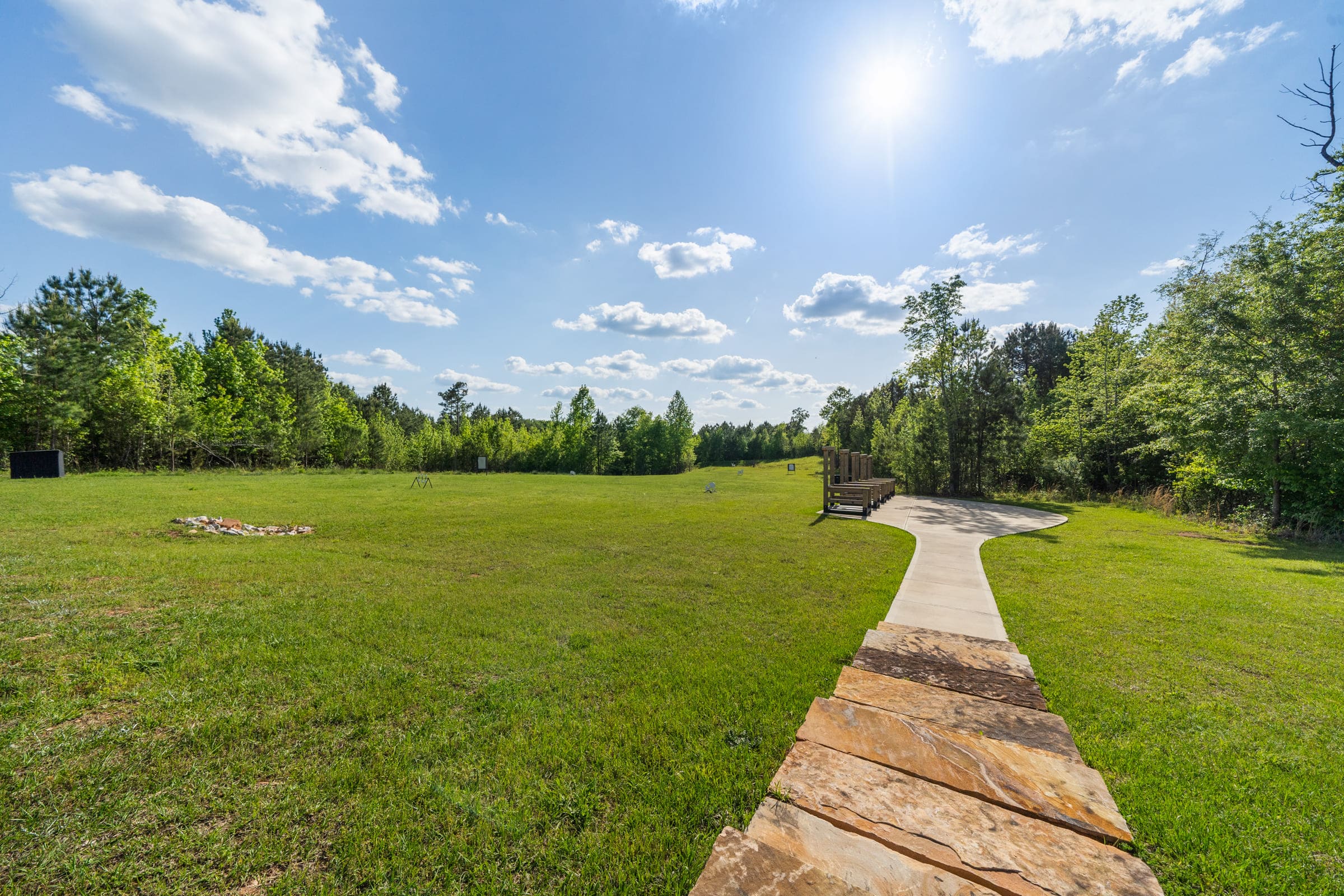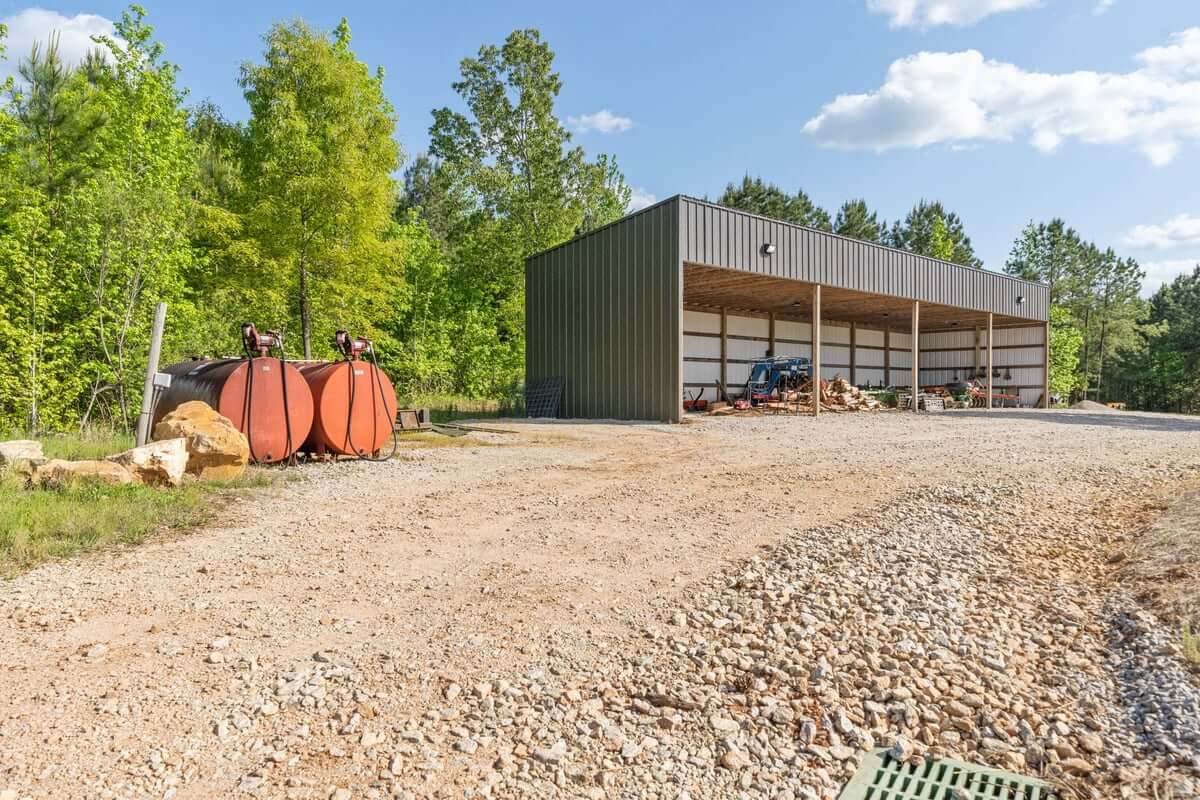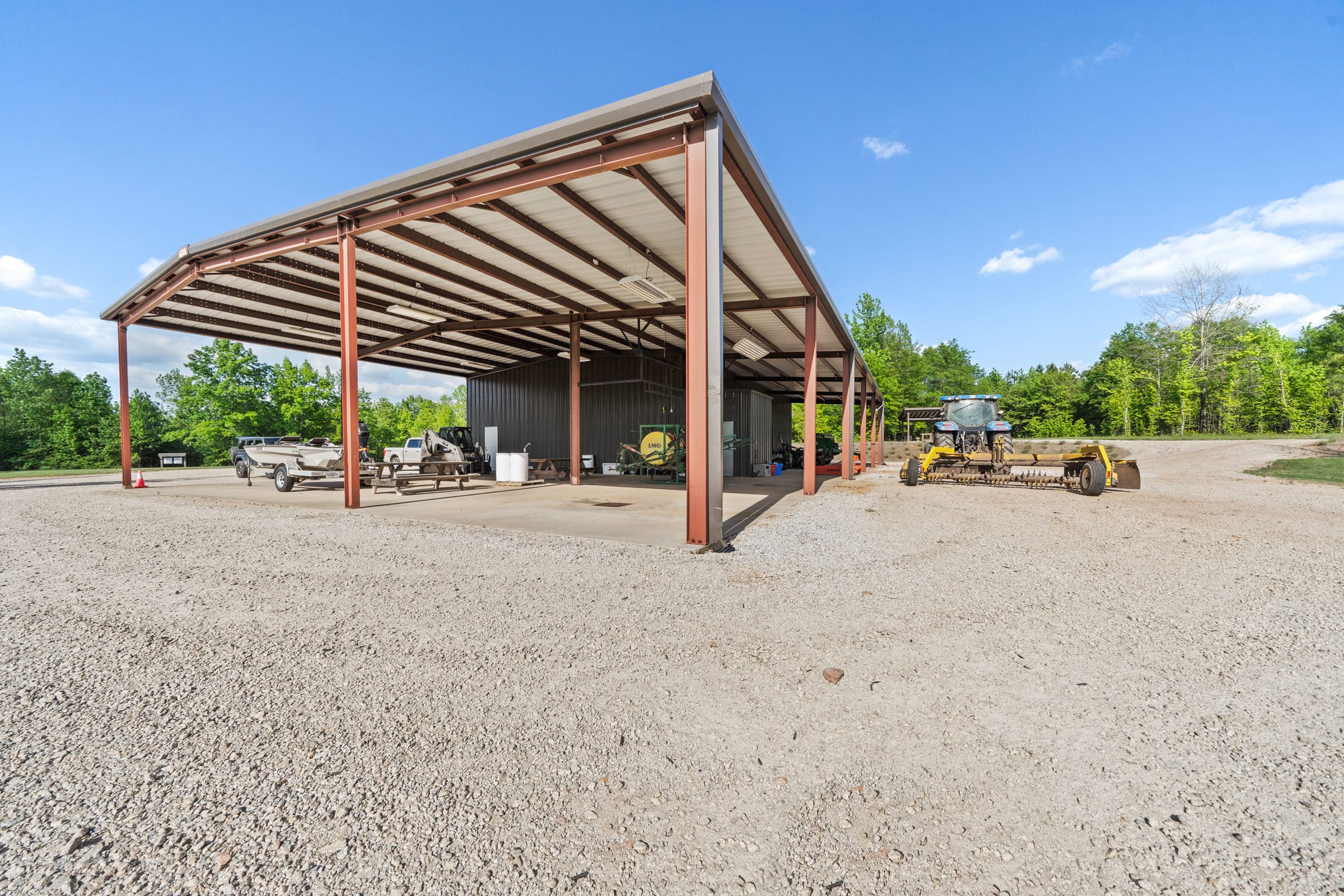 We must admit, the best part of this remodel isn't the inside; it's the outside. The final product melds environmental considerations with lifestyle necessities and imbues the landscape with the feeling of home.
But before we get all picturesque, let's get down to the nitty-gritty. Our client loves fishing and other outdoor activities — and they have the toys to show for it! They also have a small army of machinery and game trophies. They needed a place to store it all, so we built them one.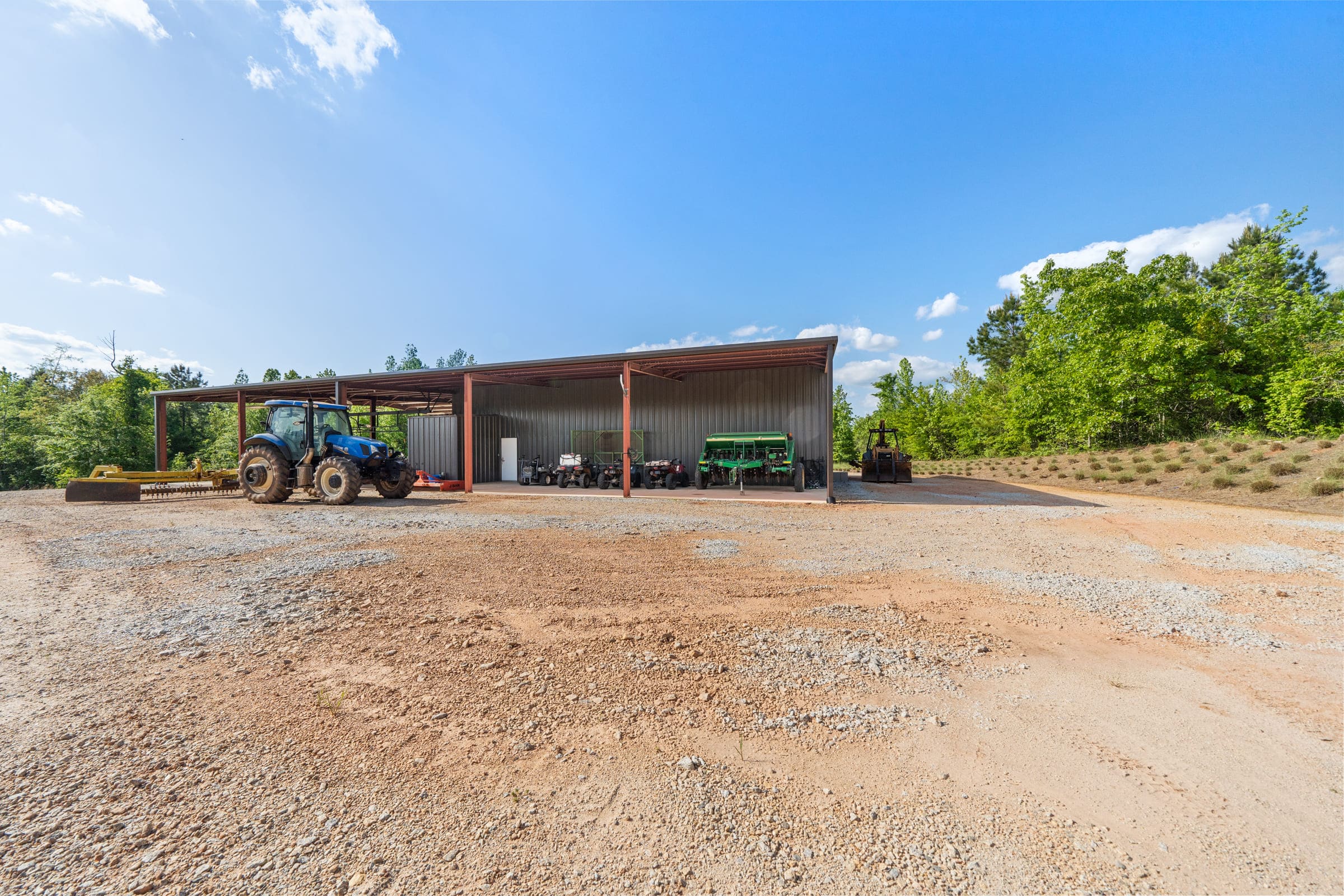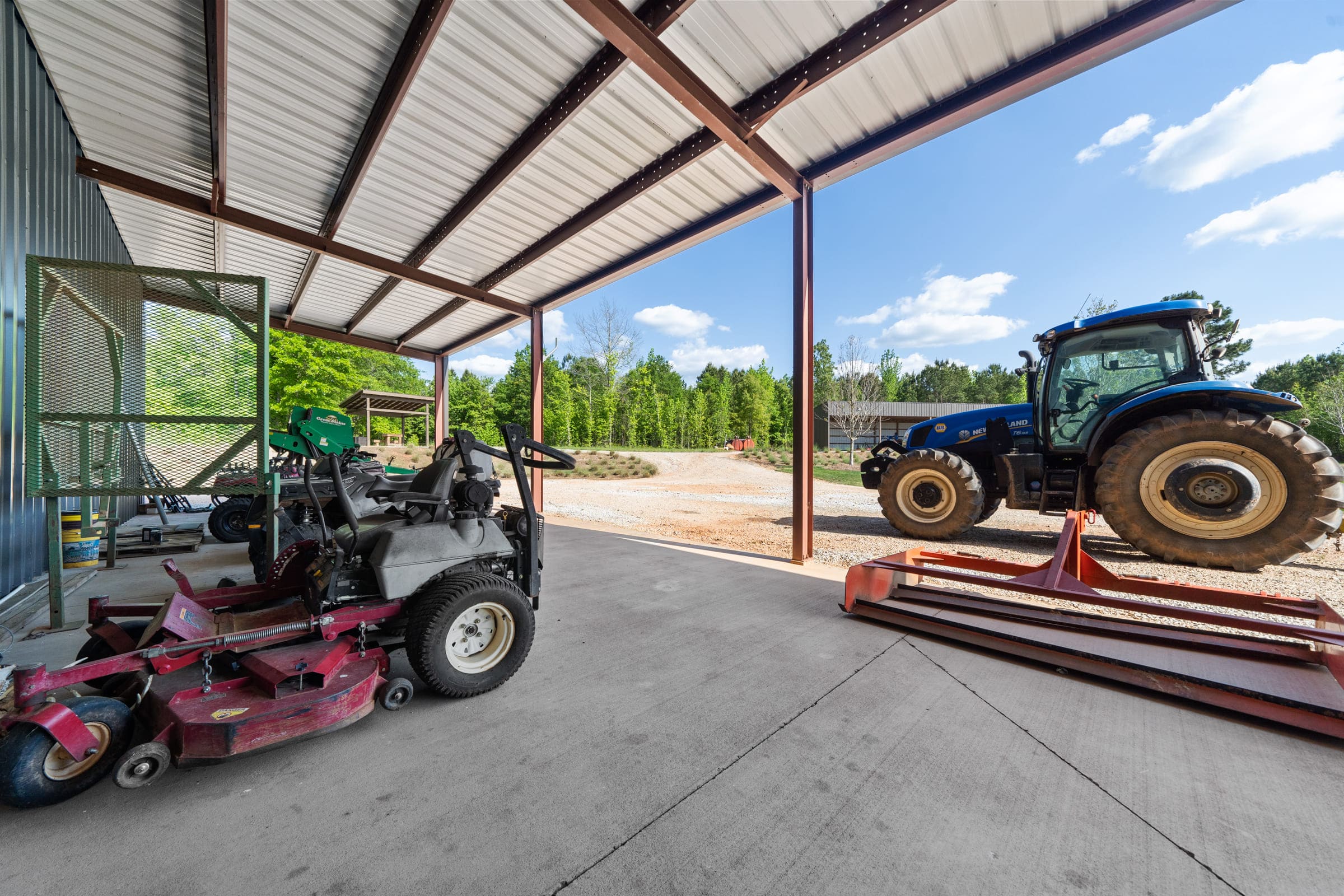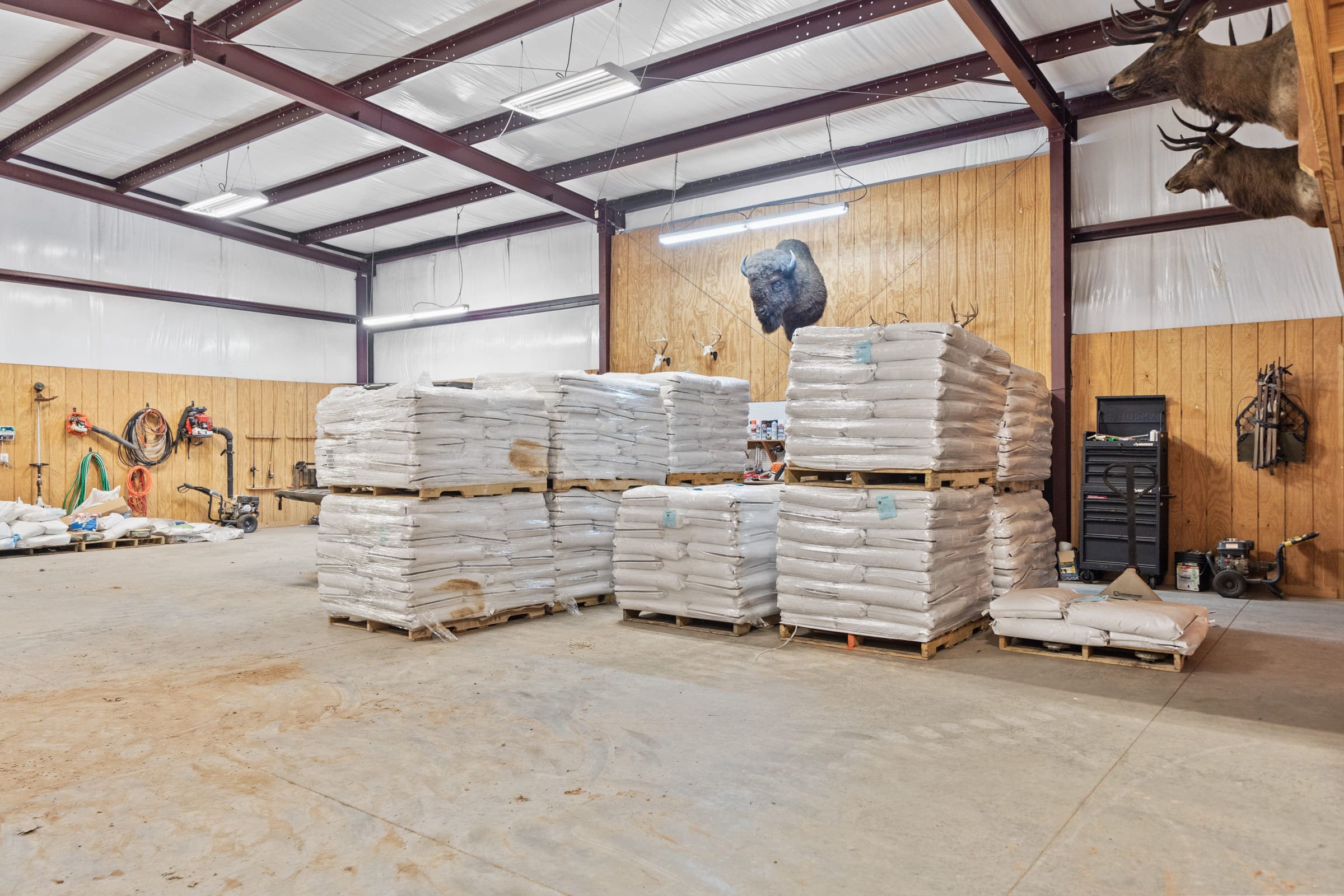 The overhang outside provides easily-accessible indoor-outdoor storage. Inside, there's plentiful floor and wall space. There's even a staircase and balcony leading to an enclosed area. And notice how our design team nods to the aesthetics of the main house by incorporating wood with white accents — those sly dogs!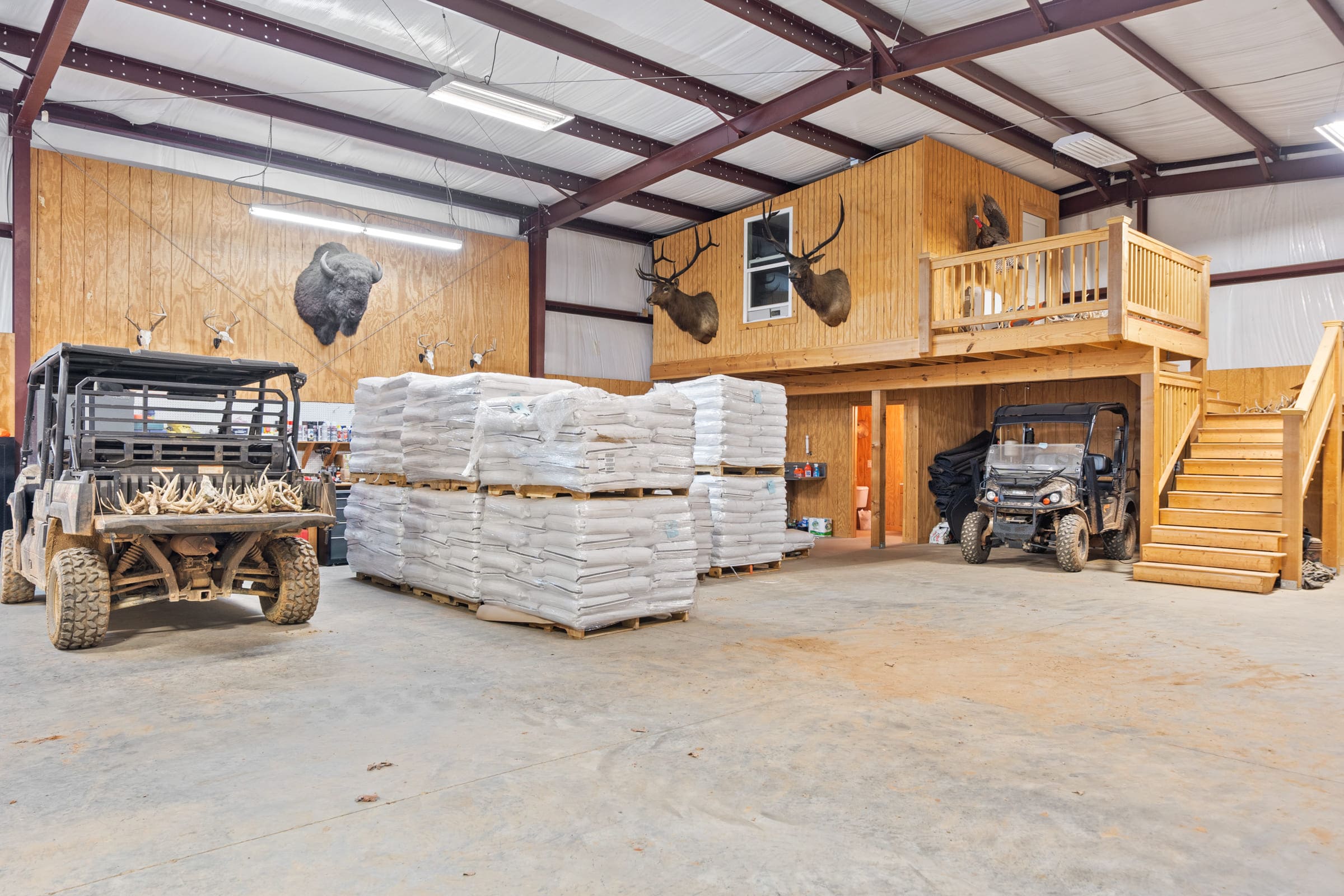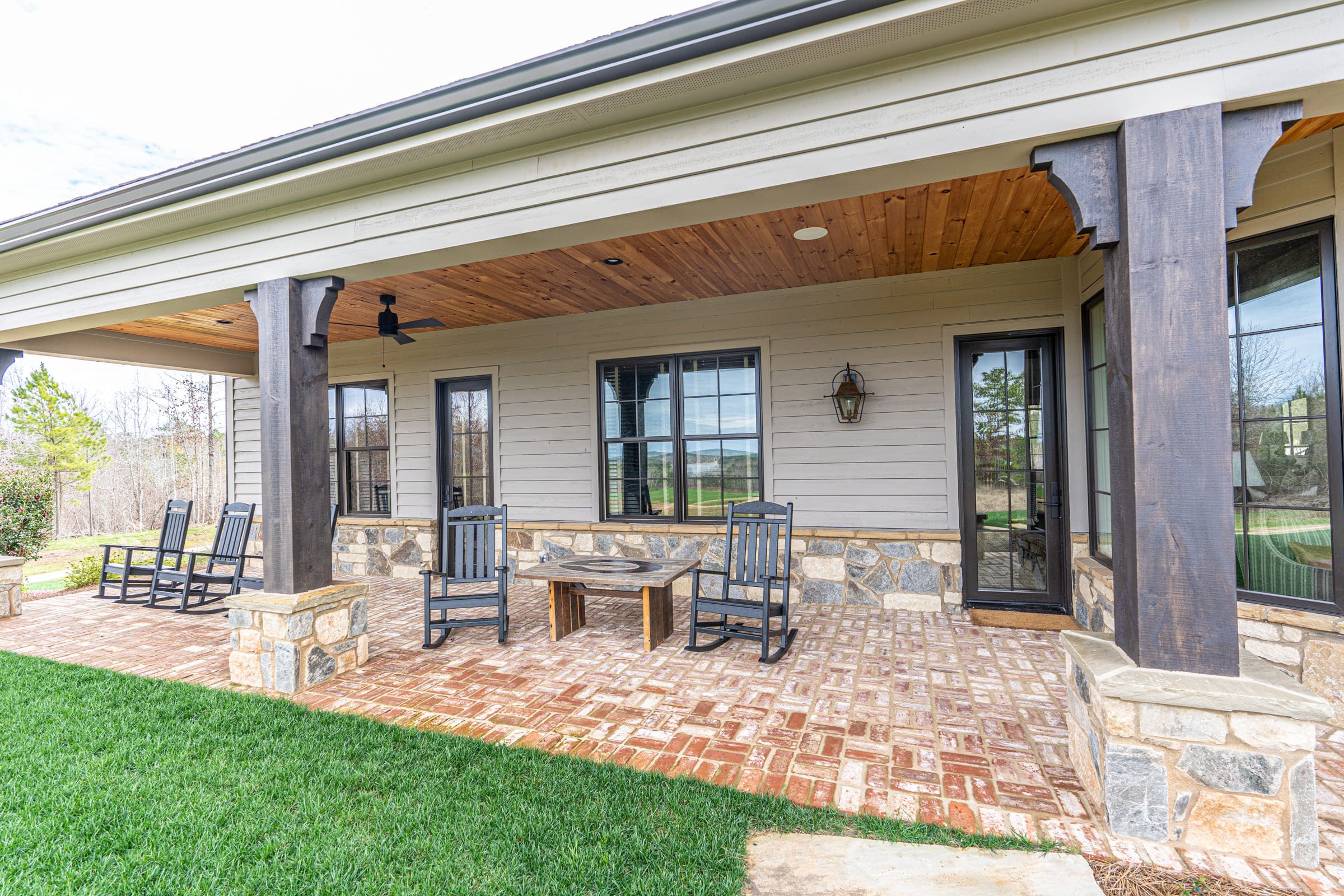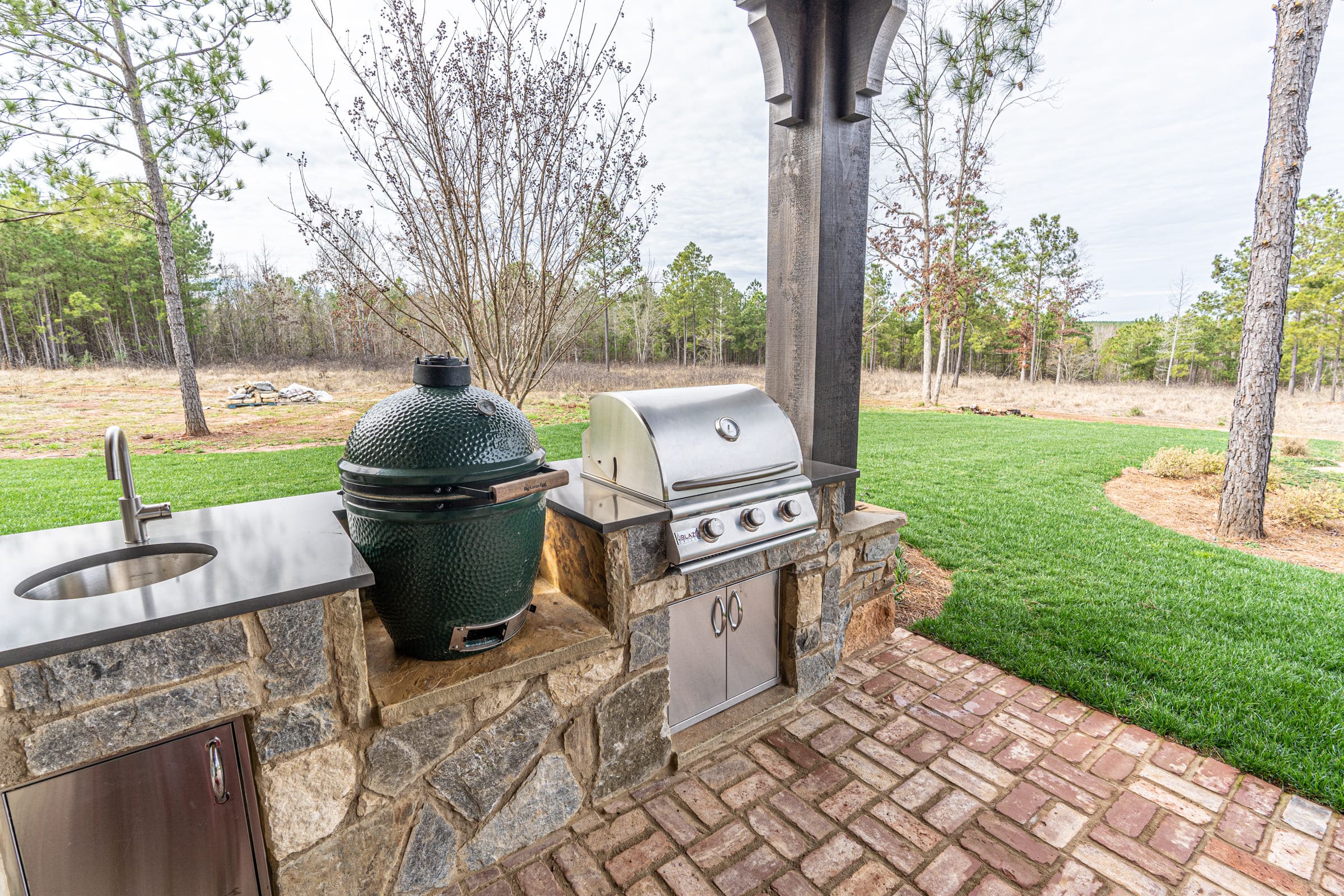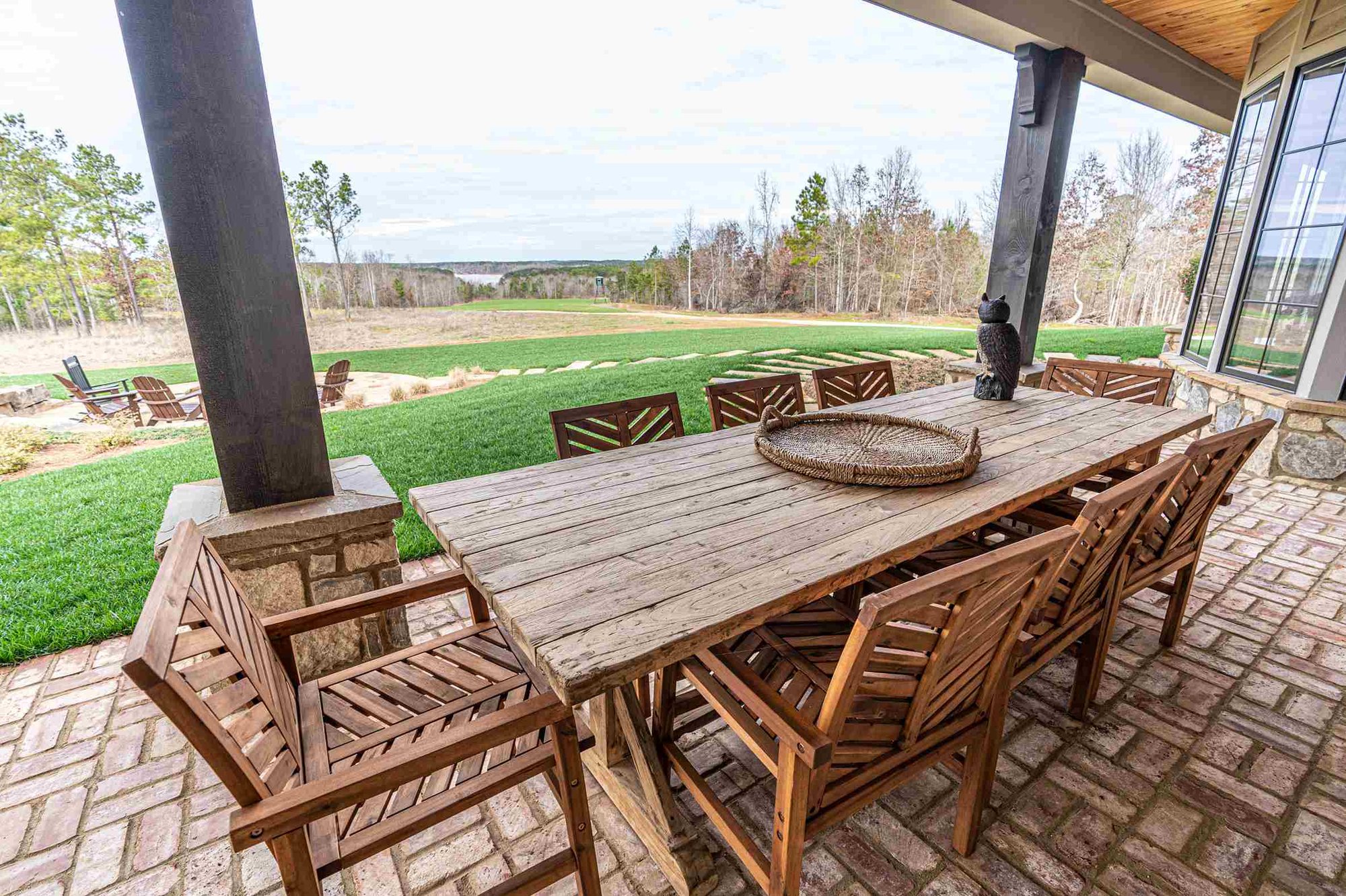 The house facilitates indoor-outdoor living with an attached covered brick patio, summer kitchen, dining room, and fire pit. Cooking and eating outside allows our client and their guests to soak in as much nature as they can each day in practically any weather.
Combined, the stone amenities, wood ceiling and furniture, striking pillars, and beautiful view form a space that feels comfortable and open. It's the cherry-on-top needed to elevate this home and give our client the lifestyle they were craving. Consider the cravings satisfied. Our job here is done.