If you live near the serenity and splendor of a man-made lake in Georgia, why not make the most of it? That's what the owners of this beautiful lakefront home asked of PAXISgroup. They wanted a home just as calming and picturesque on the inside as nature is outside. We said, "no problem!" and got to work. The result is exactly as we envisioned: a beautiful mix of modern and traditional elements tied together with a nautical, naturalistic theme.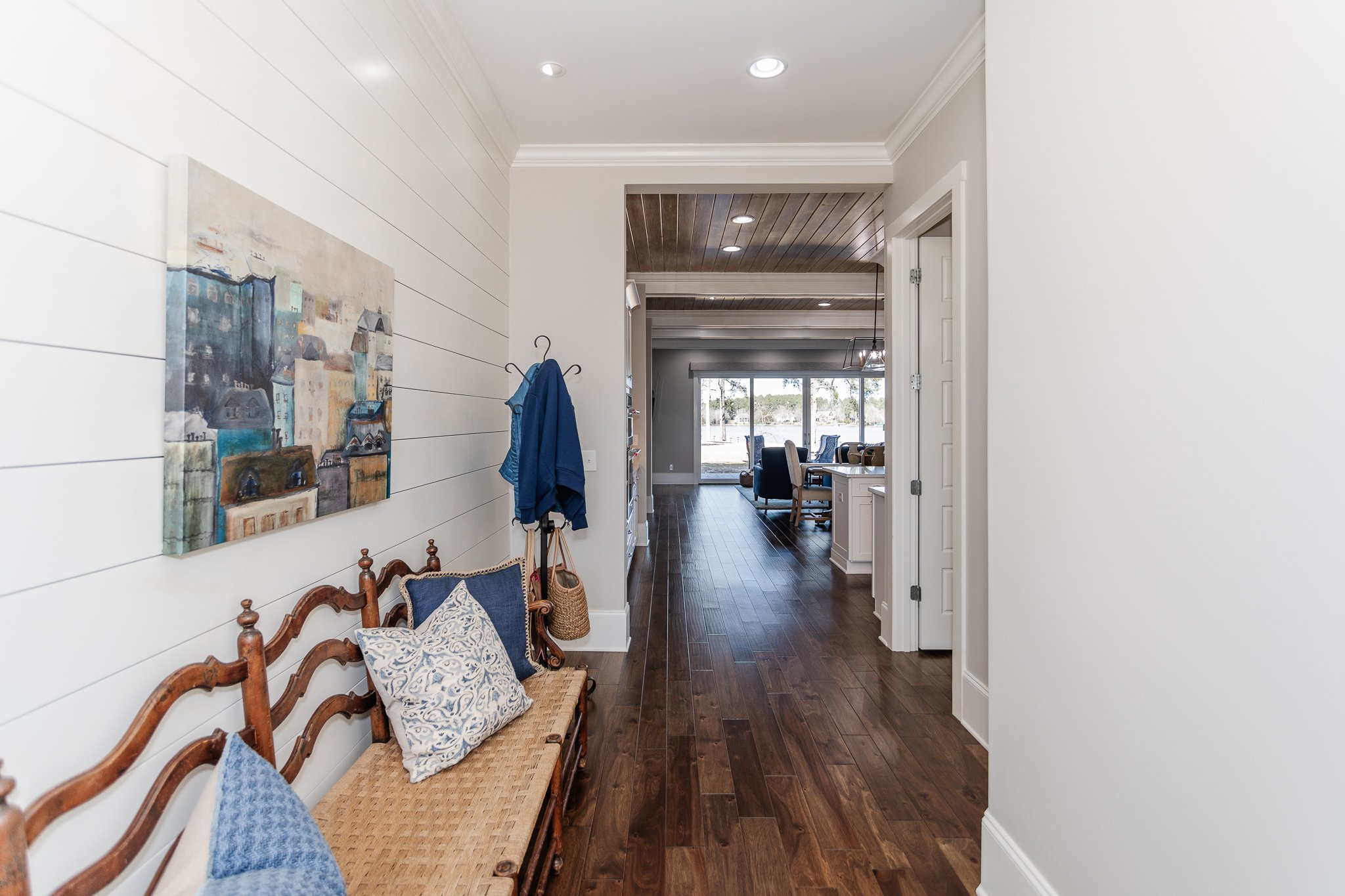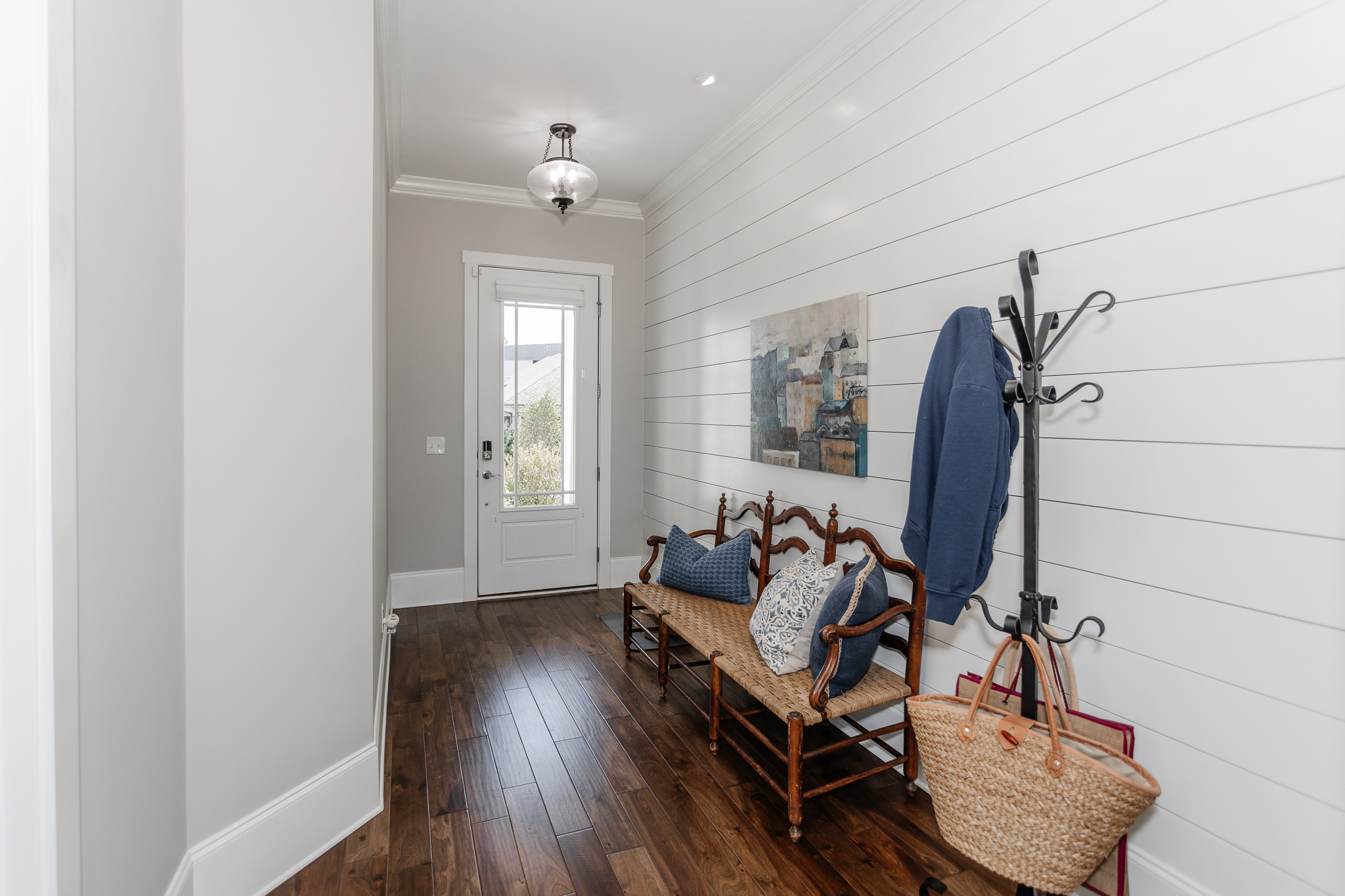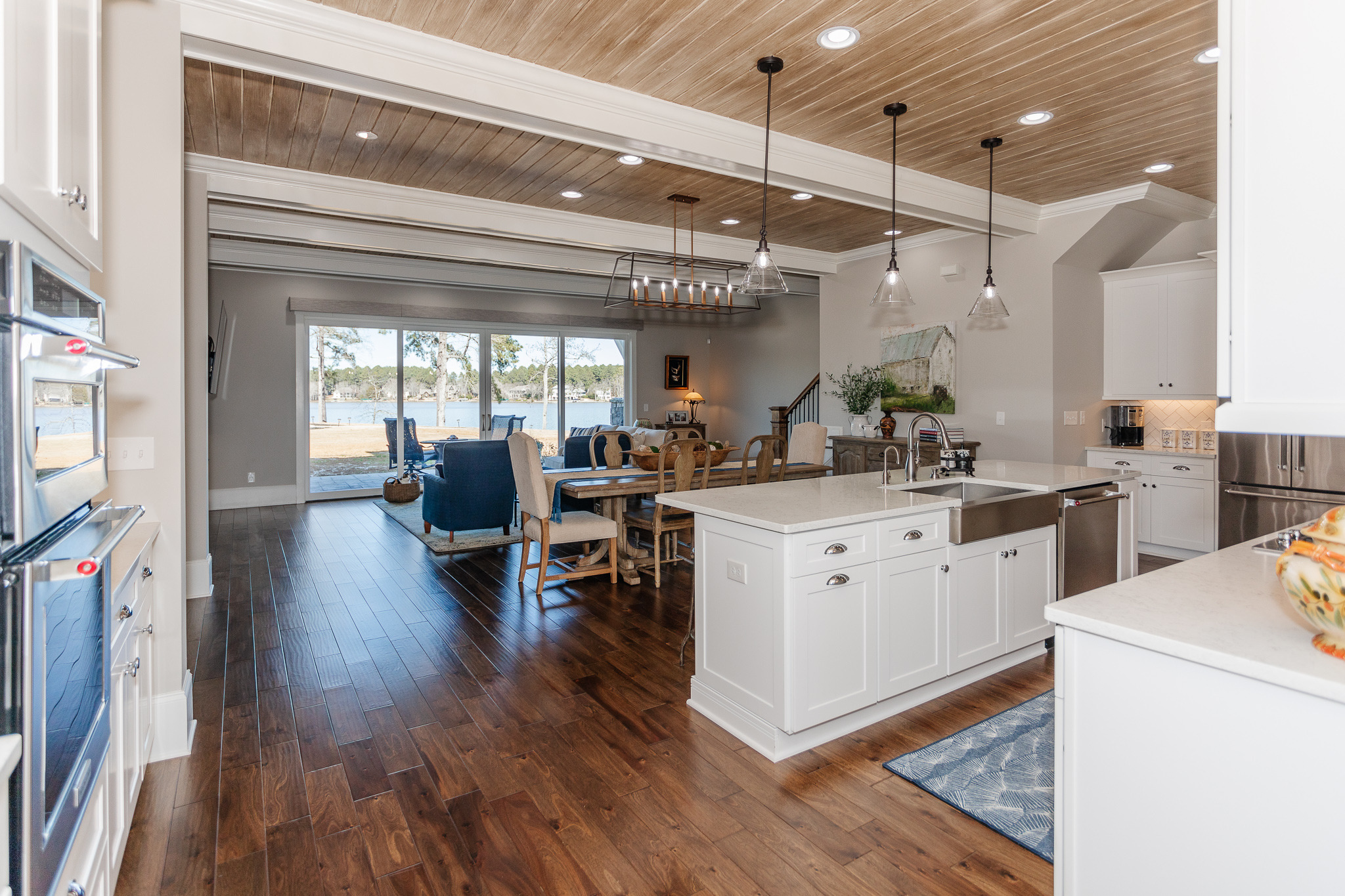 Deep-hued, rich wooden floors contrast with a white shiplap accent wall in the entryway, setting the tone for this cottage lake house. A lighter wood on the ceiling creates a cocoon of warmth as you walk further inside. If you use your imagination, it almost feels as if we carved the home into a massive tree, branches spreading out high above us and roots spiraling down below. The natural grain adds visual interest to this lakehouse interior design at every turn, augmented by the stark classic white of the kitchen cabinets and countertops. The brown and white and pops of blue and green decor create a color palette inspired by lake life.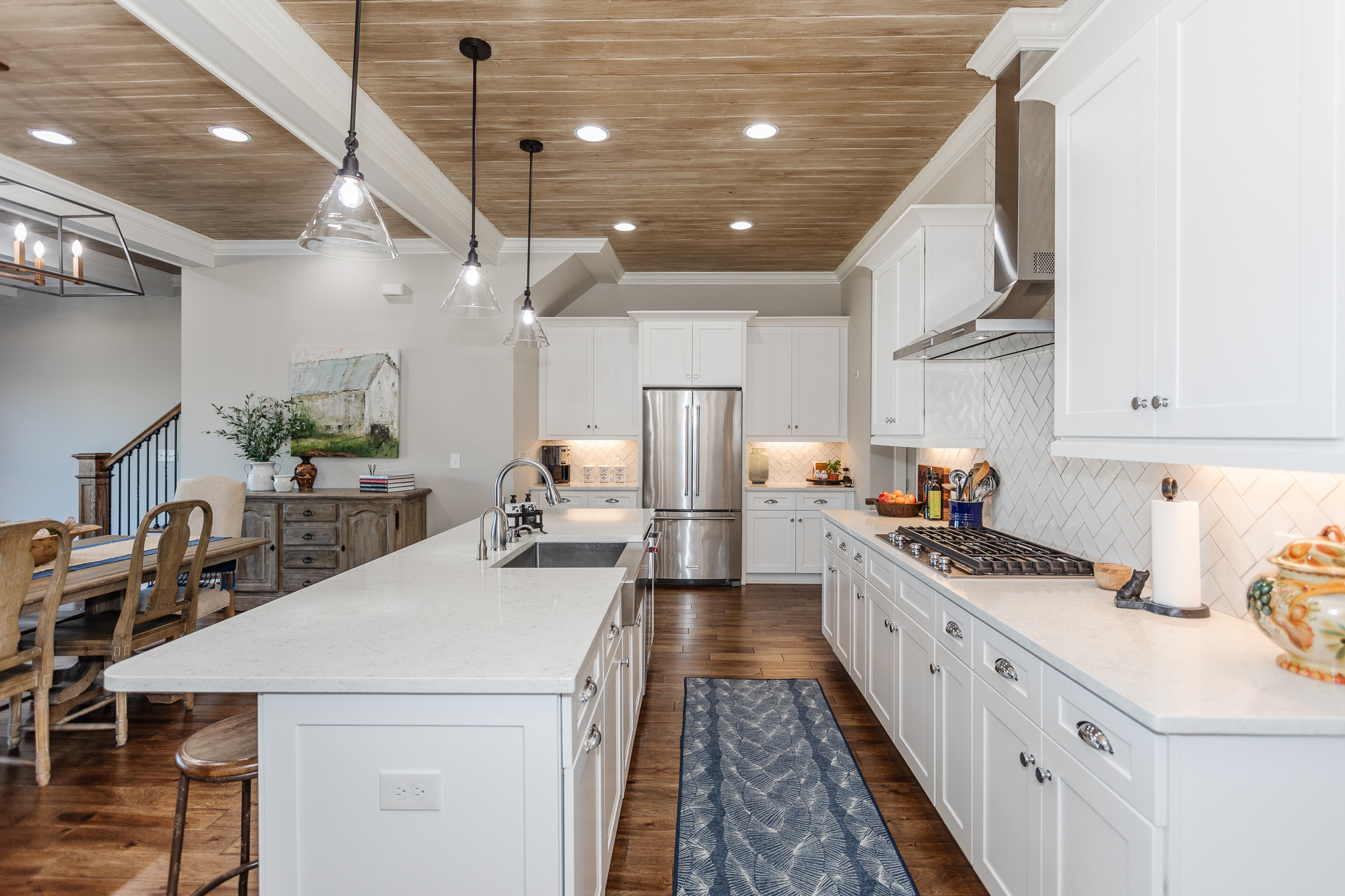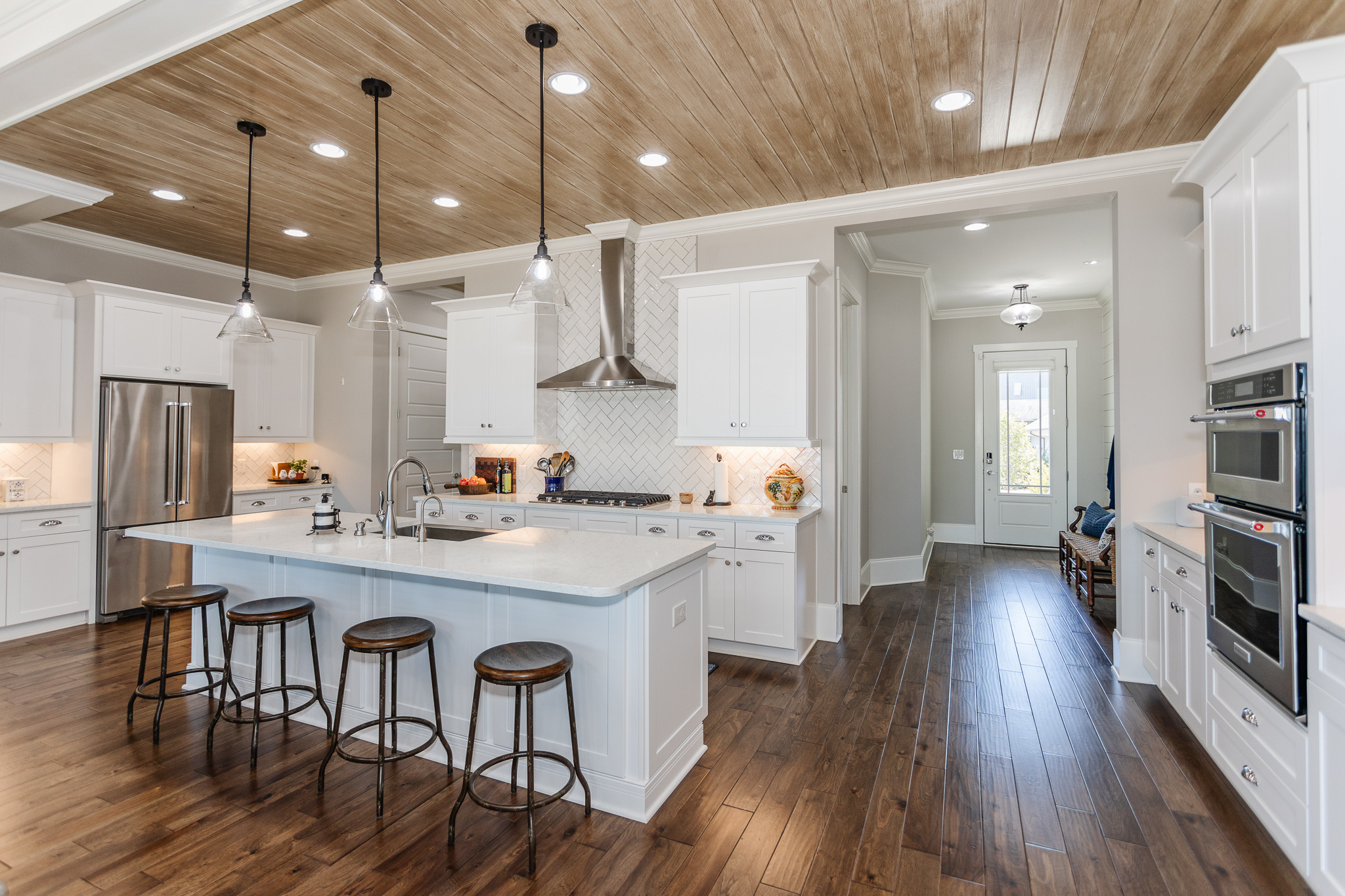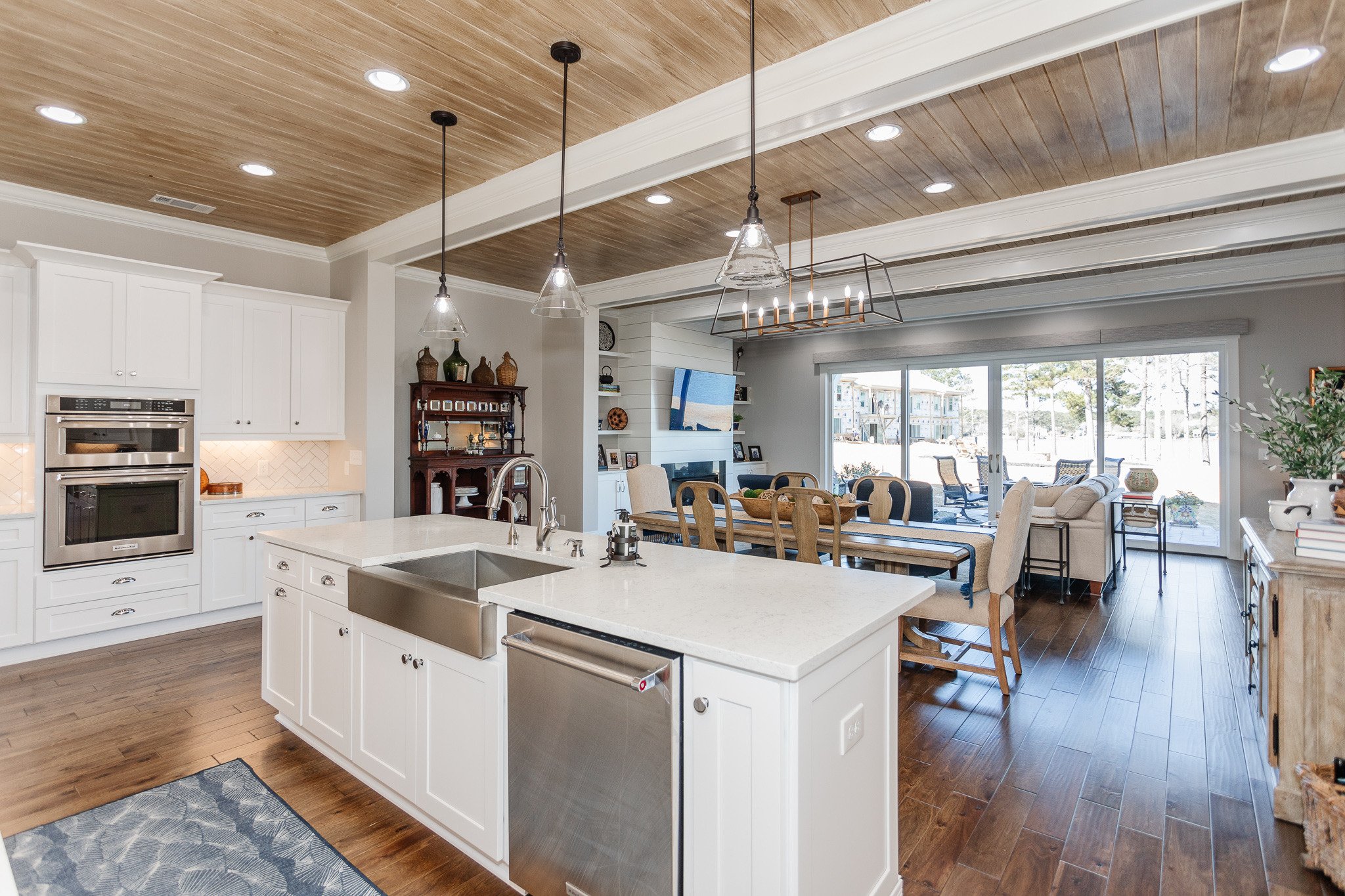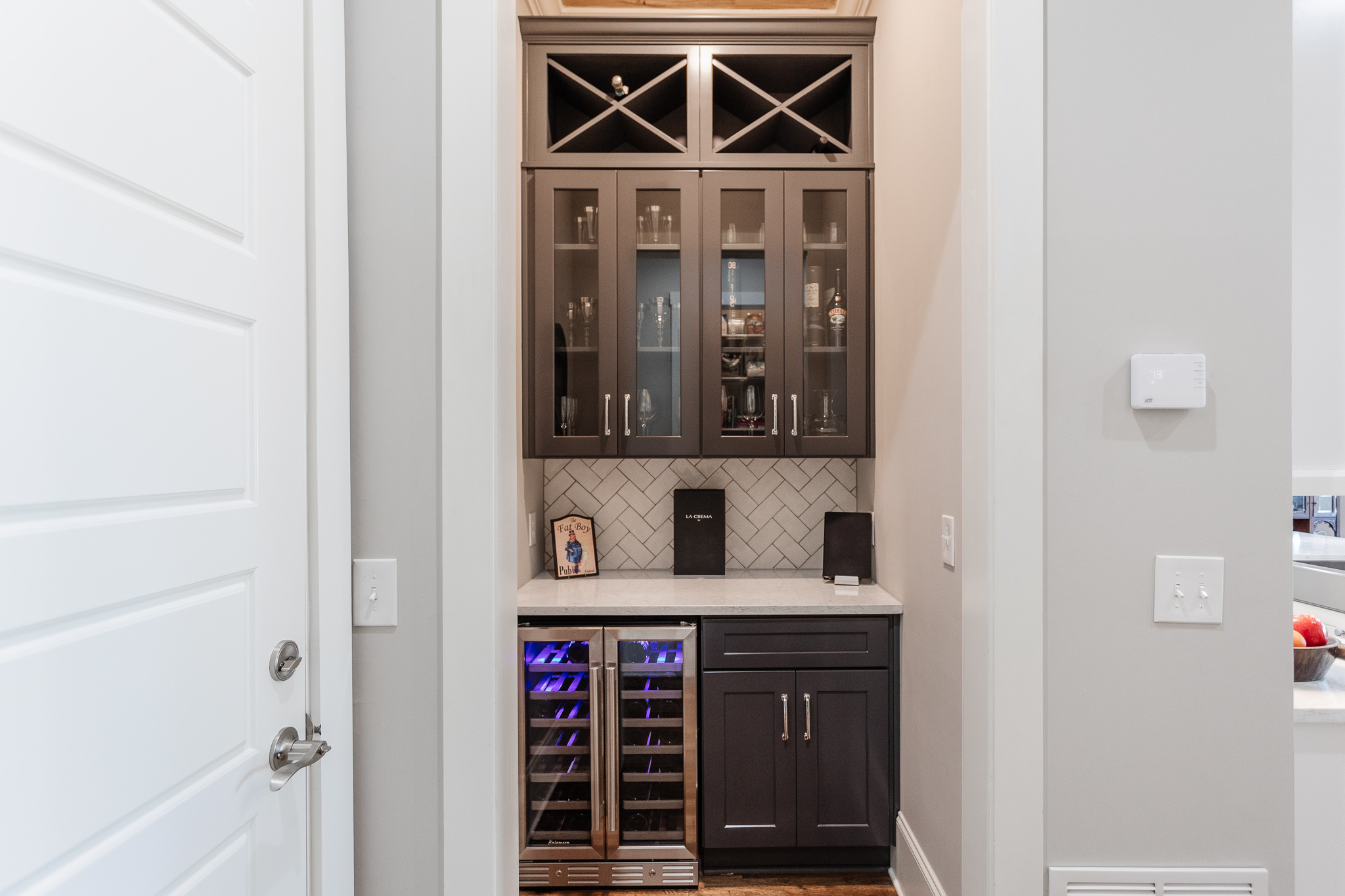 The kitchen has everything these homeowners could possibly need to entertain their guests at this lakside retreat. The island alone serves five different functions: seating for four, extra preparation space, storage, and room for a farmhouse sink and dishwasher. Talk about making the most of your investment!
There's even a mini bar area fully equipped with a wine fridge, bottle storage up top, counter space for making drinks, and more. Dark glass cabinets help this area stand out from the rest of the kitchen, while a continuation of the backsplash creates cohesion.
Above it all, pendant and recessed lighting sparkle off this shiny new space.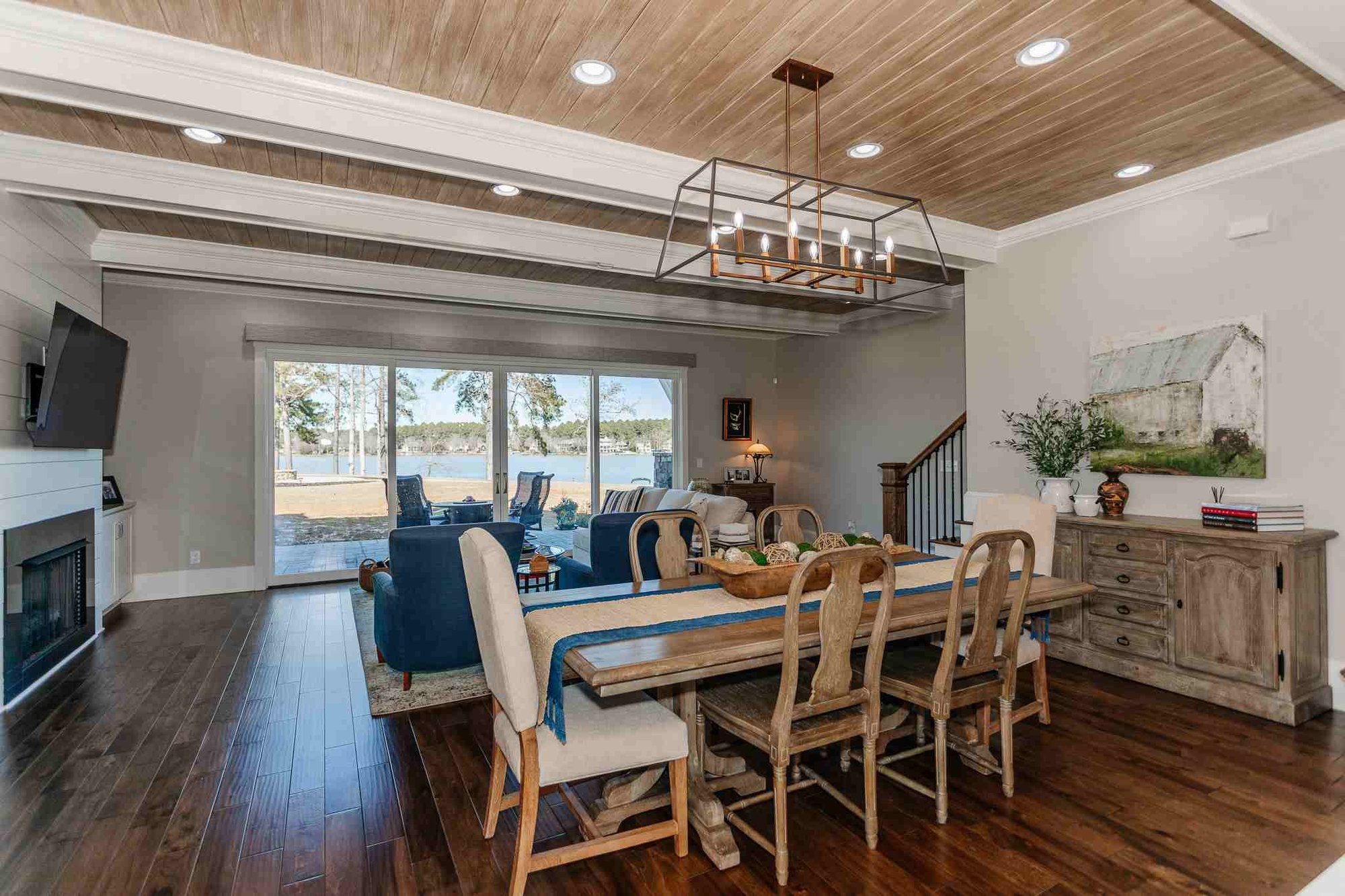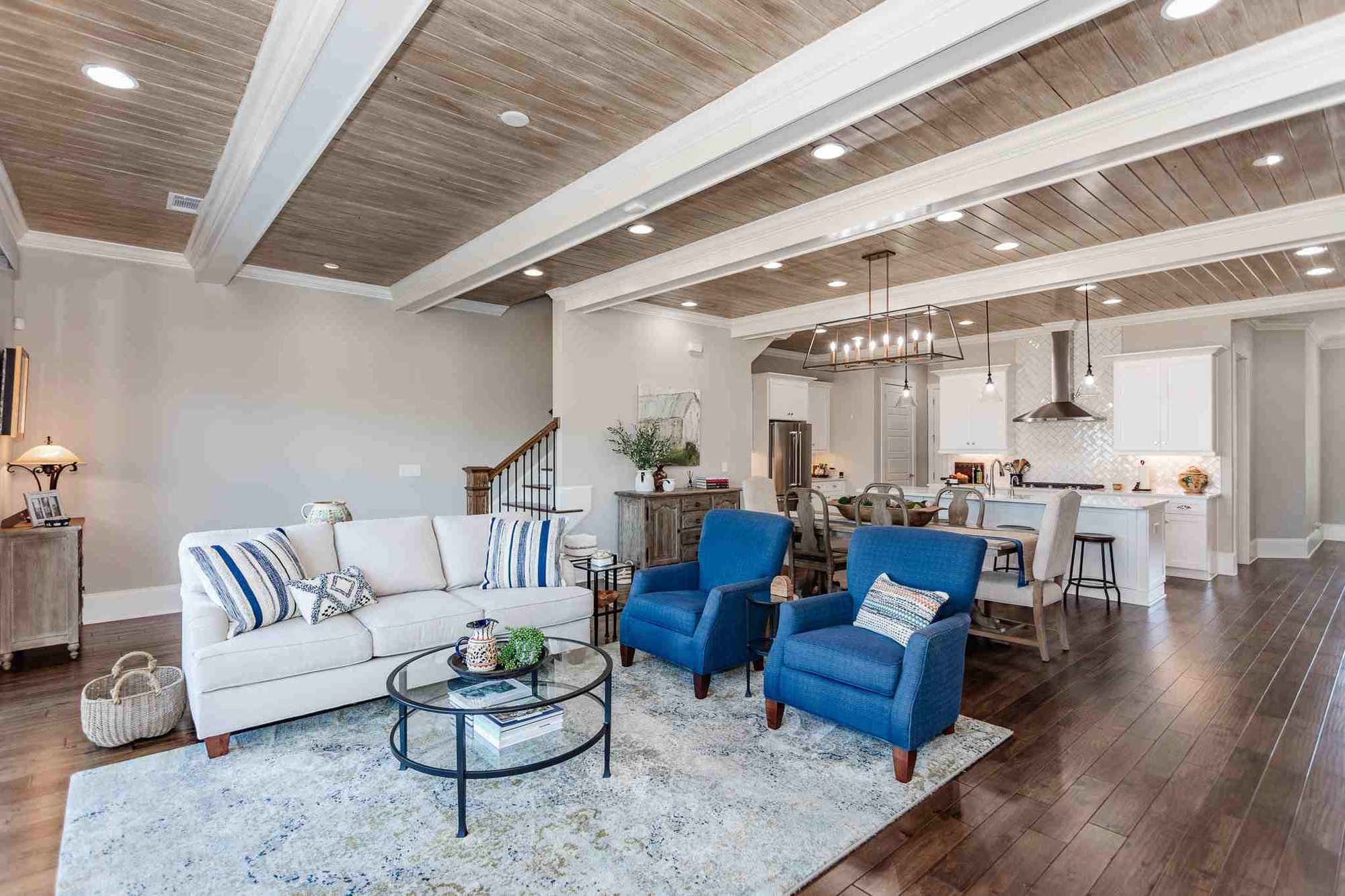 With a large, open layout that combines the kitchen, dining room, and living space into one, this interior could feel like a mishmash. But the beamed ceiling above divides the room into zones and creates structure while allowing easy flow.
A gorgeous fireplace against another shiplap accent wall centers the room, and open shelving off to the side gives the owners space to display their favorite decor items.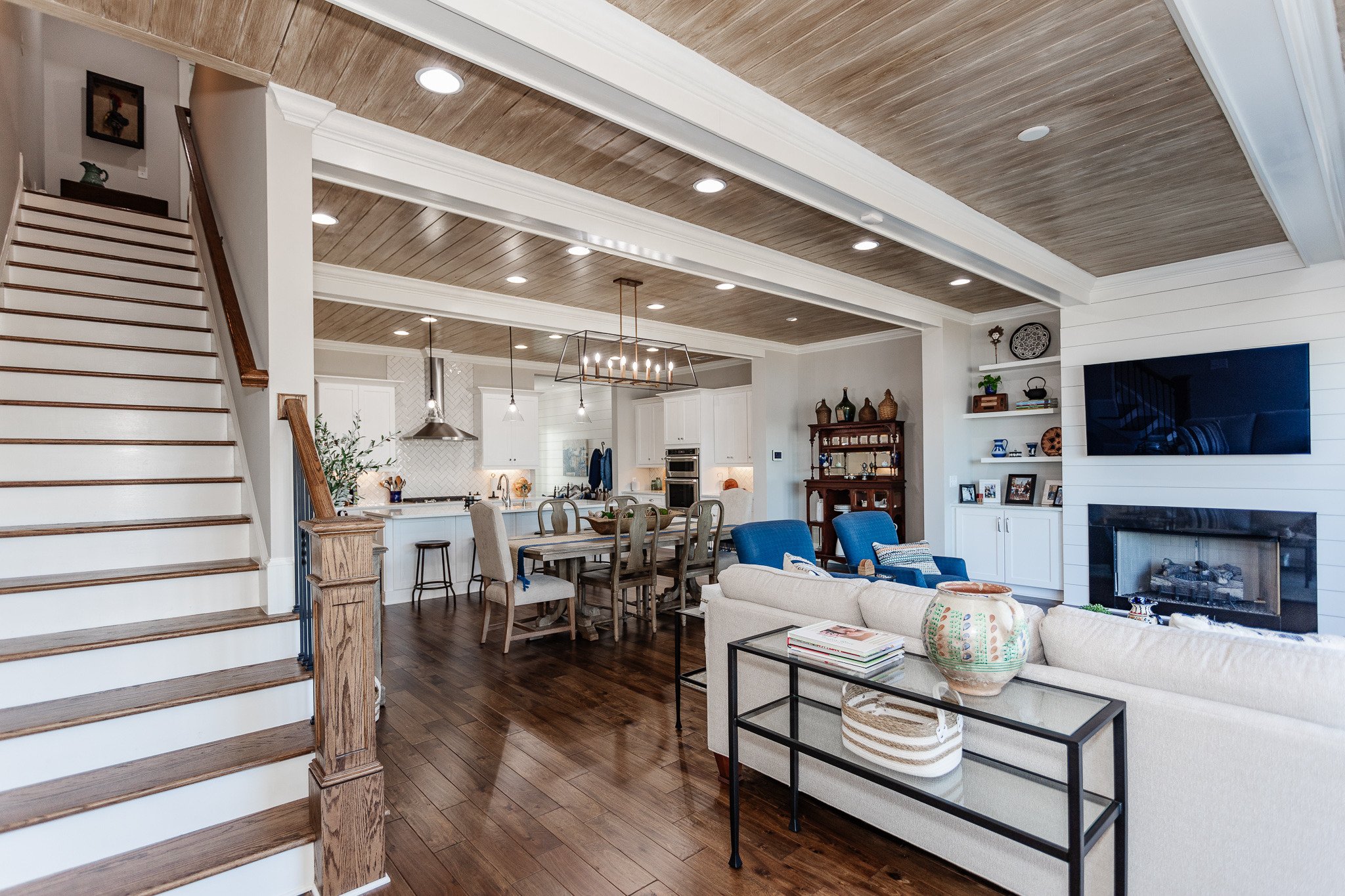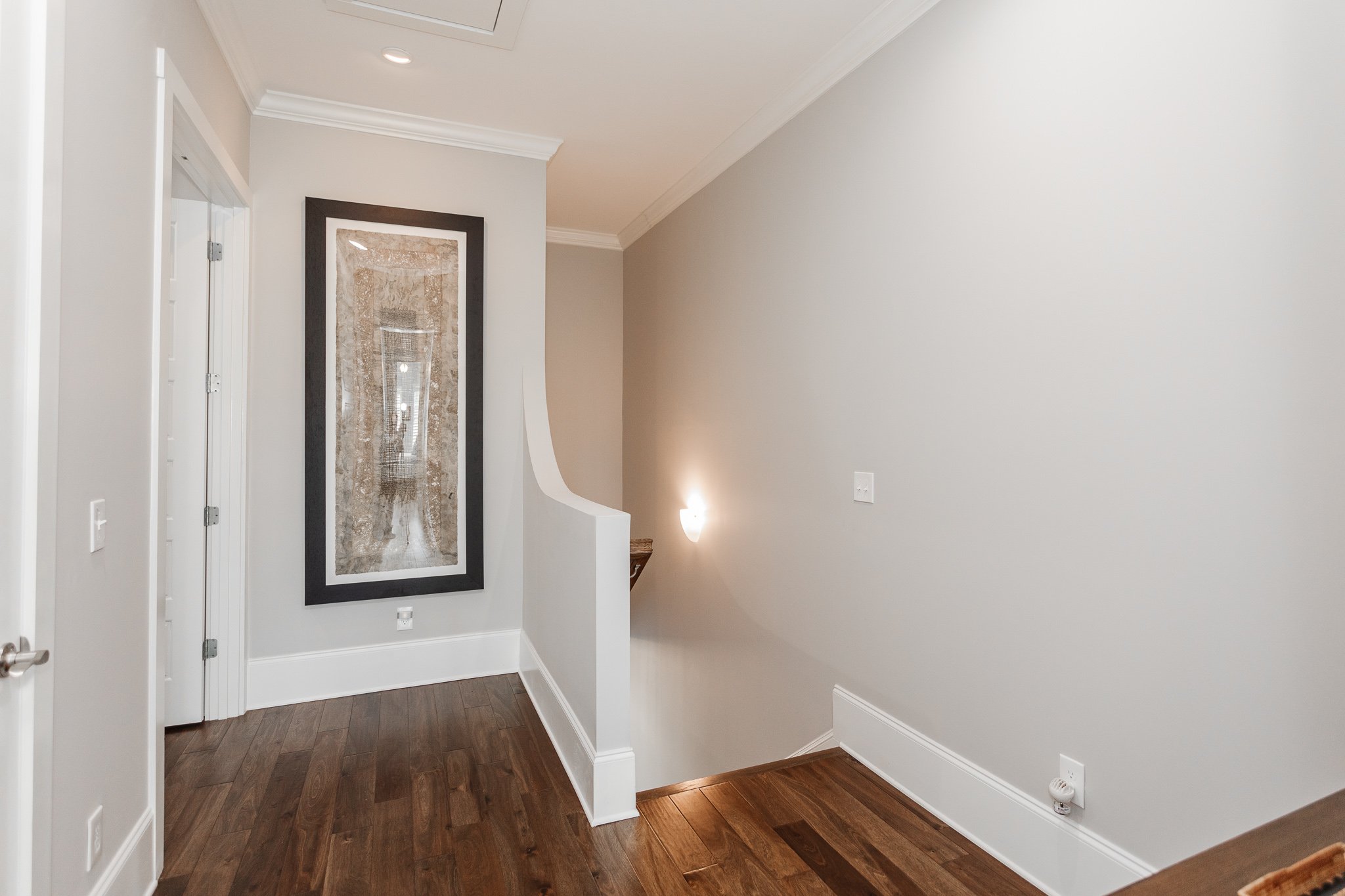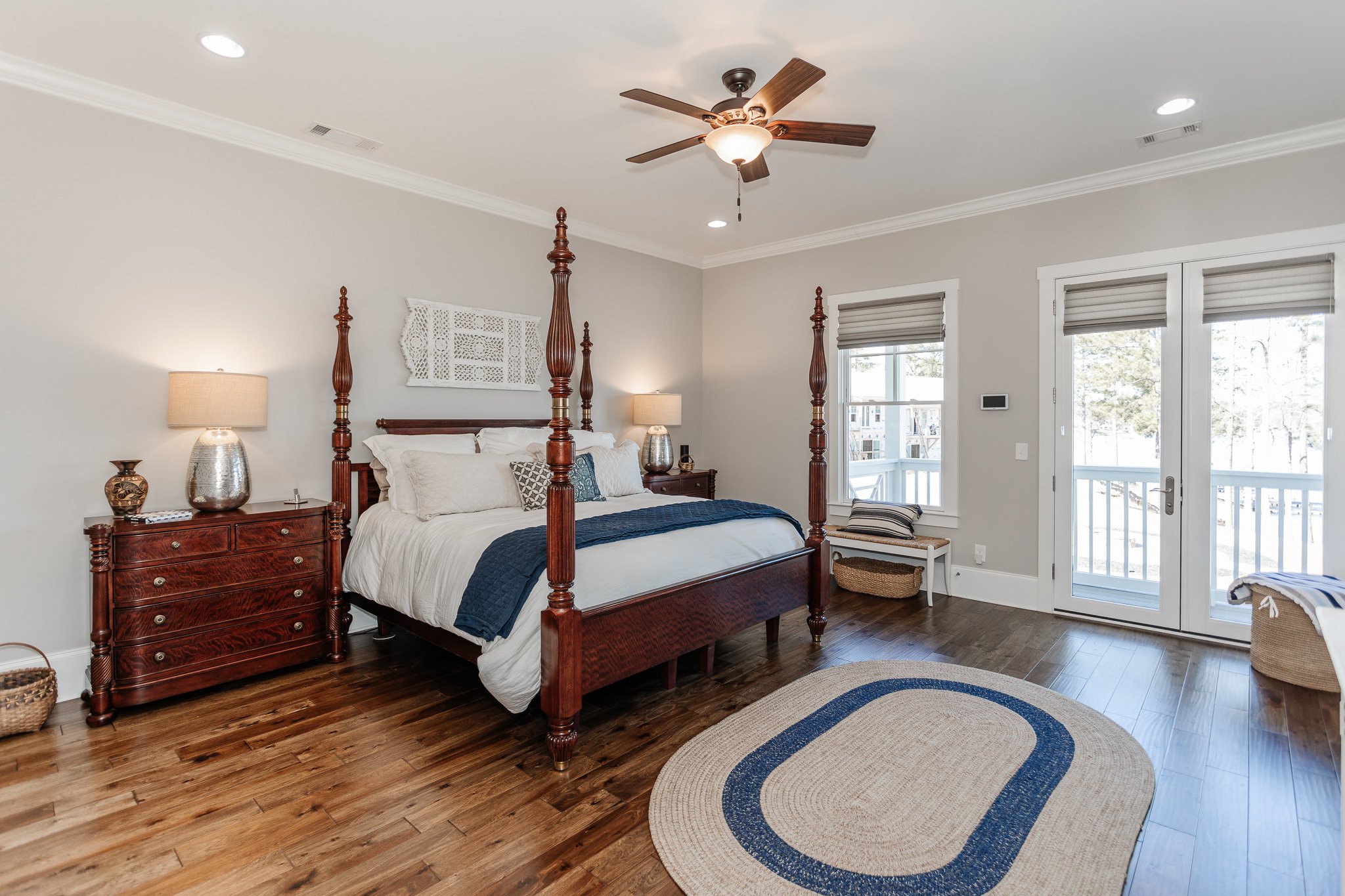 The color scheme continues upstairs in the primary bedroom. Though still bright and cheery, an off-white paint helps the upstairs feel a tad more relaxed than downstairs, encouraging a good night's rest. An attached balcony allows sleepyheads to roll out of bed and greet the beautiful day outside first thing before getting ready in the bathroom.
Accessible through a sliding barn door, this bathroom is the perfect place to start the day. A luxurious dual-showerhead system creates extra comfort in an already stunning design. Meanwhile, built-in wall cubbies keep shampoo bottles organized and within reach without looking like clutter. Dark gray shaker cabinets on the vanity ground the otherwise bright space and tie in the dark speckles on the shower floor. And it wouldn't be proper lakehouse interior design if we didn't add a freestanding tub with a view overlooking the lake below!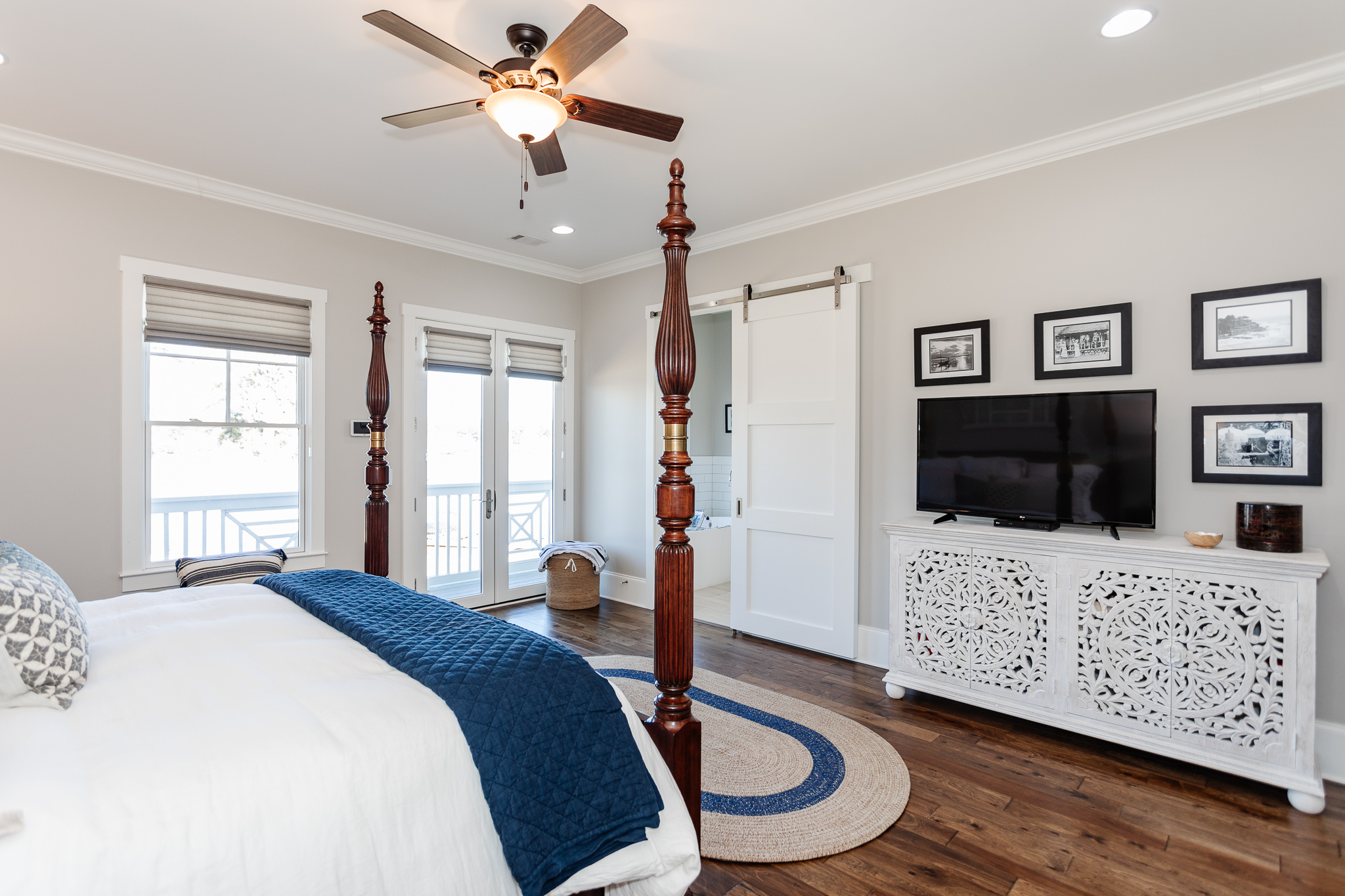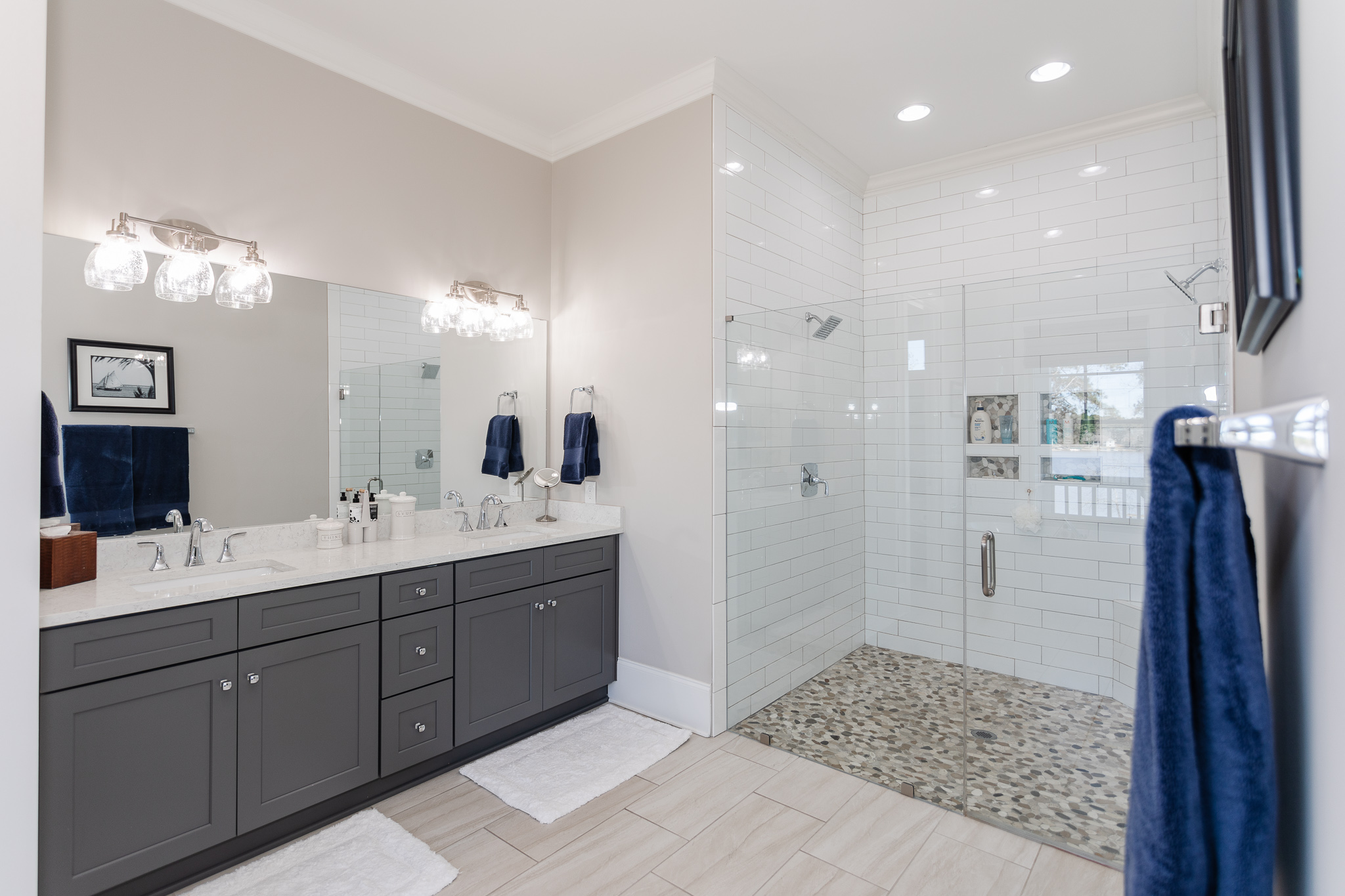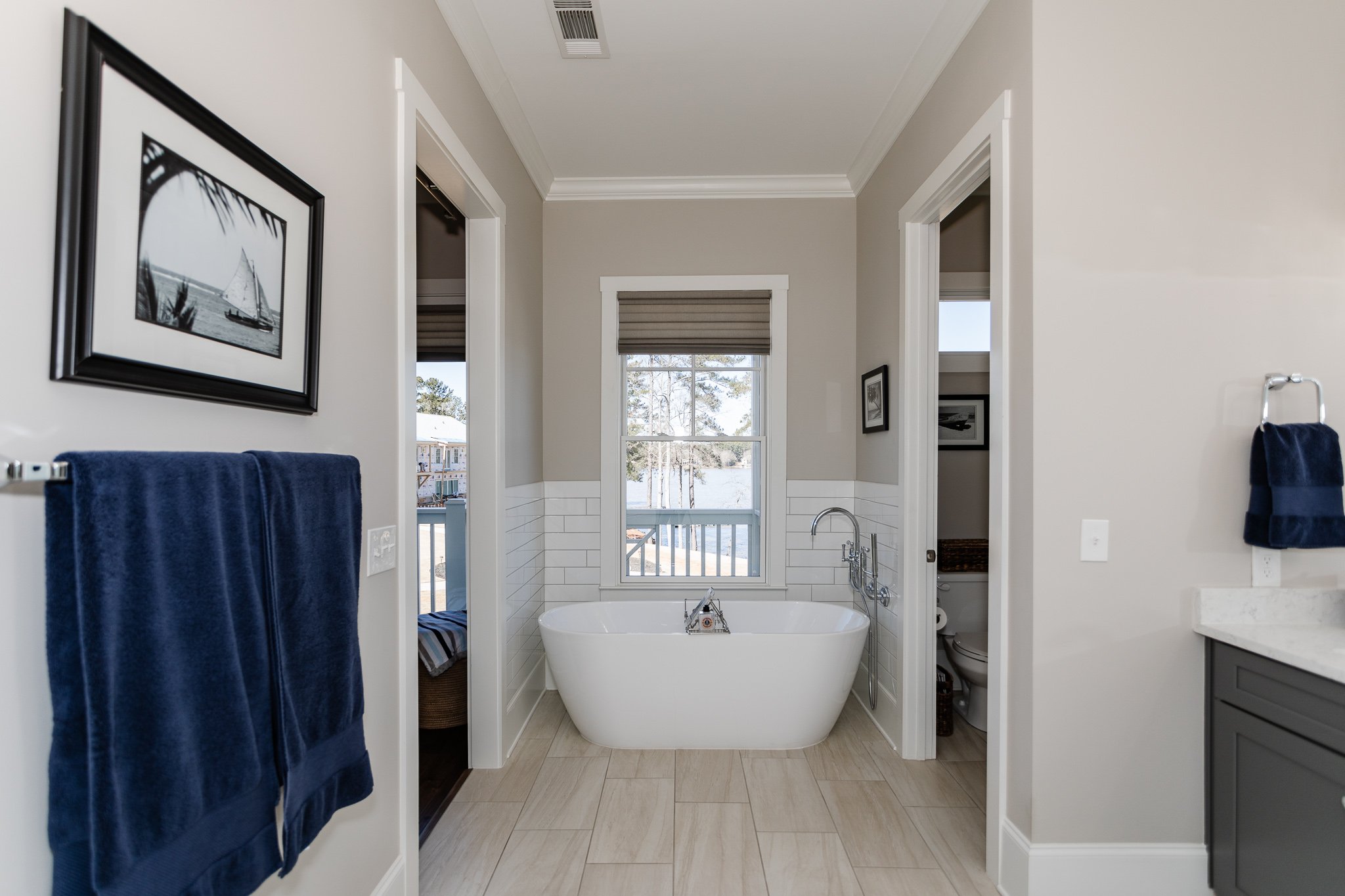 There's also a massive walk-in closet with loads of built-in shelving, which makes getting dressed and keeping items organized a breeze.
The same visual themes in the primary bedroom continue into a secondary suite. A calm, comfortable bedroom complements the brilliant white bathroom.
Of course, all the best lake houses in Georgia have an outdoor living space; this lake house cottage is no exception! A spacious patio leaves room to grill and relax around the table while admiring the glimmer of the setting sun over the lake.
Did these lakehouse pictures inspire you? Then, reach out to PAXISgroup today to inquire about building or renovating a beautiful lake home of your own!