We remodeled this beautiful lakefront home on Lake Oconee with one goal in mind: maximum enjoyment. From interior renovations to landscaping and dock upgrades, this home is now ready for year-round fun and relaxation for the entire family. Let's step inside!
The most important factor in the resale value of any home remodeling project is curb appeal. The exterior of this home was completely transformed, and includes multiple deck and patio areas and a garage that can be turned into an indoor/outdoor game/play area with modern lighting and durable epoxy flooring.
Check out this video to view some before and afters of this remodeling project, and keep scrolling to get the insider tour!
Some key features of this project include:
Exterior deck and patio areas
Garage playroom
Living room with lake views
Basement kitchen & more...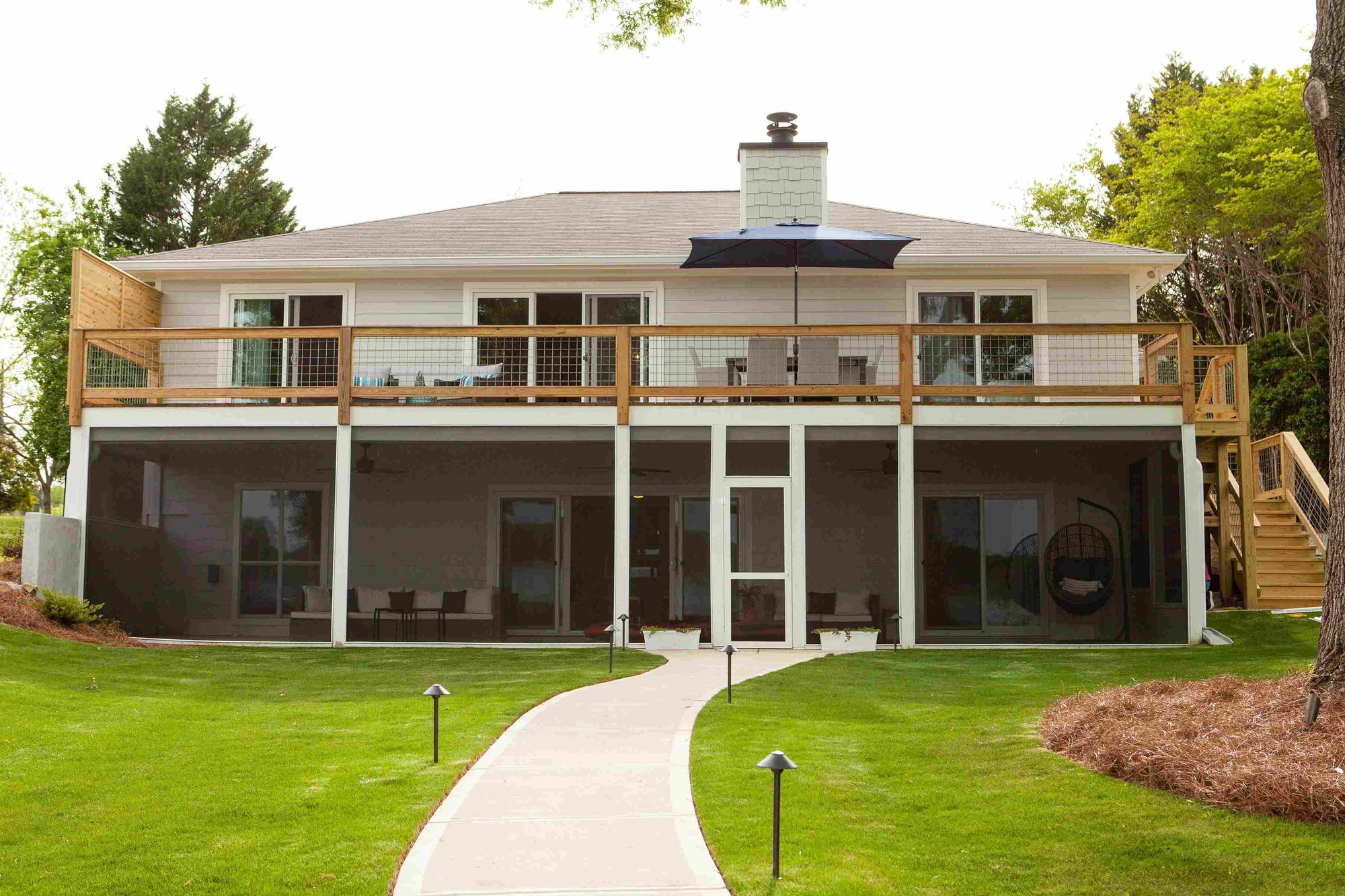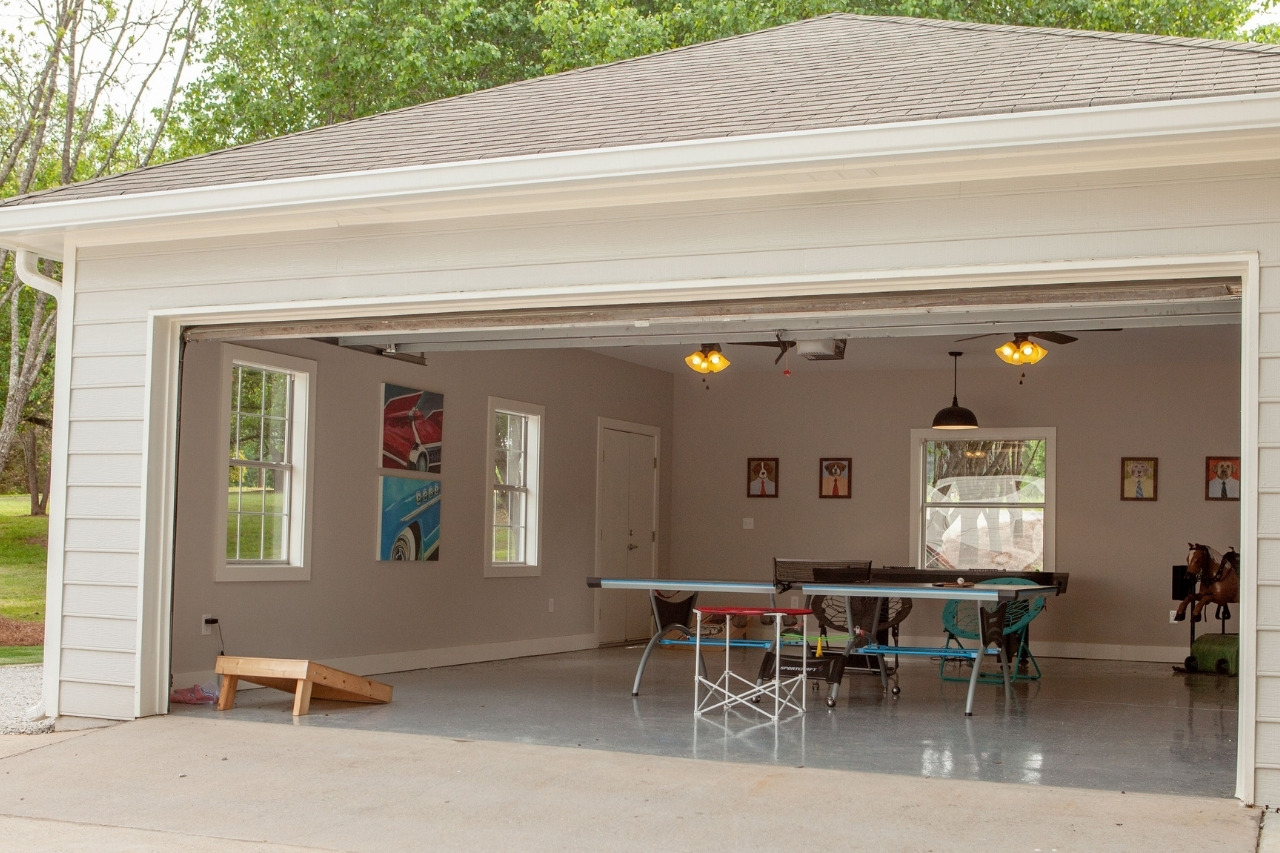 The previous floor plan featured a smaller kitchen and an awkwardly-placed "bonus room". We re-designed the bonus space to create a new, modern kitchen and placed the dining room on the kitchen's old footprint while also removing old existing walls between the kitchen and foyer to open up the space to create an open floor plan.
The new kitchen area now features an island with seating for two, plus built-in appliance storage and additional drawers and cabinets for storing cooking supplies.
The new dining room provides ample space and seating for everyone to come together and enjoy each other's company – with a stone-surround fireplace, sliding glass doors, one of three guest bedrooms attached, and a shiplap accent wall on the opposite side.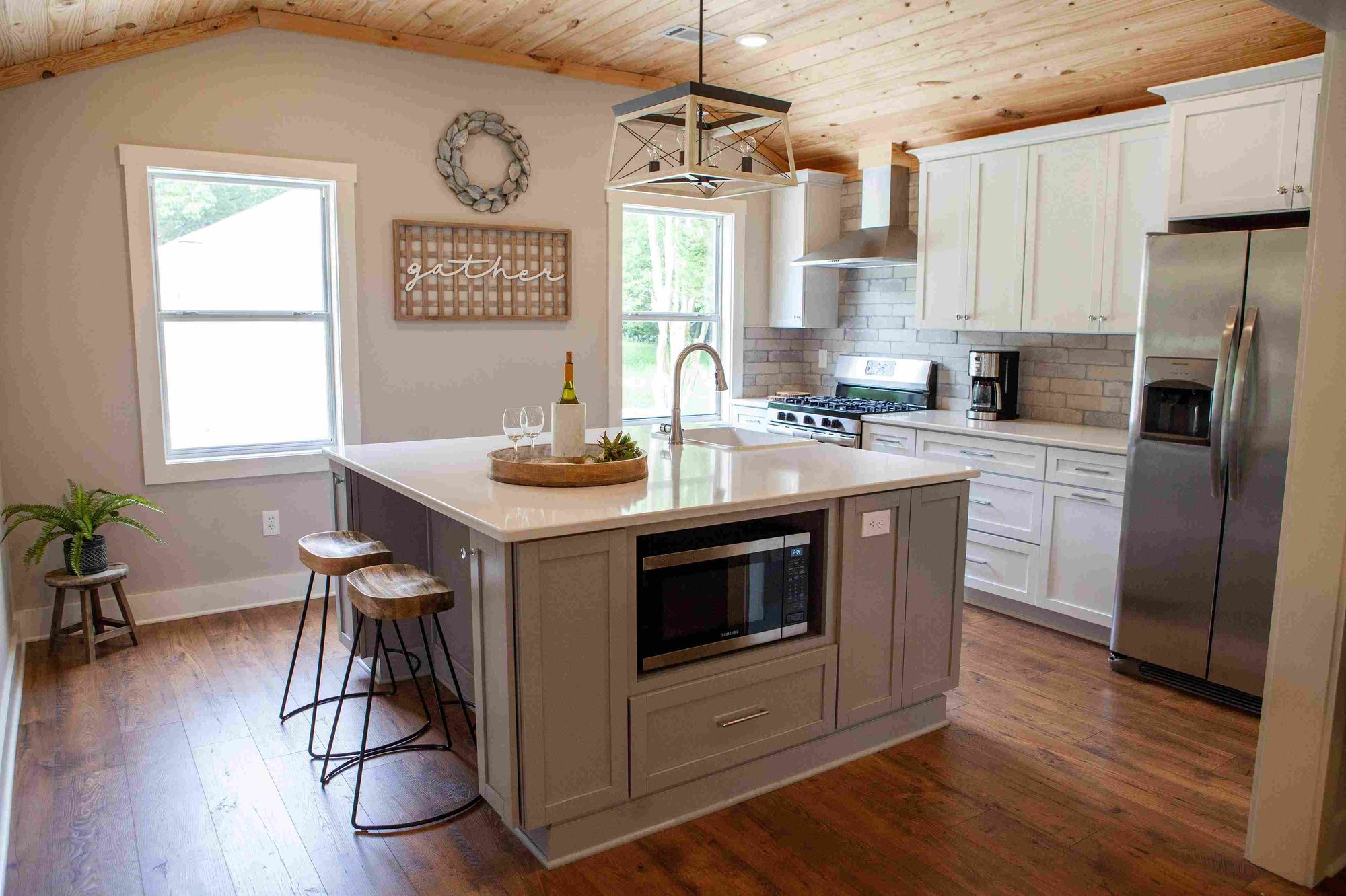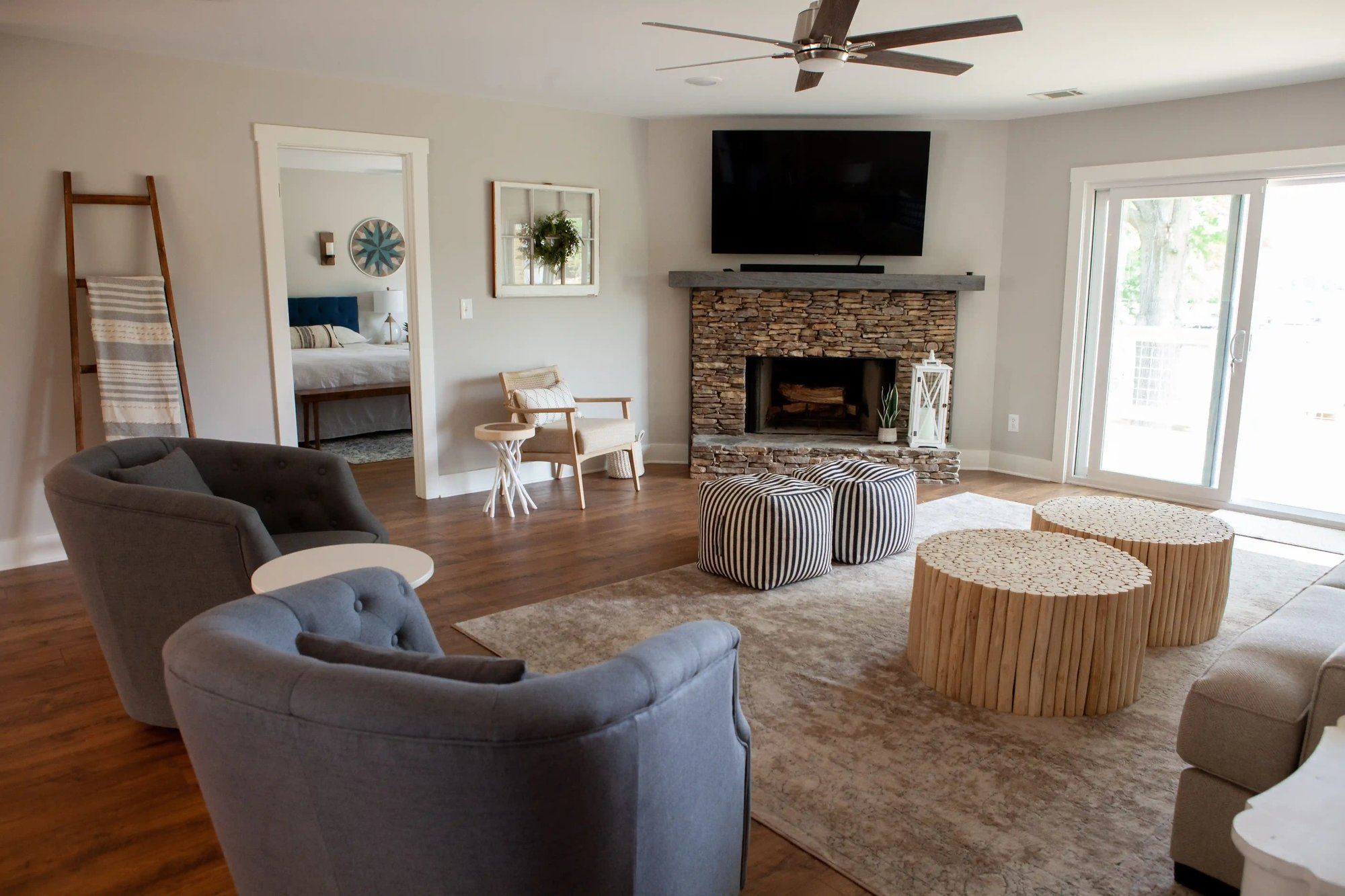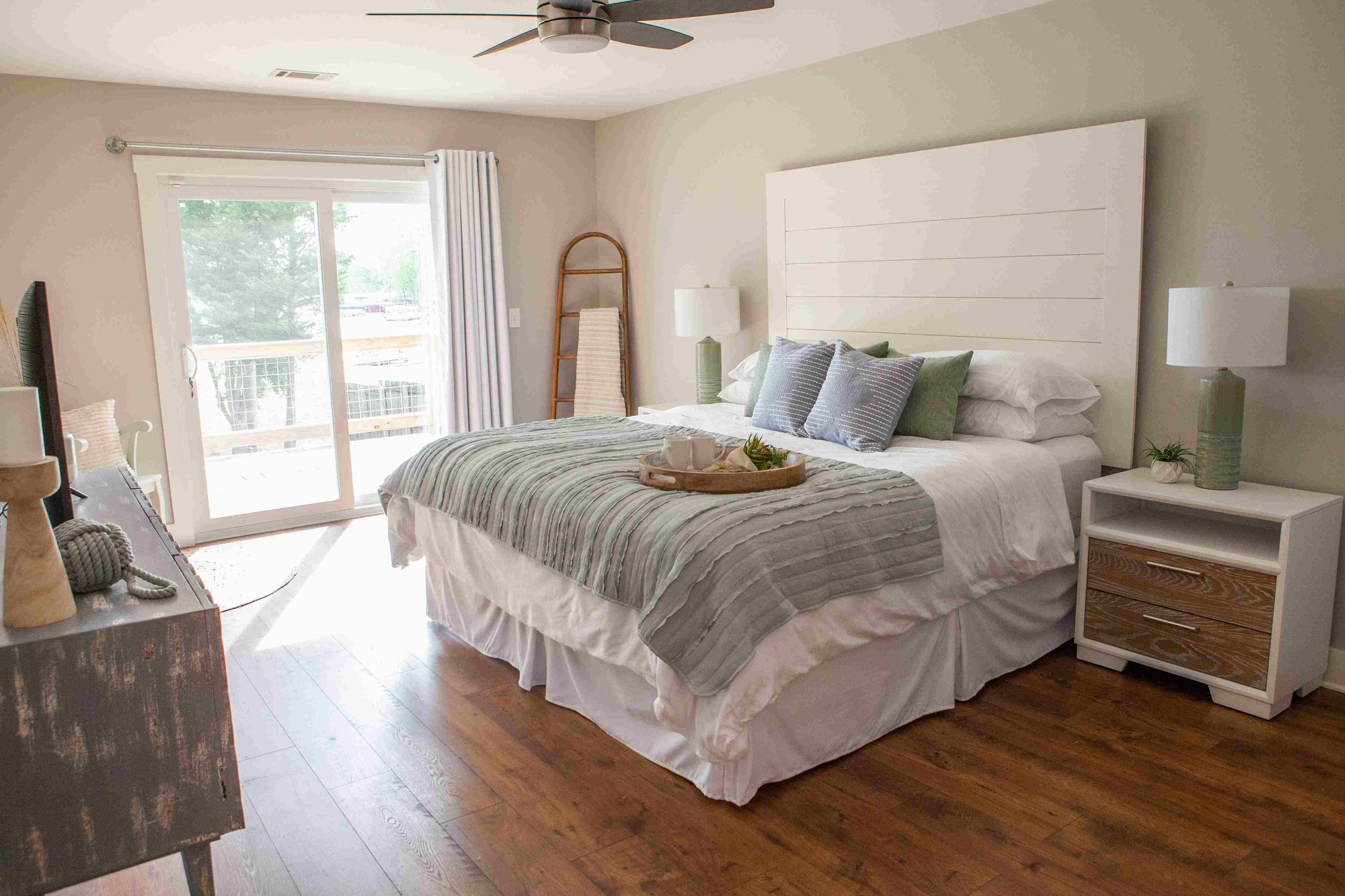 The primary bedroom in this lakefront, lake view home features sliding glass doors onto an upper-level deck area and a primary attached bathroom.
Warm hardwood floors accentuate the muted color palette on the walls, with an oversized shiplap headboard to give the room the ultimate feeling of comfort and relaxation.
The primary bath gives enough room for two people to get ready or unwind comfortably, with his and her sinks, vanity storage, and a glass door walk-in shower with a bench seat.
Not shown but worth mentioning: one of the closets in this primary bedroom was converted into a coffee/wine bar – everything you need in the comfort of your own room!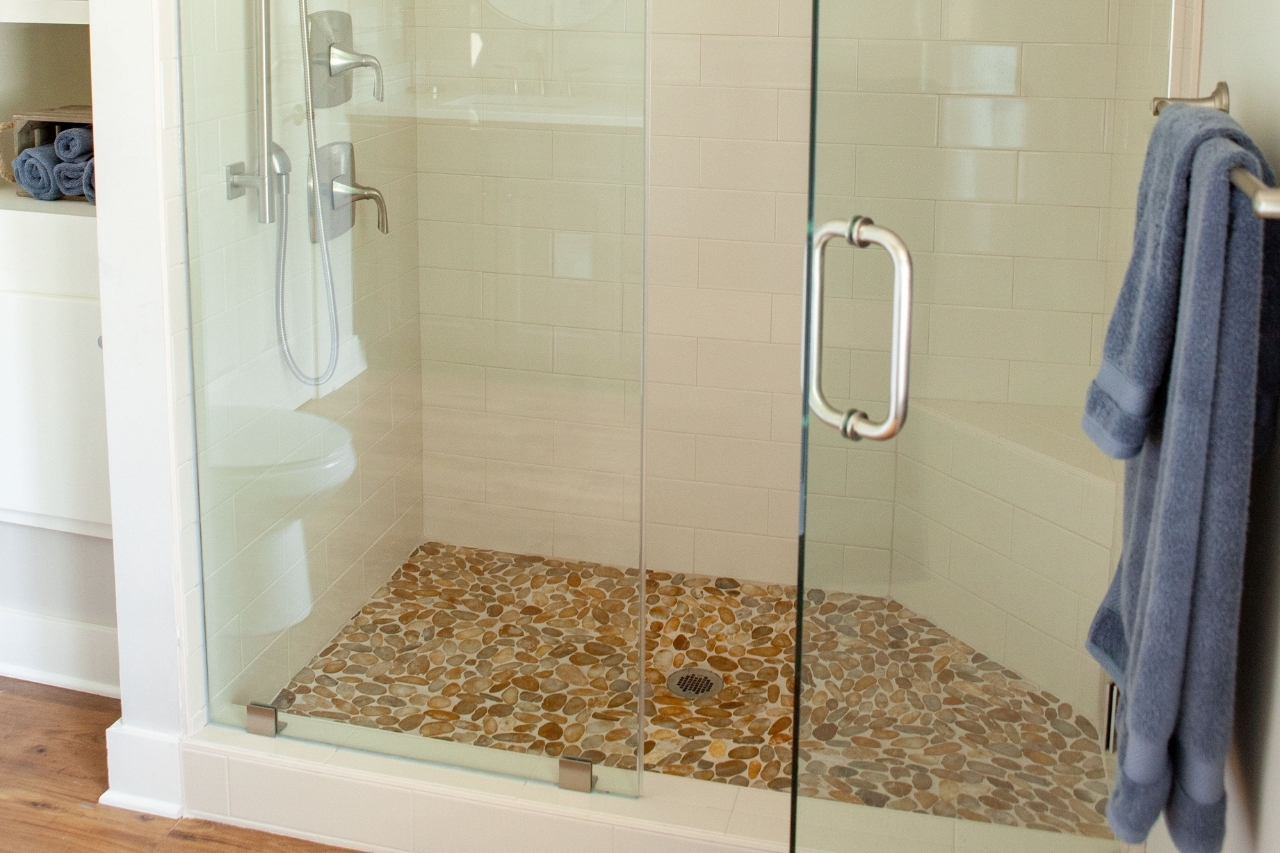 This home boasts four bedrooms in total – one primary bedroom and three guest bedrooms – offering everyone their own privacy and a comfortable place to sleep. No more achy muscles from pull-out couches for those sleeping over!
The guest bedrooms have sliding door access to the main floor and bottom-level deck and patio areas, and are outfitted with either two double beds, a queen, or a king for plenty of room to stretch out.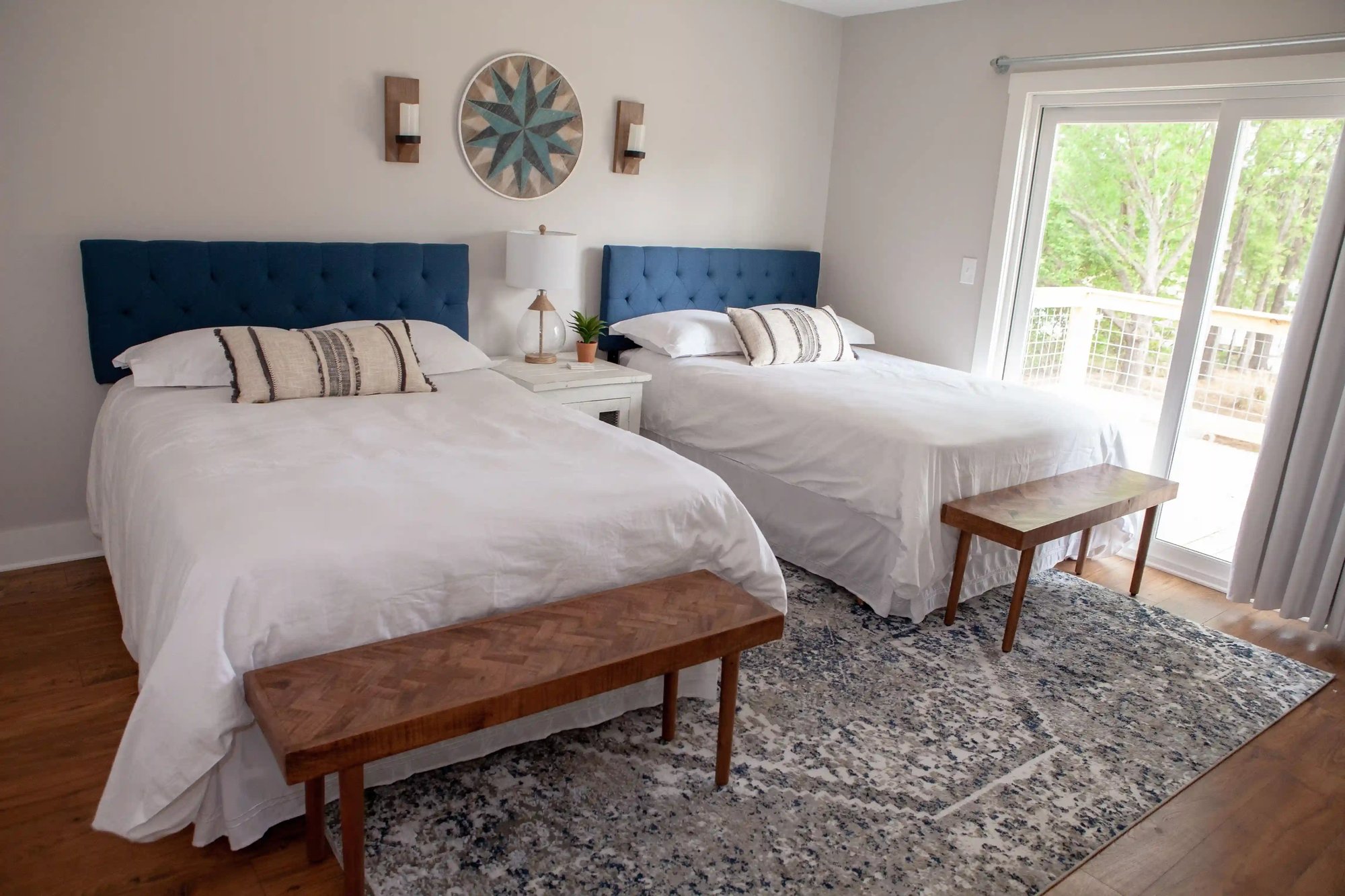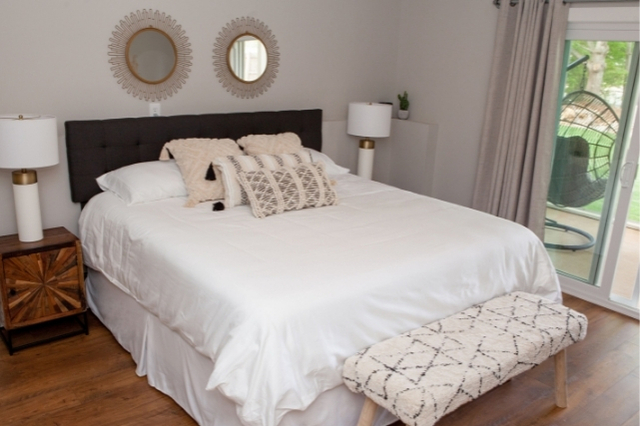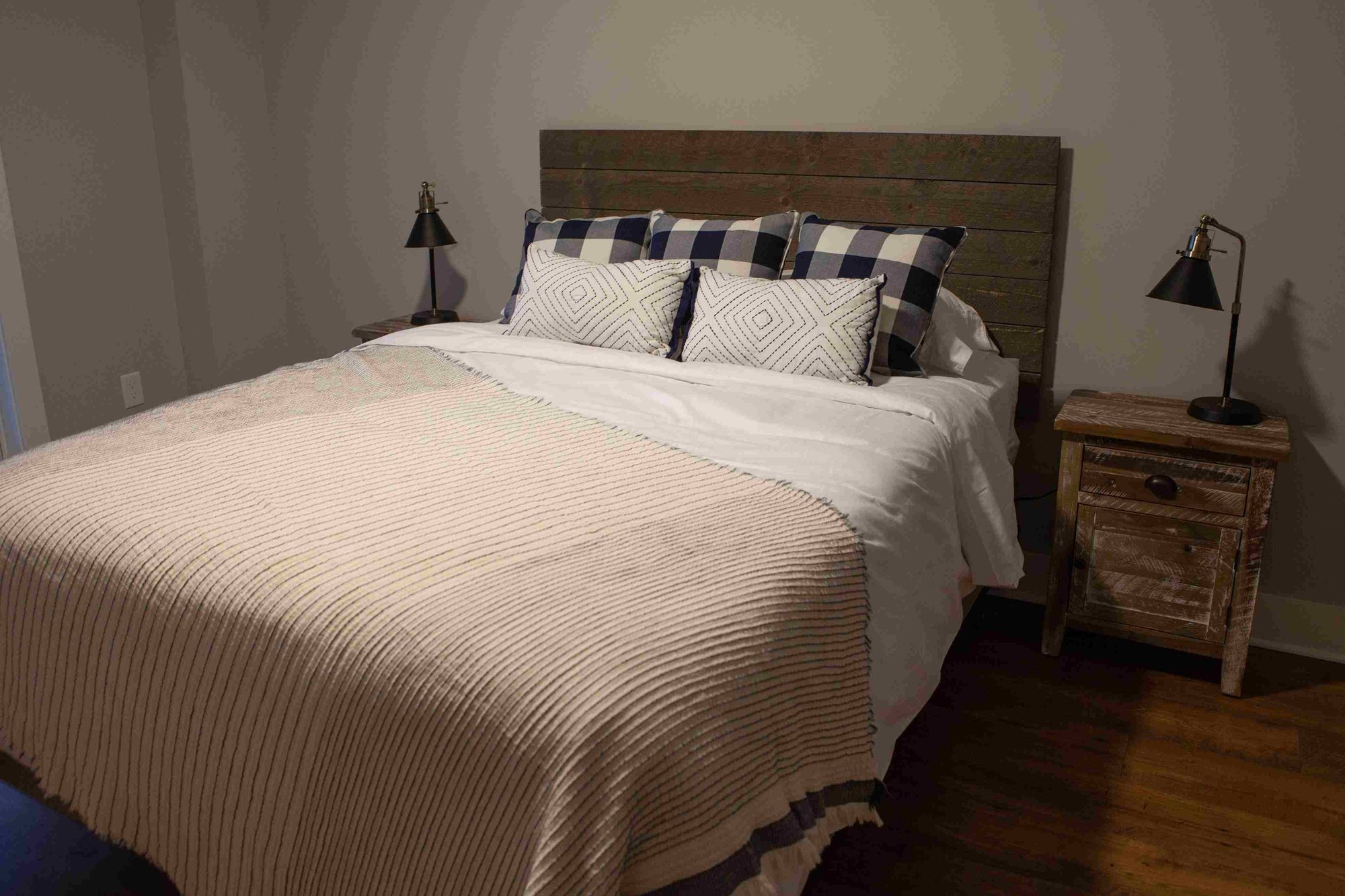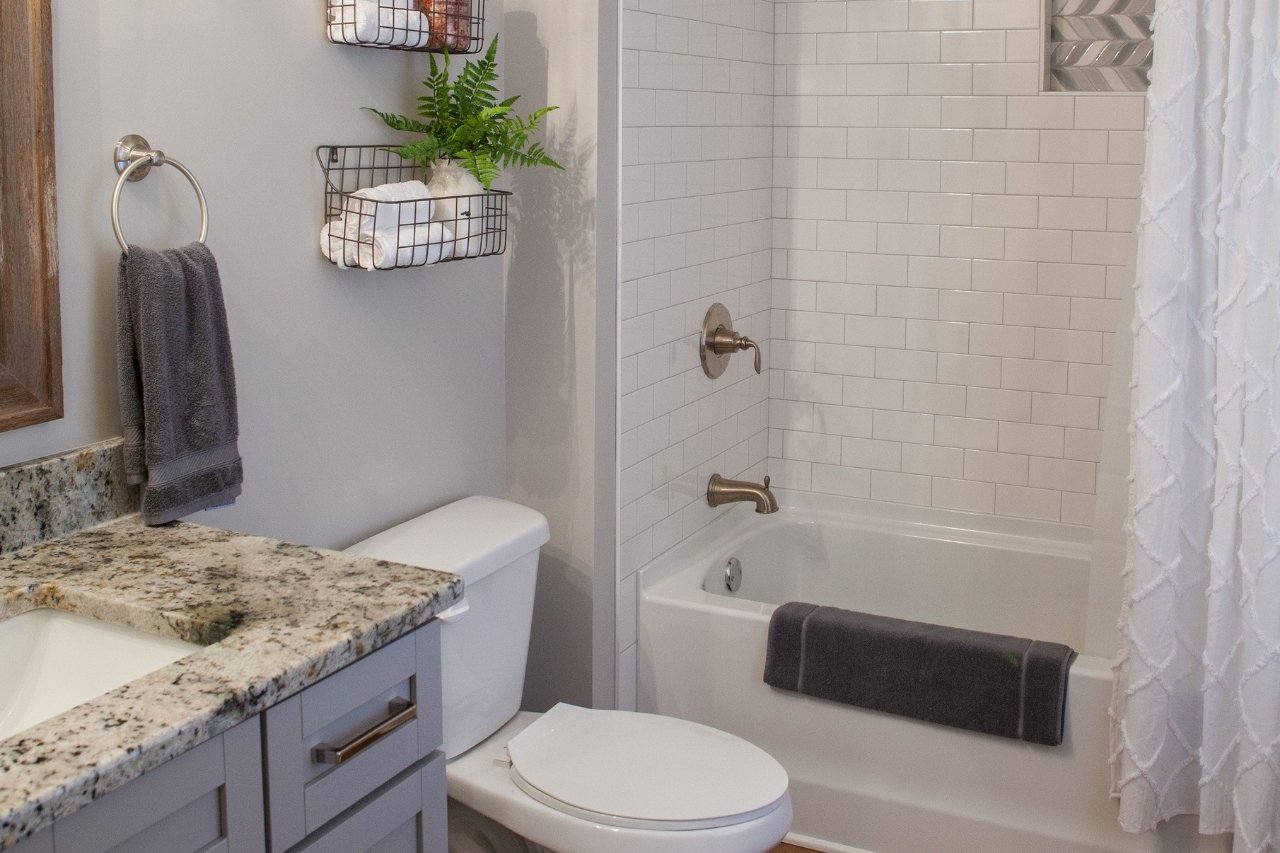 The guest bathrooms in this remodeled home do not disappoint – and provide plenty of privacy for visitors. We converted a closet into a half bathroom for guests on the main level, so alleviate heavy foot traffic into the bathrooms attached to private bedrooms.
The bathroom to the left accompanies a guest bedroom with two double beds and features a tub/shower option for quick rinsing or a nice soak.
Other bathrooms in this remodeled home boast glass door walk-in showers with tile walls and flooring for a timeless look and easy cleanup.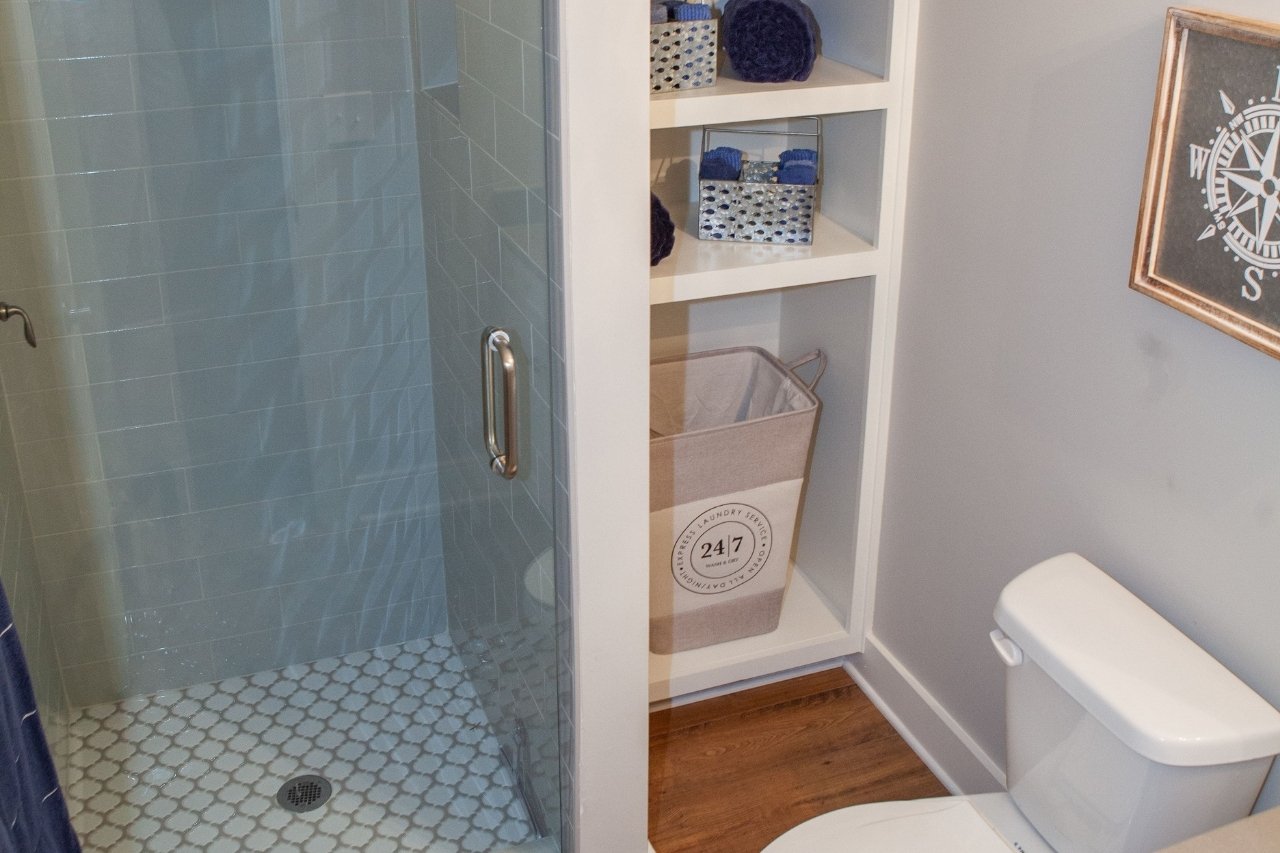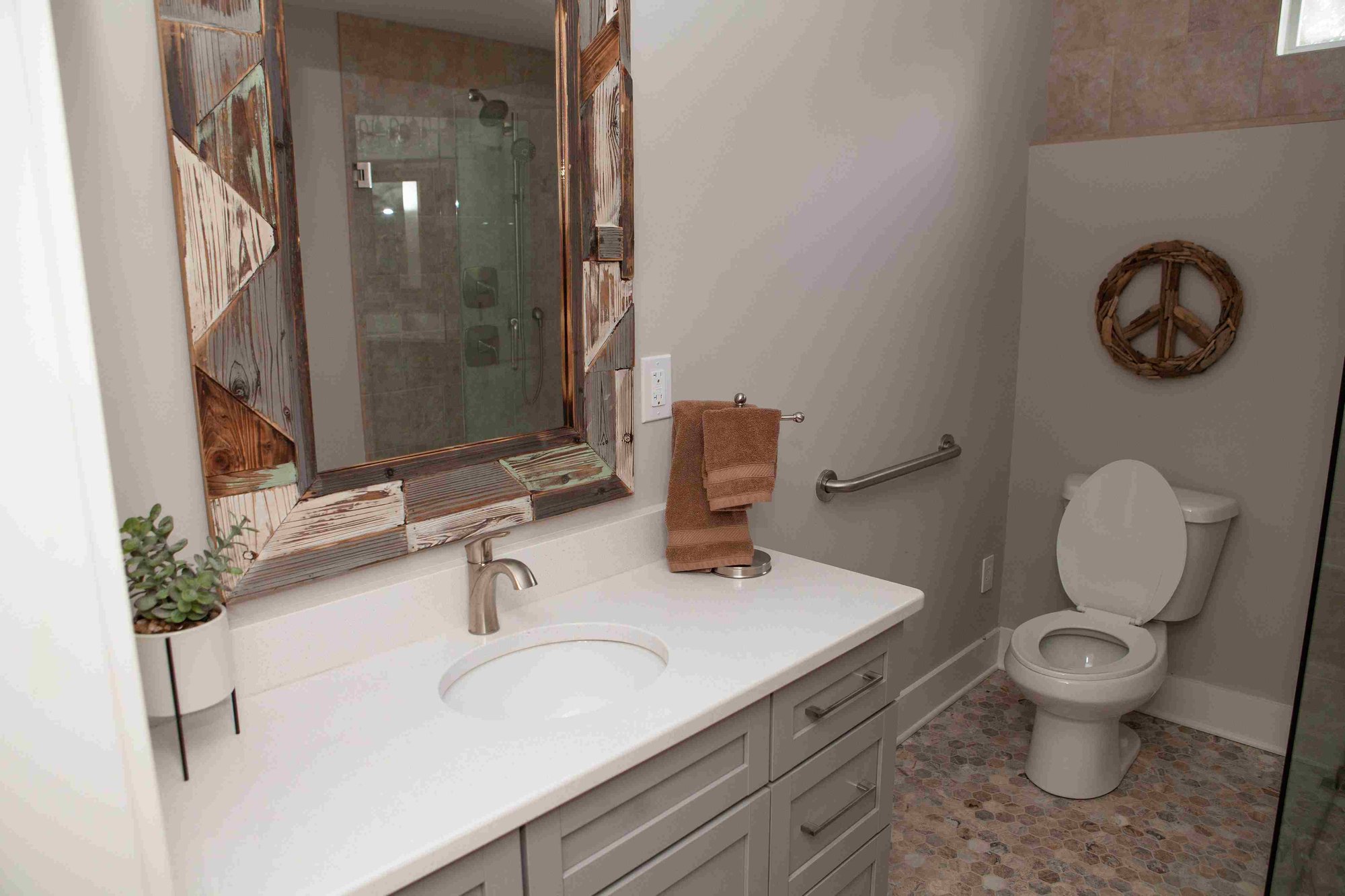 Pro tip: If you have a basement, utilize it.
Sometimes, basement areas in homes are left unfinished - left for "a later date", and what it's really surmounting to is wasted square footage!
With this remodel, we wanted to not only utilize - but maximize - the usability of this lake view walk-out basement by remodeling to include a kitchen area with ample storage and countertop area, a beverage cooler, breakfast bar, and dining area. The kitchen area was once a storage room – talk about an upgrade!
Step out of the upgraded sliding glass doors and onto the lower-level patio to enjoy some evening drinks overlooking Lake Oconee.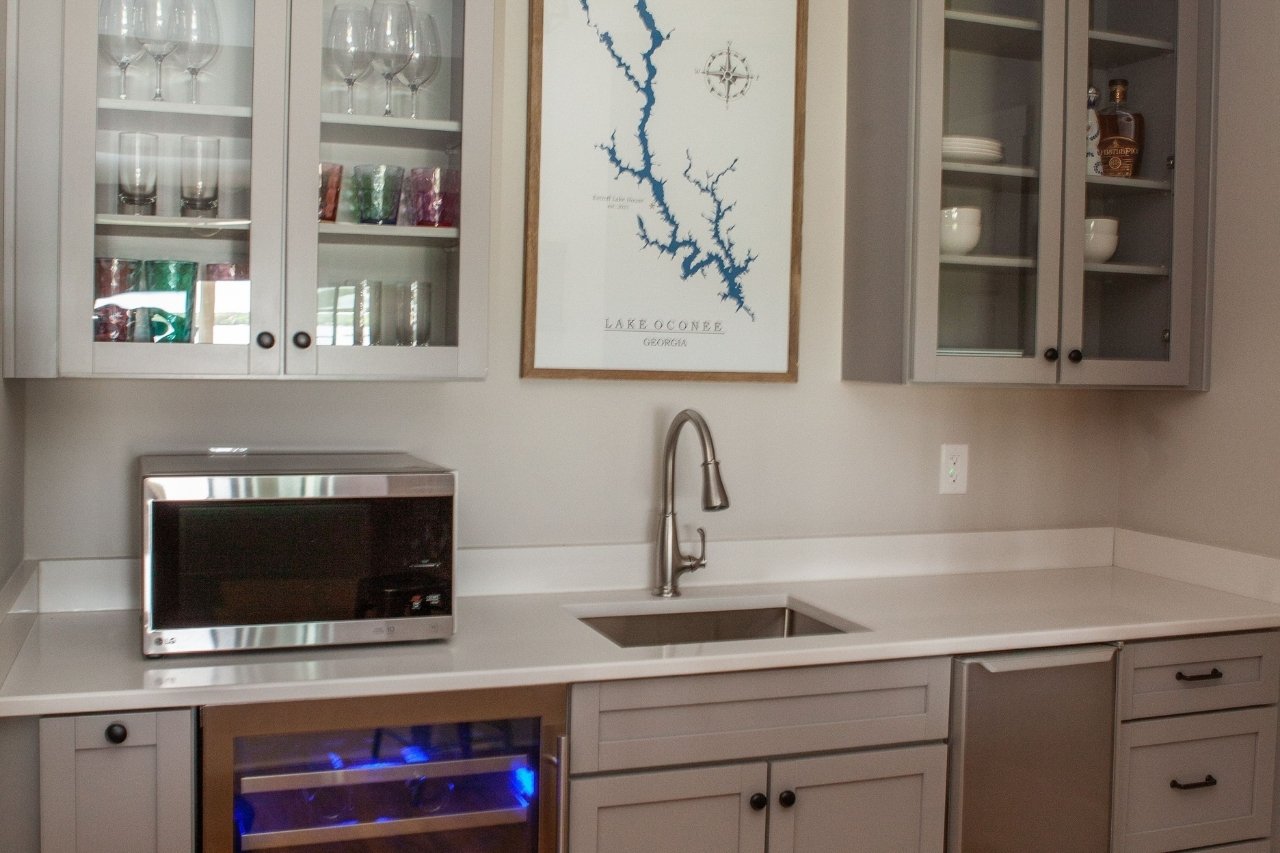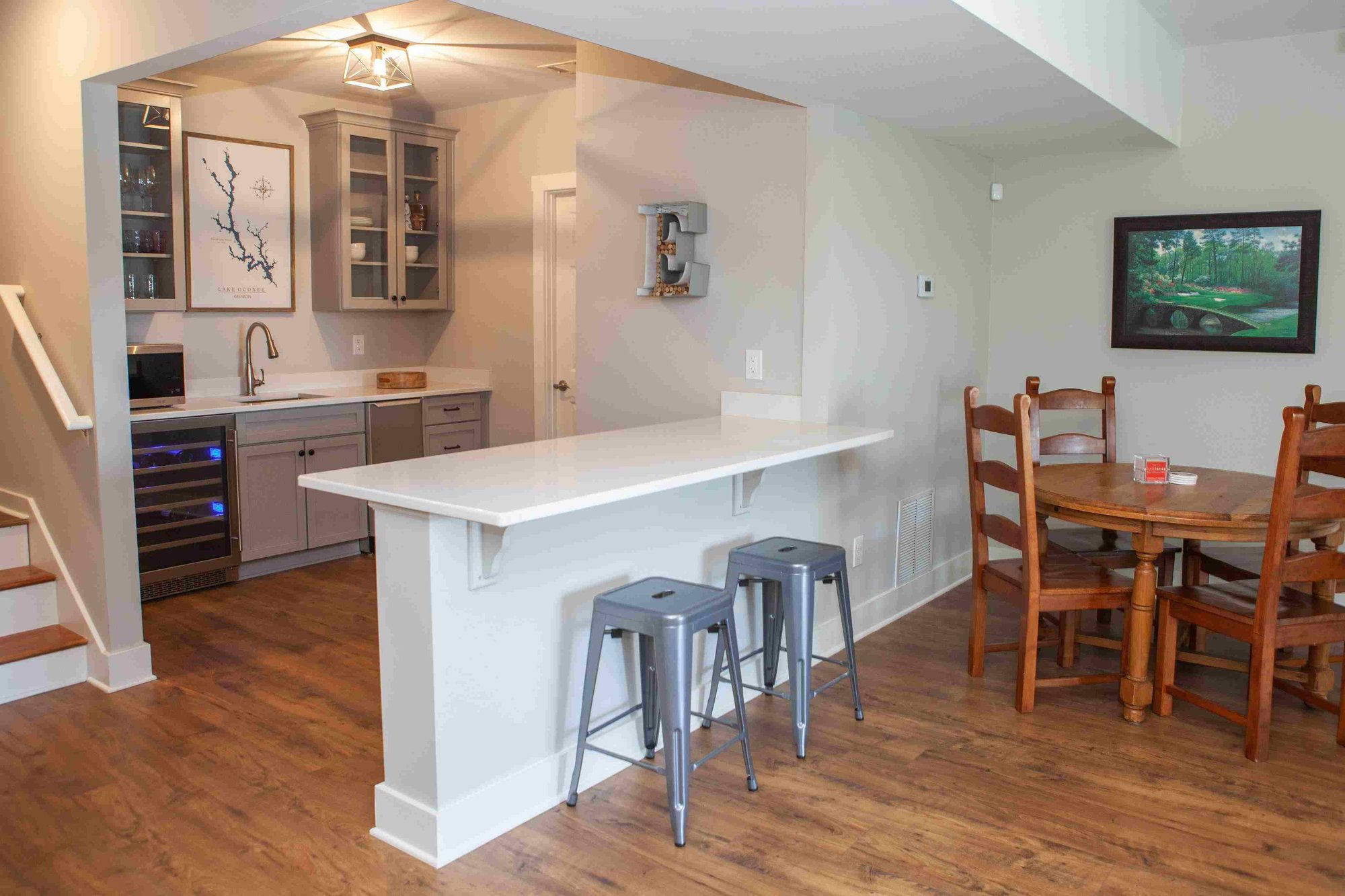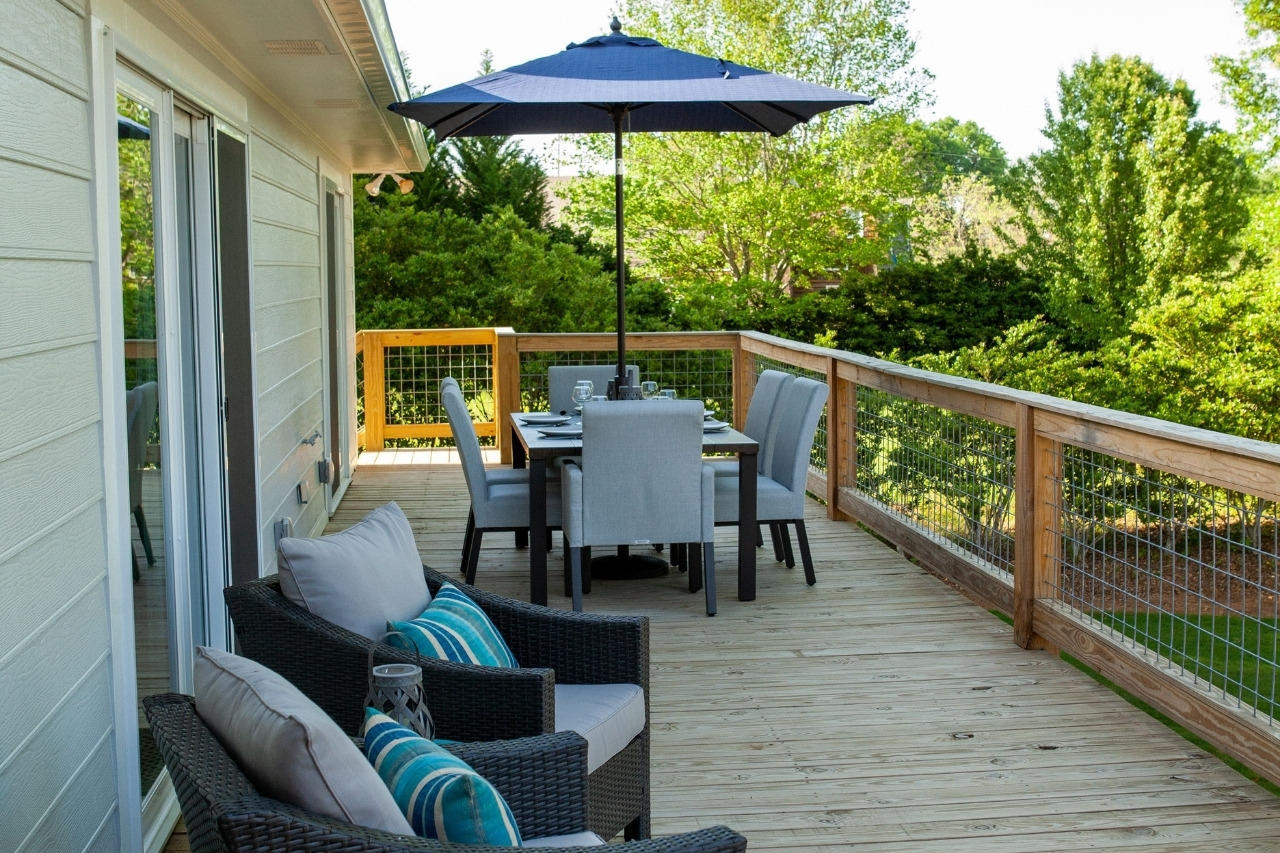 This home is no longer left wanting for outdoor hangout areas!
Part of this remodeling project included upgrading all of the patio and deck areas. This included upgrading the deck railing off of the main floor for maximum Lake Oconee lakefront views, installing stairs on the side of the home for easier lake access, and adding an outdoor shower for that fresh and clean post-swim feeling.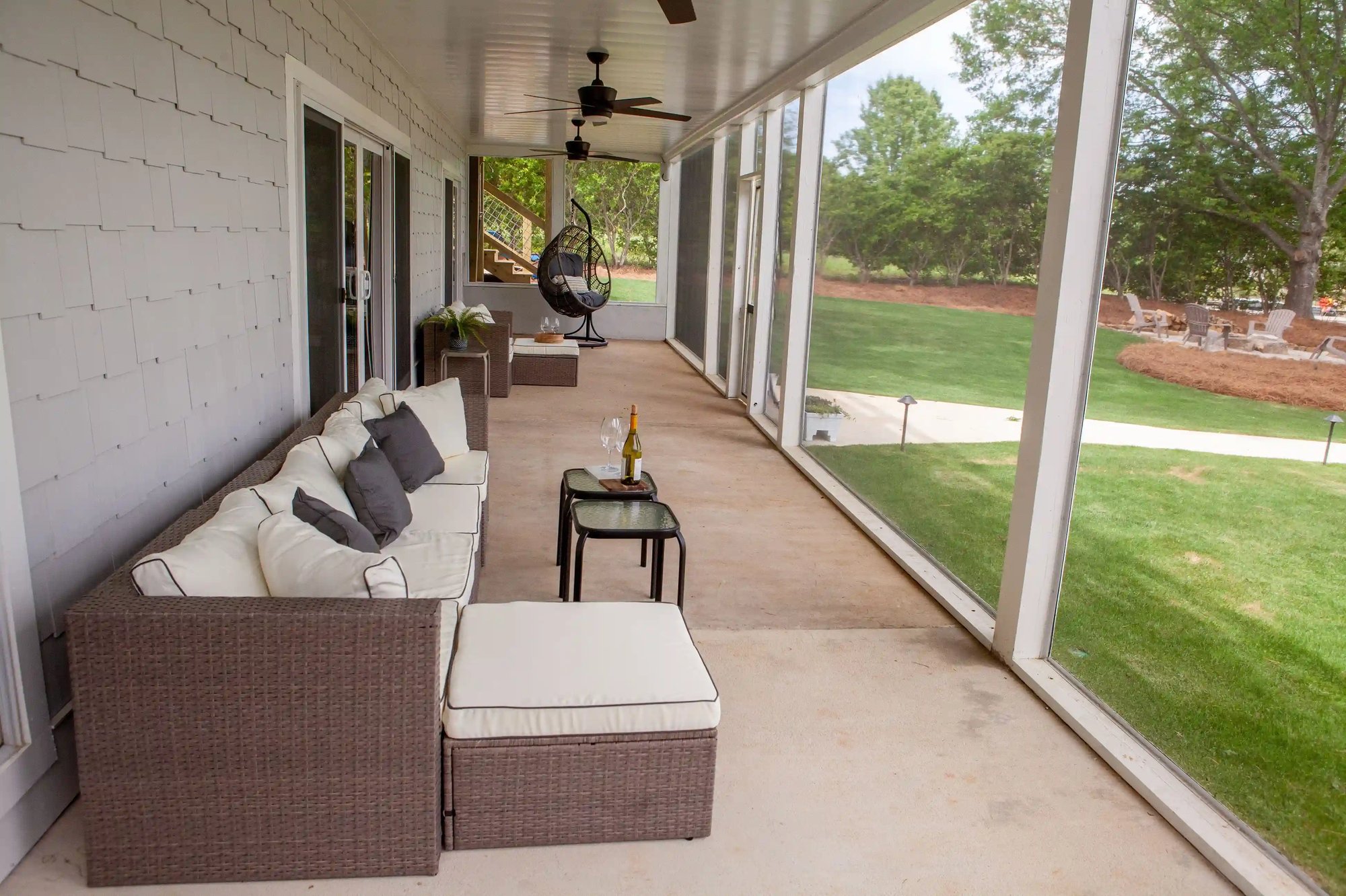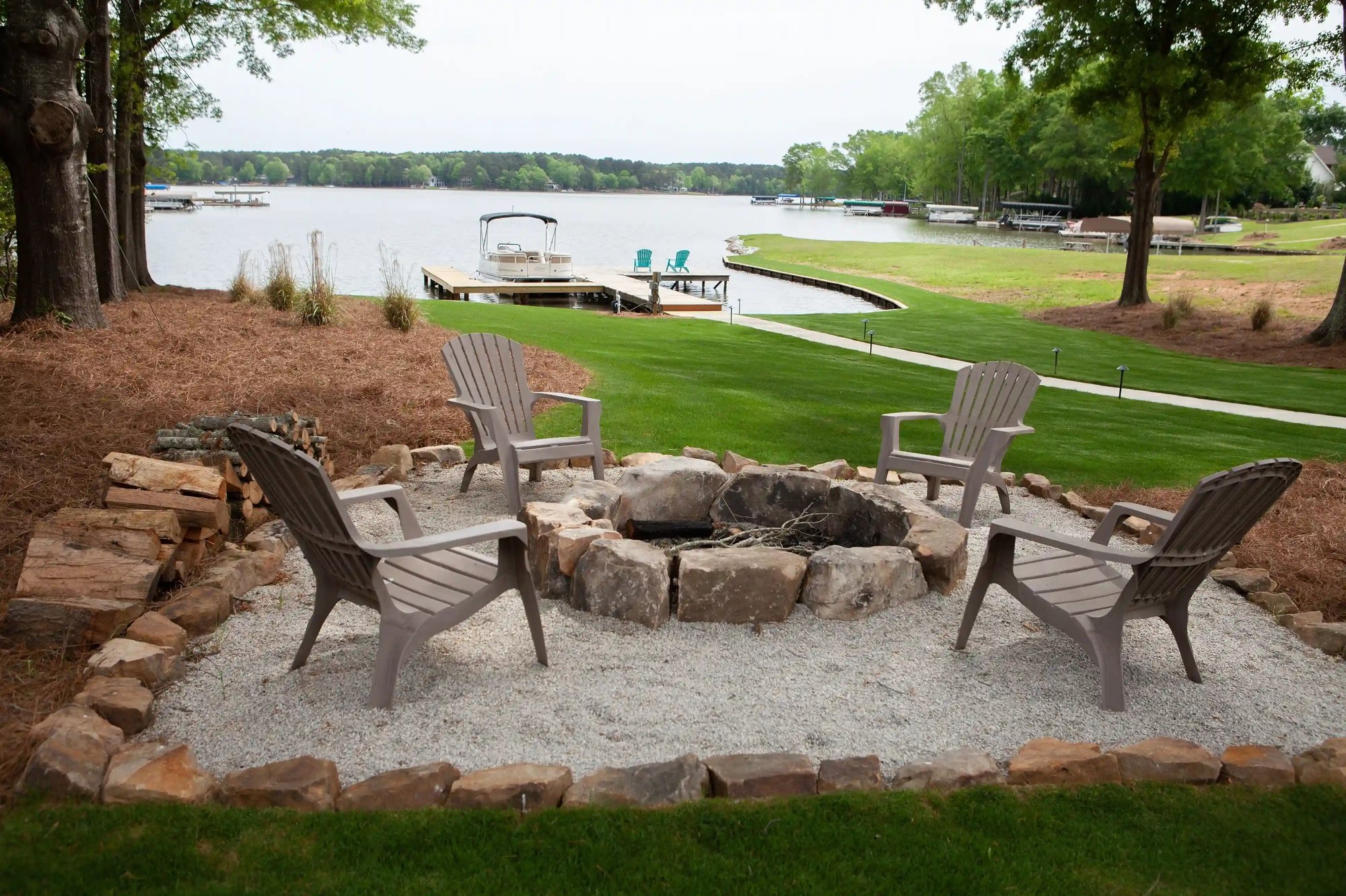 Last but certainly not least: one of the best parts of this Lake Oconee lakefront home remodel.. this view!
To complement the beautiful location and optimize the outdoor area for enjoyment, we transformed the backyard layout and landscaping to capture lake views, added lighting to the landscaping for safe access to the waterfront at night, removed overgrown plants, built a firepit, upgraded the dock with all new wood and repaired the sea wall.