Pure life. That's the meaning of the Spanish saying "Pura Vida" — the mantra behind this custom home. The phrase came up repeatedly in consultations with our client, who fervently believes in living life to the fullest. We baked his philosophy into the design of this vacation home by prioritizing luxury comforts, entertainment capabilities, and a minimal aesthetic that promotes connection to friends, family, and the beautiful Lake Oconee. This home is a place to escape where his busy Florida life can't reach him, and the only pressing issue is enjoying life to the max!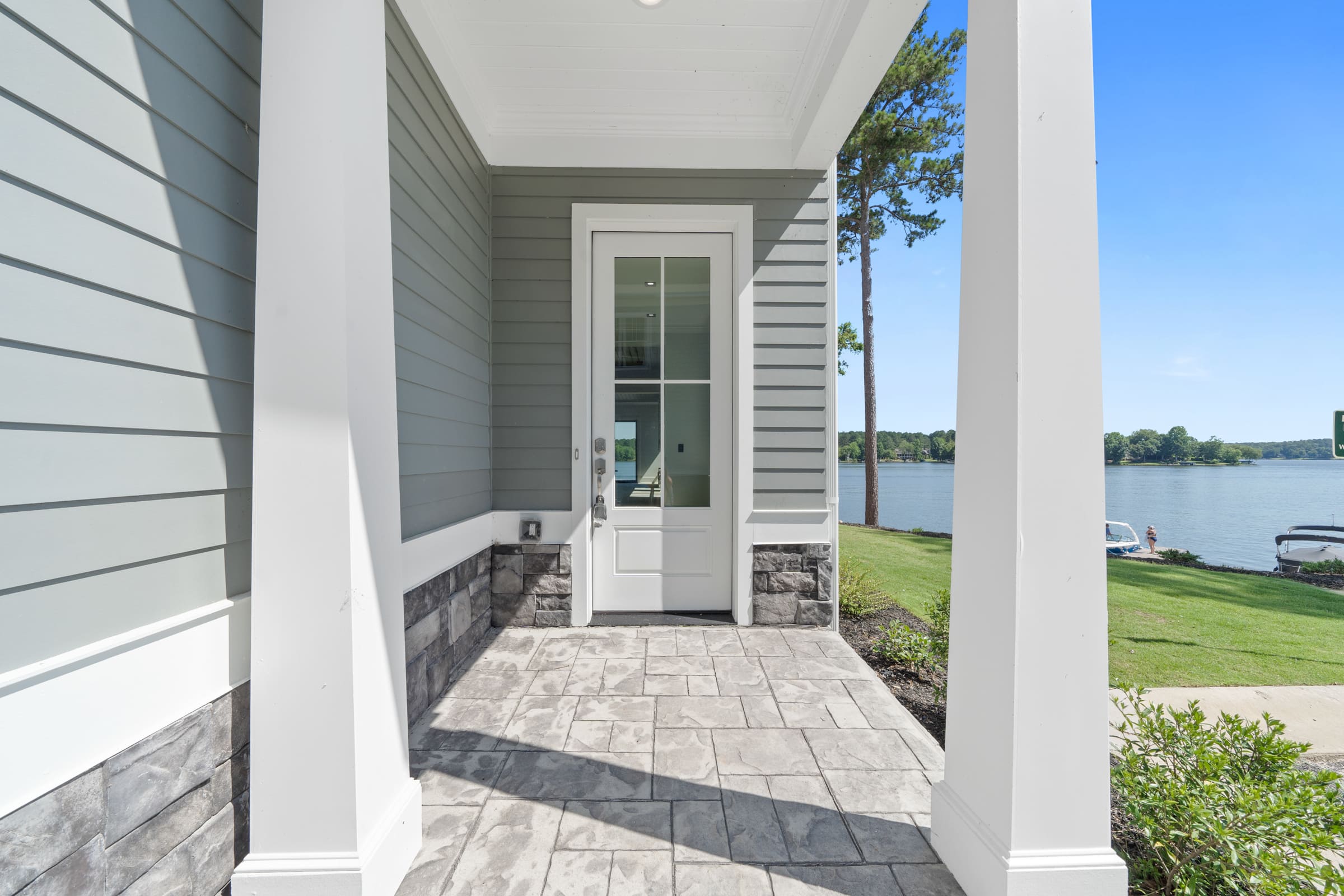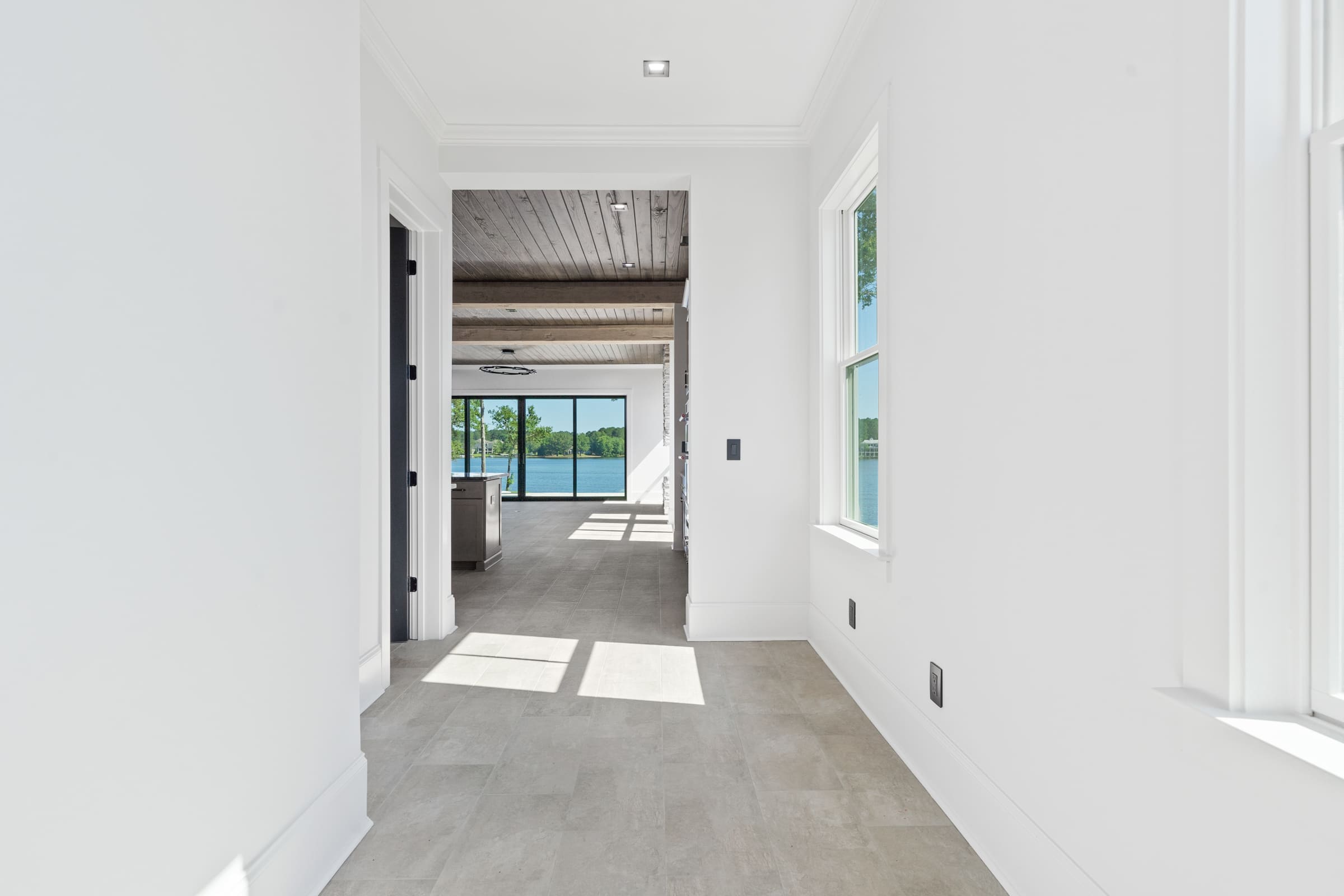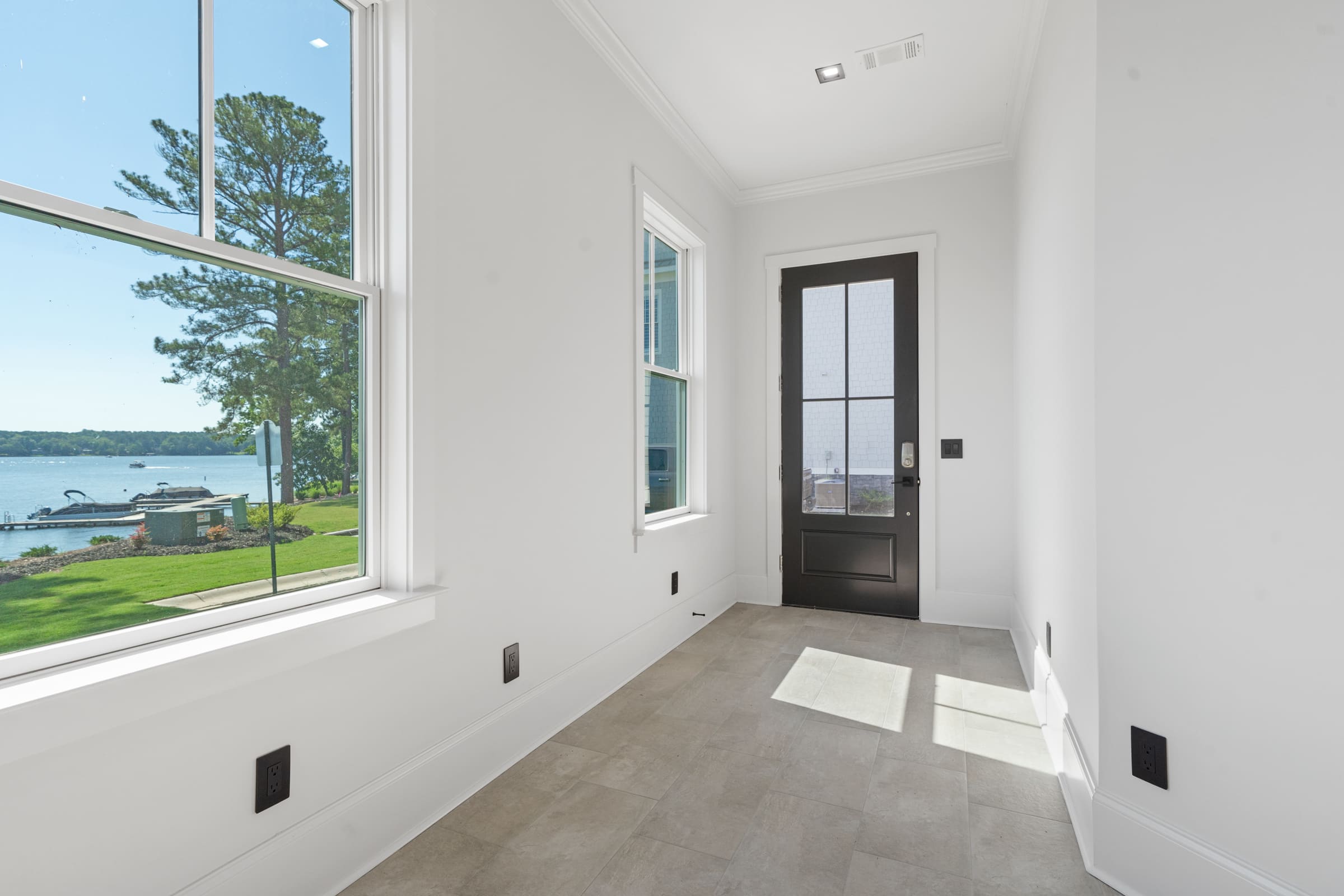 A clean, minimalist interior dotted with dramatic accents and a superb view sets the tone for this getaway home. Bright natural light cheerily bounces off the walls as if to say, "welcome," or "hola!"
The stark contrast of the white and black palette is interrupted in the kitchen by the soft texture and mellow brown of the wood flooring, cabinets, and ceiling. Two large overhead beams add dimension and structure to the wide-open space, deliberating lines between the kitchen and living room.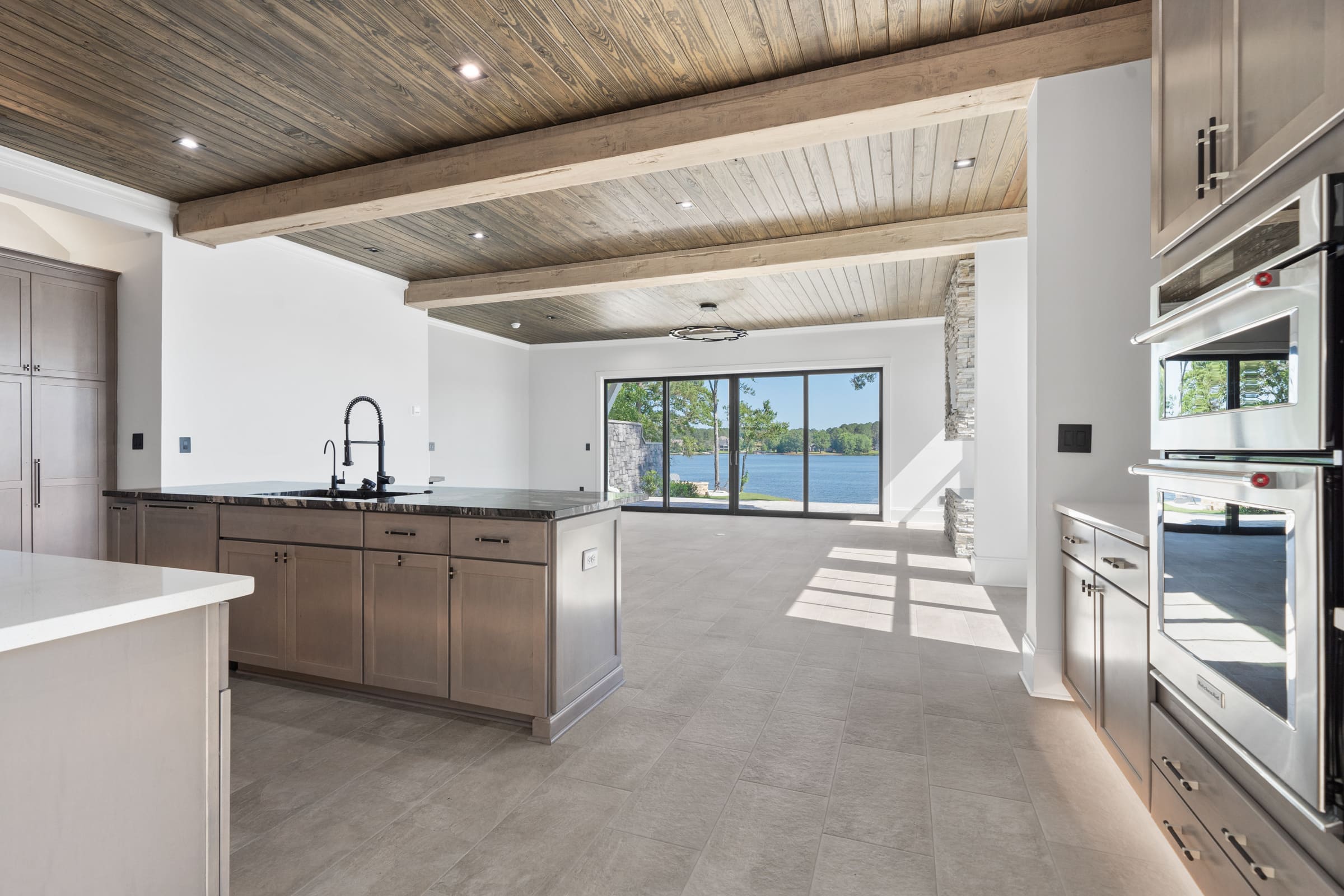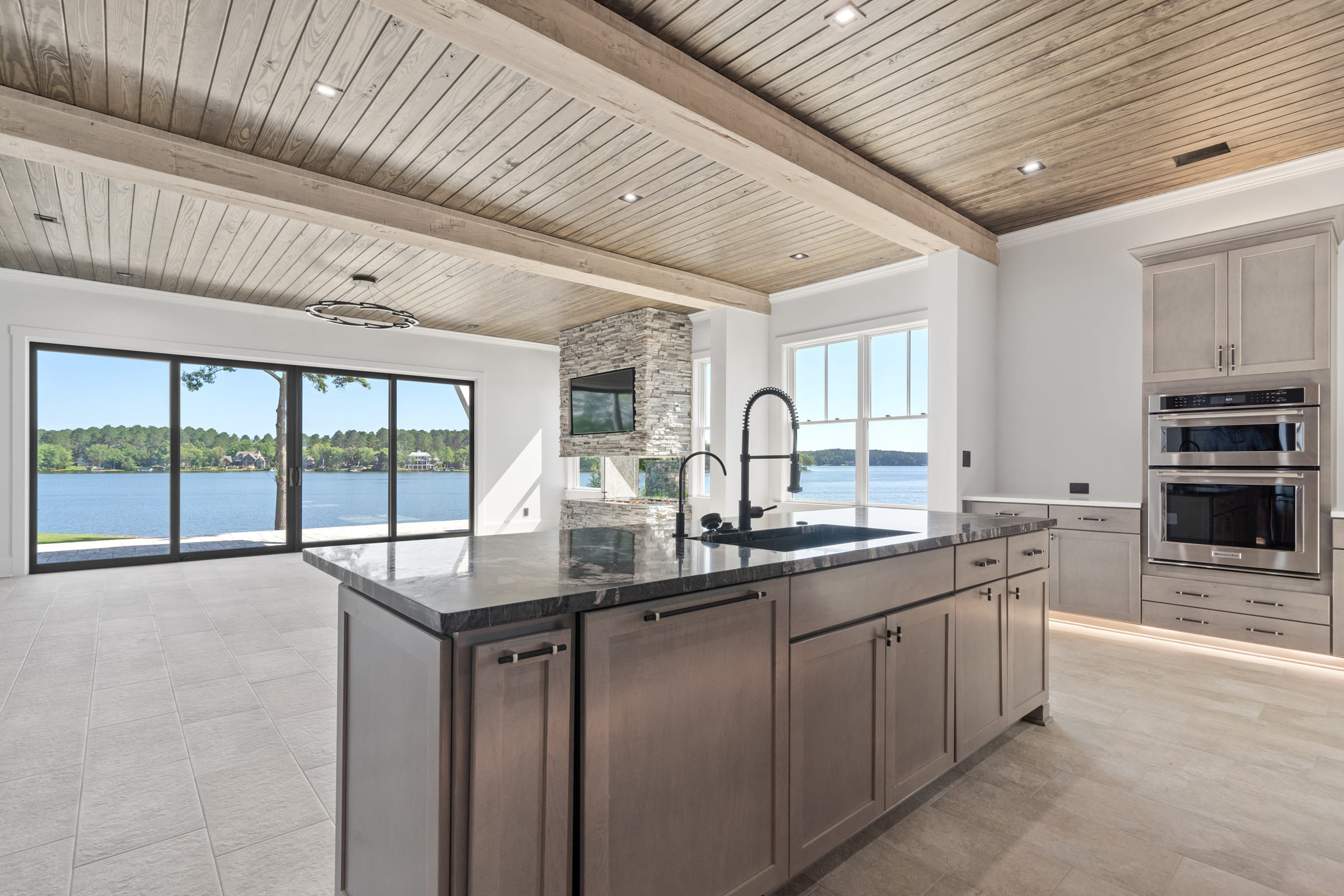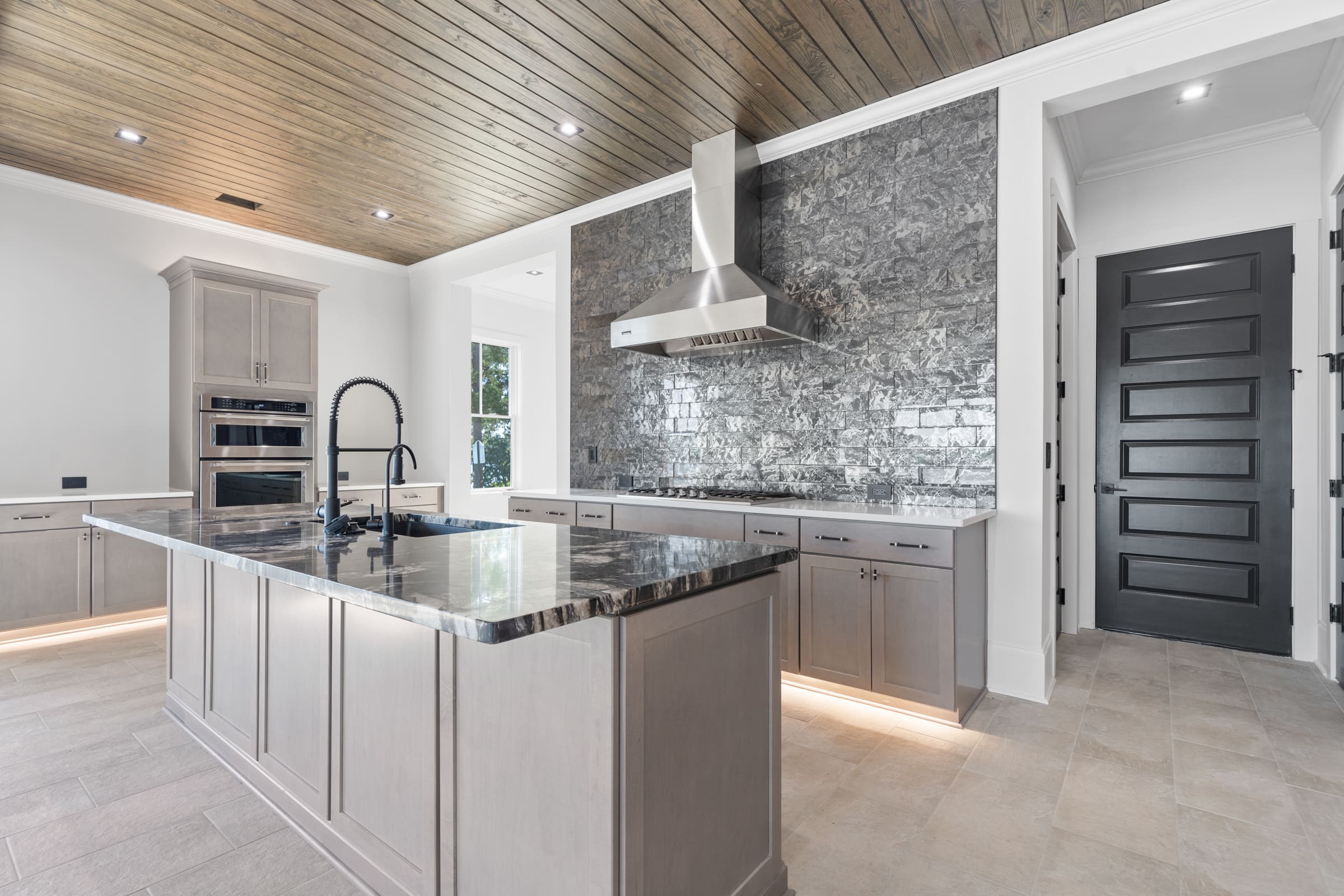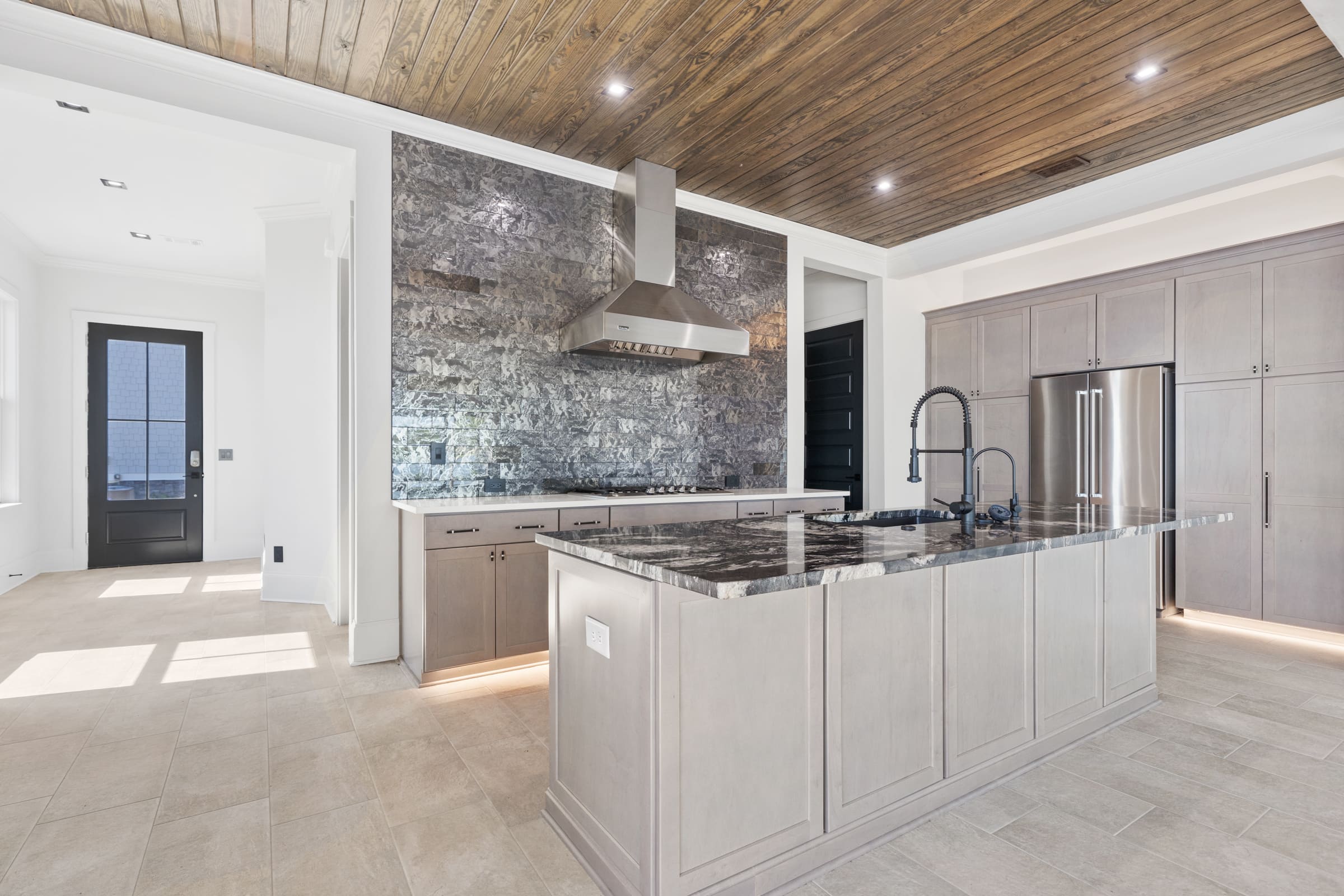 The antique black stone and glass backsplash in this kitchen is everything. It gives much-needed pizzazz while staying true to the understated look central to this design. The over and under cabinet lighting is another attention-drawing feature — a result of our client challenging us to use indirect rather than direct light throughout the home. More important than looks, this kitchen is functional. It contains plenty of room for cooking, cleaning, and storage. Not to mention it has ample space for guests to mingle, munching on appetizers or chatting with the cook.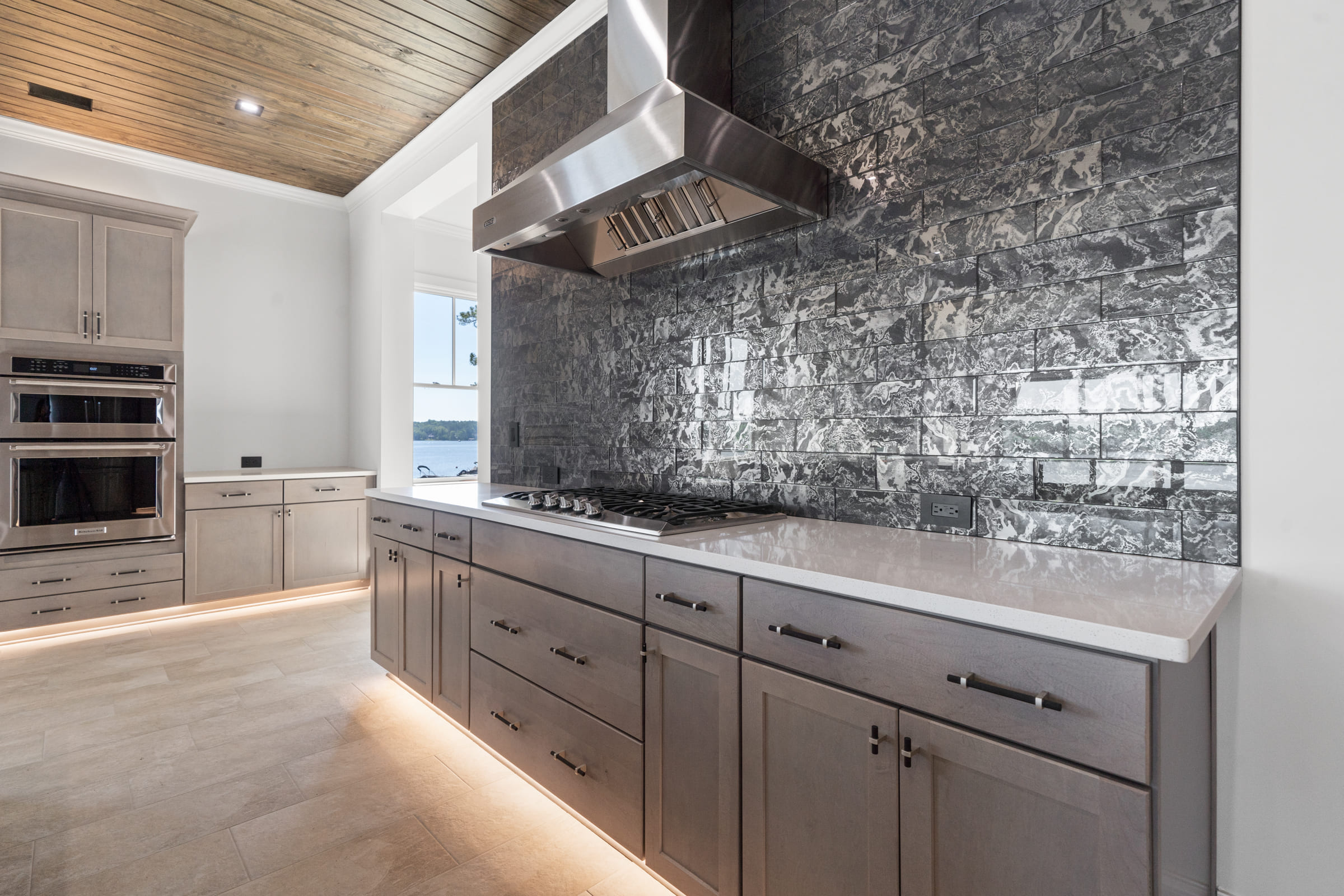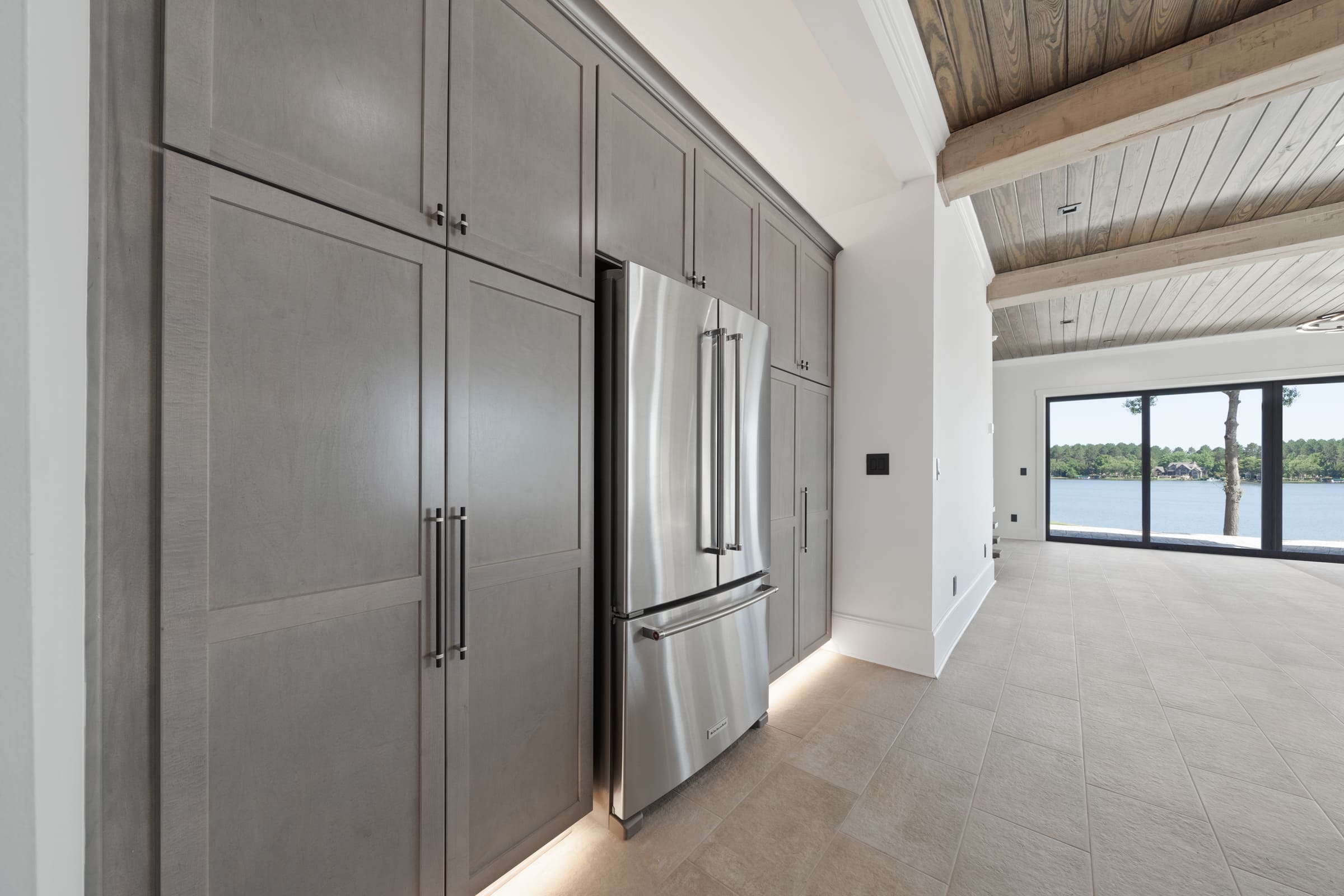 While the stone backsplash anchors one corner of this large space, the first of four fireplaces denotes the other. Three lake-facing windows and a large sliding door leading to the first (yes, first) outdoor living area invite natural light streaming in. Yet somehow, the incredible views and a water vapor fireplace with a stone mantle don't compete for attention; instead, they complement one another in their simplicity, allowing visitors to look and roam wherever the moment calls them. Like a Roman laurel wreath, a circular light fixture sparkles above echoing the glinting waters below.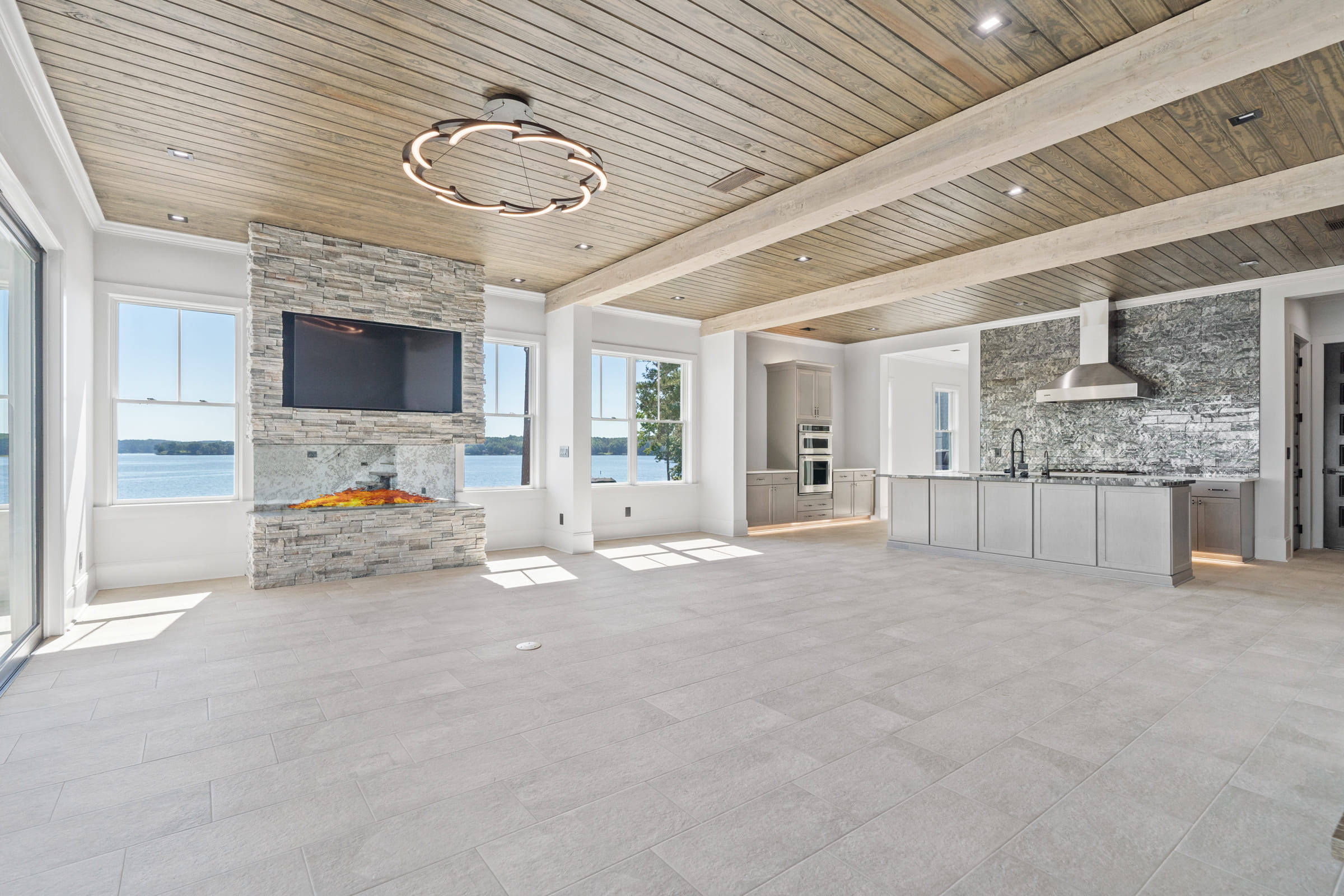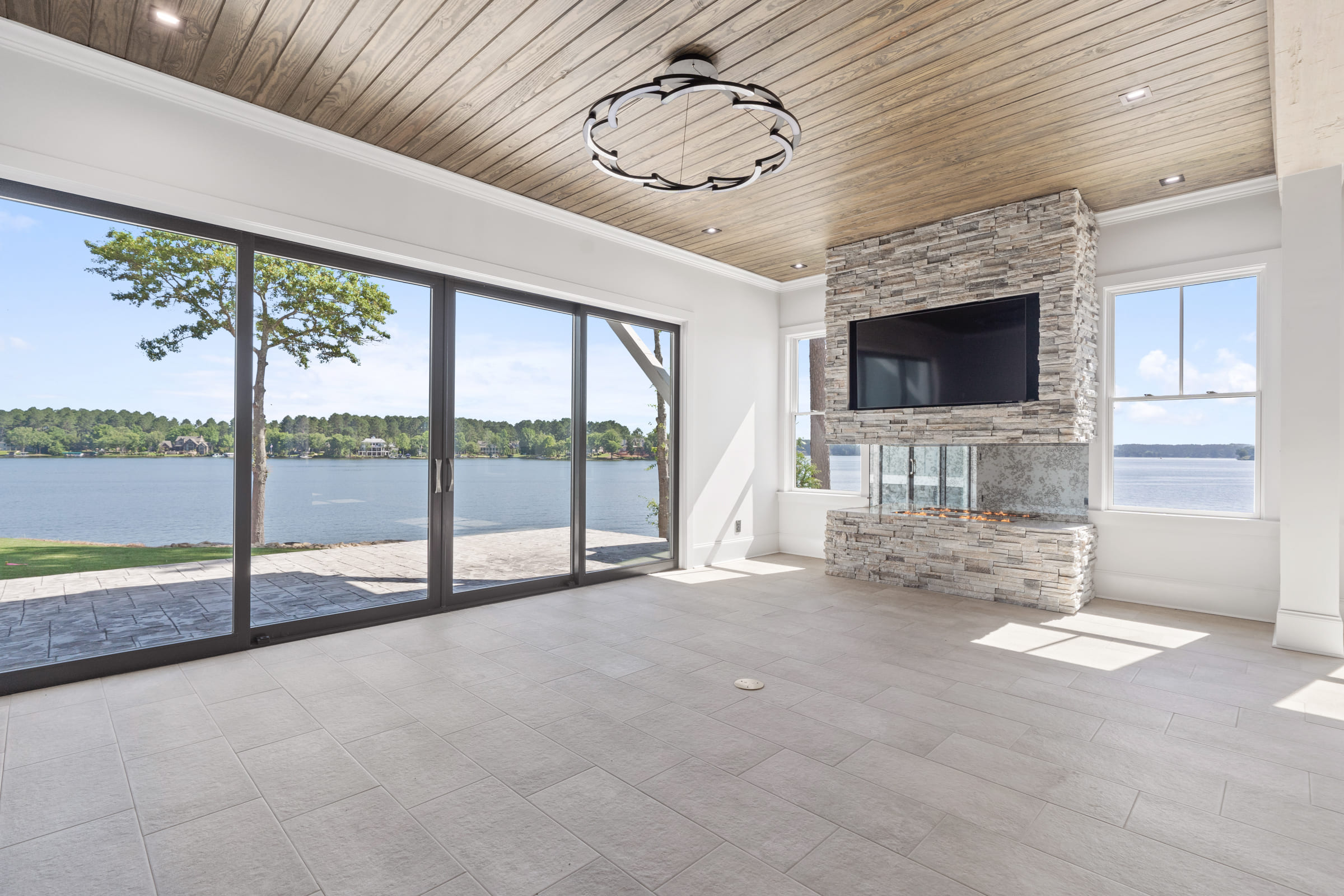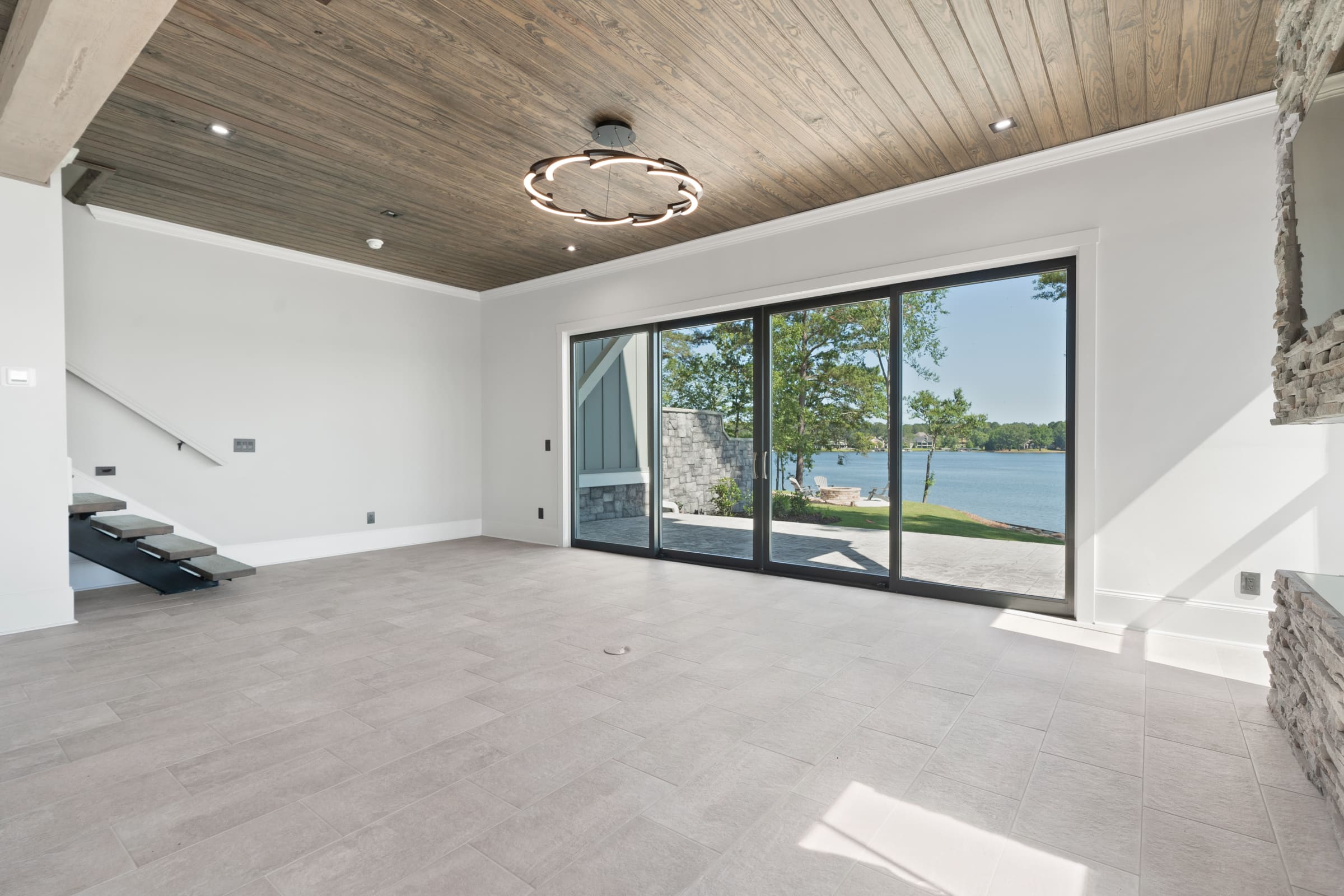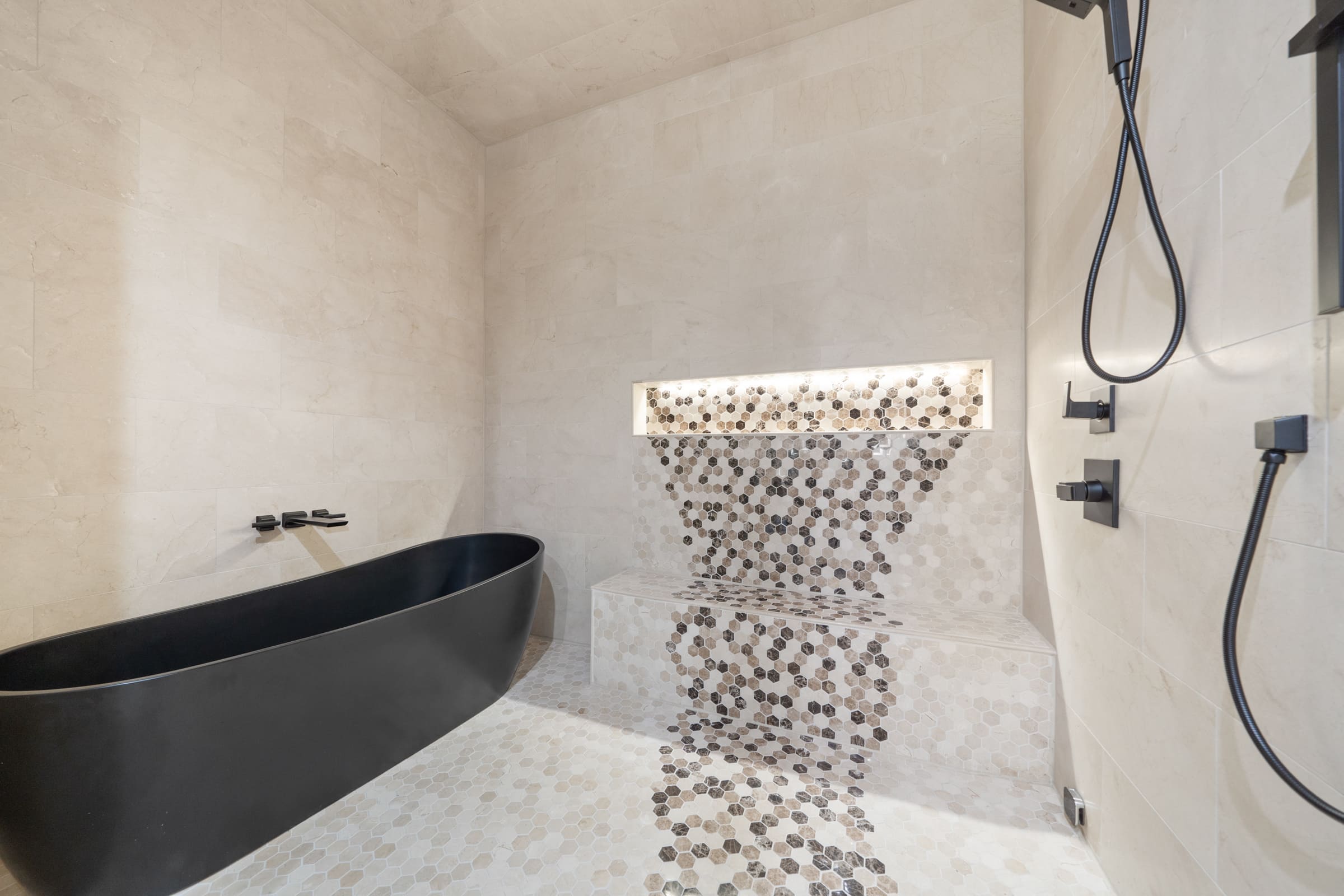 This home contains not one but two primary bedrooms and bathrooms. Here, elaborate tile work and a black bathtub create elegance in an otherwise unadorned shower. And the steam shower creates an unparalleled bathing experience. A striking black vanity with a back-lit mirror awaits just outside.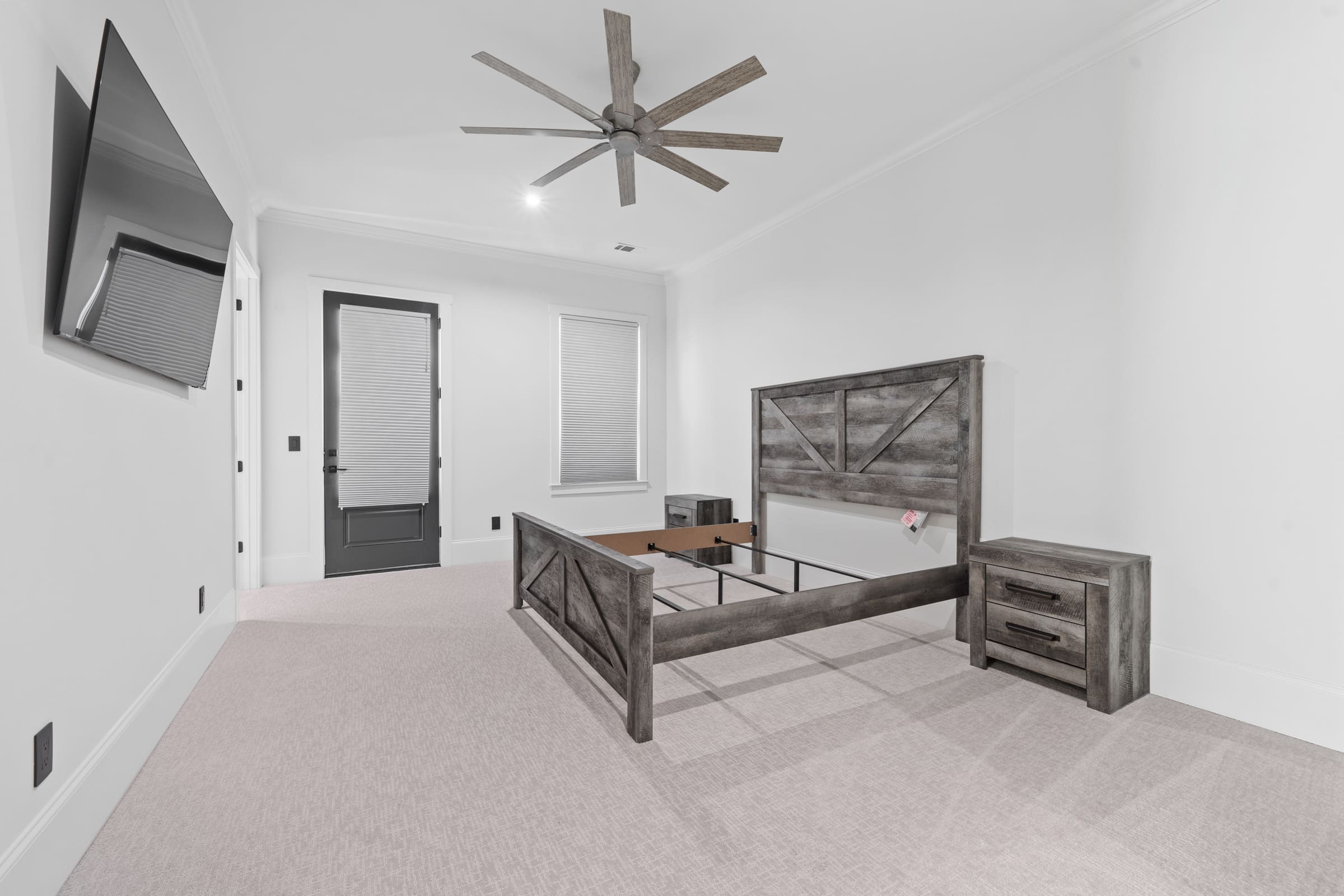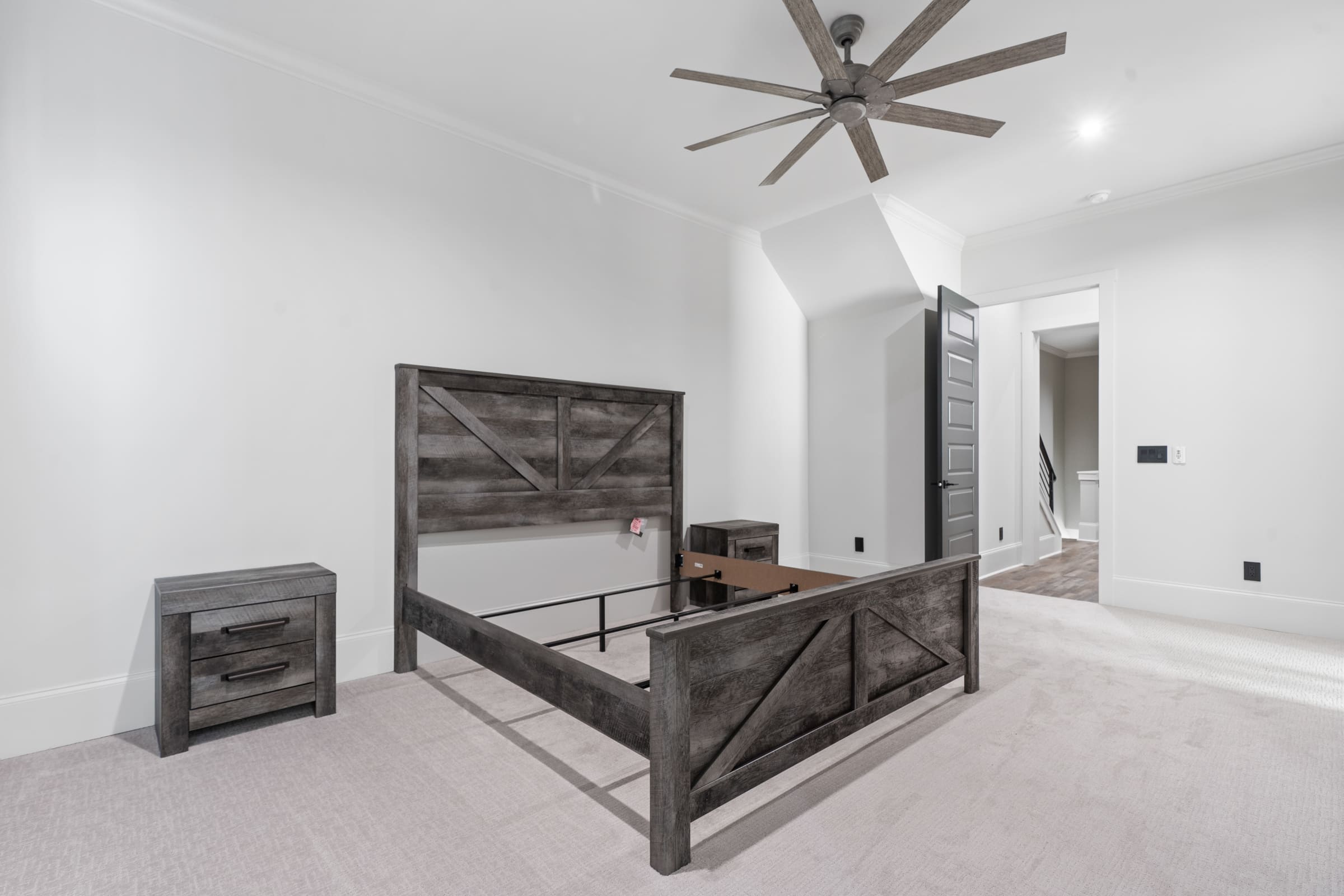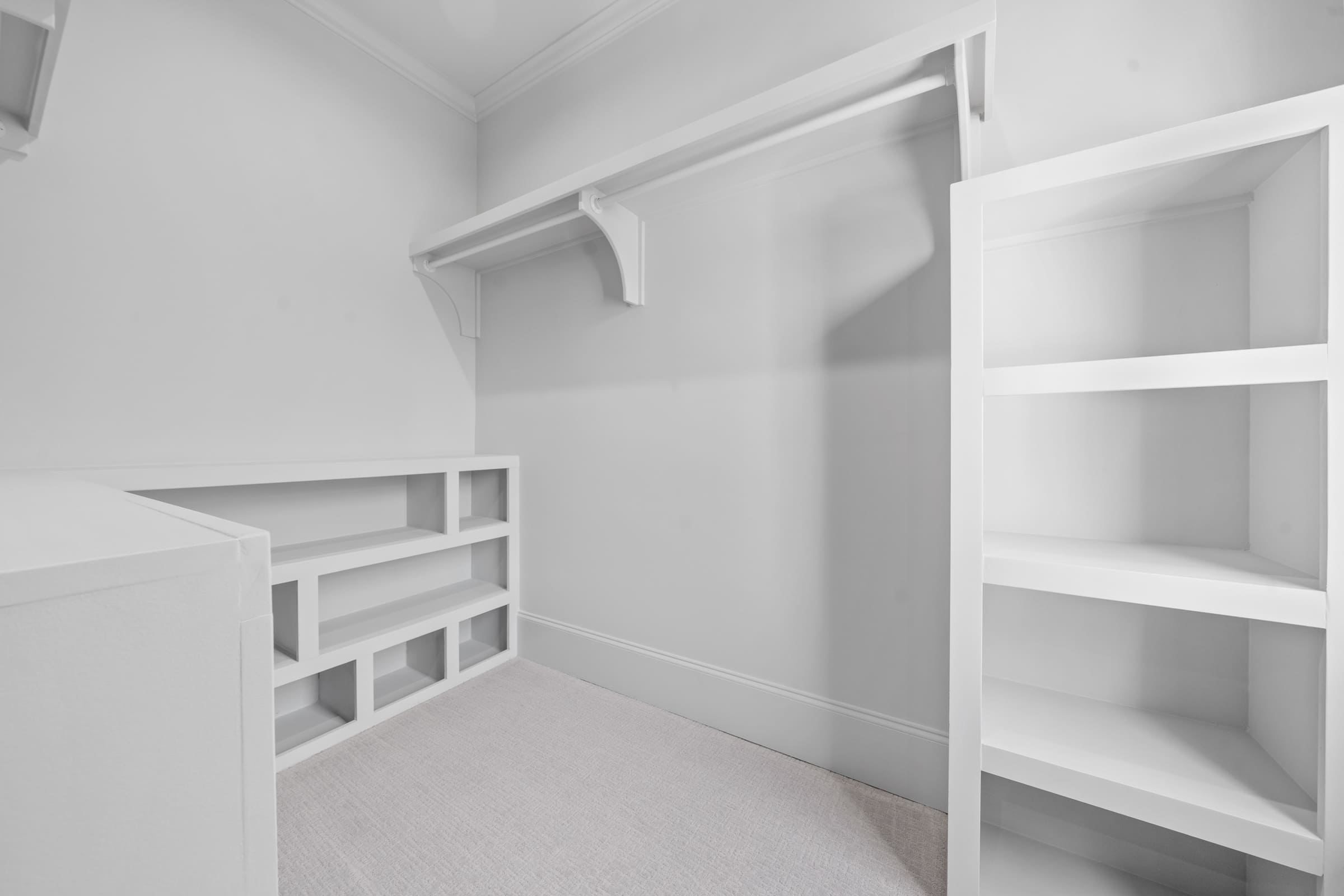 Similarly simple, the bedroom encourages ultimate relaxation. What really stands out is the spacious walk-in closet with built-in shelving. Staying organized and keeping clutter from accumulating is easy with purpose-driven shelving like this!
Speaking of making things easy, have you ever tried to bathe a dog in a tub? Unless your pup is one of the rare few who enjoy bathing, you're likely to end up with a mixture of wet hair and water splashed all over the floor (and yourself). With this doggie shower and utility space, our client never has to worry about that again! This space catches hair, dirt, and any water pets might shake loose.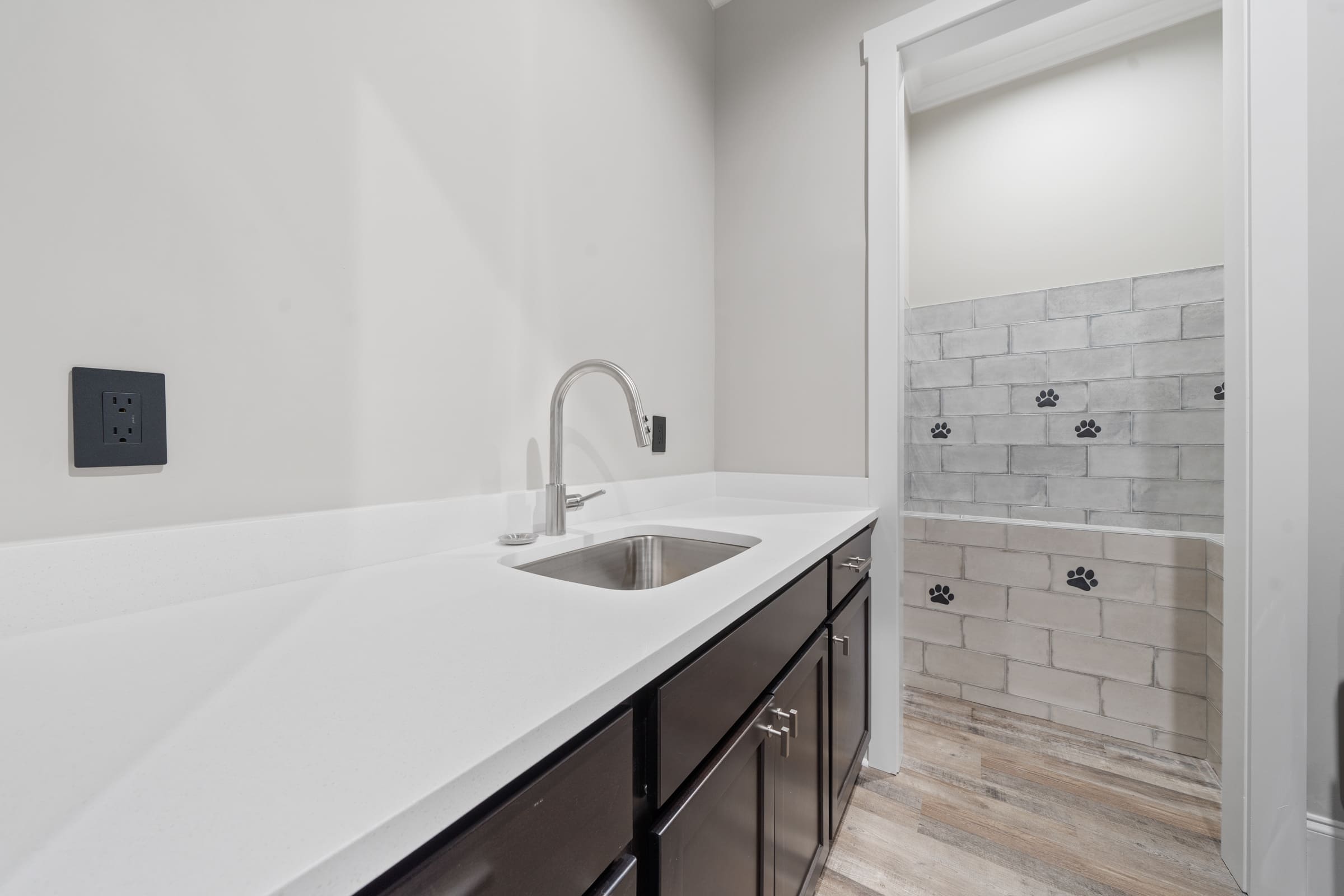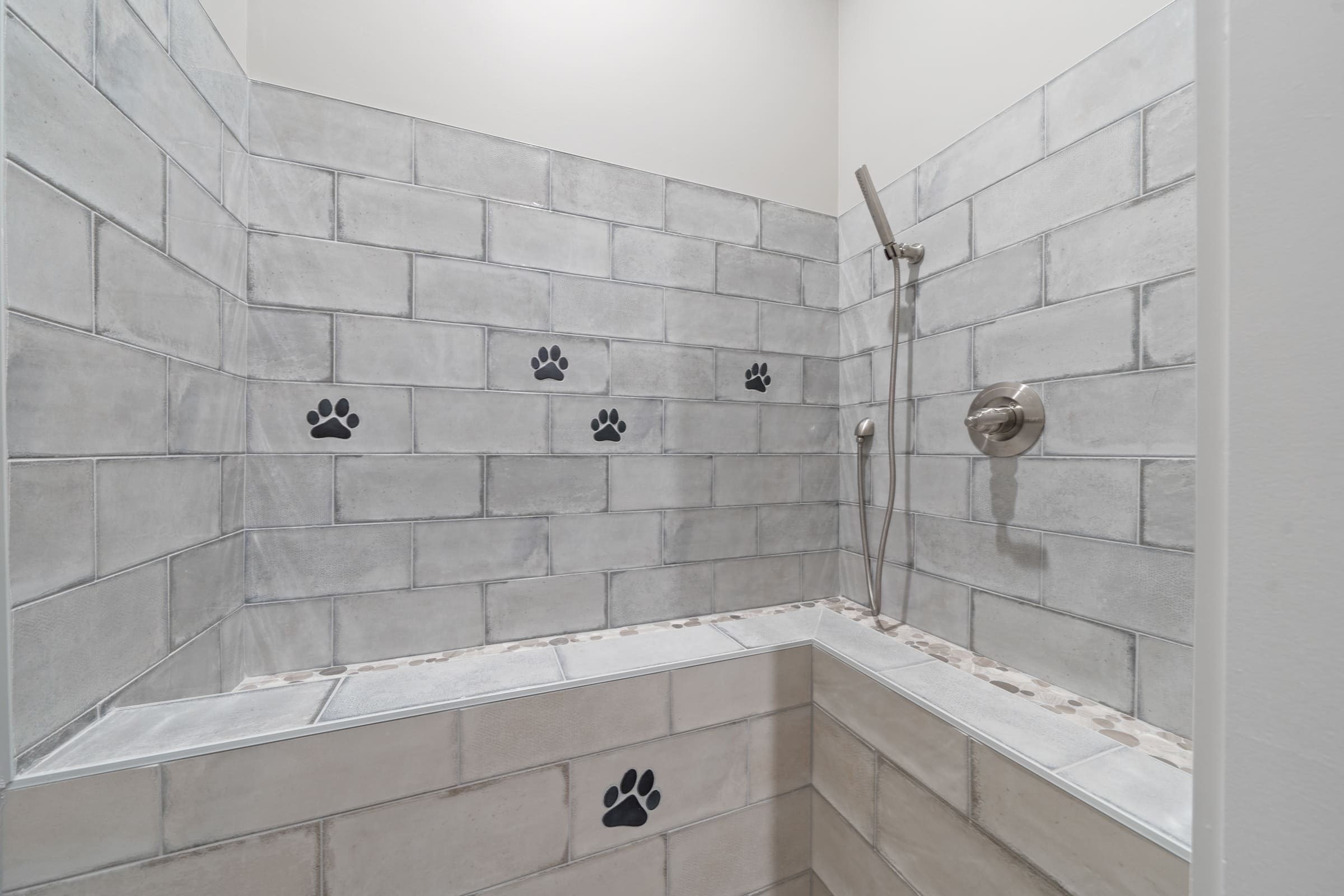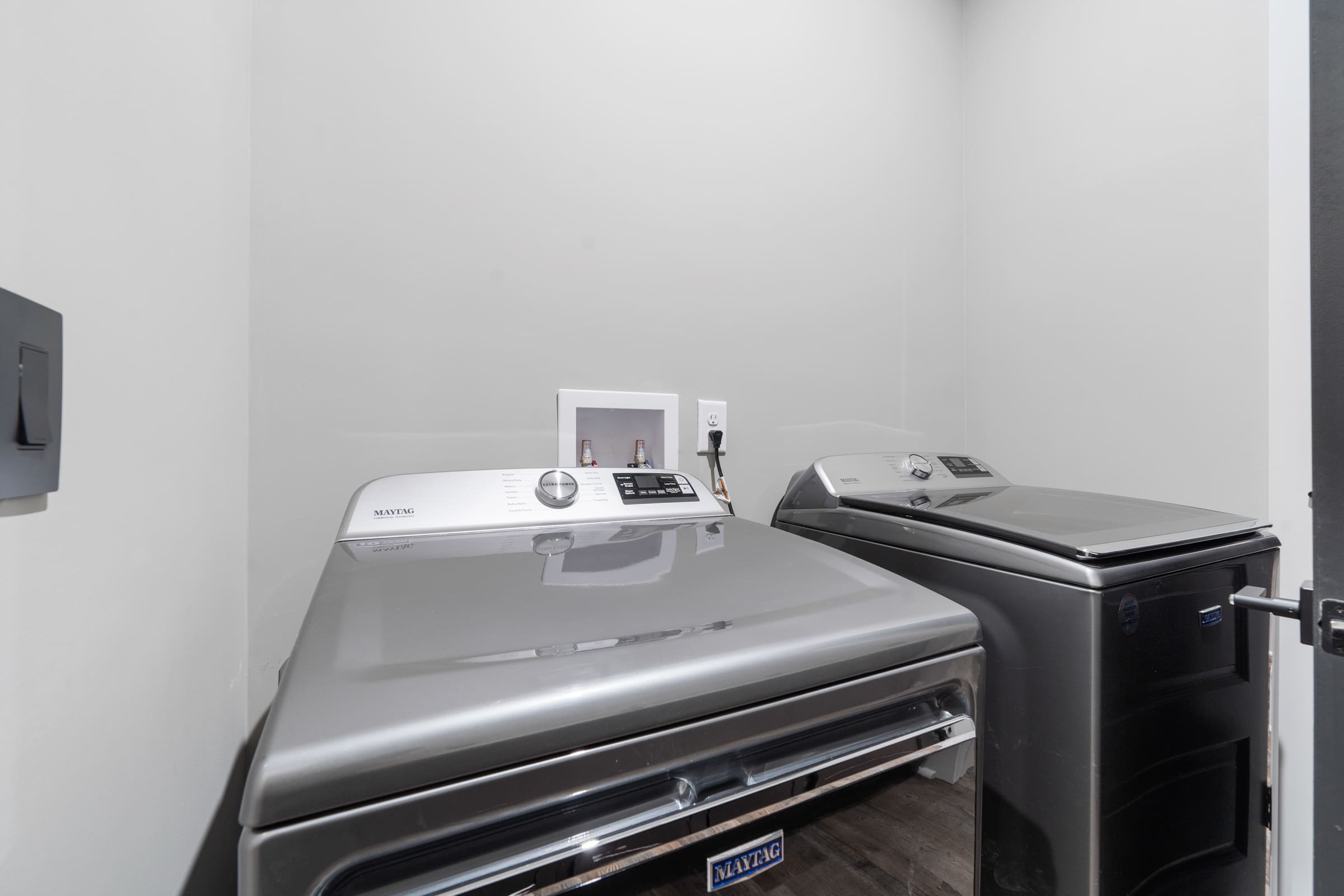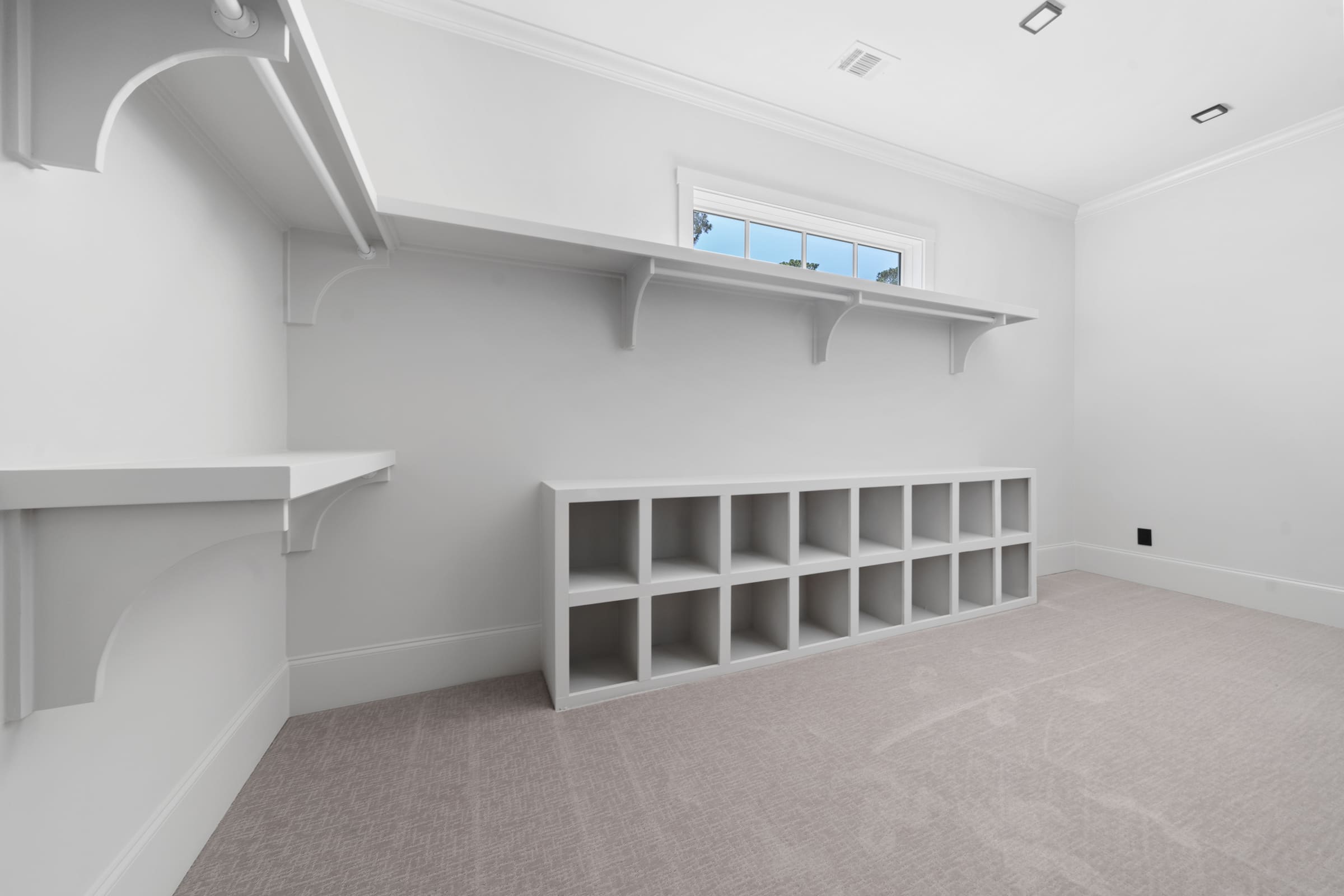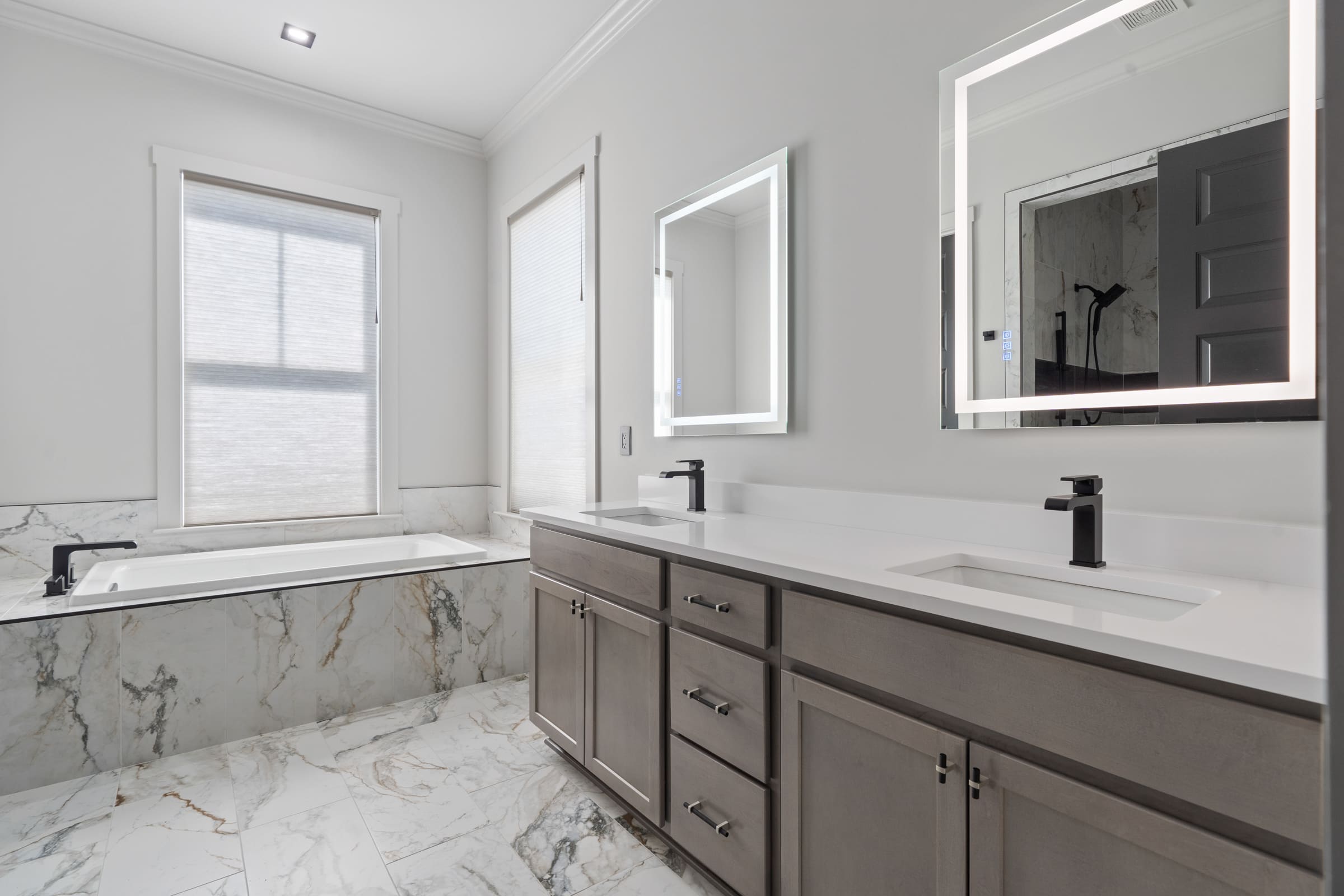 We can't decide which bathroom is our favorite: the minimalist shower or this stunning stone retreat. Gray and tan veining in the stone tile add texture and classic beauty to a space punctuated by refined black fixtures. Two bath-facing windows allow our client to glimpse the water outside from the comfort of a warm steamy tub!
Coziness continues into the bedroom with a fireplace (that's two). And an attached balcony beckons sleepyheads outside to a bright new day.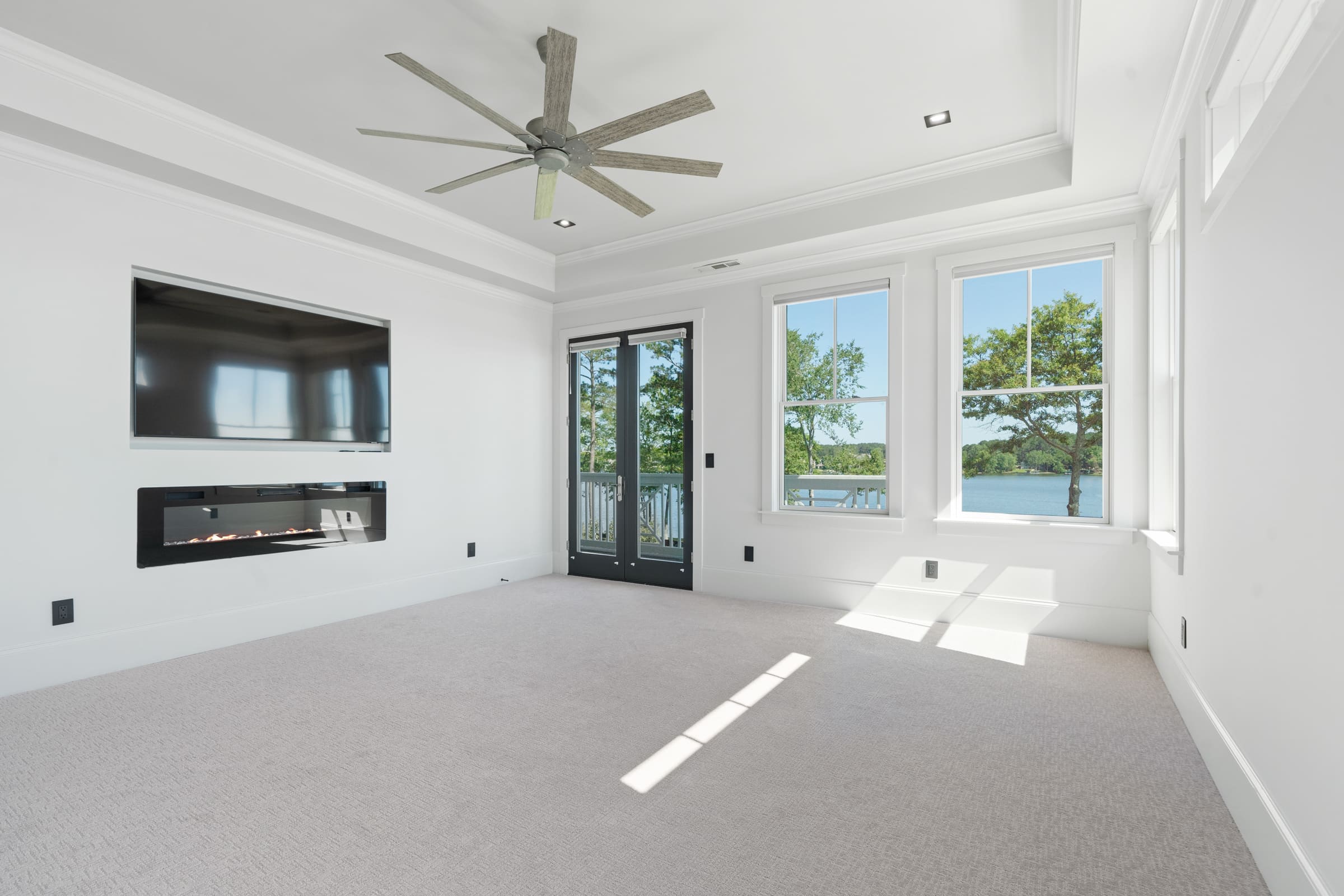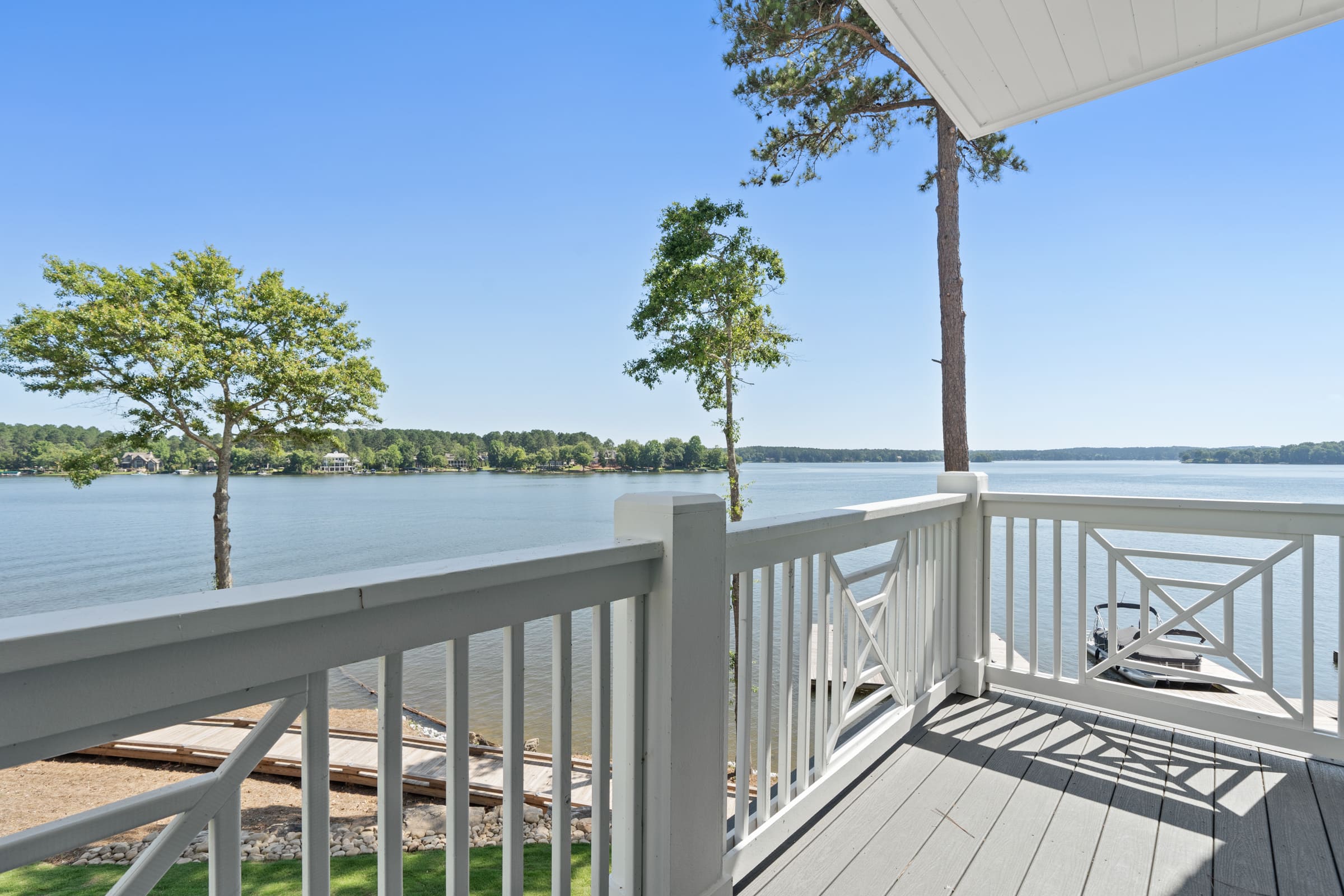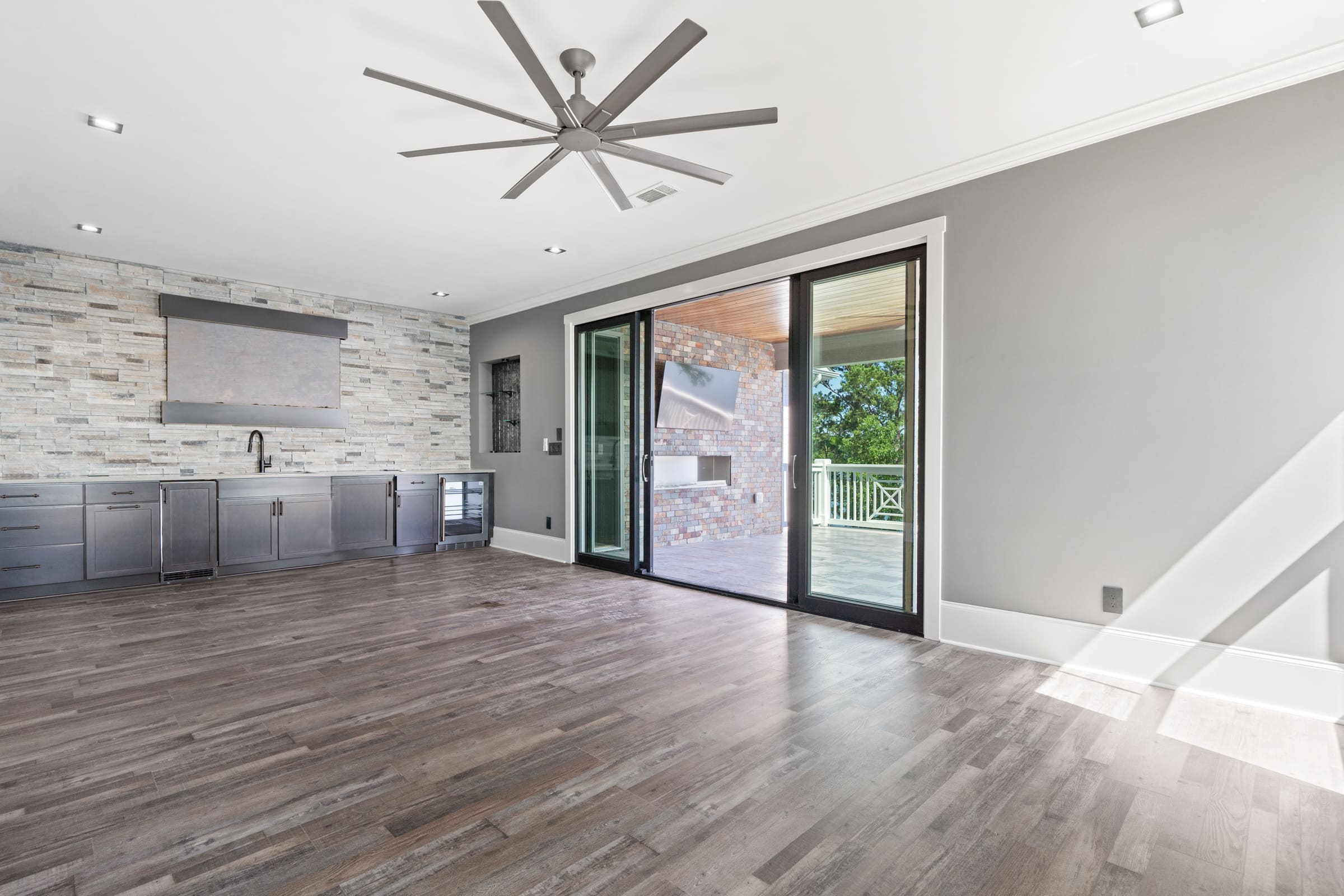 While the bedrooms and bathrooms promote relaxation, the media room is an adult playground. Another stone wall (are you sensing a theme here?) combines with wood flooring for excellent texture contrast. The wet bar makes preparing snacks or drinks a breeze. And a water feature on the right side adds a calming ambiance. On the other end of the room, fireplace number three dominates, tucked between two light-loving windows.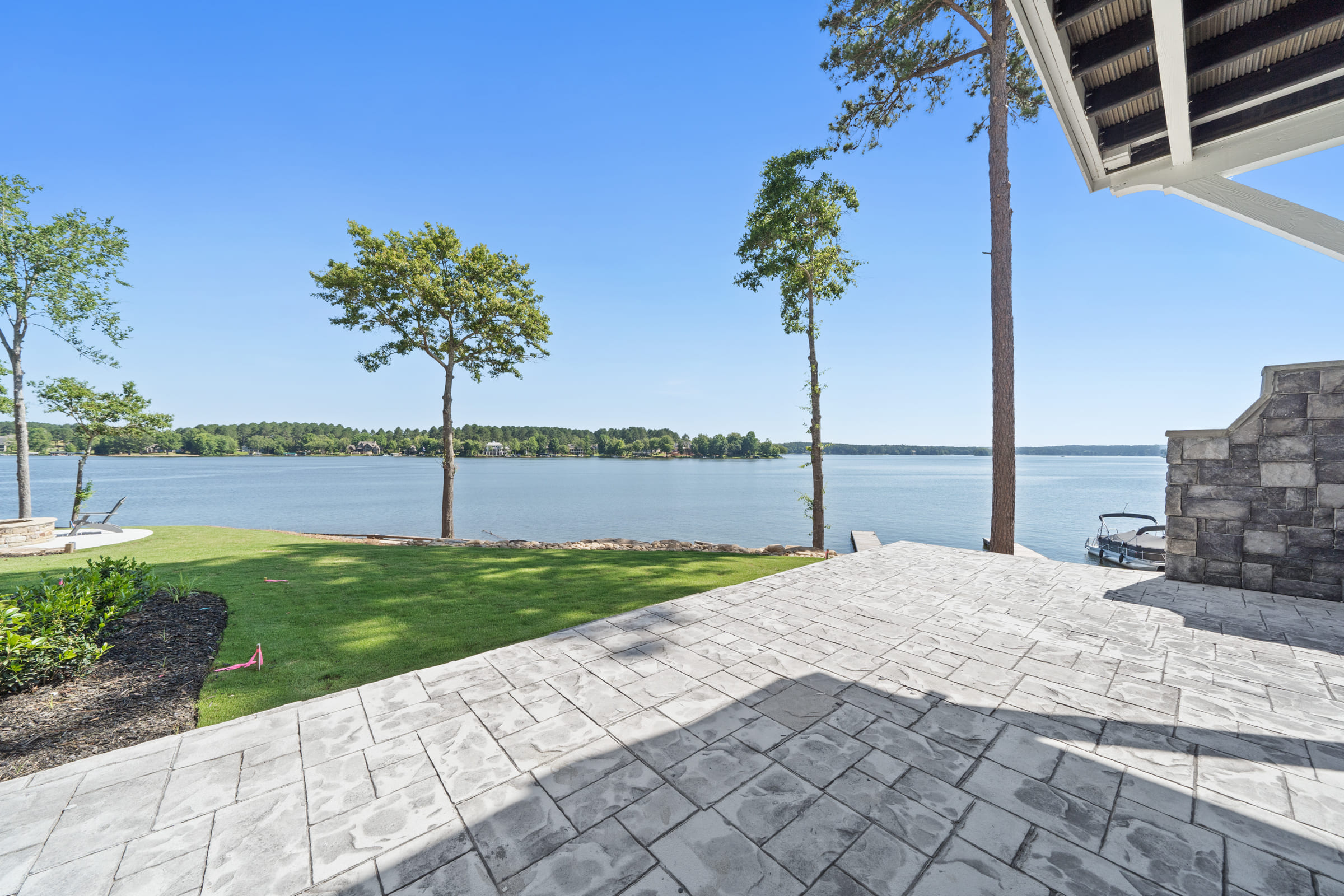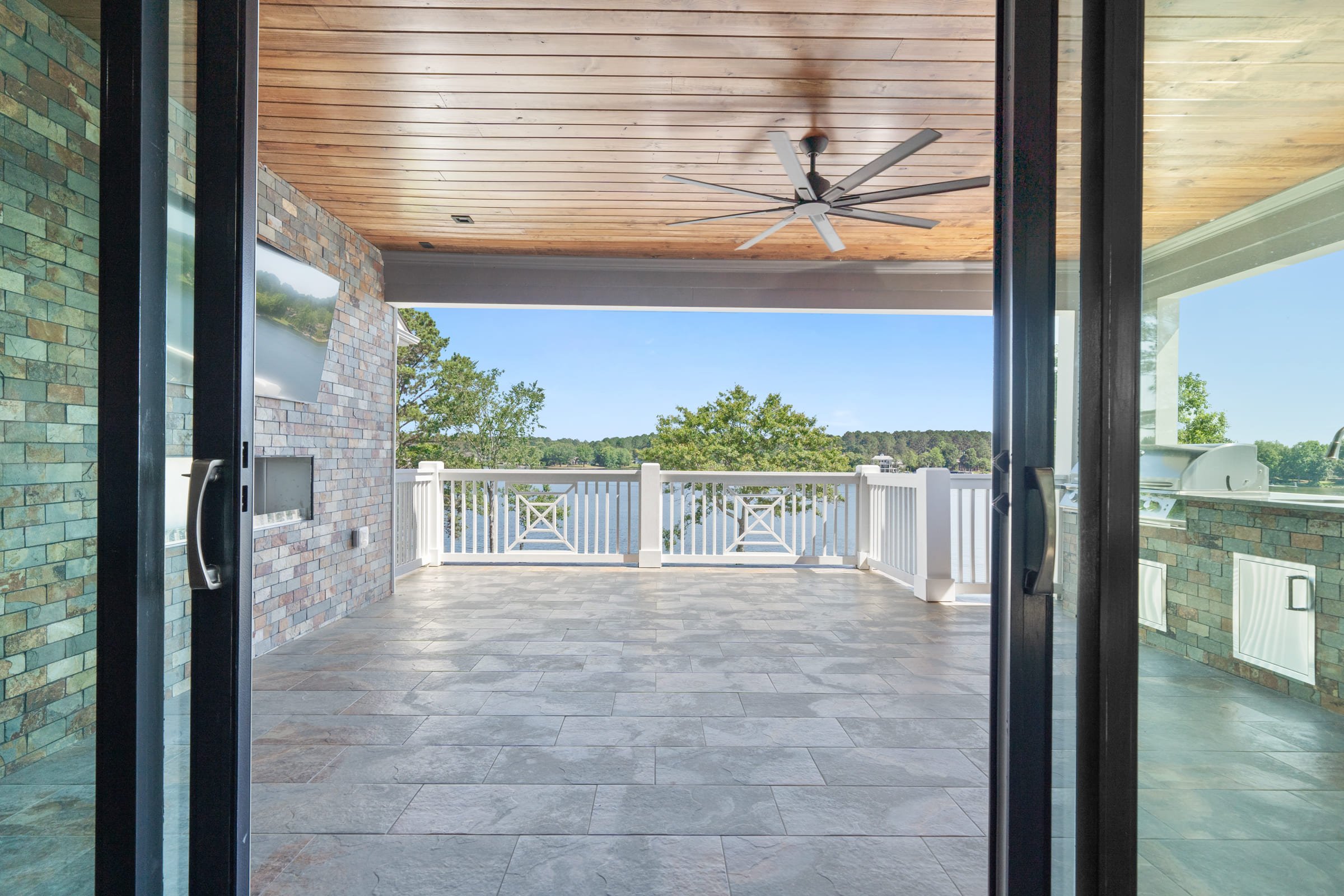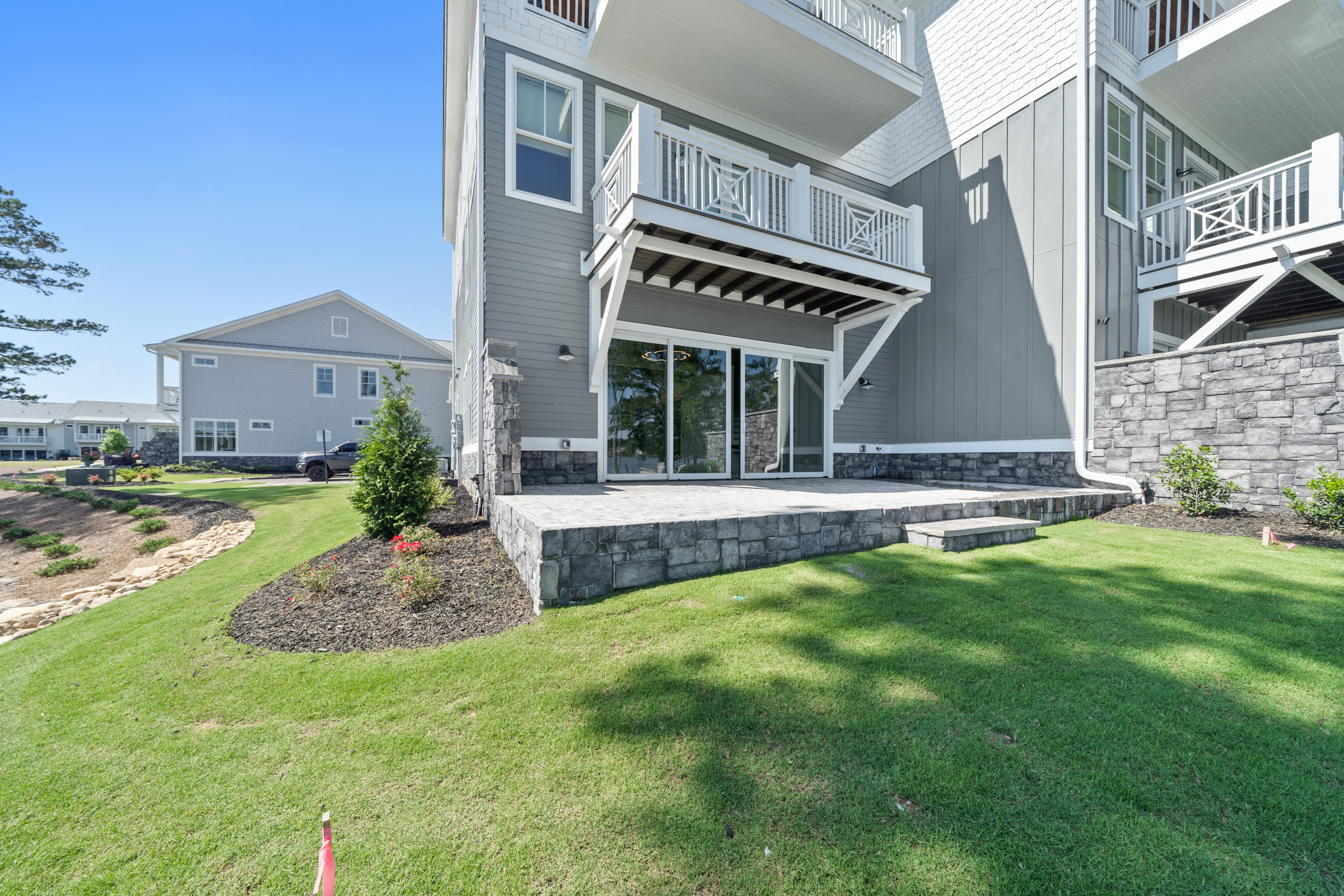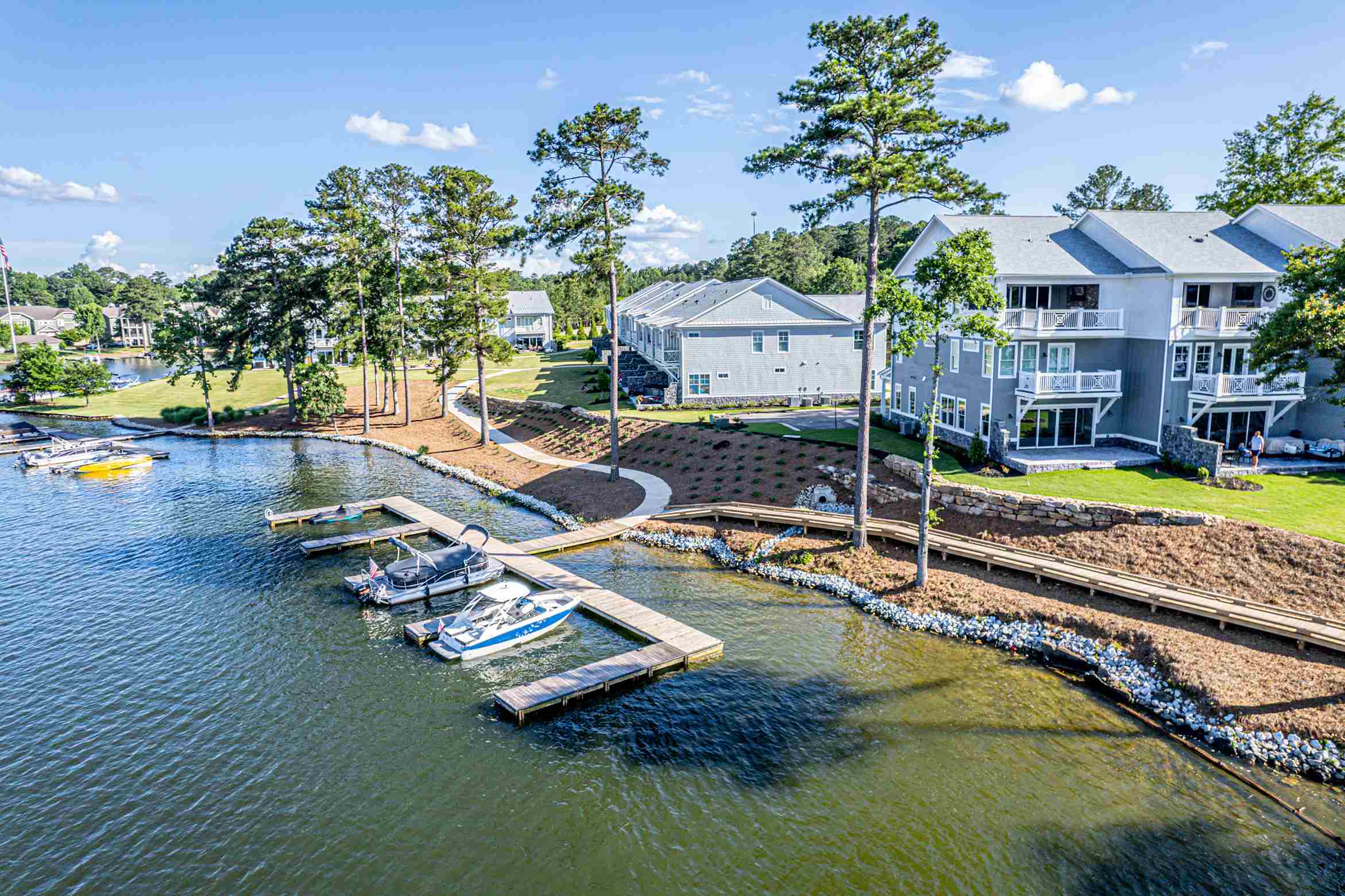 Sliding glass doors open from the media room onto a large outside balcony with a summer kitchen, fireplace (that's all four!), and T.V. The space is ideal for entertaining guests and soaking in the warm weather while taking advantage of the home's 180-degree views of Lake Oconee. Below the two balconies is another patio, allowing the homeowner three locales for their outdoor escapades.
With ample access to nature, this Georgia home makes it easy for our client and their guests to slough off everyday stressors and connect to what matters most: living fully!