Find a Design for your Lake Oconee, GA Dream home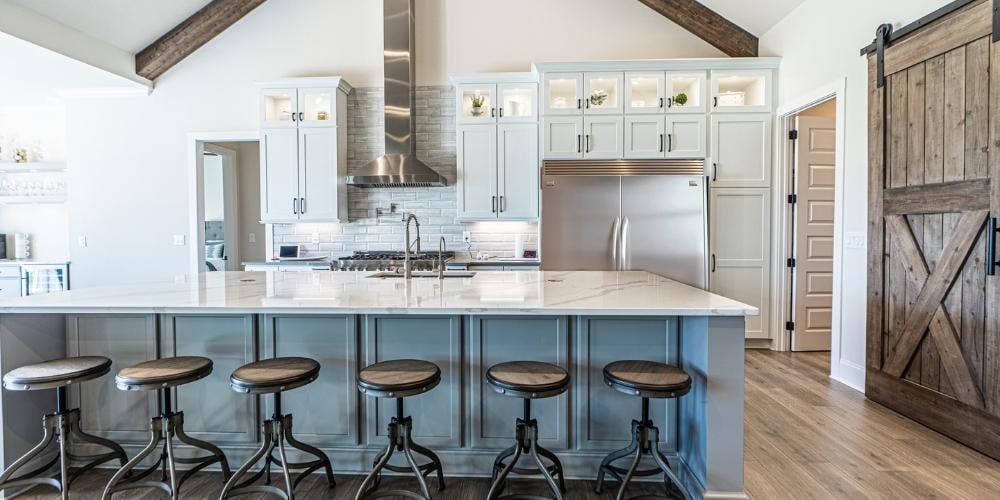 You want your Lake Oconee house to be a sanctuary of relaxation and fun — an escape from the everyday world and filled with the people and things you love. On the outside, that doesn't seem too difficult. But once you get into the interiors, you'll find choosing the right look for your lake house can be more challenging than you may think.
Finding Your Style
One way to simplify the process is to pick a design aesthetic and stick to it. Keep reading for some popular lake house interior design styles and tips on how to execute them! But before you begin, here's a few ways to accentuate the beauty of your lake house regardless of what design aesthetic you chose:
Draw inspiration from Lake Oconee. Use blues to emulate the lake and sky, green for vegetation, or go for earthy neutrals and muted autumnal colors. You can also bring the outdoors in by using wood, stone and other natural materials in your designs.
Bring the outside surrounds inside! Show off your beautiful views with lots of windows and sliding doors. Natural light shining in will brighten up your space, making it feel more energized!
The curb appeal of your house is just as important as the interior — especially when it comes to a lake house. Don't forget your outdoor spaces when you're designing. Carry the materials and motifs used in your interior design to the outside to stay consistent.
The outdoors can be enjoyed year around in Georgia, so plan for additional outdoor space. Make sure you have ample patio space and think about if you want it screened or open air. Also, consider a summer kitchen and fireplace. Be sure to add proper lighting and landscaping to complete the look.
Without further delay, take a look at these common lake house aesthetics! As you read, consider which aesthetic will fit your personal style best, and keep in mind you can always mix and match aesthetics to create a unique look that's all your own.
The Rustic Retreat
Rustic aesthetics are the go-to for nature lovers and anyone who wants their home to reflex their lifestyle. Typically, a rustic lake house interior incorporates colors and elements of nature, while creating a homey atmosphere with antique or vintage details. Done correctly, this simplistic yet eclectic style can tie all your items together, making your entire home feel cohesive.
Here's how to get the look: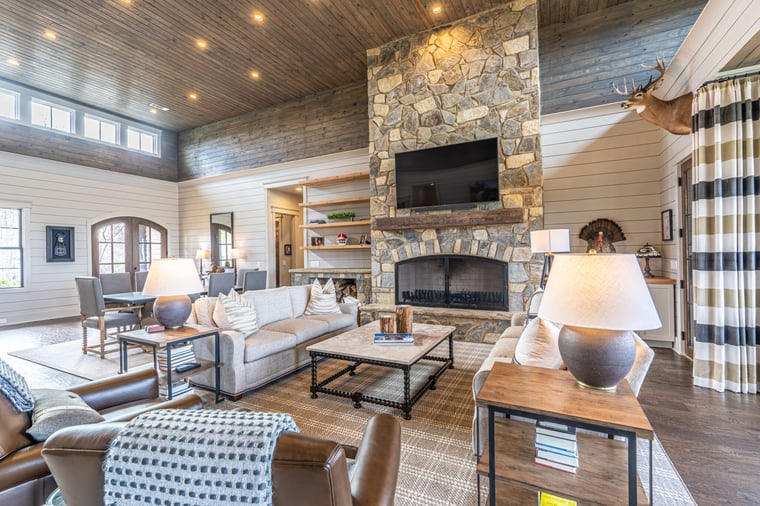 Wood, Wood, Wood
From the floors to your furniture and your picture frames, wood is a staple of a rustic aesthetic. For a truly time-worn look, use wide plank hardwoods for your floors as they were common in 18th-and-19th-century interiors. Don't be afraid to use wood as accents on the walls and in the shelving. This adds tremendously to the rustic look.
Accent With Opposites
To get an eclectic look, accent with opposing colors, textures, and materials. Stone tiling, for example, is an excellent accent to wood flooring because of the textural contrast it provides. Stone details also offer a sense of aged sophistication, which suits the rustic aesthetic well. Balance the coolness of stone and wood accents with soft braided rugs and blankets that make the room feel cozier.
Embellish with Bespoke Decor
The rustic style is about creating a personalized look. You can personalize your space by displaying distressed wood or hand-painted furniture, as well as tapestries, old bottles, vintage photographs, metal frames, or other antique items. Or, try adding a structural element like an exposed beam or reclaimed barn doors. Carry the rustic theme into your lighting by installing a chandelier, wall sconces, pendant light, or a hurricane-style lamp.
Get Nautical
You don't have to if you don't want to — but if you love a nautical look, start with a blue, cream, and brown color palette. You can accent with green or try mixing in silver and brass metal details, like a porthole or lantern. Decorate with wooden paddles, vintage ship or ocean paintings, as well as fisherman figurines and anchors — just don't overdo it!


The Cottage Dream
A rustic aesthetic and a cottage aesthetic are somewhat similar. They both showcase exposed beams, historic stone, and quirky decor. Plus, they both create comfortable interiors, in part due to their shared use of natural influences. There are some subtle differences, though, that set the two apart.
Here's how to create a cottage aesthetic in your lake house: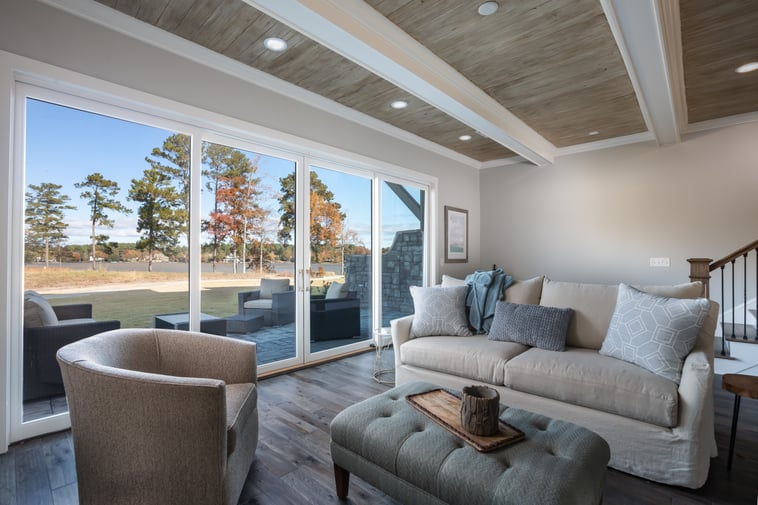 Keep it Warm & Neutral
Your cottage should take its cues from mother nature. Create a calming effect by mixing neutrals like creams, browns, and grays as a base. Then add warm, earthy tones such as terracotta, honey-yellow, and muted pink for an enchanting combination of cottage colors.
Flora & Fauna
Using flora and fauna in your decor is a great way to carry the cottage aesthetic into every room of the house. You can grow your own house plants and display them on shelves and tables, or give your room an accent wall with floral wallpaper. Heritage prints, a style of flora and fauna prints from the late 19th century, are a fitting choice for such details. Set out some flowers in a vase to take this look to the max!
Mix Your Materials
Mixing and matching your materials gives your interiors visual diversity and a homey look. You can mix the type of wood used in your furniture, flooring, or cabinetry and mix different textures of rugs, blankets, and pillows. Achieve the same effect on your walls by mixing regular painted walls with an accent stone, wood, or wainscot wall.


The Farmhouse
The country farmhouse aesthetic combines the functionality of traditional American farmhouses with charming design. Traditionally used as gathering places for friends and family, farmhouses prioritize spacious floor plans and storage, turning functionality into luxury.
Here's how to bring the farm to your lake house: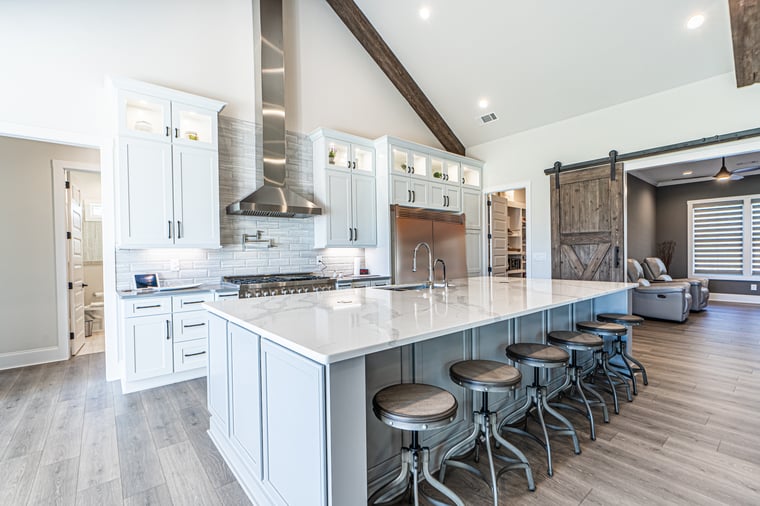 Prioritize Functionality
Farmhouses started popping up in the U.S. in the 1700s, and they were mainly designed to support the hardworking lives of farmers who required accessibility and functionality above all else. Today a variation of the farmhouse has been a popular design the last few years but it has a more modern look than the original farmhouses. Many features from the time continue to influence farmhouse design today in the form of exposed beams, wide plank floors, reclaimed barn doors, and wide porches.
Include Traditional & Luxurious Decor
In their heyday, farmhouses weren't considered the most opulent of places. But today, you have the ability to elevate farmhouse living to a state of luxury. Incorporate traditional farmhouse elements like gingham patterned fabrics, painted or whitewashed wood furniture, glass bottles, ladder-backed chairs, or a trestle dining table. You can add an element of luxury to your lake farmhouse decor with cashmere blankets, wicker baskets, or old-fashioned barrel lighting, candle chandeliers, and industrial pendant lights.
Accent with Vintage Details
Like a rustic aesthetic, adding vintage signs, artwork, or other elements to a modern farmhouse interior adds character and whimsy. Start with wood — distressed or otherwise worn — and add classic silhouettes like gooseneck faucets, spindle leg tables, milk glass pendants. Further the look by displaying vintage cutting boards, ladles, or other utensils as decor!
Make it Modern
Just because farmhouses hail from the 1700s, doesn't mean they can't be made modern. For a while, all-white or grey color schemes helped modernize this aesthetic; but now rich jewel tones like greens and purples are being infused to give the color scheme more depth and sophistication. You can also freshen up the farmhouse look by adding elements of other aesthetics. A touch of coastal, industrial, or even mid-century modern decor will bring your farmhouse to the next level.


The Modern Lake House
At this point, you may be sick of hearing about wood. If that's the case, not to worry! The modern design aesthetic does not rely on wood nearly as much as other interior design styles do. A modern lake house interior focuses on minimalist design, sleek finishes, and pops of color, pattern, or texture that generate a focal point.
Get the look: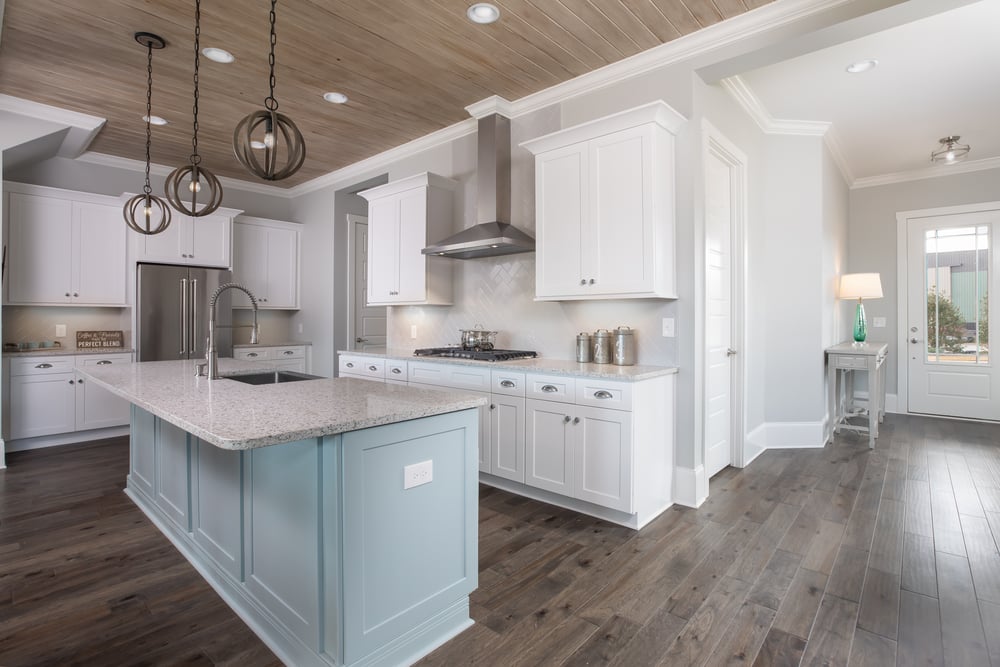 Experiment with Your Materials
Mix it up by using modern materials. Instead of defaulting to hardwood floors and furniture, get a more unique look by using marble, ceramic, cork, patterned tiles, or vinyl in your interiors. Stick to a few main materials and repeat them throughout the house as a motif. For a sparkle reminiscent of the lake outside your window, add chrome and glass accents, or pick something slick like iron, plastic, or leather. If you're worried these cool finishes might make your lakehouse feel too sterile, warm things up by adding wood details and soft textures.
Keep it Simple
Crafting a modern interior is all about simplicity in both design and functionality. For this reason, modern designs often have open-concept layouts and prioritize minimalism to keep your space uncluttered. You'll want to start with a mostly neutral color palette as your base. Then continue the minimalist theme by choosing furniture and decor with clean, simple lines that bring a sense of calm.
Bold Decor
Once you've chosen the base materials for your lake house, it's time to show off your personality with bold decorations. Add elements of modern lake house decor like geometrical patterns, minimalist or abstract art, and vibrant colors. You can accentuate the lake house feel by using accents of blue and green paint and decorating with modern takes on lake-themed figurines and art.

Are you ready to get the perfect Lake Oconee lake house style? Our custom home-building services may be just the thing you need! Check out our home-building guide or get more inspiration on everything from home upgrades to open concept lake house kitchen ideas at our blog.


You Might Also Like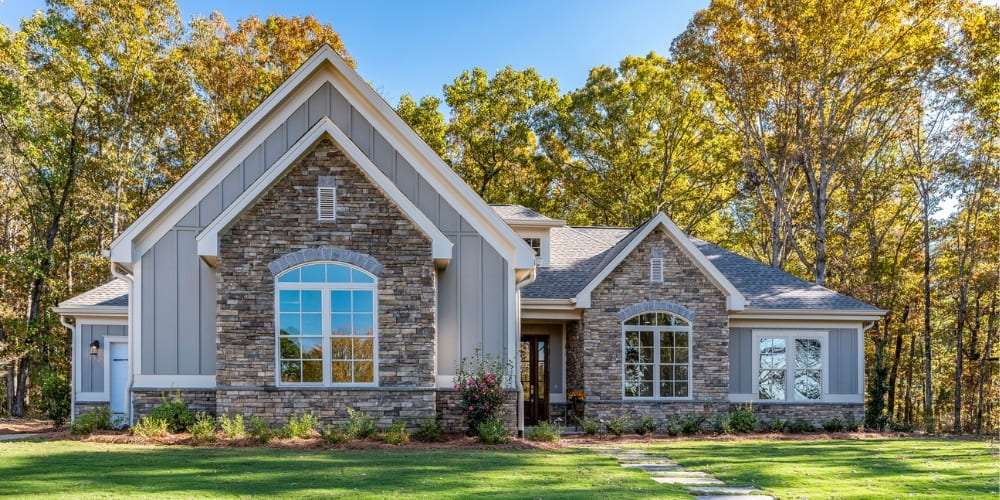 September 30, 2021