Georgia Outdoor Living: Create the Ideal Outdoor Kitchen Fit for a Chef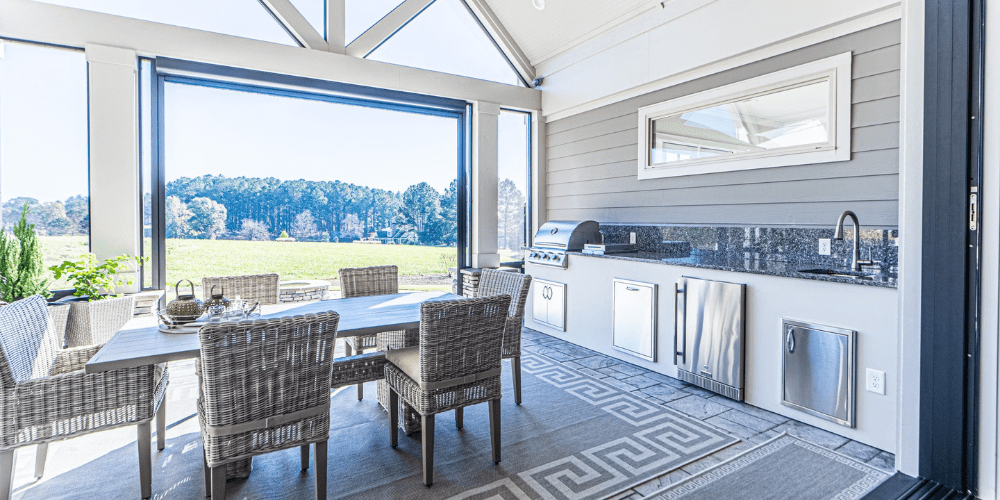 Let's get grilling! Bring on the sweet tea! If you're a culinary enthusiast who loves spending time outdoors, there's no better way to enjoy the beautiful Georgia weather than with an outdoor kitchen. Whether you're hosting a summer barbecue or simply cooking a delicious meal for your family, having a well-designed outdoor kitchen can elevate your experience to a whole new level of luxury, ease, and fun. PAXISgroup of Lake Oconee is here to detail the elements and considerations you need to create a culinary oasis in your own backyard.
Outdoor Kitchen Necessities
To create an efficient and functional outdoor kitchen, it's important to include the following key components of an outdoor kitchen.
High-Quality Appliances
Choosing high-quality appliances is crucial to creating the ideal outdoor kitchen. These appliances are specifically designed for outdoor use, ensuring durability and performance in various weather conditions. From grills and smokers to refrigerators and sinks, having the right appliances allows you to create a fully functional kitchen in your backyard.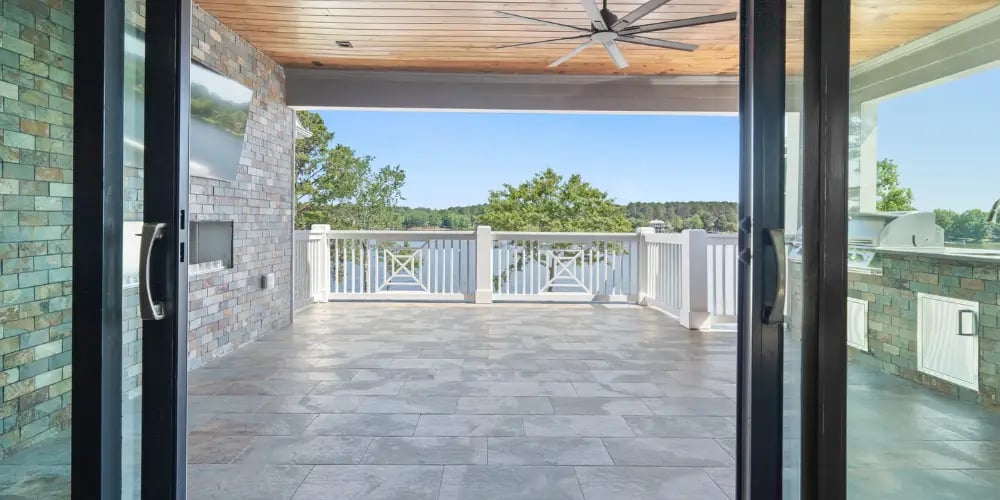 Be a BBQ Star
Investing in a top-notch grill is often the highlight of an outdoor kitchen. Look for grills with precise temperature control, multiple cooking zones, and high heat output for perfect searing. Consider features like rotisserie burners or infrared searing capabilities for added versatility. You don't have to (and perhaps shouldn't) stop at one cooking device outside. Smokers are perfect for slow-cooking meats and infusing them with delicious flavors. A griddle offers a flat cooking surface ideal for cooking breakfast foods, stir-fries, or even searing delicate items like fish or vegetables. It's your outdoor kitchen, include the tools you'll need to make the food you love!
Grilling and Chilling
\Having a refrigerator in your outdoor kitchen is essential for keeping ingredients fresh and beverages chilled. Look for models with weather-resistant construction, ample storage space, and energy-efficient operation.
Ice, Icy, Baby
An ice machine ensures that you always have a refreshing supply of ice on hand for beverages and entertaining guests.
Don't Sleep on the Dishwasher
To create a complete outdoor cooking station, you may also consider including a separate dishwasher to make clean-up a breeze.
Durable Outdoor Cabinets
When designing outdoor kitchens in Atlanta, one essential aspect to consider is the kitchen cabinets. These cabinets not only provide storage space for your cooking tools and equipment but also add a touch of elegance to your outdoor setup. Opt for cabinets made from durable, weather-resistant materials that can withstand the Georgia climate.
Stainless steel cabinets are a popular choice for outdoor kitchens due to their durability, resistance to corrosion, and ease of maintenance. They offer a sleek and modern look, complementing various design styles. Alternatively, cabinets made from marine-grade polymer or other weather-resistant materials can also withstand the elements while offering a wide range of design options.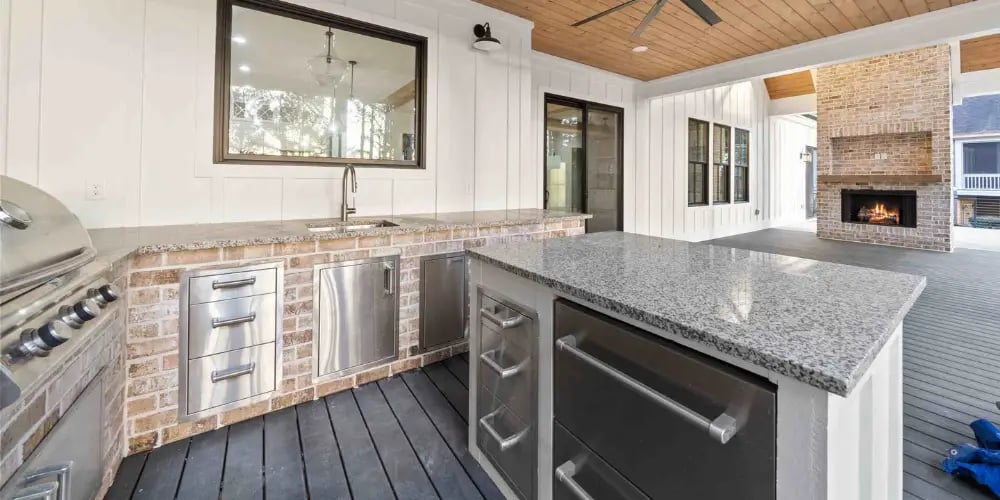 Countertop Space
Sufficient countertop space is essential for food preparation, plating, and serving in your outdoor kitchen. Aim to have at least 36 inches of countertop space on either side of your grill for convenience. This provides ample room for prepping ingredients, placing utensils, and having serving trays readily available.
When selecting countertops for your outdoor kitchen, opt for materials that can withstand exposure to heat, moisture, and UV rays. Popular choices include granite, concrete, and stainless steel, as they offer durability and are easy to clean. Consider incorporating different levels or tiers in your countertop design to create separate areas for food prep, cooking, and serving.
Sink and Plumbing
Including a sink in your outdoor kitchen is a practical and convenient addition. It provides a dedicated space for food preparation, cleaning utensils, and washing hands, eliminating the need to run back and forth between your indoor and outdoor kitchens. Having a sink in your outdoor kitchen plans is an investment you won't regret.
An experienced pro will ensure proper plumbing connections to connect the sink to your home's water supply. It's essential to use materials that can withstand the outdoor elements and freezing temperatures during colder months. Incorporate a drain system that meets local codes and efficiently disposes of wastewater. A well-designed sink area with ample counter space around it will greatly enhance the functionality of your outdoor kitchen.
Lighting and Shade
Proper lighting in your outdoor kitchen is essential for both functionality and ambiance. It allows you to cook and entertain even after the sun goes down. Consider a combination of task lighting and ambient lighting to create a well-lit space. Task lighting focuses on illuminating specific areas such as the grill, countertops, and sink, while ambient lighting sets the mood and enhances the overall atmosphere.
Additionally, consider adding a roof or pergola to your outdoor kitchen design. This provides shade and protects you and your guests from the elements. Not only does it extend the usability of your outdoor kitchen throughout the year, but it also helps protect your appliances and furniture from direct sunlight and rain, prolonging their lifespan.
Decorative Outdoor Kitchen Details
We recommend incorporating stonework to create a cohesive design that blends with the natural surroundings. Stone provides durability and weather resistance, adds a touch of elegance to your outdoor kitchen, and can continuity throughout your outdoor living space. Whether it's using stone for the countertops, a focal fire feature, backsplash, or even the flooring, this material creates a sense of continuity and visual appeal, perfectly complementing the outdoor environment.
Outdoor Kitchen Dimensions and Layout
Determining the size of your outdoor kitchen depends on several factors, including your available space, budget, and intended use. A good starting point is to allocate at least 100 square feet for your outdoor kitchen, but it can vary based on your specific needs. When selecting a grill, consider the average grill size based on your needs and the number of people you usually cook for.
For your outdoor kitchen layout, consider the "work triangle" concept commonly used in indoor kitchen design. This concept involves positioning the refrigerator, sink, and cooking surface triangularly to optimize efficiency and movement. Apply this principle to your outdoor kitchen by ensuring a smooth flow between these key areas.
When you build your outdoor kitchen in tandem with your dream home, it's easy to include elements such as pass-through windows, French doors, and garage door windows can further enhance the seamless transition between the indoor and outdoor spaces. These design features allow for easy communication and serving between the kitchen and patio and provide a captivating view and entertainment for your guests.

Cost of Building an Outdoor Kitchen
The cost of building an outdoor kitchen can vary widely depending on the size, materials, appliances, and level of customization. A basic outdoor kitchen can cost around $30,000, while more elaborate setups with high-end appliances and custom features can often exceed $100,000. It's crucial to set a budget and prioritize your needs to ensure a successful project.
Do You Need Vents in an Outdoor Kitchen?
Vents are not as critical in outdoor kitchens as they are in indoor kitchens, mainly due to the open-air nature of the outdoor environment. However, if your outdoor kitchen is located in a confined or semi-enclosed space, proper ventilation is recommended. This can help dissipate smoke, odors, and heat more efficiently, ensuring a comfortable cooking experience.
PAXISgroup Builds Your Dream Home, Inside and Out
At PAXISgroup, we specialize in creating custom outdoor kitchens that are tailored to your unique style and requirements. Our team of experienced builders and designers in Lake Oconee, GA, can bring your vision to life, ensuring a seamless and enjoyable experience throughout the entire process. Contact us today to explore the possibilities of creating your custom home with every thoughtful detail done right!
You Might Also Like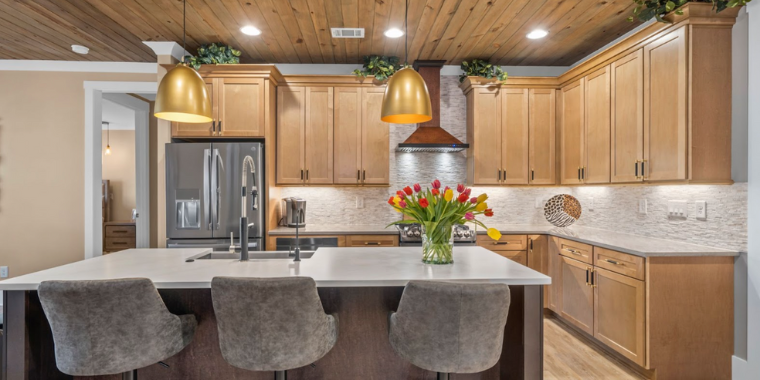 June 28, 2022
November 22, 2022